WaterLovers Beach Resort
CEDARBERG RATING
Comfortable
Overview
WaterLovers is a quaint beach resort on the tropical shores of the Indian Ocean. A mere 35 km from Mombasa, it is located in Diani Beach, on Kenya's South Coast. Known for its white sandy beaches, fringed with palm trees and warm turquoise waters - this is literally your tropical paradise. The beach is bordered by lush green rainforest full of colourful birds and the rare breed of the black and white Colobus monkey, unique to this area of East Africa.
The resort has eight very spacious suites. Each suite has a private ocean view veranda and is decorated with a perfect mix of Swahili and Mediterranean culture. There is also a self-contained villa with four rooms, ideal for a family or a small group. In addition, there is a new Ocean Penthouse Apartment located on the beachfront which has four bedroom suites over two floors. The first floor has a veranda with a comfy seating area and gas barbecue; the second floor has a wooden deck and private gym. The whole penthouse has a 360 degree view of Diani Beach, the pool and gardens.
The resort is especially proud of it's fresh cuisine in their main restaurant, Tides. They use only fresh and prime quality ingredients and everything is homemade by their chefs. Enjoy drinks at the beach bar, where you can relax and listen to music while sipping cocktails or pre-dinner aperitifs. If you don't fancy paddling in the sea, you can take a dip in their turtle shaped pool. Treat yourself to some pampering time at the Kola Spa offering a range of treatments from a variety of massages to pedicures.
Activities
The coral reef is just 700 meters from the shore and home to sea turtles, dolphins and many tropical fish. Here you can discover the underwater world rich in colours between the beach and the reef. You can the ocean by either snorkelling, kayaking, going for a deep-water dive or by taking a big game fishing trip. Keen surfers will love Diani Beach as it is a perfect surf spot with trade winds, flat-water conditions inside the reef and waves on the reef. Come and try the "mar d'Africa" for yourself!
Facilities
24-hour Security, Bar, Barbeque, Eco Friendly, Internet Access, Library, Meals on Request, Mobile Connectivity, Pool, Restaurant, Secure Parking, Spa.
Air Conditioning, Clothes Press, Complementary WiFi, Cooking Equipment, Cooking Facilities, Deck, Dressing Gowns, En-Suite, Fan, Fridge, Hair Dryer, Internet, Lounge Area, Outside Shower, Pure Cotton Linen, Safe, Shower, Tea and  Coffee, Veranda.
Airport Shuttles, Babysitting Service, Chauffeur Service, Credit Cards, Foreign Exchange, Laundry Service, Room Service, Travel Desk.
WaterLovers Beach Resort gallery
WaterLovers Beach Resort on the map
Rooms
Suites
All eight WaterLovers suites are equipped with air condition, fan, mosquito nets, security box, audio station for i-pod, i-phone and other MP3 readers, complementary wi-fi internet connection, SIM card to use in your personal mobile phone for international and local calls. Both double and triple rooms are available. Every suite has a spacious private veranda overlooking the ocean and the style of the interior design is a blend of Swahili culture and Mediterranean style.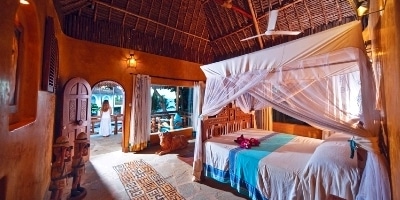 Villas
For those who wish to get a taste of Africa while enjoying the privacy and comfort of a home, or for those travelling with family or friends and looking for a little extra privacy, we also offer you the possibility to rent our private villa, which comes with a fully equipped kitchen. The villa offers two spacious double bedrooms on the ground floor, both equipped with air conditioning, fan and their own private bathrooms. On the upper floor gallery, you will find another two king size beds and a third bathroom complete with shower. All beds have mosquito nets and the interior design was inspired by the wonders of the natural elements surrounding the villa combined with European comfort.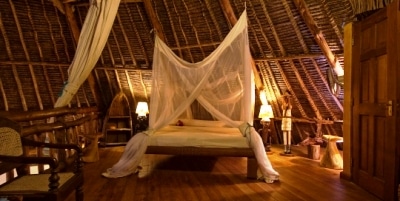 Penthouse Apartment
The Ocean Penthouse Apartment offers 370 square meters of luxury Ocean front accommodation with stunning views of Diani Beach and the Indian Ocean. This new 4 bedroomed suite is developed in two floors, and features a range of luxury comfort and media accessories, from a private Gym, to flat screen television, a sound system, iPads, mp3 docking stations, and more...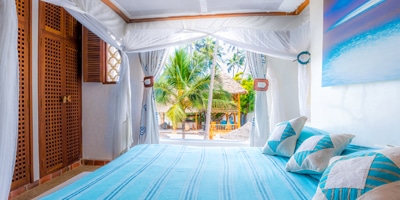 Includes
Full Board, Complementary Wi-Fi
Excludes
Transfers, additional meals.
Family Suitability
Family-friendly all ages
Malaria Rating
Malarial area year-round
See other options in this area