Overview
What next after the Red Sea? We offer a range of luxurious and diverse diving holidays in throughout Southern Africa. From the Indian Ocean islands of the Seychelles, Zanzibar or Nosy Be to the coastal waters of Mozambique and South Africa?
Here, you'll find idyllic islands and archipelagos as well as long pristine coastlines protected by fringing reefs. Experience some of the world's finest coral reef systems. Or enjoy the completely different adrenaline rush of shark cage diving in the Cape of South Africa.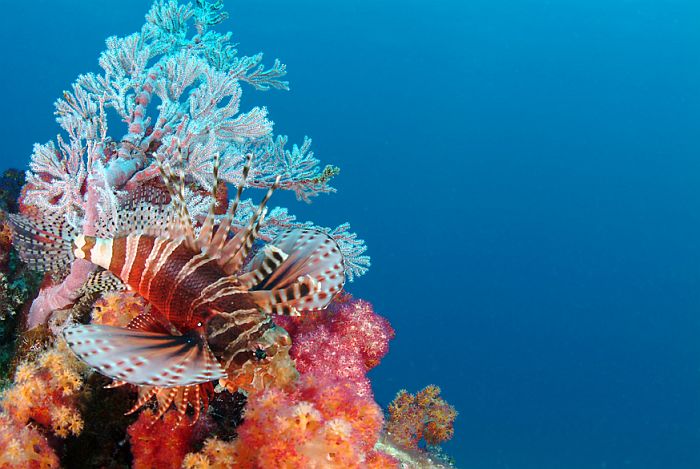 We focus on diving in four countries: the Seychelles, Mozambique, Madagascar and Mafia Island & Zanzibar off the coast of Tanzania.
Diving Holidays in South Africa
However, diving in South Africa is worth considering. We favour the pristine reefs and warm sub-tropical waters of Coastal Maputaland  in KwaZulu Natal. Here you can have an adventurous diving experience in a true wilderness environment. Furthermore, you are likely to spot turtles, manta ray, dolphins and sharks.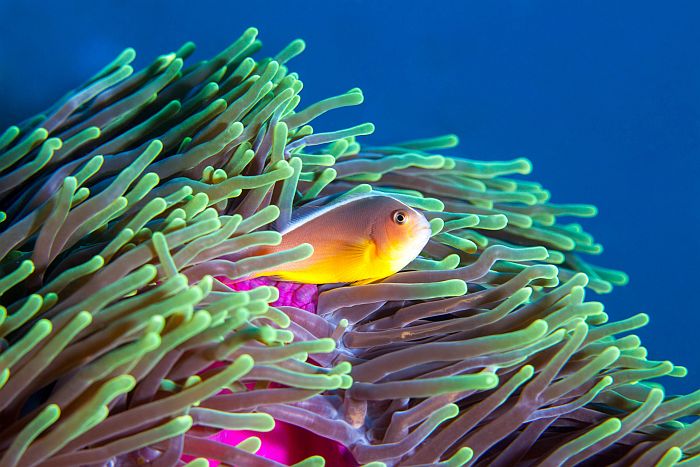 Highlights
Great diversity of diving experiences. From the unspoilt depths of Mozambique and Madagascar to the near paradise of the Seychelles or Mnemba Island
Amazing possibilities to dive with whale sharks - massive yet harmless whales up to 14 metres in length
Much less well-known and thus less coral bleaching than over-touristed elsewhere in the world
Great opportunity to combine a diving holiday with a world-class safari experience.
Southern Africa offers 5 of the 7 marine mammals in the world
Most amazing holiday in SA
"Thank you for the most amazing holiday in South Africa. The three lodges were all selected with great care and each had a different atmosphere. All transfers worked entirely smoothly and we were even met on arrival at Johannesburg airport to be escorted the few yards to the airport hotel! Cedarberg really came into their own when BA messed up theoutgoing flight (twice) and Ginny spent her entire Bank Holiday weekend sorting it out for us."
Mr Mike Ricks, UK
You delivered us a near perfect experience
"We had a wonderful trip largely thanks Cedarberg Travel. THANK YOU!! Thank you again Mari. We had a trip packed with fun, laughter, wildlife and bucket showers, all at a relaxed pace which made us all believe we had a real holiday, even if it started at 5.am every morning! I believe that you gave us 3 wonderful lodges ( arguably best we have visited in the African continent all with their special touch and ambiance, thank you.) Once again, another "Mari masterpiece". You delivered us a near perfect experience, thank you again Mari."
Mr Dennis Lee
We had a great time, a very memorable holiday
"Thank you for your patience with us through the planning stage. Standard of room we realise is important to us maybe we should have discussed this more at the planning stage. It was a very memorable holiday"
Mrs Sara Brill, USA
Hi I'm Natasha, I'm here to help you plan your ideal holiday experience
Did you know
Water temperatures

Warm water year-round (excepting South Africa)

Marine mammals

Southern Africa offers 5 of the 7 marine mammals in the world
Delivered the goods
"Cedarberg took on board what we wanted and delivered the goods!! Accommodation everywhere was fantastic we couldn't have asked for any more! Preferred safari at madikwe as saw loads more because the rangers could go off road, would definitely look at this type of safari next time."
Mr Eastwood, UK
It was amazing
"Thanks Conrad for your help organizing all of this trip for us, it was amazing – and I'll be sure to refer you to any future friends of mine wishing to come to Africa."
Mr Ross, Melbourne
The trip was amazing
"I will write in detail about all the places. In the meantime, I just wanted to write you a quick note to say THANK YOU so much for putting a wonderful trip together for our family. From the beginning to the end the trip was amazing. I will highly recommend you to anyone in the future for South Africa."
Mr Gord Dubey, USA