Overview
What next after the Red Sea? We offer a range of luxurious and diverse diving holidays in throughout Southern Africa. From the Indian Ocean islands of the Seychelles, Zanzibar or Nosy Be to the coastal waters of Mozambique and South Africa?
Here, you'll find idyllic islands and archipelagos as well as long pristine coastlines protected by fringing reefs. Experience some of the world's finest coral reef systems. Or enjoy the completely different adrenaline rush of shark cage diving in the Cape of South Africa.
We focus on diving in four countries: the Seychelles, Mozambique, Madagascar and Mafia Island & Zanzibar off the coast of Tanzania.
Diving Holidays in South Africa
However, diving in South Africa is worth considering. We favour the pristine reefs and warm sub-tropical waters of Coastal Maputaland  in KwaZulu Natal. Here you can have an adventurous diving experience in a true wilderness environment. Furthermore, you are likely to spot turtles, manta ray, dolphins and sharks.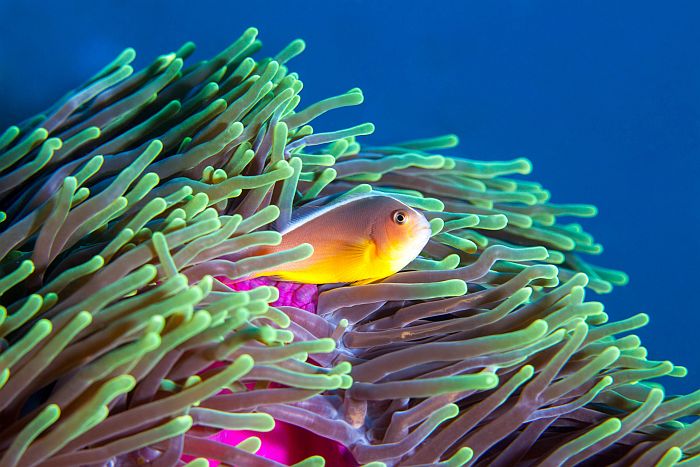 Highlights
Great diversity of diving experiences. From the unspoilt depths of Mozambique and Madagascar to the near paradise of the Seychelles or Mnemba Island
Amazing possibilities to dive with whale sharks - massive yet harmless whales up to 14 metres in length
Much less well-known and thus less coral bleaching than over-touristed elsewhere in the world
Great opportunity to combine a diving holiday with a world-class safari experience.
Southern Africa offers 5 of the 7 marine mammals in the world
Very helpful discussions
"Very helpful discussions beforehand to give us lots of options. The personalised website was really good. The pre-holiday booklet was really useful as well. "
Mrs Rachel O'Connell, UK
All your arrangements/transfers worked like clockwork
"We have had the most fantastic holiday and that all your arrangements / transfers etc worked like clockwork. The accommodation and food was excellent everywhere we stayed. It has left us hungry for more (especially Victoria Falls) so we had better get saving for a return trip! This was our first trip to South Africa and we had no idea how stunningly beautiful your country is. "
Laughton Family, UK
Mr Guy Crabb - Ginny
"Ginny listened to what we wanted and delivered an itinerary that pretty much blew us away. "
Mr Guy Crabb
Hi I'm Tasha, I'm here to help you plan your ideal holiday experience
Did you know
Water temperatures

Warm water year-round (excepting South Africa)

Marine mammals

Southern Africa offers 5 of the 7 marine mammals in the world
Exceeded all expectations
"Cedarberg was professional, responsive, and personable. All flights, all transfers, all accommodation, all activities, and the safari itself went exactly to plan. The experience, end-to-end, exceeded all expectations. "
Mr Michael Barnard
We will certainly use Cedarberg again
"All the arrangements worked perfectly – no hiccups at all. We will certainly use Cedarberg again and will recommend the company to others. We were particularly impressed by the fact that the ground agents met us from every flight and saw us on to the next flight so if anything had gone awry there was someone on hand to help us sort it out. As one gets older that is enormously comforting. "
Ms Sandra Clark, UK
Hope to return for a third visit
"Helpful, patient, understanding. Did not meet anyone face to face but seemed friendly over the email. Although the trip was basically our design, it was good to work with Peter in deciding the actual locations and final route. He took all the "admin" hassle away – car hire, arranging accommodation etc. which meant we could just arrive and enjoy the trip. The final printed trip programme was excellent. "
Mr & Mrs Harrison, UK