Overview
Mozambique's reefs and beaches have been under-rated for decades. The upside is that - though Mozambique diving holidays are world-class - this is still a relatively well-kept secret. The colours of the unspoiled reefs are vibrant and pristine. You can see many brightly coloured fish such as blue snappers, tiger fish and butterfly fish. With good visibility ranging from 10m to 40m.
Many Mozambique diving sites, such as Manta Reef, are world-famous in diving circles. Other reefs, particularly in the Quirimbas Archipelago, are yet to be detailed. You may be lucky and see barracuda, giant lobsters, manta rays, moray eels, plus loads of reef fish.
Where to stay on a Mozambique Diving Holiday?
Around the islands of Bazaruto and Benguerra you might find yourself diving with turtles, whale sharks, manta rays. Or even the elusive dugong. Notable Mozambique dive sites include Two Mile Reef and the Aquarium. This is a favourite with novices and snorkelers.
In the far north of Mozambique lies the remote Quirimbas Archipelago. This is a collection of idyllic tropical islands with powdery coral shores. The coral here has not suffered the degradation seen elsewhere due to the complete lack of development.
You can enjoy a more affordable Mozambique diving holiday along the Southern coast. Diving with the majestic whale shark is a speciality of this area, especially around White Pearl Resort,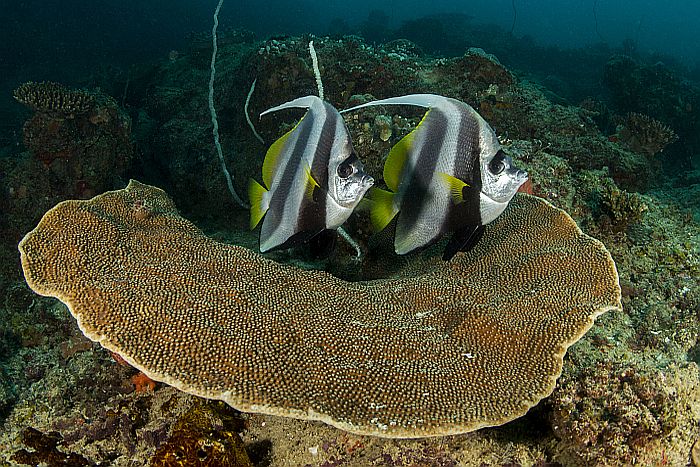 See our Main Page on Luxury Diving Holidays around Africa for more destinations.
Highlights
The warm Mozambique waters teem with 6,000 species of fish
Leatherback and loggerhead turtles, as well as schools of dolphins are also often seen, especially between July and December. Humpback whales are also spotted between August and October.
The warm waters off Mozambique's 2,500 km of Indian Ocean coastline are one of the prime whale shark and manta ray viewing sites in the world.
The whale shark is an impressive but completely harmless whale which is up to 14 metres in length – It's usually seen between December and April.
Sea temperatures range from a balmy 30C in summer to a still reasonable 21C in the middle of winter.
We enjoyed it all
"Ginny created a holiday that was well-suited to our requirements. The arrangements, timings and itinerary were sensible and all stages of the holiday were faultlessly executed by the chosen representatives. "
Mr John Hartley, UK
High satisfaction with Cedarberg
"We just returned from our third African safari booked with Milandi. I cannot say enough about our high satisfaction with Cedarberg and, particularly, Milandi. Milandi has always worked with us, making recommendations based on our preferences, and together we "tweak" the itinerary until it is perfect for us. Milandi is efficient, highly responsive, knowledgeable, friendly, and seems to really care and act excited about our booked adventure. Each time we have traveled, all arrangements have been punctual and without any delays or cancellations. Every detail has been prearranged. During our most recent trip, Milandi even checked us in for each of our domestic and intercontinental flights, knowing that we would not have the capability to do so from the camps we visited. Cannot recommend Milandi highly enough!! "
Mrs Shirley Spain
Glad we booked with Cedarberg
"They were very informative and helpful. Milandi in particular helped us with car hire and when I lost my wallet on arrival in Cape Town. Milandi was always available to discuss and change anything required. Emails were replied to promptly. "
Mr Chris Jones, UK
Kate Bergh
Co-founder & Director
Hi I'm Kate, I'm here to help you plan your ideal holiday experience
We arrange trips to more than 100+ destinations throughout the African continent.
Did you know
Best Time to Dive

August to December

Marine Mammals

5 of the world's 7 marine mamals are found off Mozambique
Vacation of a lifetime
"Milandi and the Cedarberg team not only planned each detail but also gave us helpful tips in advance to help us prepare for our holiday. Once in SA, there was never a need to contact Cedarberg because each day's activities went off without a hitch "
Mr & Mrs La Doe, USA
Exceeded our expectations
"We absolutely loved EVERYTHING and our trip absolutely exceeded our expectations. Thank you so much for your help in planning our trip and organizing it as well as you did. "
Mrs Elena G, UK
Fabulous time
"I can only say we had a fabulous time!!! The organisation from your side was great. Everyone turned up on time and everything was organised as planned. I have to say we were very encouraged about how well though of Cedarberg were with the travel providers and accordingly, we were extremely well looked after. Do thank Gloria for all her help in South Africa, and particular thanks to you and the Cedarberg staff in London for organizing such a great trip – our third with you! "
Dolman & Kerr Family