Overview
Azura Benguerra Island is set on one of Benguerra's best beaches
All 20 villas have private plunge pools & spacious living areas
Mozambiquan cuisine - fresh fish and seafood - complemented by fine wines stored in a purpose-built cellar
Built entirely by hand by the local community & operated in partnership with them
Mozambiquan butler-hosts look after your every need
Perfect for honeymoons
Azura means 'beautiful blue' and Azura Benguerra Island could not be a more apt name for this 'barefoot luxury' eco-lodge, on the lovely Benguerra Island off Mozambique. Azura lies on one of Benguerra's best beaches within a Marine National Park, surrounded by miles of pure white sand and tranquil turquoise seas. (Bazaruto and Benguerra Islands are the largest islands in the  Bazaruto archipelago.)
Accommodation
Azura is a luxurious eco-retreat built in partnership with the local community. It has 18 private beach villas, a Presidential Villa (three bedrooms) and Villa Amizade (two bedrooms) all combining modern chic with traditional Mozambique design. Each air-conditioned villa has its own infinity plunge pool, deck and beach sala, and covers an area of 650sqm. The different room types vary only in size and beach locations. Each villa is a stones' throw from the beach, yet designed with privacy and seclusion in mind. Note that there are only three beach villa and it tends to never be available unless you are booking very early so this is why we usually quote on the Luxury beach villa or the Infinity beach villa.
The Presidential Villa with three bedrooms and Villa Amizade with two bedrooms are some of the best Villas on the Indian Ocean, both with secluded private locations and private butler.
This lodge has all the creature comforts and designer touches expected from a luxury boutique retreat, set off by beautifully carved beams and traditional artwork beneath a local thatch roof. The main lodge is open to the cooling sea breezes and has a restaurant, bar, sitting area and library. Internet facilities are discreetly tucked away in the library.
Activities
The majority of activities at the lodge are based in and around the Indian Ocean. Enjoy snorkelling, diving, fly-fishing or big game fishing. Swim with dolphins, track down humpback whales on their migration, or go out with the Dugong Protection Team and search for the shy endangered mammal. For those who want to stay on land, you can tour Benguerra island, climb the sand dunes, enjoy a horse back ride on the beach or visit the island's lakes on an island drive. Alternatively enjoy a sunset dhow cruise to a deserted Indian Ocean beach for a picnic.
A complimentary landrover island drive & sunset dhow cruise are included in the rates, plus use of snorkeling/fishing equipment. However all motorised water sports such as scuba diving, reef snorkelling, deep sea fishing etc are at an extra cost.
The Spa at Azura offers signature treatments based on local ingredients and traditions - get rubbed down with ground coconut shells and natural spices, covered head to toe with tamarind and aloe, or gently massaged with warm marula oil. There is a treatment room right on the beach open to the breezes so that you feel at one with nature.
Dining
Food is another key focus here. Jellyfish Restaurant's signature dishes do not disappoint, and nor will the extensive wine cellar, which includes fine wines from the owner's chateau in the Loire Valley. Once a week there is a more formal seven course tasting menu as well as a Mozambiquan evening. Fresh local Mozambican produce, much of it home-caught and home-grown, is put together with contemporary style and flair. Where to eat is as much of a decision as what to eat. The restaurant has magnificent uninterrupted views but you can also opt for a private dinner on the beach in front of your villa, or on the deck.
How to get to Azura Benguerra Island - Travel is easy with direct flights to Vilanculos on the Mozambique mainland from Johannesburg or KMIA near the Kruger. From there you take a helicopter direct to Benguerra Island.
Azura Benguerra Island gallery
Azura Benguerra Island on the map
Rooms
Beach Villa
Azura has 3 Beach Villas, set in a fantastic location at the end of the property next to the Spa, it is wonderfully private and perfect for honeymooners. The Beach Villa is the smallest of our villas, but still offers all of the creature comforts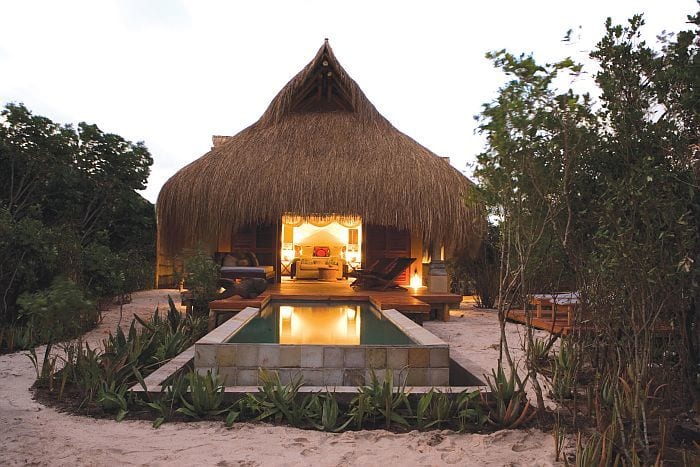 Luxury Beach Villa
Azura has 3 Luxury Beach Villas, furnished in contemporary style and just steps from the beach.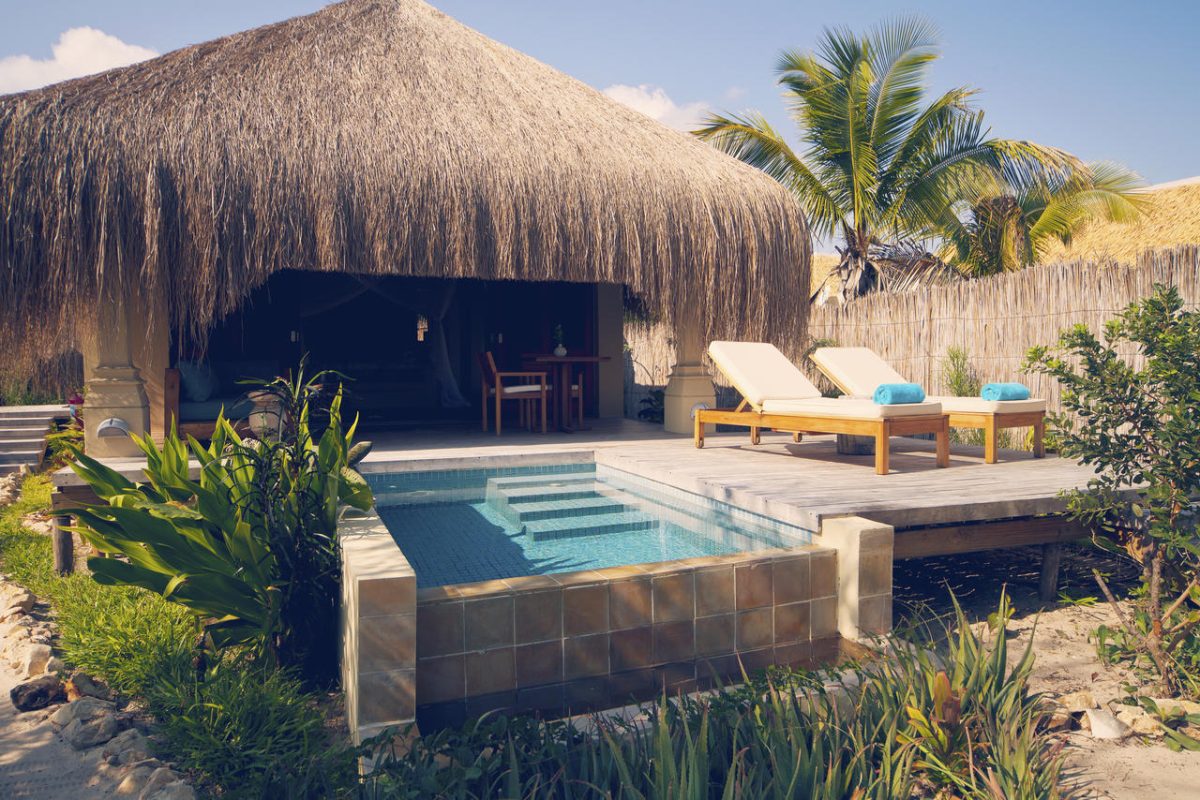 Infinity Beach Villa
Azura has 10 Infinity Beach Villas. They are furnished in afro-contemporary style and look out over a stunning infinity pool towards the beach and sea beyond. They have the best of our beachfront locations.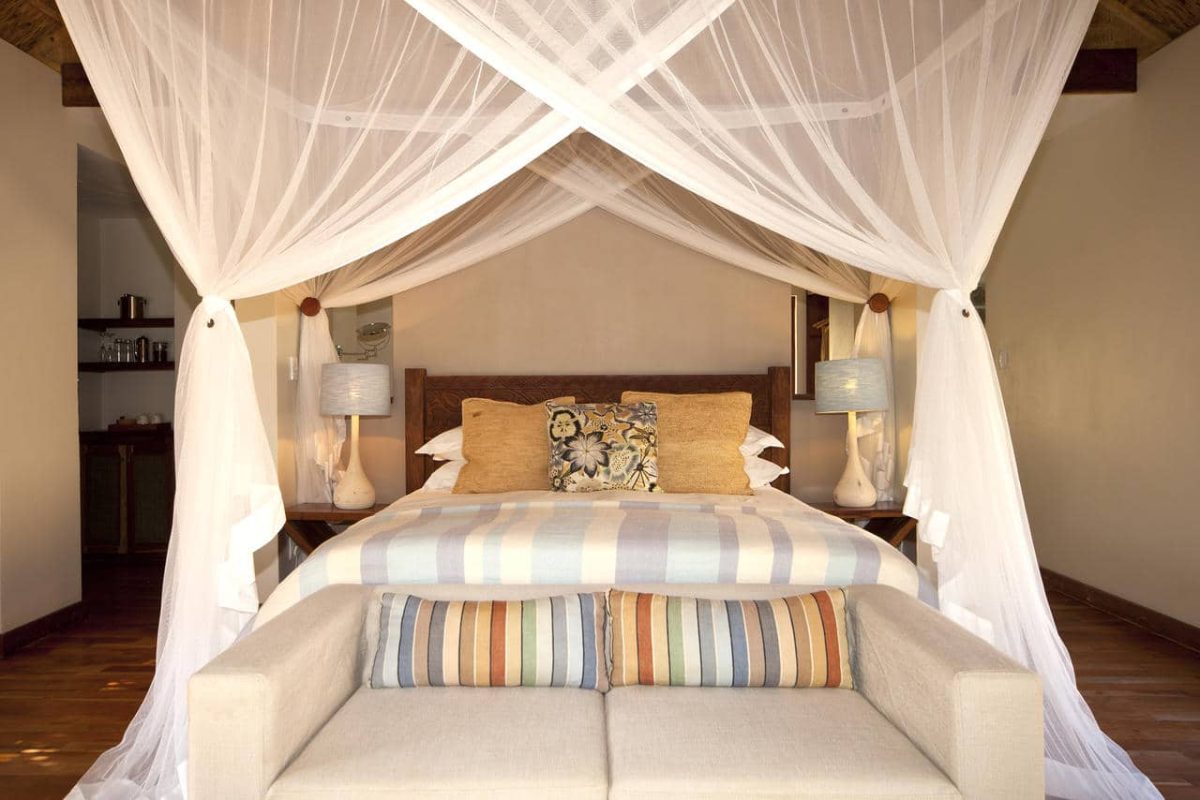 Royal Beach Villa
Azura has 2 Royal Beach Villas, they feature infinity edge pools and magnificent sea views. They are 172 square metres, making them the largest and most lavish of all the villas, with 30 metres of picturesque beach frontage on a large beautifully landscaped plot. They are located at the northern end of the property, ensuring the utmost privacy and uninterrupted views. The 2 Royal Beach Villas are located at the northern end of our property next to the Presidential Villa, with large landscaped gardens for a sense of total privacy and exclusivity, and 30 metres of picturesque beach frontage with magnificent sea views.
They offer the next level of comfort with even more outdoor space for the discerning Azura guest to enjoy. The main bedroom and bathroom area is similar to the existing Infinity Beach Villas and guests can now delight in the luxury of their own lounge area connected together via a walkway with glass sliding doors, and surrounded by our indigenous gardens. The lounge comprises of comfortable sofas around a flat screen television, and has its own bathroom, as well as a tea/coffee area with minibar and nespresso. The sofas can be converted to two beds for any children that may want to share.
Outdoor areas are astounding, offering a 10m rim flow pool with a Jacuzzi on the one end, and a poolside sitting pavilion on the other, from which guests have access straight into the pool. The villa also has a double daybed under latte roof, as well as a single daybed on the deck, dining area, and beachside sala, all of which are perfect for relaxing and enjoying your own private space.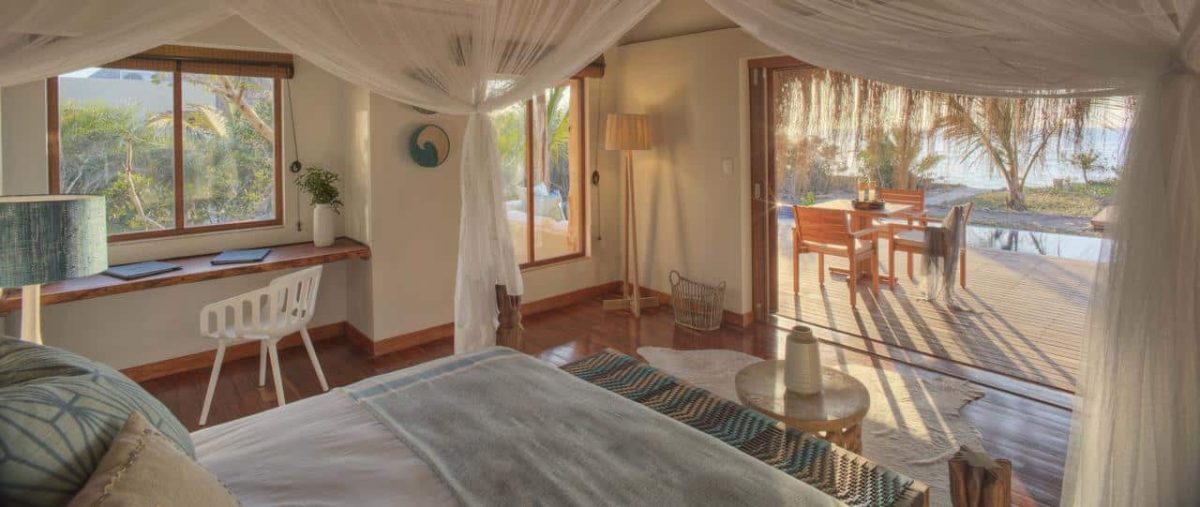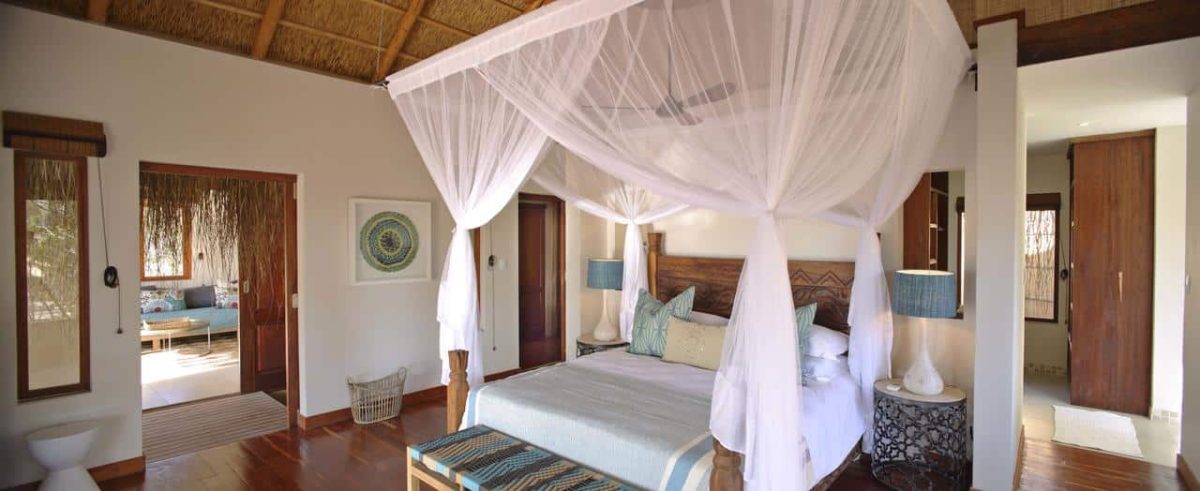 Villa Amizade
Villa Amizade means friendship villa in our native Portuguese. This 2 bedroom en-suite villa is located at the western end of the property, with fantastic views out to sea and towards the setting sun. It is perfect for families or couples requiring more space and facilities. It offers a sitting area with flat screen TV, DVD, Bose Sound Dock and selection of games, opening onto extensive decking, dining and relaxation areas, including a 'wine bar'. You can opt for a private chef service, available at a supplement. All the normal Azura design touches and finishes. Maximum occupancy 5 people including children.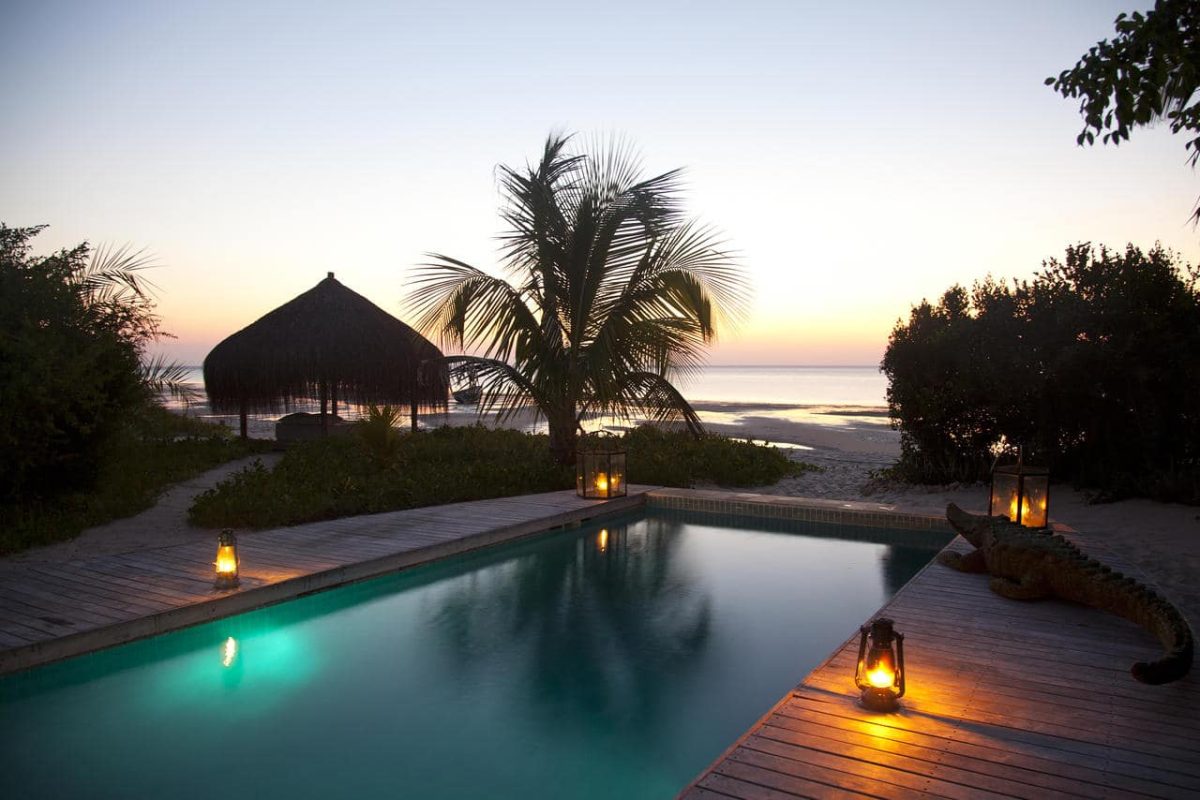 Presidential Villa
The Presidential Villa at Azura Benguerra has been described as one of the best villas anywhere in the Indian Ocean. It has a very secluded private location, some 150m down the beach from main Azura, and comes with its own Butler-host and private chef. Its the beach house of your dreams. The epitome of style and luxury, with its own unique décor, there are 3 en-suite bedrooms, indoor and outdoor bathrooms, a media room, sitting/dining area with 'wine bar', and huge infinity pool spanning the front of the villa. It is located just footsteps from the beach at the end of our property to ensure maximum privacy, with a fantastic treehouse to catch the afternoon breezes and panoramic views to Bazaruto Island and the Indian Ocean beyond.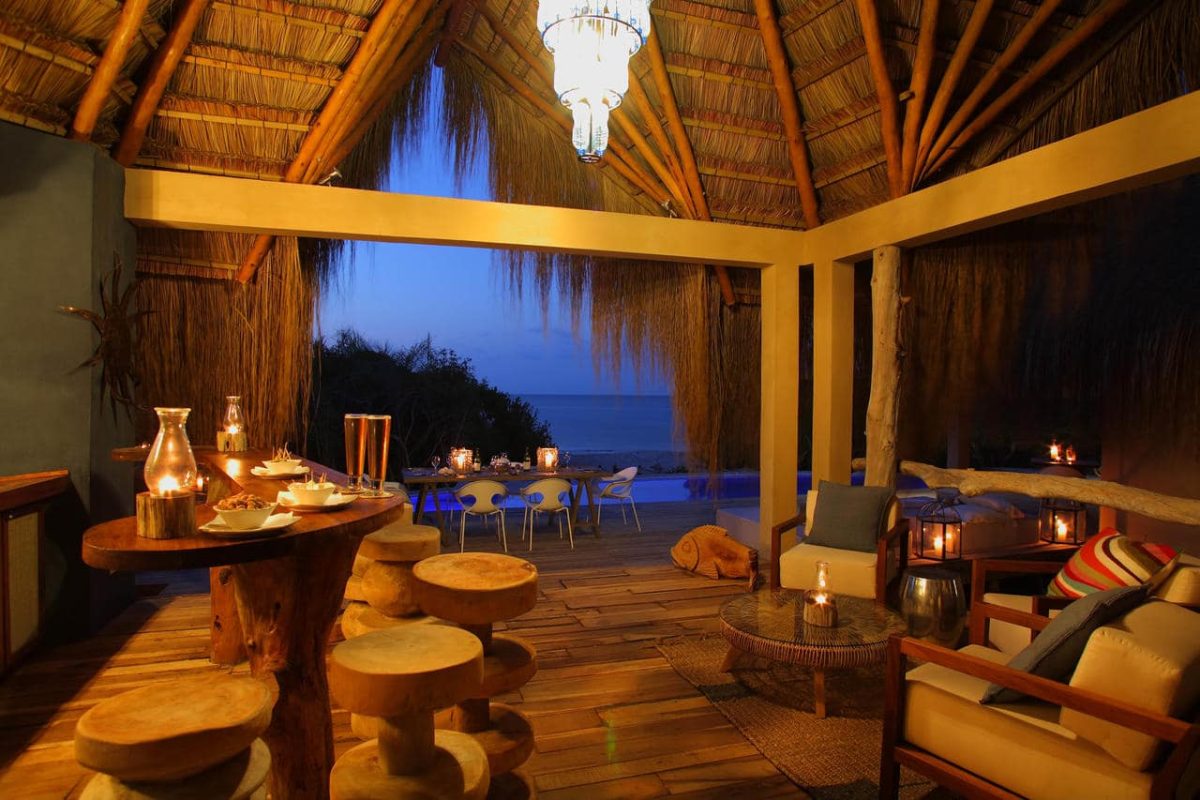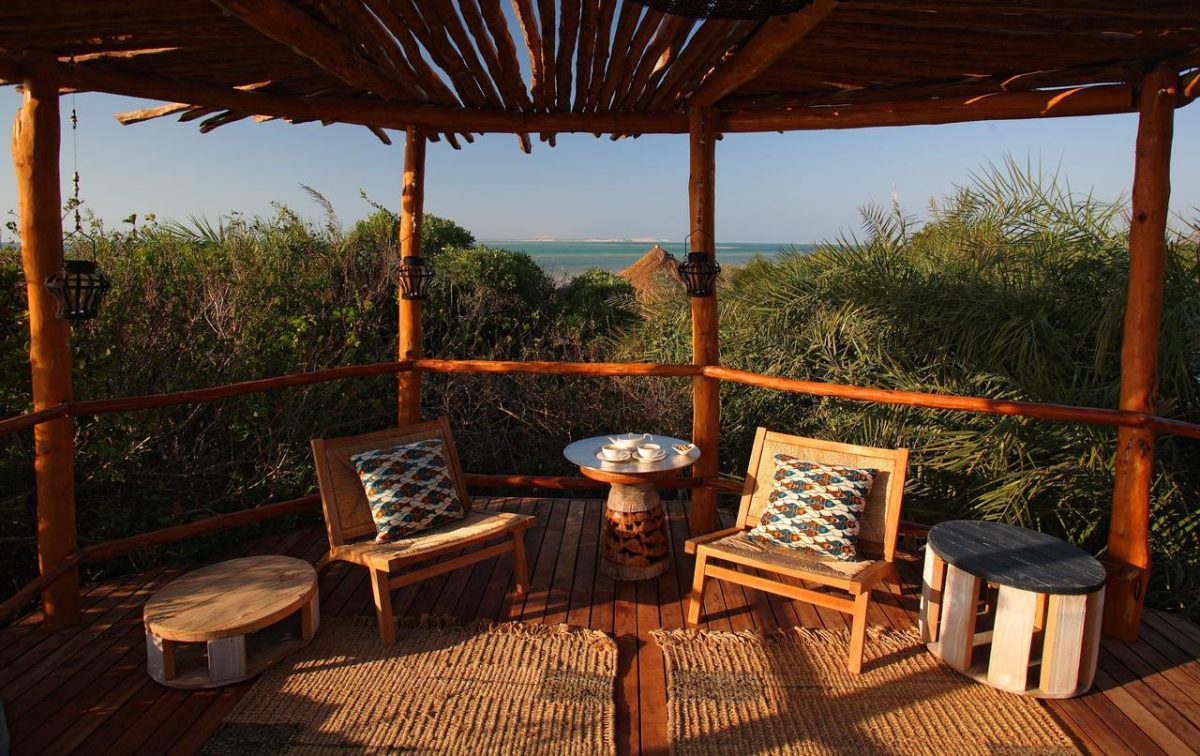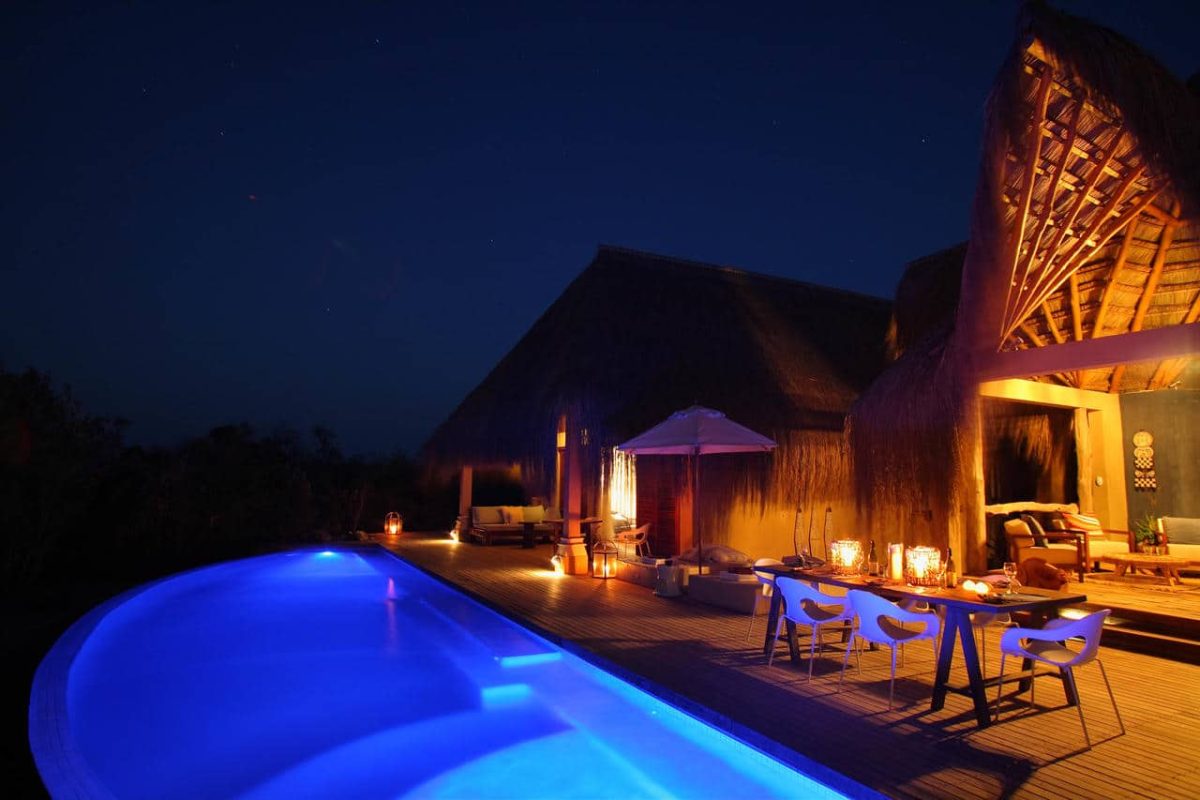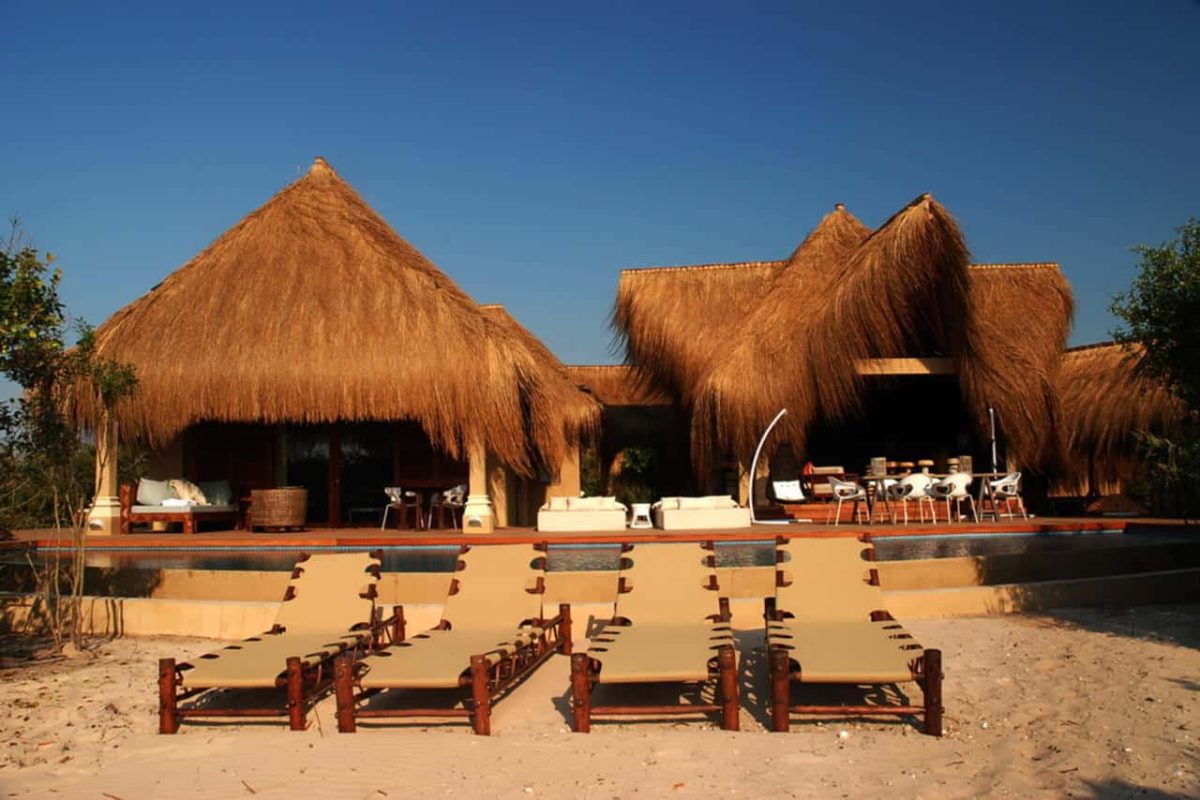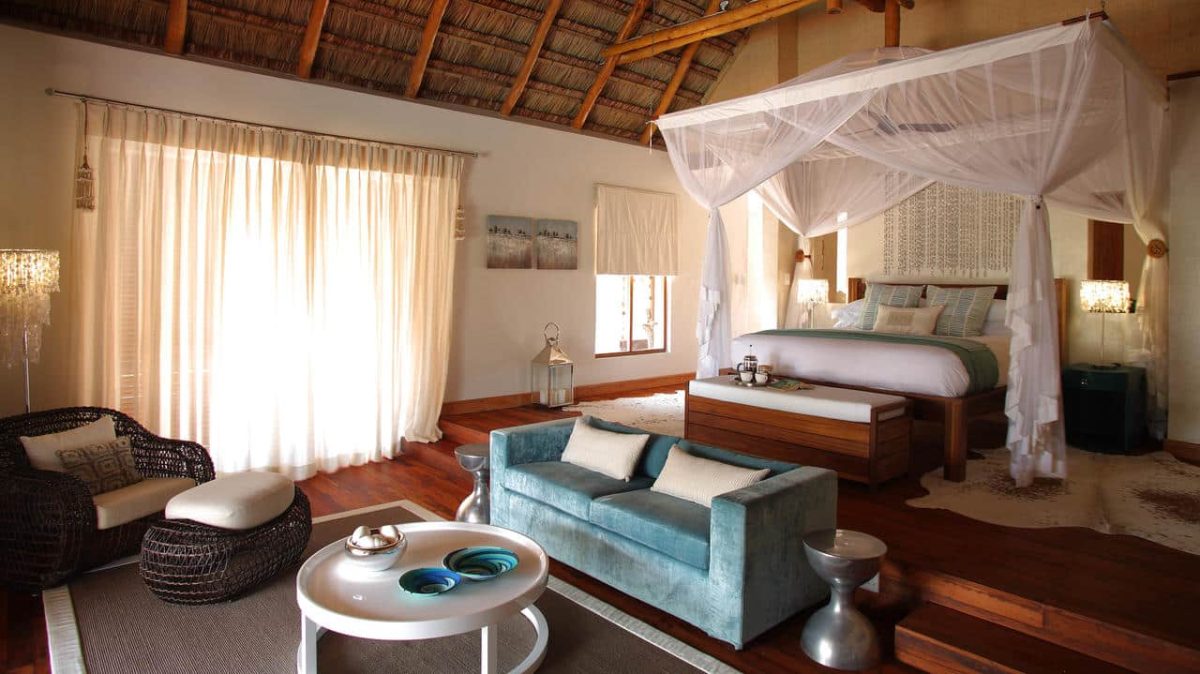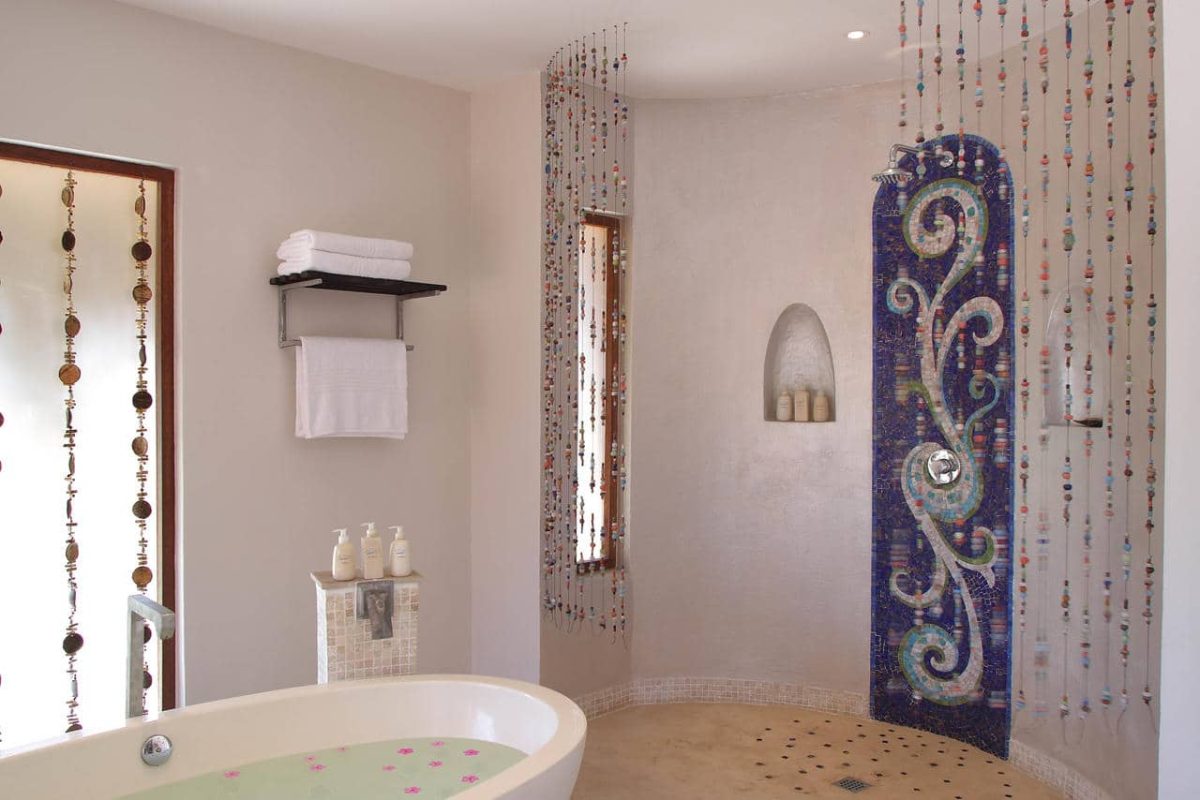 Azura Benguerra Review
We stayed at Azura Benguerra for two short days and nights. On arrival we were allocated a private butler to tend to our every need, Mozambican style – ie not overly obsequious, but always around when you needed something. Azura Retreat is on a daylight saving programme which is one hour ahead of the other lodges on Benguerra Island and the rest of Mozambique. They decided to do this so that they could maximize the daylight hours. On the first evening sun downer drinks were offered to us on on our private deck.
The staff at Azura were very friendly, helpful and informative and the lodge has a really stunning beach setting.
Rooms have inside bath and shower, enclosed toilet, outside shower. The inside bath and shower look out onto the beach.
The food at Azura was excellent! Dinner was really nice - on the beach at candle light with little fires and lanterns all over the beach. Highly recommended if you have the budget!
Special offers
Family Fun
Third child stays free of charge when sharing with two other children (valid year round) OR 2 children stay for free if sharing with parents (Green season only)
Third child stays free of charge when sharing one villa with two others children. Applies to kids up to age of 16. Valid year round OR Two children sharing with parents stay free of charge - Valid 6 Jan to 31 March and 25 Nov to 16 December 2023
Excludes: Festive Season and part of the offer (see detailed description) is not available from April to October
Azura Mozambique - Honeymoon Offer
Stay 5+ nights, bride gets 50% discount
One partner receives 50% discount off rates, and 50% off activities, spa treatments and Champagne (for stays of 5 nights or more)
Excludes: Festive Season - 15 Dec - 05 Jan
Terms & Conditions: Valid for all villa types (except Villa Amizade and Presidential Villa). Not combinable with Long Stay offer
Azura Mozambique - Stay 6 nights, pay for only 5
Stay for 6 nights, you only pay for 5
Excludes: Festive Season - 15 Dec - 05 Jan