Seychelles Diving
Marvel in the near-paradise experience of diving in the Seychelles
Overview
The Seychelles has one of the world's longest coral reef systems with some of the world's best diving sites. Add in warm aquamarine water, powdery beaches and a sublime year-round climate. It's no wonder that diving in the Seychelles is so popular.
Many of its islands lie on the edge of the ''Seychelles bank''. This drops some 2,000 meters into the turquoise Indian Ocean teeming with fish. Here you can enjoy a breath-taking underwater world of sudden drop-offs, walls, pinnacles and canyons.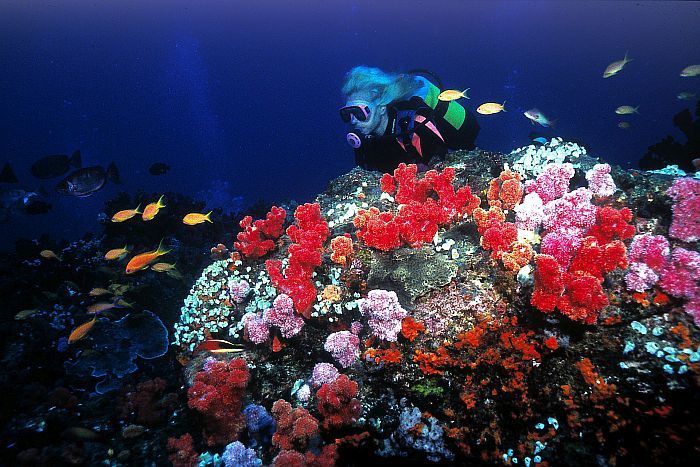 Best time for diving in the Seychelles
Enjoy diving throughout the year in the Seychelles with average water temperatures around 29C during most months. The best months are March to May and then September to November.  Visibility ranges from 8 to 30 metres.
During June to August, the monsoon winds makes getting to some of the hard-to-reach adventurous sites more difficult. It also reduces water temperatures to 25C. This in turn increases plankton levels and reduces visibility. However, the upside is that you may see the magnificent whale shark which reaches up to 12-14 meters in length. It feeds off the plankton. so you'll see these amazing creatures - with their 1.5m-wide mouths - much more during this time.

Best spots for diving in the Seychelles - Inner Islands
The inner islands are the remains of a submerged mountain range. This is the best bet for novice or intermediate divers as there's a huge variety of dive sites and excellent diving facilities. The northern islands offer impressive granite reefs, soft corals and sponges.
Many of the inner islands, such as Denis Island, offer world class diving. Special sightings include green and hawksbill turtles, butterfly fish, angelfish, squirrel fish, sweepers, hump-head parrot fish, stingrays and reef sharks.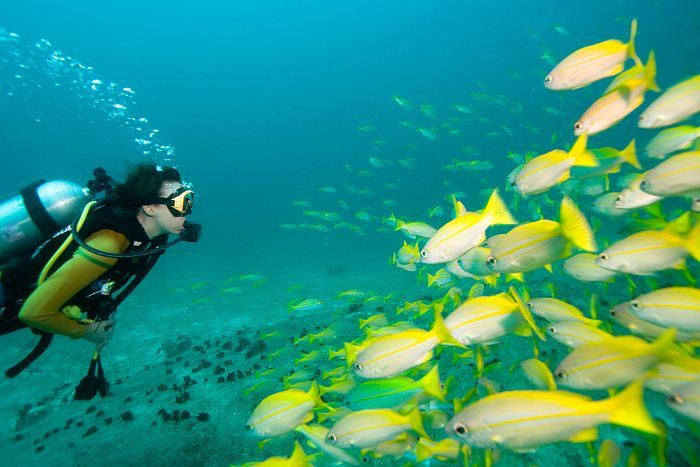 There are numerous dive sites around North Island and nearby Silhouette Island. The Sainte Anne Marine National Park surrounds Sainte Anne Resort. This is a protected reserve which ensures stunning marine life. Also the Sainte Anne white beaches are a favourite spot for nesting turtles. All of these dive resorts offer PADI Open Water dive courses.
If you are based at one of the hotels on Mahe or Praslin, enjoy diving with one of the reputable dive companies based there. They run PADI dive courses and also operate full day dive excursions to the inner islands.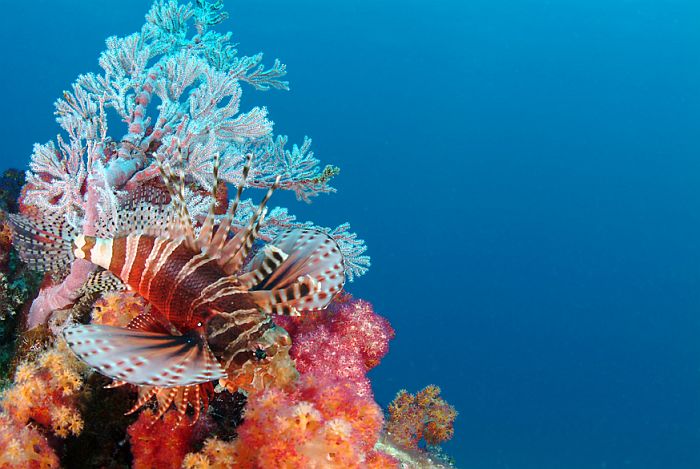 Seychelles diving on the Outer Islands
Four Seasons Desroches Island is perhaps the best place for diving in Seychelles with mini-walls and canyons, as well as numerous wreck sites. There's a 70km coral reef which circles this tropical atoll. This offers 14 unforgettable dives, none of which are more than 20 minutes away by boat. Here you may see sailfish, whitetip and nurse sharks, manta rays and whale sharks.
Highlights
There are several Marine Reserves to ensure that the fish and coral are not disturbed by motor boat pollution.
The northern inner islands offer impressive granite reefs, soft corals and sponges
The southern islands have walls and drop-off dives.
Possibility of seeing whale sharks from June to August
Everything was perfect
"Your service and the holiday you put together for us was faultless. Everything was perfect from the choice of accommodation to the transfers, flights…… everything! It was seamless."
Mrs Ruth Koper
Mr Guy Crabb - Ginny
"Ginny listened to what we wanted and delivered an itinerary that pretty much blew us away."
Mr Guy Crabb
Enjoyed the charm of the accommodation
"I want thank Mari for helping us create a vacation tour that worked for my husband son and myself. We got to see everything we would like to see that worked within our budget."
Mrs Janouska, USA
Hi I'm Kate, I'm here to help you plan your ideal holiday experience
Did you know
Best months to dive

March to May and September to November.

Size

One of the world's longest coral reef systems
Everything worked out perfectly
"Just a quick note to let you know everything worked out perfectly! We had a great time and the accommodations were excellent. We even had two elephants visiting our tent at Simbavati one evening. You can imagine the excitement! Thank you for your hard work to make this a fantastic safari."
Mrs Brigitte, USA
Fabulous time
"I can only say we had a fabulous time!!! The organisation from your side was great. Everyone turned up on time and everything was organised as planned. I have to say we were very encouraged about how well though of Cedarberg were with the travel providers and accordingly, we were extremely well looked after. Do thank Gloria for all her help in South Africa, and particular thanks to you and the Cedarberg staff in London for organizing such a great trip – our third with you!"
Dolman & Kerr Family
Your prices better than the bigger companies
"Brian came home with your attractive brochure and we started looking at possibilities. We both thought Cedarberg would be too expensive for us but were pleasantly surprised to find your prices better than the bigger companies. The itinerary you gave us went totally to plan. All our airport pickups and transfers went smoothly and local drivers were friendly and informative. We also appreciated all the phone conversations and help you gave at Cedarberg before we went and were delighted with the program you put together for us."
Dale Family, UK