Overview
The Seychelles has one of the world's longest coral reef systems with some of the world's best diving sites. Add in warm aquamarine water, powdery beaches and a sublime year-round climate. It's no wonder that diving in the Seychelles is so popular.
Many of its islands lie on the edge of the ''Seychelles bank''. This drops some 2,000 meters into the turquoise Indian Ocean teeming with fish. Here you can enjoy a breath-taking underwater world of sudden drop-offs, walls, pinnacles and canyons.
Best time for diving in the Seychelles
Enjoy diving throughout the year in the Seychelles with average water temperatures around 29C during most months. The best months are March to May and then September to November. Visibility ranges from 8 to 30 metres.
During June to August, the monsoon winds makes getting to some of the hard-to-reach adventurous sites more difficult. It also reduces water temperatures to 25C. This in turn increases plankton levels and reduces visibility.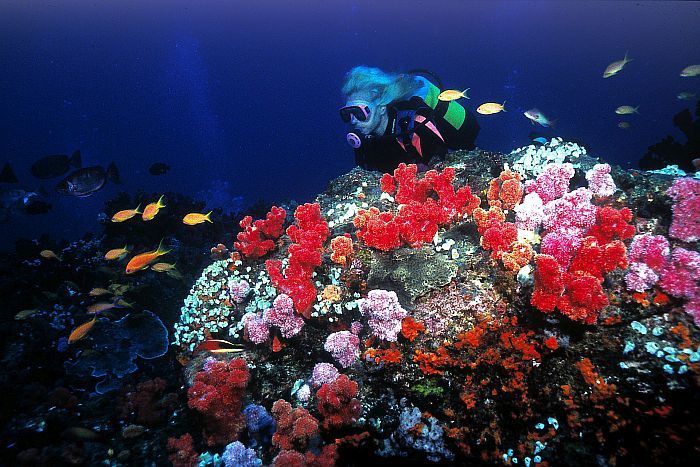 However, the upside is that you may see the magnificent whale shark which reaches up to 12-14 meters in length. It feeds off the plankton. so you'll see these amazing creatures - with their 1.5m-wide mouths - much more during this time.
Best spots for diving in the Seychelles - Inner Islands
The inner islands are the remains of a submerged mountain range. This is the best bet for novice or intermediate divers as there's a huge variety of dive sites and excellent diving facilities. The northern islands offer impressive granite reefs, soft corals and sponges.
Many of the inner islands, such as Denis Island, offer world class diving. Special sightings include green and hawksbill turtles, butterfly fish, angelfish, squirrel fish, sweepers, hump-head parrot fish, stingrays and reef sharks.

There are numerous dive sites around North Island and nearby Silhouette Island. The Sainte Anne Marine National Park is a protected reserve which ensures stunning marine life. Also the Sainte Anne white beaches are a favourite spot for nesting turtles. All of these dive resorts offer PADI Open Water dive courses.
If you are based at one of the hotels on Mahe or Praslin, enjoy diving with one of the reputable dive companies based there. They run PADI dive courses and also operate full day dive excursions to the inner islands.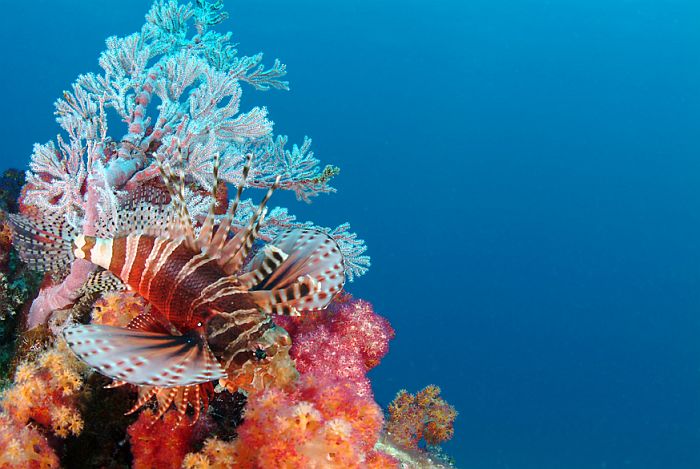 Seychelles diving on the Outer Islands
Four Seasons Desroches Island is perhaps the best place for diving in Seychelles with mini-walls and canyons, as well as numerous wreck sites. There's a 70km coral reef which circles this tropical atoll. This offers 14 unforgettable dives, none of which are more than 20 minutes away by boat. Here you may see sailfish, whitetip and nurse sharks, manta rays and whale sharks.
See our Main Page on Luxury Diving Holidays around Africa for more destinations.
Highlights
There are several Marine Reserves to ensure that the fish and coral are not disturbed by motor boat pollution.
The northern inner islands offer impressive granite reefs, soft corals and sponges
The southern islands have walls and drop-off dives.
Possibility of seeing whale sharks from June to August
Excellent attention to detail
"This is the second holiday that Ginny and her team have arranged for us, and once again the service and attention to detail were excellent. Ginny put together a wonderful tailor made itinerary for our trip, and her recommendations were absolutely perfect in enhancing the trip. In today's world of being able to arrange most things yourself, I have no doubt that there is no way we could have put together a trip like this, you need the depth of local knowledge that Cedarberg have. I thoroughly recommend Cedarberg Travel "
Mrs Janet Mudge, UK
Peter did a brilliant job
"Everything went as planned Peter did a brilliant job helping us to plan the holiday "
Mrs Sandra Cutmore
WHAT AN AMAZING SAFARI! An outstanding job!
"WHAT AN AMAZING SAFARI! What an outstanding job you did! From the arrival of the guests to the end of the safari. I'll speak on my behalf and let the other guests speak for themselves and give their own opinions. Let me just say the Safari amazing…., The team did an outstanding job, from the day of arrival at the airport with ground handlers to the drivers, to the departure day. Everything went smoothly and without this team, I do believe the experience would have been different. Africa is known for being slow, especially being punctual (as we call it, African time). The team changed all that. Everything ran according to the schedule and on time. They made us feel at ease, stress-free, and truly on vacation. It indeed made me feel proud of my country, proud to be a Kenyan, and proud of the people. There was UBUNTU all around, everywhere we went people were respectful, polite, and kind (apart from the one or two individuals who would hassle us to buy something and especially when they see Mzungu) and for that, I thank you, THOMAS, and the team. Excellent work. A hand of applause to Mari; Thank you to Mari, it all started with you. Thank you for planning and organizing the Safari it will forever be in our memories. The accommodation and the food were fantastic. Amboseli was stunning, although it would have been great to see Mt Kilimanjaro it was cloudy. Eka Hotel was great, and the breakfast was delicious. At the Keekorok, zebras visited us behind our cabins and could hear the call of the hippos. And finally, the Voyager hotel in Mombasa was fun and relaxing and the food was fantastic. Overall, the hospitality everywhere was fantastic. Couldn't have asked for more. Lastly, a big thank you to my safari team (Resa, Anette, Pete, Jim, Pat, Sarah and Mike) for being seasoned travelers, easy going and went with the flow. The Safari wouldn't have been the same without great travelers like you. I enjoyed spending time with you all. THANK YOU, GUYS. Sincerely, I thank you ALL. "
Mrs Carol Ndungu
Milandi Joubert
Africa Travel Specialist
Hi I'm Milandi, I'm here to help you plan your ideal holiday experience
Did you know
Best months to dive

March to May and September to November.

Size

One of the world's longest coral reef systems
Cedarberg always create amazing holidays
"Cedarberg do not fail to deliver they always create amazing holidays and we can not fault. We've used Cedarberg 5 times and keep going back for more African experiences Excellent. Amazing as always, as we always seem to test you guys with snow, weddings & having to change destination. You never fail to give us the best. "
Mrs Alexei Howell, UK
It was a fabulous holiday
"I have booked through Cedarberg before and this is why I came back, as I was highly satisfied. This time it was a bit more complicated as Peter had less experience with Uganda himself and he had to communicate with Wildlife Frontiers a lot, which took time and some backwards and forwards. In the end it was so worth it, as it was a fabulous holiday. Peter also recommended the group experience and that was the right thing for a single traveller, we had a fantastic group of five and had all meals together. Otherwise I would have been on my own for the whole trip. "
Mrs Monika Maintz
Glad we booked with Cedarberg
"They were very informative and helpful. Milandi in particular helped us with car hire and when I lost my wallet on arrival in Cape Town. Milandi was always available to discuss and change anything required. Emails were replied to promptly. "
Mr Chris Jones, UK