Overview
Madagascar definitely deserves its growing popularity with keen divers. The islands off Madagascar are famous for their white beaches. And warm, translucent waters brimming with colourful reef fish. The warm Mozambique Channel separates Madagascar - the fourth largest island in the world - from Africa. It is filled with some 1.500 miles of pristine coral reefs.
Notably the waters around Madagascar have the highest coral diversity of the western Indian Ocean and the Red Sea. Marine life includes trigger-fish, eagle rays, damsel-fish, barracuda, and reef sharks. Invertebrates include sea stars, anemones, and sea urchins. Plus in season, you may also be able to spot Manta rays and whale sharks.
Diving trips are usually based on the islands close to Nosy Be in the north-west of the country. This is the best area overall - especially Nosy Tsarabanjina, Nosy Tanikely and Nosy Sakatia. The coral reefs here are healthy and full of colour. Plus the islands have escaped the coral bleaching found in other parts of the Indian Ocean. (Researchers believe that the cool water currents from adjacent deep ocean areas have countered the global warming effect.)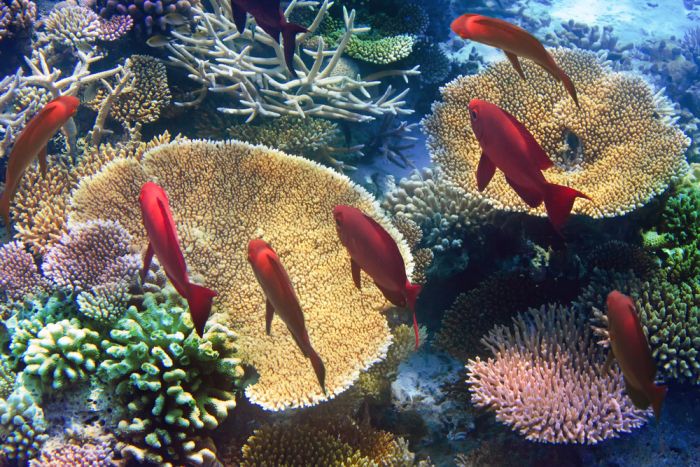 You can also find excellent diving off Ile Sainte Marie in the east. And around Ifaty near Tulear on the southern coast.
What is the best time for diving in Madagascar?
April to May and August to November are probably the best times for diving holidays in Madagascar. This gives the calmest waters and so best visibility. You have the greatest likelihood of spotting whales and turtles from July to November..
Avoid the heavy summer rains usually between January and March. Heavy swells make it difficult to get to remote dive sites. And also reduced visibility. Cooler waters from June and July increase plankton levels which in turn reduces visibility. (But the upside is that whale sharks are more likely to be spotted during these months.)
Diving in Nosy Be
The island of Nosy Be itself does not have great diving opportunities. However, Nosy Be has a number of dive schools which offer excursions to the superb dive sites at the Marine Reserve. You can head to Nosy Tanikely as well as Nosy Mitsio and Nosy Sakatia. You may like to stay at Sakatia Lodge so that you are based right at the heart of the action.

Wreck Diving off the Ile Sainte Marie
Ile Sainte Marie offers tropical reef fish and wreck diving. The Ile aux Nattes to the south of Ile Sainte Marie offers some of the best coral reefs. Divers enjoy seeing the turtles, skates and morays around Ile Sainte Marie. But the island's pirate history means that wreck diving is also an option, as several pirate ships foundered in the bay.
See our Main Page on Luxury Diving Holidays around Africa for more destinations.
Exceeded our expectations
"We absolutely loved EVERYTHING and our trip absolutely exceeded our expectations. Thank you so much for your help in planning our trip and organizing it as well as you did. "
Mrs Elena G, UK
Outstanding & First class
"We are back from our trip to SA and having had just the best time ever. Everything slotted into place perfectly and all the accommodation and activities you booked for us were outstanding. Couldn't have been bettered, you chose very well! Stands out as one of the best trips we've ever had. Virtually everything went like clockwork and we had a fantastic time. You did a brilliant job and the info pack was first class. The best organised holiday we have been on. We will defintely go back to Africa "
Mr& Mrs Cott, UK
Winning itinerary!!
"Without ever meeting us, Kate and Tash from Cedarberg Travel & African Safaris created a winning itinerary for my friend and I! The itinerary was well-balanced in its schedule, activity levels and locations. We started in Cape Town with several tours and an excellent tour guide named Tobi. Tobi quickly clicked with us, laughed with us, and answered all of our questions about aspects of the city including a recommendation for the Gold restaurant ( a blast). After a long bit of air travel getting to South Africa and 3 full days in Cape Town, Kate scheduled a stay in the Cederberg mountains at luxury lodging and it was exactly what was needed. We had a few days to rest and pamper ourselves, and as hobby photographers, we did our own African sunset photoshoot with the mountains as our backdrop. Our trip included 5 days of safaris. Once again, we had a stellar guide and tracker (Solomon and Jeff) who taught us the soul of a South African who loves the animals and lands of his home. Every time Solomon stopped to educate us, we were like elementary kids, gathered around him with elbows on knees, eyes focused, and fully attentive. He gave us story after story of information about the circle of life at Kruger NP. We ended the time at Victoria Falls. All the details for the trip were provided and we had no glitches! Both myself and my friend want to return to South Africa and the first thing I did on my return was email Kate and ask if she could keep me in her files because I really hope to go back and I'll do that trip through Cedarberg Travel & African Safaris! "
Mrs Myers
Natasha Jantjies
Africa Travel Specialist
Hi I'm Natasha, I'm here to help you plan your ideal holiday experience
Did you know
Best Time

July to November for visibility and whales

Whales

34 different species of whales & sharks in Madagascar
Cedarberg always create amazing holidays
"Cedarberg do not fail to deliver they always create amazing holidays and we can not fault. We've used Cedarberg 5 times and keep going back for more African experiences Excellent. Amazing as always, as we always seem to test you guys with snow, weddings & having to change destination. You never fail to give us the best. "
Mrs Alexei Howell, UK
Everything was perfectly organised
"Mari did an incredible job planning our holiday. Not only did Mari communicate extremely well throughout the whole process, but the trip was beyond our expectations "
Mr Yeats, USA
WHAT AN AMAZING SAFARI! An outstanding job!
"WHAT AN AMAZING SAFARI! What an outstanding job you did! From the arrival of the guests to the end of the safari. I'll speak on my behalf and let the other guests speak for themselves and give their own opinions. Let me just say the Safari amazing…., The team did an outstanding job, from the day of arrival at the airport with ground handlers to the drivers, to the departure day. Everything went smoothly and without this team, I do believe the experience would have been different. Africa is known for being slow, especially being punctual (as we call it, African time). The team changed all that. Everything ran according to the schedule and on time. They made us feel at ease, stress-free, and truly on vacation. It indeed made me feel proud of my country, proud to be a Kenyan, and proud of the people. There was UBUNTU all around, everywhere we went people were respectful, polite, and kind (apart from the one or two individuals who would hassle us to buy something and especially when they see Mzungu) and for that, I thank you, THOMAS, and the team. Excellent work. A hand of applause to Mari; Thank you to Mari, it all started with you. Thank you for planning and organizing the Safari it will forever be in our memories. The accommodation and the food were fantastic. Amboseli was stunning, although it would have been great to see Mt Kilimanjaro it was cloudy. Eka Hotel was great, and the breakfast was delicious. At the Keekorok, zebras visited us behind our cabins and could hear the call of the hippos. And finally, the Voyager hotel in Mombasa was fun and relaxing and the food was fantastic. Overall, the hospitality everywhere was fantastic. Couldn't have asked for more. Lastly, a big thank you to my safari team (Resa, Anette, Pete, Jim, Pat, Sarah and Mike) for being seasoned travelers, easy going and went with the flow. The Safari wouldn't have been the same without great travelers like you. I enjoyed spending time with you all. THANK YOU, GUYS. Sincerely, I thank you ALL. "
Mrs Carol Ndungu