Overview
Madagascar's only Relais & Chateaux beach resort
Lies on a private nature reserve
Large variety of complimentary activities
Range of guided and self-guided walks in the Anjajavy Private Nature Reserve
Anjajavy Hotel lies on an idyllic 550ha private nature reserve in a beautiful remote peninsula in the north-west of Madagascar. Indeed it is so remote it has its own time zone! Anjajavy is like an essential distillation of all that is appealing about Madagascar with its virgin forest sanctuary, lemurs, marine-rich waters and glorious tropical beaches.
It is only accessible by a dedicated light aircraft flight from 'Tana on selected days (with the flight taking 1½ hours). Flights are currently Tuesdays, Thursdays and Saturdays.
Madagascar's only Relais & Chateaux beach resort, Anjajavy Hotel is the perfect blend of simple but appealing accommodation with a long stretch of white sandy beach flanked by limestone cliffs and lovely tropical gardens. It is backed by the forest of its private nature reserve and so benefits from some stunning birdlife (including lovebirds, Madagscar wagtail and parrots) and even sifakas coming out of the forest to 'dance' on the lawns.
Lodge
Behind the villas is the main lodge with a restaurant, lounge, bar with billiards table and a television room. Their well-trained chef tempts you with a French-inspired Malagasy menu using the freshest seafood and local produce, often served alfresco on the deck overlooking the gardens and ocean beyond. Afternoon tea is served in the beautiful Oasis tropical gardens which were designed by a French landscape designer and are a haven for humming birds, lemurs, malachite kingfishers and other Malagasy specials.
Anjajavy Hotel has a lovely swimming beach with a large swimming pool directly behind it. There are a wide variety of complimentary activities include water skiing, catamaran sailing, wind surfing, snorkelling, canoeing in the sea or in the mangrove forests. These are run from a separate beach to the swimming beach maintaining a sense of serenity around the hotel itself. Land-based activities include volleyball, table tennis, billiards, badminton and boules on the lawn.
Anjajavy Private Nature Reserve
The deciduous forest surrounding Anjajavy Hotel is home to 1800 floral species and the wildlife is prolific. Night walks may bring sightings of the grey mouse lemur, fat-tailed dwarf lemur, Milne Edwards sportive lemur as well as the hedgehog-like tenrec, Madagascar flying foxes and Commerson's leaf-nosed bats. During the day you might see the entrancing sifaka, the so-called dancing lemur, the brown lemur as well as chameleons, frogs and the elusive fossa, one of Madagascar's few carnivore species . Tsingy, the celebrated coral remains, can be found throughout the forest and overlooking the bay. There is a range of guided and self-guided walks and mountains bikes are freely available for exploration of the forest .
Anjajavy Coastline & Activities
However it is the stunning coast which draws many visitors to Anjajavy Hotel. There are a series of stunning sandy coves all connected by paths so that you can wander off for the day to discover your own secluded beach. There are 7 coves to chose from.
Snorkelling and diving are exceptional and depending on the season, you may even see humpbacked whales, dolphins, whale sharks, manta rays, leatherback turtles and green turtles from Anajavy. Boat excursions head out to the islands of Moramba bay to see the sacred baobab trees and tombs wedged into the island caves and limestone cliffs. Diving , deep-sea fishing and boat excursions to the islands or local villages are at an additional cost.
Note: Seasonal closure is from late January to late March.
Anjajavy Hotel on the map
Rooms
Villas
Unbelievably glamorous for Madagascar, the Anjajavy Hotel has 24 spacious rosewood villas, all with a superb ocean view, sitting area, air-conditioning, minibar and tea/coffee facilities. French doors open onto a large veranda overlooking the ocean with sun loungers and hammock where you can relax and gaze at the fishing pirogues quietly plying their trade. The bathroom on the ground level has a large bath and a shower, unusual for Madagascar. Upstairs a mezzanine level can be used for 1 or 2 kids, as a second relaxation area or as an office.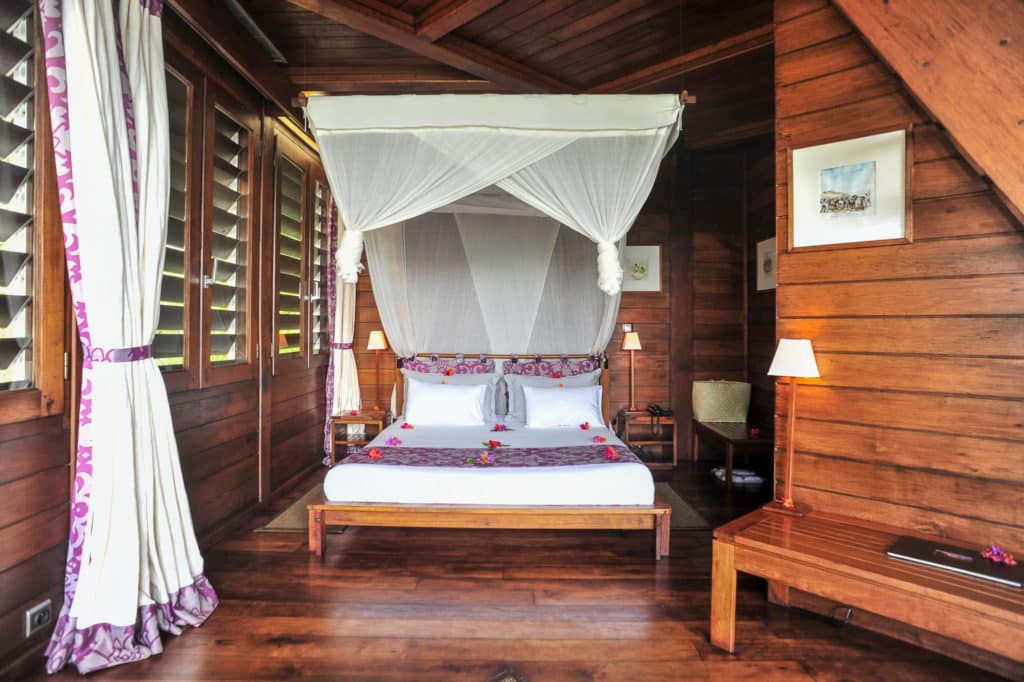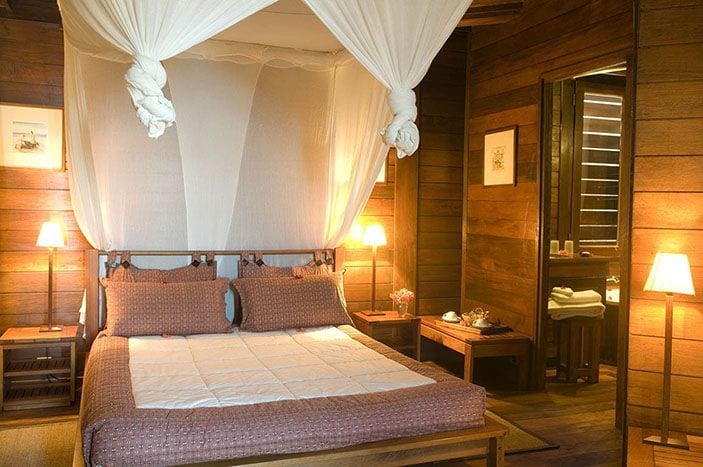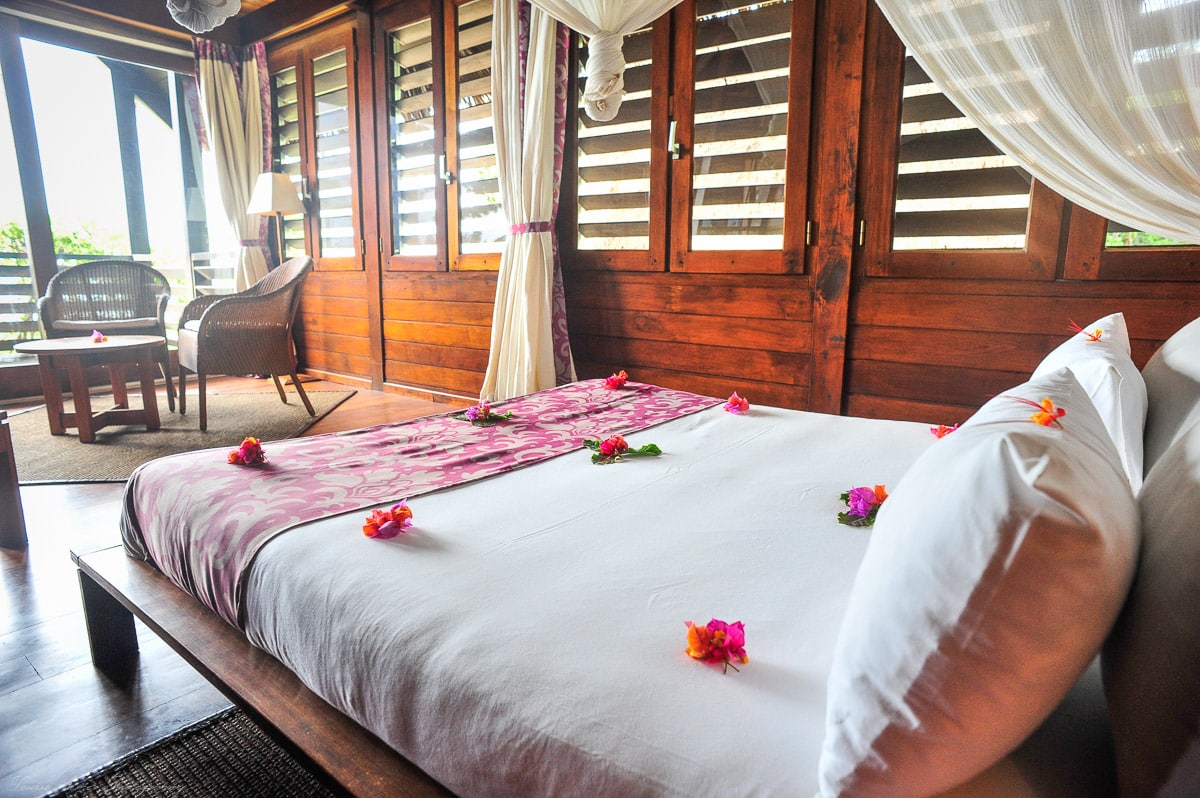 Includes
Half Board & Activities - catamaran, snorkelling, kayak on the sea or in the mangrove, windsurfing, swimming pool, petanque, beach volley, badminton, billards, excursions and promenades (with or without guide), caves visits, birdwatching, visits of local villages and nocturnal walks and accommodation.
Family Suitability
Accepts older children
Malaria Rating
Malarial area year-round
See other options in this area