Overview
Nestled in a lush tropical garden, l'Heure Bleue enjoys a unique location in Nosy Be, the well known paradise island. Eight luxury lodges and ten waterfront bungalows can be found on the #1 beach of Nosy Be. The hotel is backed by a hill overlooking the bay of Madirokely/Ambatoloaka, preserving both the freshness and intimacy for guests.
Guests can have cocktails and taste the cuisine of Madagascar at the open-air restaurant, on a terrace overlooking the bay, and surrounded by the freshwater pool. They can read while contemplating the ocean, try their hand at a Malagasy game, or dive, depending on the the moment, into the pool or right into the sea.
You have a choice of the original wooden bunglows, two of which are ideal for families. Or opt for one of the new luxury lodges which are a cut above most accommodation on Nosy Be. So options for all budget available.
L'Heure Bleue Hotel gallery
L'Heure Bleue Hotel on the map
Rooms
Luxury Lodge
The eight new luxury lodges are, undoubtedly, the most beautiful and stunning rooms on Nosy Be. These magnificent, private, 65 m2 lodges have a large terrace facing the sea, with a stunning view over the bay, and were decorated by French designer Frederique Glainereau. The lodge includes a king size bed, convertible into two single beds, a sofa that can be converted into an extra bed, a desk, free wifi access, a large bathroom with double sinks, and a walk-in shower, toilet, closet, shelf, and safe, and mini bar. Large windows offer the incomparable view of l'Heure Bleue on the beautiful bay of Madirokely/Ambatoloaka.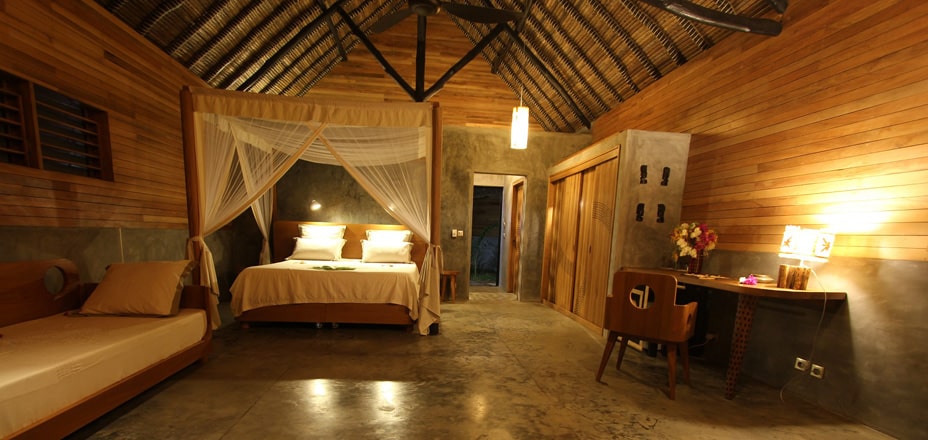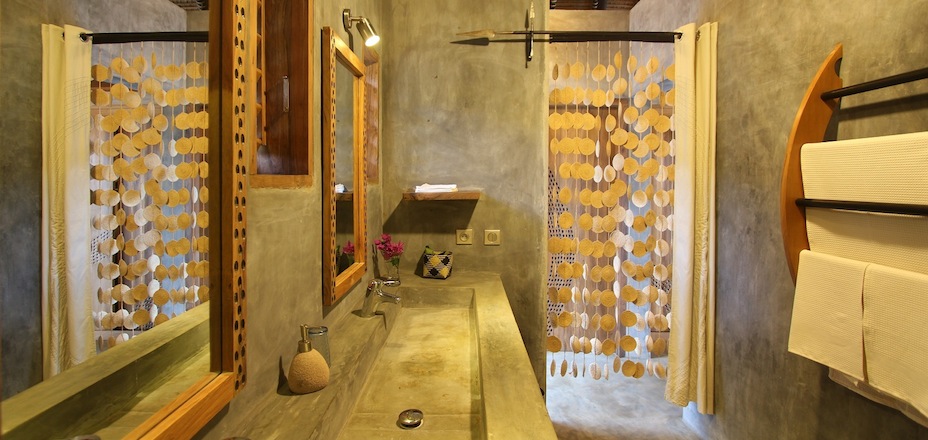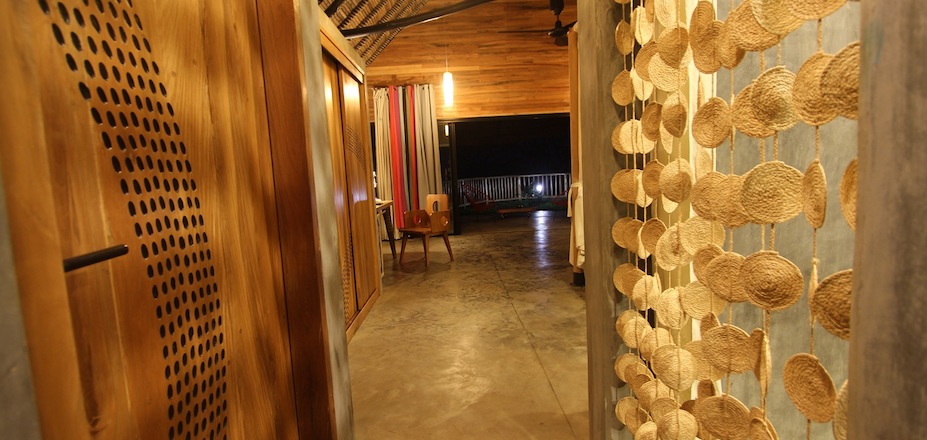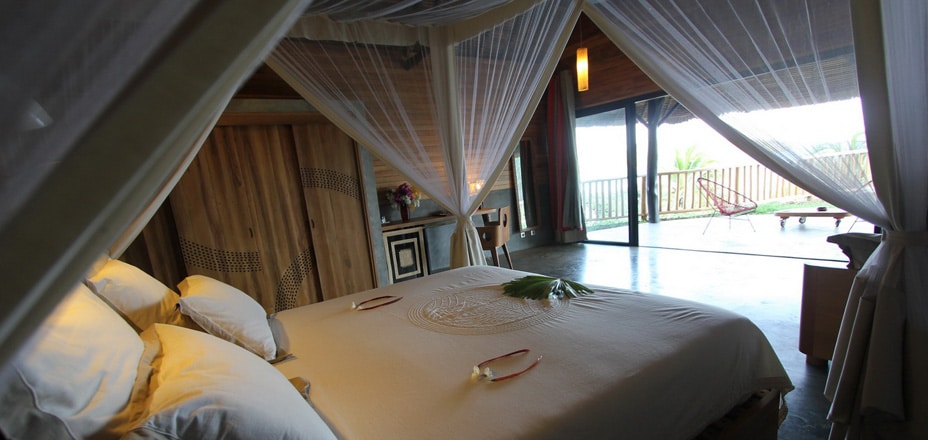 Bungalow
The ten wooden bungalows combine traditional construction and comfort, and are directly waterfront. All have a private terrace and are equipped with fans, a mini bar, and safe. Lulled by the sound of the tides, you will enjoy their incomparable charm: local materials were used, such as rosewood, coconut leaf ravinala (traveler's tree), and their decoration is particularly neat.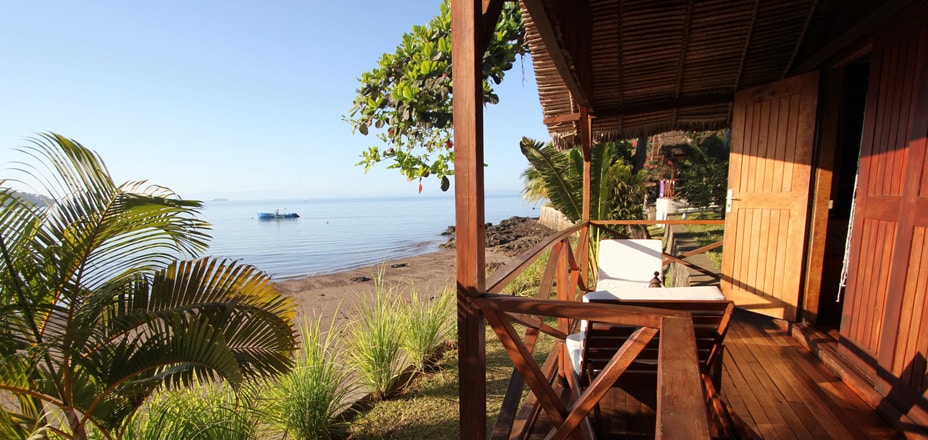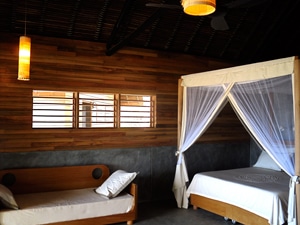 Duplex Bungalow
The duplex bungalows have been designed primarily for families. They have a mezzanine floor with a double bed and two single beds on the ground floor. Less spacious than luxury lodges, they are nevertheless sufficient and comfortable (28m2 + 10m2 mezzanine). They offer a terrace with sea view, a bathroom, and open onto the pool. The comforts were not forgotten; they also include a fan, minibar, and safe as well.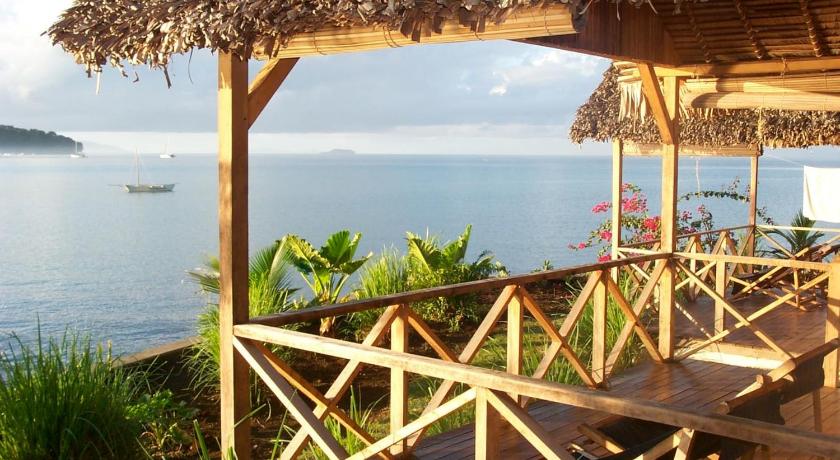 See other options in this area