Overview
Cedarberg Africa designs tailor-made golf and safari holidays in South Africa, staying at some of the best golf resorts. You can enjoy as much Golf in South Africa as you want. As it can easily be combined with a safari and other interests.
Golf is a passion for many in South Africa. And many of South Africa's courses have been designed by award-winning golfers and top course designers. Some can even compete with the best in the world. The Gary Player course at Sun City, Pezula, & Fancourt, to say nothing of the prestigious Leopard Creek near the Kruger National Park. Some of these spectacular golf courses have been featured on the European PGA Tour - a testament to their high calibre.
Choose between a flexible self-drive golf trip, a golf tour with your own private driver-guide or a golf safari holiday. All options can tailored around your specific requirements.
Why choose Cedarberg for your golf and safari holiday in South Africa?
We have visited all these golf resorts, and played at many of them. So we are adept matching the right golf resort with the right client.
We offer the full range of safaris in Southern Africa. Including golf, safaris & family travel. That makes us the perfect match for people who want to do a bit of everything.
Over the last 25 years, we've arranged plenty of golf holidays. But also plenty of what we call 'golf in holidays' i.e. when you simply want to add a few rounds of golf into your trip. Rather than coming to play as much golf as possible...
It is this MIX of expertise which draws our golfing clients to us. We can combine a top South Africa golf resort with your need for a top family holiday for example. Or we can advise on the best safaris to follow your golf break…
Look at our sample golf safaris in South Africa below. Then contact us to chat about your plans. Our pre-departure golf services include booking tee-off times, caddies or golf buggies, arranging pro-golf lessons or a round with the resident Pro.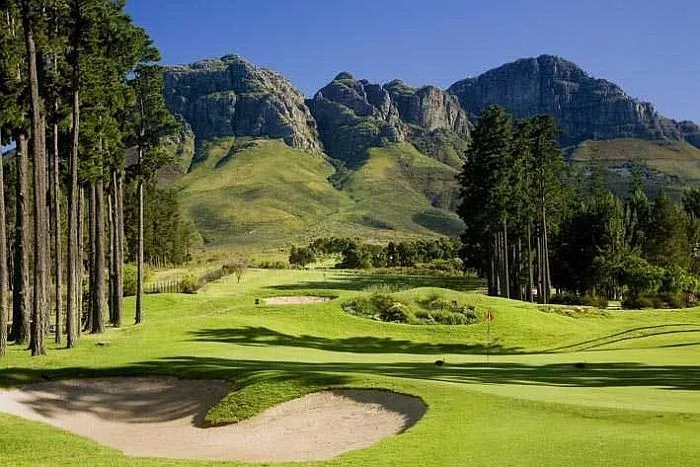 What if one of you doesn't play golf?
Not everyone shares an avid passion for golf and golfers need pampering too! So many South Africa golf resorts have spa facilities to rival their immaculate fairways. With a range of beauty and body therapies, heated pools, gym etc. See some of our golf hotels below.
Golf in the Indian Ocean Islands
Mauritius, and to a lesser degree, the Seychelles, have golf resorts in stunning Indian Ocean settings with a glorious sub-tropical climate. Lush fairways are lined with coconut palms and your spectators are paradise flycatchers and the odd curious tortoise! Both boast 'six-star' golf and water sport resorts to round off the story at the deluxe end of the spectrum.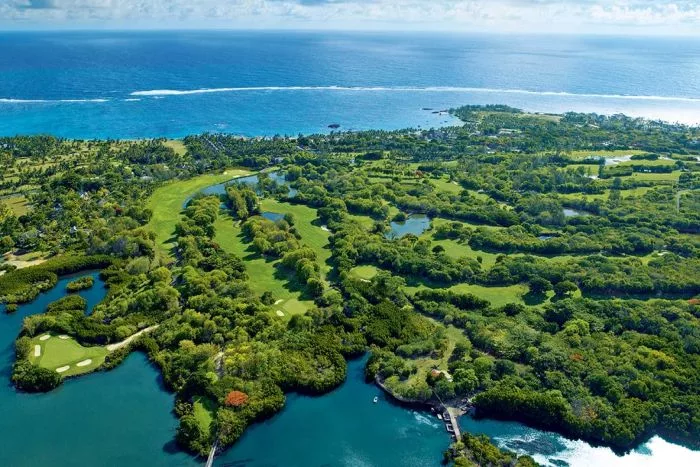 Highlights
Superb weather, perfect golfing conditions, the vast and natural beauty of South Africa's countryside.
Huge diversity of golf courses from manicured parkland courses, to challenging links options to courses in the mountains or even in a bushveld setting.
We are expert at combining golf with safari, spa & wellness and other interests.
Sonja Brand
Africa Travel Specialist
Hi I'm Sonja, I'm here to help you plan your ideal holiday experience
We arrange trips to more than 100+ destinations throughout the African continent.
Did you know
Major Winners

South Africans have won 22 of the Major Championships

Presidents Cup

The Presidents' Cup was hosted at Fancourt
Incredibly well organised
"Everything was incredibly well organised and left nothing wanting. We did not see all of the animals that we had hoped for but the experience we had was so much more than that. Hopefully we will return to Africa one day – maybe Namibia / Botswana next time. Thank you so much for organising everything for us it is very much appreciated. "
Mr James Coleman
We had a great time, a very memorable holiday
"Thank you for your patience with us through the planning stage. Standard of room we realise is important to us maybe we should have discussed this more at the planning stage. It was a very memorable holiday "
Mrs Sara Brill, USA
Winning itinerary!!
"Without ever meeting us, Kate and Tash from Cedarberg Travel & African Safaris created a winning itinerary for my friend and I! The itinerary was well-balanced in its schedule, activity levels and locations. We started in Cape Town with several tours and an excellent tour guide named Tobi. Tobi quickly clicked with us, laughed with us, and answered all of our questions about aspects of the city including a recommendation for the Gold restaurant ( a blast). After a long bit of air travel getting to South Africa and 3 full days in Cape Town, Kate scheduled a stay in the Cederberg mountains at luxury lodging and it was exactly what was needed. We had a few days to rest and pamper ourselves, and as hobby photographers, we did our own African sunset photoshoot with the mountains as our backdrop. Our trip included 5 days of safaris. Once again, we had a stellar guide and tracker (Solomon and Jeff) who taught us the soul of a South African who loves the animals and lands of his home. Every time Solomon stopped to educate us, we were like elementary kids, gathered around him with elbows on knees, eyes focused, and fully attentive. He gave us story after story of information about the circle of life at Kruger NP. We ended the time at Victoria Falls. All the details for the trip were provided and we had no glitches! Both myself and my friend want to return to South Africa and the first thing I did on my return was email Kate and ask if she could keep me in her files because I really hope to go back and I'll do that trip through Cedarberg Travel & African Safaris! "
Mrs Myers