Overview
A spa retreat originally meant a place of mineral springs used for relaxing and healing the body. Recently there's been a return to this focus on healing the body.
So often our modern lives seem fragmented almost beyond repair. We manfully struggle to fulfil various roles simultaneously in competing areas: professional, social, spiritual and parental. Rarely do we have the time to focus on ourselves. A good spa retreat takes a holistic approach to calming both body and mind.
South Africa, alongside Mauritius and the Seychelles, has some of the finest Spa Retreats in the southern hemisphere. They combine exquisite spa design and therapies, alongside luxurious accommodation and enchanting locations.
Spa Resorts in South Africa
How best to enjoy luxury spa holidays in Africa? Some people set aside some spa time for a few days. However most of our clients simply choose a hotel or lodge with superb spa facilities.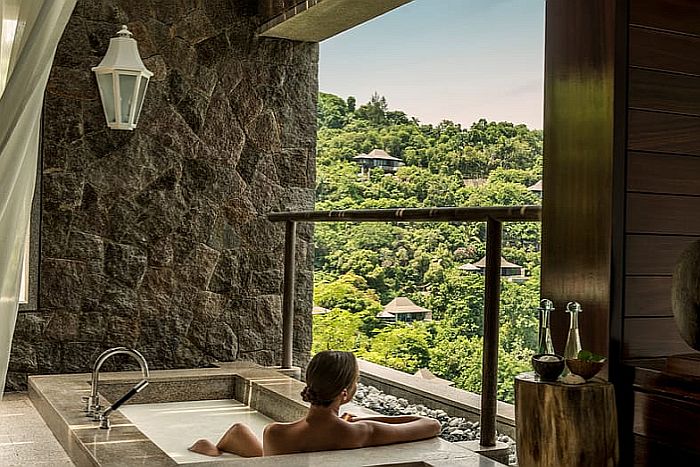 Many spa resorts have developed their own African style. Not only in spa design, but in spa treatments and products used. Many offer spa treatments incorporating local herbs and plants, alongside more internationally recognised brands. For example some spa hotels in the Cape Winelands offer vinotherapy treatments, using the essence of wine grapes to assist with detox and rejuvenation.
What do WE mean by Spa in South Africa?
However South African hotels tend to play fairly fast and loose with the words 'Spa' and 'Wellness'. Sometimes a hotel will say it has a Spa when it only has some health and beauty facilities. Here we have only listed a hotel or safari lodge below if it has a dedicated Spa facility with a range of treatment rooms and therapies.
But many, many other hotels have the facility to offer a massage or a selection of treatments. But they may not have all the various extras that we associate with full-on spas such as indoor spa pools, sauna, steam room, gym, brine pool, water treatments and so forth….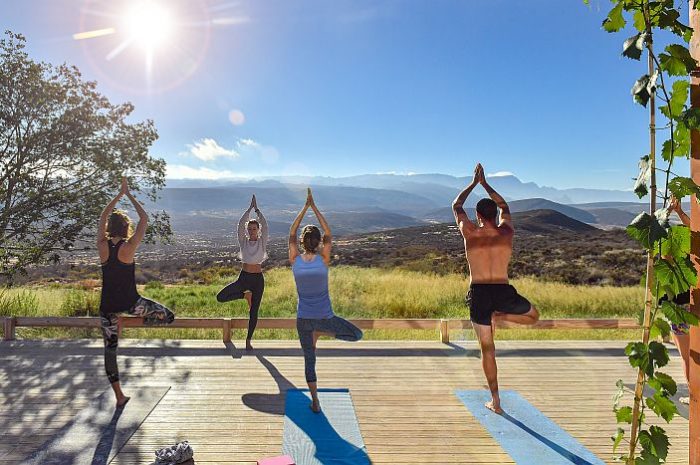 Highlights
All holidays are therapeutic to some extent. But by spending time at a spa, you can relax and rejuvenate even more.
Choose between a number of enchanting locations: the Indian Ocean, in an indigenous forest or perhaps deep in the bush.
Some of the best spa retreats are also top hotels. So that you don't have to sacrifice luxury and comfort for your bodily well-being!
Dream holiday
"Milandi (et all at C. A. T.) …"Like talking to a good friend/family member who genuinely, listens… then sets skill and extensive knowledge to work to fulfill (AND OFTEN BEYOND!!) all expectations!!" This Africa holiday was simply "ANOTHER" dream animal photo safari and experience Milandi (Cedarberg) put together… we have experienced TWO previous "dream holiday" from Milandi and Crew. How could a 3rd be better?… It simply was. "I may have left Africa" … "Africa will NEVER leave Me"… I (WE) will be going back, with Milandi's guidance B4 this decade is over It has been 3 weeks since return, still dreaming/thinking/processing this tremendous experience. Milandi and Cedarberg are My "Tools" towards many rewards!!! Thank-You, ALL "
Mr Wally Rohrer
Exceeded our expectations
"From our first phone call, our requirements for the holiday were quickly and efficiently met and the overall standard of accommodation booked for us met and, in some cases, exceeded our expectations. All the transfers worked well and directions to our hotels were accurate and simple to follow. The information booklet supplied was very helpful. "
Mr B Smith
Cannot recommend enough
"I cannot recommend Cedarberg Africa enough, and more specifically, Mari Jacobs. I knew nothing about Africa and I thought it would be a wonderful place to go for our 2-week honeymoon. A co-worker had done a similar trip and passed along Mari's name to me. She really is excellent at what she does and, most importantly at the time, she makes everything as stress-free as possible. "
Mrs Denise Rehrig, USA
Natasha Jantjies
Africa Travel Specialist
Hi I'm Natasha, I'm here to help you plan your ideal holiday experience
We arrange trips to more than 100+ destinations throughout the African continent.
Did you know
Definition

A holistic experience encompassing the elements of stress-free living: optimum health, mental wellbeing, revitalised senses, spiritual awakening and positive dietary changes.
Excellent bespoke itineraries
"Milandi puts together excellent bespoke itineraries, is proactive and provides excellent customer service "
Mrs Jessie, UK
WHAT AN AMAZING SAFARI! An outstanding job!
"WHAT AN AMAZING SAFARI! What an outstanding job you did! From the arrival of the guests to the end of the safari. I'll speak on my behalf and let the other guests speak for themselves and give their own opinions. Let me just say the Safari amazing…., The team did an outstanding job, from the day of arrival at the airport with ground handlers to the drivers, to the departure day. Everything went smoothly and without this team, I do believe the experience would have been different. Africa is known for being slow, especially being punctual (as we call it, African time). The team changed all that. Everything ran according to the schedule and on time. They made us feel at ease, stress-free, and truly on vacation. It indeed made me feel proud of my country, proud to be a Kenyan, and proud of the people. There was UBUNTU all around, everywhere we went people were respectful, polite, and kind (apart from the one or two individuals who would hassle us to buy something and especially when they see Mzungu) and for that, I thank you, THOMAS, and the team. Excellent work. A hand of applause to Mari; Thank you to Mari, it all started with you. Thank you for planning and organizing the Safari it will forever be in our memories. The accommodation and the food were fantastic. Amboseli was stunning, although it would have been great to see Mt Kilimanjaro it was cloudy. Eka Hotel was great, and the breakfast was delicious. At the Keekorok, zebras visited us behind our cabins and could hear the call of the hippos. And finally, the Voyager hotel in Mombasa was fun and relaxing and the food was fantastic. Overall, the hospitality everywhere was fantastic. Couldn't have asked for more. Lastly, a big thank you to my safari team (Resa, Anette, Pete, Jim, Pat, Sarah and Mike) for being seasoned travelers, easy going and went with the flow. The Safari wouldn't have been the same without great travelers like you. I enjoyed spending time with you all. THANK YOU, GUYS. Sincerely, I thank you ALL. "
Mrs Carol Ndungu
We will certainly use Cedarberg again
"All the arrangements worked perfectly – no hiccups at all. We will certainly use Cedarberg again and will recommend the company to others. We were particularly impressed by the fact that the ground agents met us from every flight and saw us on to the next flight so if anything had gone awry there was someone on hand to help us sort it out. As one gets older that is enormously comforting. "
Ms Sandra Clark, UK