Overview
A spa retreat originally meant a place of mineral springs used for relaxing and healing the body. Recently there's been a return to this focus on healing the body.
So often our modern lives seem fragmented almost beyond repair. We manfully struggle to fulfil various roles simultaneously in competing areas: professional, social, spiritual and parental. Rarely do we have the time to focus on ourselves. A good spa retreat takes a holistic approach to calming both body and mind.
South Africa, alongside Mauritius and the Seychelles, has some of the finest Spa Retreats in the southern hemisphere. They combine exquisite spa design and therapies, alongside luxurious accommodation and enchanting locations.
Spa Resorts in South Africa
How best to enjoy luxury spa holidays in Africa? Some people set aside some spa time for a few days. However most of our clients simply choose a hotel or lodge with superb spa facilities.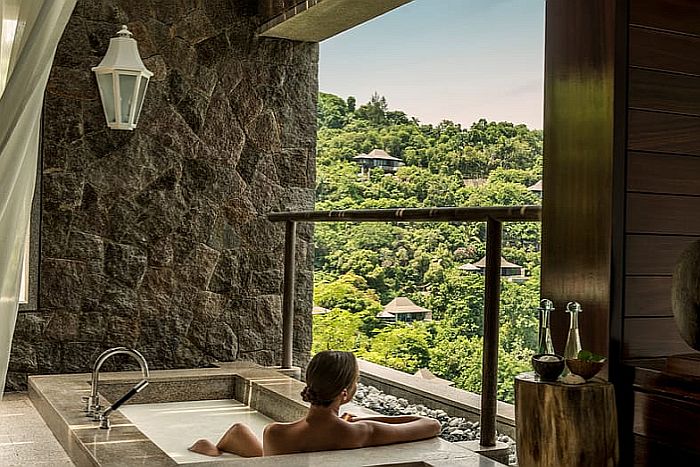 Many spa resorts have developed their own African style. Not only in spa design, but in spa treatments and products used. Many offer spa treatments incorporating local herbs and plants, alongside more internationally recognised brands. For example some spa hotels in the Cape Winelands offer vinotherapy treatments, using the essence of wine grapes to assist with detox and rejuvenation.
What do WE mean by Spa in South Africa?
However South African hotels tend to play fairly fast and loose with the words 'Spa' and 'Wellness'. Sometimes a hotel will say it has a Spa when it only has some health and beauty facilities. Here we have only listed a hotel or safari lodge below if it has a dedicated Spa facility with a range of treatment rooms and therapies.
But many, many other hotels have the facility to offer a massage or a selection of treatments. But they may not have all the various extras that we associate with full-on spas such as indoor spa pools, sauna, steam room, gym, brine pool, water treatments and so forth….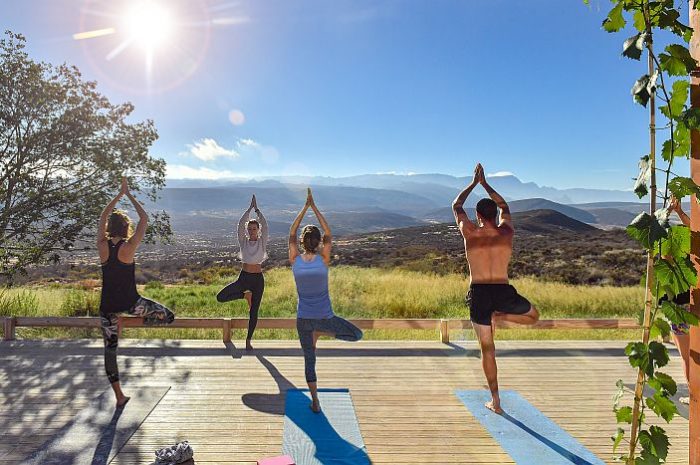 Highlights
All holidays are therapeutic to some extent. But by spending time at a spa, you can relax and rejuvenate even more.
Choose between a number of enchanting locations: the Indian Ocean, in an indigenous forest or perhaps deep in the bush.
Some of the best spa retreats are also top hotels. So that you don't have to sacrifice luxury and comfort for your bodily well-being!
Ginny made excellent suggestions
"Ginny made excellent suggestions for our holiday ensuring we had a good variety of things to do which suited the whole family. "
Mrs Mary Creayen, UK
Mr Guy Crabb - Ginny
"Ginny listened to what we wanted and delivered an itinerary that pretty much blew us away. "
Mr Guy Crabb
Very good value
"Peter was very helpful and clearly paid attention to our thoughts and ideas – we really valued his recommendations "
Ms Winter, UK
Mari Jacobs
Africa Travel Specialist
Hi I'm Mari, I'm here to help you plan your ideal holiday experience
Did you know
Definition

A holistic experience encompassing the elements of stress-free living: optimum health, mental wellbeing, revitalised senses, spiritual awakening and positive dietary changes.
Delivered the goods
"Cedarberg took on board what we wanted and delivered the goods!! Accommodation everywhere was fantastic we couldn't have asked for any more! Preferred safari at madikwe as saw loads more because the rangers could go off road, would definitely look at this type of safari next time. "
Mr Eastwood, UK
I loved the trip!
"I loved the trip. The accommodation was all lovely, i.e. comfortable, nicely located, some nice touches (e.g. treats at bed turn down), the managers were all helpful. The locations of each were also beautiful and convenient for what we wanted to do "
Mrs Deb, USA
I would only want to book through Cedarberg
"Thank you so much for booking this experience for us, Mari. Everything was so well organized and went so smoothly, from car rental and driving and hotel directions, to lodge details, inclusions, exclusions, etc. The link you gave us with all the details on the locations we were going to as well as the detailed itinerary and pre-departure information was very helpful. We're grateful for your efforts and for making this an outstanding experience for us. I have already sent your details to friends in case they're interested in booking a trip of their own, and now that Tom has seen the beauty of Africa I know I won't have to convince him to head back there again. I'm dreaming of safari in Namibia next time, and I would only want to book it through Cedarberg. "
Mrs Michelle B