Overview
For many of us, the notion of the ubiquitous 'week on the beach' is deeply embedded in our psyche. It is hard to feel we've had proper time away unless we've bleached our hair with saltwater. And anointed at least one paperback with a mix of sand and sun lotion. So which are the beaches we can measure against our exacting standards? Crashing breakers and trendy bars, or perhaps a peaceful lagoon and miles from anywhere? There's so much choice for safari and beach holidays in Africa. So a quick chat with us will help you to narrow down the options.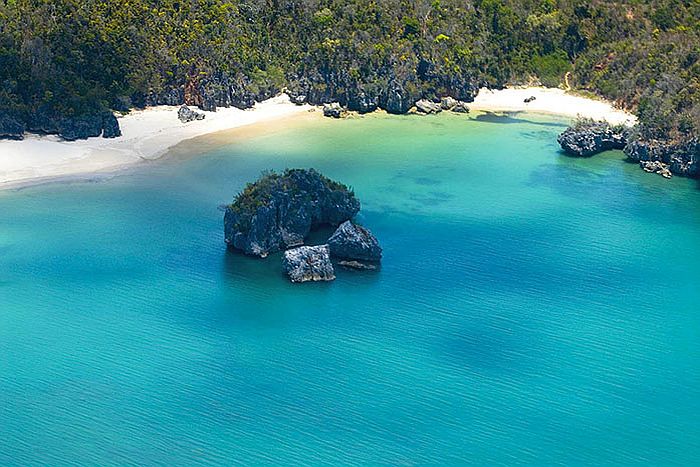 Which beach destination goes with which safari depends on a number of factors.
Time of year
Style of beach resort – are you looking for a five star stylish chic resort hotel? Or are you looking for a more laid back relaxed ambiance?
How active do you want to be? Will you want to try out or perfect your technique on various water sports? Or is a good beach, a spot of snorkeling and the odd sunset cruise all you need?
Accessibility - We'd all like to head straight from the safari to the beach within a few hours. But sometimes that's not possible and an overnight stay en route is necessary. Is that a deal breaker for you?
How deep are your pockets? Some tropical beach destinations are both remote and pricey. So you'll have to dig deep. We know which options will give you the best value for money if you have a set budget in mind.
Good destinations for Safari & Beach holidays
Or check out our favourite beach hotels. These ranges from family-friendly beach resorts to romantic places which make you feel that you are still dreaming, to luxurious hidden island retreats…
Safari & Beach Holidays in South Africa - special considerations
The beach experience in South Africa varies by both region and season in South Africa. So what we recommend for you in August will be completely different from what we recommend in February. The beaches vary immensely - from charming coastal resort towns with golden beaches along the Garden Route and Dolphin Coast to hidden away retreats miles from anywhere. So have a chat with us!
READ MORE
READ LESS
Highlights
The winning combination of safari and beach is an appealing option for many. What can be nicer than following the adrenaline, and the all-too-early mornings of a safari, with a more relaxed, unstructured few days on the beach?
Check out our top picks below, carefully selected to give you the most time on safari and the least time waiting at the airport.
Ginny's advice was spot on
"Ginny's advice was spot on – the locations, pace of trip and quality of accommodation was superb. The 2 slightly different safari areas also worked out well and it was great that our best viewing was at the second to end the trip on a high. "
Mr Matthew Campbell
Special memories
"I would like to thank you for the very full and comprehensive travel documents you put together for us – it made our trip so easy! The organisation was perfect and it was so helpful to have contact names for our hosts along the way! Our trip has certainly wetted our appetite for more holidays farther from home and other parts is SA. I have no doubt we'll be returning one day! My overriding memory though is of the friendly people !" "
Mr Mo Hemsley, UK
Winning itinerary!!
"Without ever meeting us, Kate and Tash from Cedarberg Travel & African Safaris created a winning itinerary for my friend and I! The itinerary was well-balanced in its schedule, activity levels and locations. We started in Cape Town with several tours and an excellent tour guide named Tobi. Tobi quickly clicked with us, laughed with us, and answered all of our questions about aspects of the city including a recommendation for the Gold restaurant ( a blast). After a long bit of air travel getting to South Africa and 3 full days in Cape Town, Kate scheduled a stay in the Cederberg mountains at luxury lodging and it was exactly what was needed. We had a few days to rest and pamper ourselves, and as hobby photographers, we did our own African sunset photoshoot with the mountains as our backdrop. Our trip included 5 days of safaris. Once again, we had a stellar guide and tracker (Solomon and Jeff) who taught us the soul of a South African who loves the animals and lands of his home. Every time Solomon stopped to educate us, we were like elementary kids, gathered around him with elbows on knees, eyes focused, and fully attentive. He gave us story after story of information about the circle of life at Kruger NP. We ended the time at Victoria Falls. All the details for the trip were provided and we had no glitches! Both myself and my friend want to return to South Africa and the first thing I did on my return was email Kate and ask if she could keep me in her files because I really hope to go back and I'll do that trip through Cedarberg Travel & African Safaris! "
Mrs Myers
Natasha Jantjies
Africa Travel Specialist
Hi I'm Natasha, I'm here to help you plan your ideal holiday experience
We arrange trips to more than 100+ destinations throughout the African continent.
Top picks for Beach Holidays
Did you know
Variety

Beaches to suit all tastes: calm or waves, tropical or Meditteranean

Number of Countries

Eight of our Destinations have beaches, plus Lake Malawi makes nine
Couldn't have been happier…
"Cedarberg and specifically our specialist Peter, have been excellent. Really communicative and just very on the ball. From the planning and payment, all the way through to arriving back home. The transfers, hotels, everything was spot on. Couldn't have been happier with how our honeymoon went. "
Mr Clark Hoy, UK
Ginny made excellent suggestions
"Ginny made excellent suggestions for our holiday ensuring we had a good variety of things to do which suited the whole family. "
Mrs Mary Creayen, UK
Everything was brilliant
"Ginny Russell and the Cedarberg team have arranged many trips to Africa for us over the last 25 years. Each holiday has been wonderful and we love planning them with Ginny. When we think Africa & safari we always think Cedarberg. Thanks again Ginny, we are already looking forward to our next safari. Val & Frank "
Mrs Val Cummins