Overview
Children and beaches are inherently made for each other so most of our beach destinations will be perfect for kids.
South Africa generally has an active sea with rolling breakers. This is great for body boarding and surfing. But not so ideal if you are looking for the complete range of water sports as offered in flatter waters. Similarly, waves are fun for kids but also add an element of risk for younger children. In contrast, most of Mauritius and Zanzibar are surrounded by coral reefs so that the sea at the beach is calm.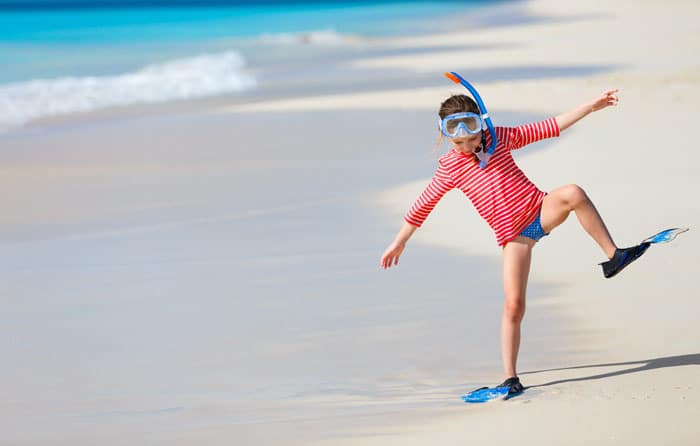 Other factors to consider:
Do you want to combine a beach stay with other activities such as safari or general touring?
How far do you want to travel? There are some stunning beaches in Mauritius or the Seychelles. But they involve a fairly long flight and  an overnight stay in Johannesburg prior to the flight.
What sort of family beach holiday are you looking for? Waves or calm lagoon waters?
When are you travelling? Northern hemisphere summer holidays mean winter in the Cape – great for beach walks but not really beach & swimming weather. At that time of year, you'll need to head to the far north of South Africa or the sub-tropical islands of Mauritius, Mozambique or Zanzibar…
So there are several options:
Opt for a South Africa beach and sightseeing holiday
Combine South Africa with Mozambique or Mauritius for the beach
Combine Tanzania with Zanzibar or Kenya with its coast
Other Family Beach Holiday Articles
Best things to do with Kids on the Garden Route
Mozambique Ocean Experience at White Pearl
Highlights
South Africa tends to have a more dramatic sea with lots of waves to jump or body-surf on.
Many of the Indian Ocean islands off the Eastern coast of Africa have coral reefs and so are much calmer.
Remember the Cape coast of South Africa doesnt have beach weather during the northern hemispher Summer holidays (July & August)
Not sure where to take your kids in Cape Town?
Check out our Top 20 places to visit for kids & families in Cape Town
Get our Free guide here
Hi I'm Mari, I'm here to help you plan your ideal holiday experience
Holiday of a lifetime
"Just wanted to write a quick note to say a big thank you for all your help in arranging what was a fantastic trip for the three of us. My dad loved every minute of it. And said it was a holiday of a lifetime – which is what I of course had hoped it would be for all of us. "
Jo & Family
Couldn't have been happier…
"Cedarberg and specifically our specialist Peter, have been excellent. Really communicative and just very on the ball. From the planning and payment, all the way through to arriving back home. The transfers, hotels, everything was spot on. Couldn't have been happier with how our honeymoon went. "
Mr Clark Hoy, UK
Everything was perfectly organised
"Mari did an incredible job planning our holiday. Not only did Mari communicate extremely well throughout the whole process, but the trip was beyond our expectations "
Mr Yeats, USA