Overview
Children and beaches are inherently made for each other so most of our beach destinations will be perfect for kids.
South Africa generally has an active sea with rolling breakers. This is great for body boarding and surfing. But not so ideal if you are looking for the complete range of water sports as offered in flatter waters. Similarly, waves are fun for kids but also add an element of risk for younger children. In contrast, most of Mauritius and Zanzibar are surrounded by coral reefs so that the sea at the beach is calm.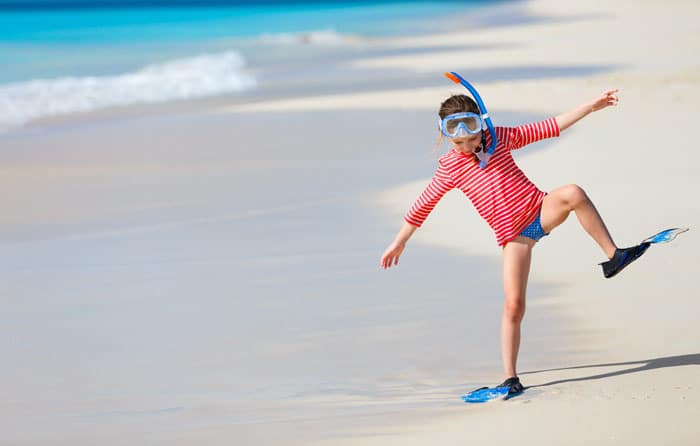 Other factors to consider:
Do you want to combine a beach stay with other activities such as safari or general touring?
How far do you want to travel? There are some stunning beaches in Mauritius or the Seychelles. But they involve a fairly long flight and  an overnight stay in Johannesburg prior to the flight.
What sort of family beach holiday are you looking for? Waves or calm lagoon waters?
When are you travelling? Northern hemisphere summer holidays mean winter in the Cape – great for beach walks but not really beach & swimming weather. At that time of year, you'll need to head to the far north of South Africa or the sub-tropical islands of Mauritius, Mozambique or Zanzibar…
So there are several options:
Opt for a South Africa beach and sightseeing holiday
Combine South Africa with Mozambique or Mauritius for the beach
Combine Tanzania with Zanzibar or Kenya with its coast
Other Family Beach Holiday Articles
Best things to do with Kids on the Garden Route
Mozambique Ocean Experience at White Pearl
Highlights
South Africa tends to have a more dramatic sea with lots of waves to jump or body-surf on.
Many of the Indian Ocean islands off the Eastern coast of Africa have coral reefs and so are much calmer.
Remember the Cape coast of South Africa doesnt have beach weather during the northern hemispher Summer holidays (July & August)
Not sure where to take your kids in Cape Town?
Check out our Top 20 places to visit for kids & families in Cape Town
Get our Free guide here
Hi I'm Ginny, I'm here to help you plan your ideal holiday experience
Couldn't have been happier…
"Cedarberg and specifically our specialist Peter, have been excellent. Really communicative and just very on the ball. From the planning and payment, all the way through to arriving back home. The transfers, hotels, everything was spot on. Couldn't have been happier with how our honeymoon went. "
Mr Clark Hoy, UK
Excellent attention to detail
"This is the second holiday that Ginny and her team have arranged for us, and once again the service and attention to detail were excellent. Ginny put together a wonderful tailor made itinerary for our trip, and her recommendations were absolutely perfect in enhancing the trip. In today's world of being able to arrange most things yourself, I have no doubt that there is no way we could have put together a trip like this, you need the depth of local knowledge that Cedarberg have. I thoroughly recommend Cedarberg Travel "
Mrs Janet Mudge, UK
Glad we booked with Cedarberg
"They were very informative and helpful. Milandi in particular helped us with car hire and when I lost my wallet on arrival in Cape Town. Milandi was always available to discuss and change anything required. Emails were replied to promptly. "
Mr Chris Jones, UK