Overview
A South Africa safari is often an exhilarating mix of game-viewing and sight-seeing across many provinces. It's a heady mixture. But not always relaxing. What could be nicer than breaking your safari with a 2 to 3 night trip on one of the luxury trains of South Africa - Rovos Rail or the Blue Train?
South Africa has two luxury trains. Their train journeys vary in routing and duration so that a wide variety of tastes are catered for. (The Shongololo Express has now been incorporated into its sister company Rovos Rail).
Luxury Trains in South Africa - Rovos Rail
There is nothing which quite matches the magic of a hiss of steam as a vintage engine pulls into the station.. There can be no grander way to experience the delights of a luxury train in Africa than Rovos. It has a range of journeys. Choose between the ever-popular three-night Rovos Rail journey between Pretoria and Cape Town. This covers 1600 km with off-train excursions in both Kimberley and Matjiesfontein . Or take the 56 hour 'safari train' between Pretoria and Durban with game-viewing en route. Another firm favourite is the 4 night journey from Pretoria to Victoria Falls. These are all leisurely, sophisticated train trips, in which you enjoy fine cuisine and wines.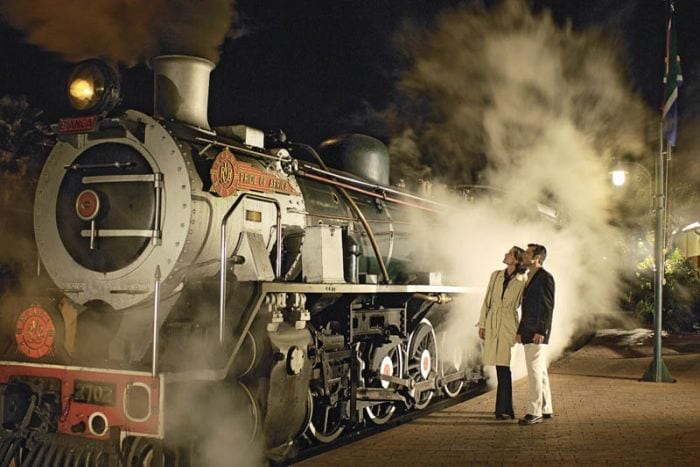 However there are also longer 9 night+ itineraries throughout Southern Africa and even up to Tanzania, and into Angola. These are basically holiday itineraries where hotels have been replaced by the train. Have a look at each trip in detail below.
Your accommodation is in air-conditioned suites with exquisite wood panelling and period Edwardian features. There's a range of suites to choose from. Pullman Suites have a sofa during the day which converts to a bed in the evening; Deluxe suites are larger with a permanent bed, small lounge area and en suite shower room. Royal Suites are larger still with a full en suite bathrooms with even a bath.
Rovos Rail offers the ultimate in luxury train trains in Africa. See more details on the Rovos Rail experience or Check out Rovos Rail accommodation below which entails the compartments on offer.
Note: The Shongololo Express, sister train to Rovos Rail, has now been upgraded and incorporated into the Rovos rail brand. The only difference is that they only have the Pullman and Deluxe Suites, not the Royal Suites.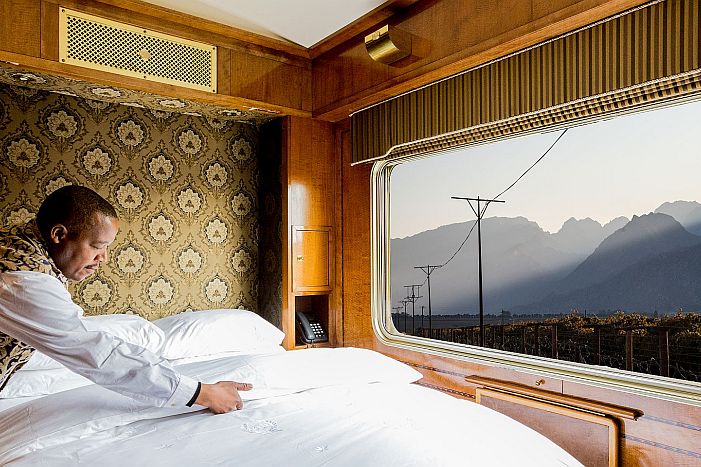 Luxury Trains in South Africa - The Blue Train
The Blue Train is a legendary luxury train in South Africa which offers its iconic 2 day train journey between Cape Town and Pretoria. This is ideal if you just can't afford the time for the 3-night option on Rovos. It's particularly known for its superb cuisine, attentive butler service and immaculate mahogany and marble fittings.
As with Rovos Rail, the Blue Train offers en suite compartments. Each air-conditioned suite in the Blue Train has an en suite bathroom and television with movie channels, telephone and a writing desk. The deluxe twin bed suite has a shower en suite. And the deluxe double bed suite has a three-quarter bath en suite.
See the more details about Blue Train packages
Highlights
A luxury train journey is one of the most relaxing and evocative ways of crossing the vast landscape of Southern Africa.
Combine the elegance of the bygone days of luxury trains with modern comforts, superb cuisine and fine wines…
Choose between 1-3 night excursions. Or going all out with one of several longer itineraries which explore facets of Southern (and East) Africa.
Exceeded our expectations
"We absolutely loved EVERYTHING and our trip absolutely exceeded our expectations. Thank you so much for your help in planning our trip and organizing it as well as you did. "
Mrs Elena G, UK
All your arrangements/transfers worked like clockwork
"We have had the most fantastic holiday and that all your arrangements / transfers etc worked like clockwork. The accommodation and food was excellent everywhere we stayed. It has left us hungry for more (especially Victoria Falls) so we had better get saving for a return trip! This was our first trip to South Africa and we had no idea how stunningly beautiful your country is. "
Laughton Family, UK
High satisfaction with Cedarberg
"We just returned from our third African safari booked with Milandi. I cannot say enough about our high satisfaction with Cedarberg and, particularly, Milandi. Milandi has always worked with us, making recommendations based on our preferences, and together we "tweak" the itinerary until it is perfect for us. Milandi is efficient, highly responsive, knowledgeable, friendly, and seems to really care and act excited about our booked adventure. Each time we have traveled, all arrangements have been punctual and without any delays or cancellations. Every detail has been prearranged. During our most recent trip, Milandi even checked us in for each of our domestic and intercontinental flights, knowing that we would not have the capability to do so from the camps we visited. Cannot recommend Milandi highly enough!! "
Mrs Shirley Spain
Ginny Russell
Co-founder & Director
Hi I'm Ginny, I'm here to help you plan your ideal holiday experience
We arrange trips to more than 100+ destinations throughout the African continent.
Did you know
Age

Most of Rovos Rail's carriages are from the 1920s

History

The Blue Train began its service in 1923
Happy Clients
"Nancy and I want to thank you for the extraordinary trip!  Every excursion, transfer, and flight was on-time and stress-free. Everyone we met was kind, patient, and welcoming.  And, the sights on the Safari, in the cities, and at the parks will never be forgotten.  I will be sure to leave positive reviews of Cedarberg and you on various websites! "
Milandi
Great itenerary
"The service that Cedarberg provided for us was outstanding. The itinerary that they put together worked seamlessly, all the pick ups were as they had stated and whenever we had a query about any aspect of the trip they came back to us quickly and provided all the information that we needed. I cannot recommend them highly enough . "
Mr Kevin Wilson
Wonderfully professional, yet absolutely approachable
"Bookings made to your perfect itinerary, with ease. No stress, just marvellous conversations about what you would like to see and do. Really really knowledgable consultants. And when they have sorted your dream itinerary, they follow up with lots of help and advice. We have always felt totally relaxed and looked after during our adventures in Africa. Cedarberg take care of everything. "
Mrs & Mr Birchall, UK