Overview
A South Africa safari is often an exhilarating mix of game-viewing and sight-seeing across many provinces. It's a heady mixture. But not always relaxing. What could be nicer than breaking your safari with a 1 to 3 night trip on one of the luxury trains of South Africa - Rovos Rail or the Blue Train?
South Africa has three luxury trains. These vary in routing and price so that a wide variety of tastes are catered for. While the two mentioned above are the most up-market, the Shongololo Express offers a slightly more affordable option and longer tours.
Luxury Trains in South Africa - Rovos Rail
There is nothing which quite matches the magic of a hiss of steam as a vintage engine pulls into the station . . . There can be no grander way to experience the delights of a luxury train in Africa than Rovos Rail with a range of journeys. Choose between the ever-popular two night Rovos Rail journey between Pretoria and Cape Town (covering 1600 km) with off-train excursions in both Kimberley and Matjiesfontein . Or take the 56 hour 'safari train' between Pretoria and Durban with game-viewing en route. Another firm favourite is the 3 night journey from Pretoria to Victoria Falls. These are all leisurely, sophisticated train trips, in which you enjoy fine cuisine and wines.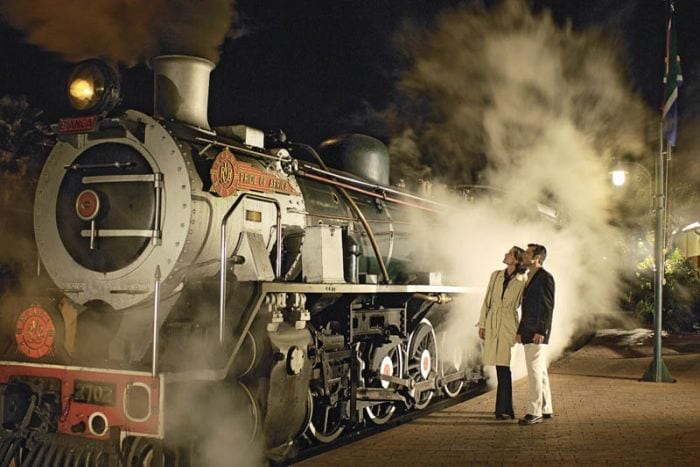 There are also longer 9 night+ itineraries throughout Southern Africa and even up to Tanzania. Have a look at each trip in detail below.
Your accommodation is in air-conditioned suites with exquisite wood panelling and period Edwardian features. There's a range of suites to choose from. Pullman Suites have a sofa during the day which converts to a bed in the evening; Deluxe suites are larger with a permanent bed, small lounge area and en suite shower room. Royal Suites are larger still with a full en suite bathrooms with even a bath.
Rovos Rail offers the ultimate in luxury train trains in Africa. See more details on the Rovos Rail experience below.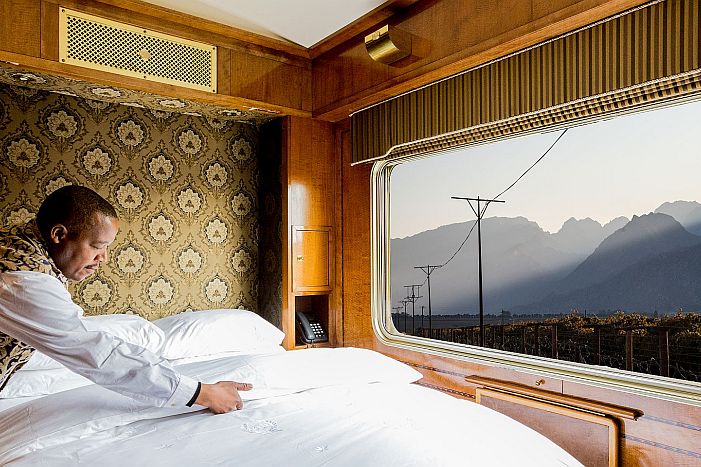 Luxury Trains in South Africa - The Blue Train
The Blue Train is a legendary luxury train in South Africa which offers its iconic 27 hour overnight train journey between Cape Town and Pretoria. This is ideal if you just can't afford the time for the 2 night option on Rovos. Also it has more dates to choose from. It's particularly known for its superb cuisine, attentive butler service and immaculate mahogany and marble fittings.
As with Rovos Rail, the Blue Train offers en suite compartments for all guests. Each air-conditioned suite in the Blue Train has an en suite bathroom and television with movie channels, telephone and a writing desk. The deluxe twin bed suite has a shower en suite and the deluxe double bed suite has a three-quarter bath en suite.
See the more details about Blue Train packages under Experiences…
Train Tours in South Africa - The Shongololo Express
The Shongololo Express , sister train to Rovos Rail, offers a slightly more affordable option. It offers a series of longer itineraries. The main difference is that the en suite compartments are slightly smaller and overall the train is slightly more modestly appointed. We include one of the tours below but contact us for details on other routes..
Highlights
A luxury train journey is one of the most relaxing and evocative ways of crossing the vast landscape of Southern Africa.
Combine the elegance of the bygone days of luxury trains with modern comforts, superb cuisine and fine wines…
Choose between 1-3 night excursions. Or going all out with one of several longer itineraries which explore facets of Southern (and East) Africa.
Great to deal with
"Cedarberg were really great to deal with. The Drakensberg mountains were spectacular. We most enjoyed Victoria Falls that literally took your breath away. The river boat cruises at Livingstone were well worth it. Also getting so close to the animals at Umlani in the Timbavati, even the lions and leopards. "
Mr Martin Butler, UK
Delivered the goods
"Cedarberg took on board what we wanted and delivered the goods!! Accommodation everywhere was fantastic we couldn't have asked for any more! Preferred safari at madikwe as saw loads more because the rangers could go off road, would definitely look at this type of safari next time. "
Mr Eastwood, UK
It was by far the best experience we have ever had!!
"We are (regrettably) back from our trip and I wanted to let you know that it was by far the best experience we have ever had. The itinerary you designed for us was simply outstanding. Our guide in Cape Town was incredible and made sure we maximized our time, even throwing in little unexpected side trips to a wine farm, etc. The accommodations were top notch everywhere we stayed and the service was over the top. I actually don't have the right words to express how wonderful this trip was. I would say it was life-changing, as it gave us a totally new perspective on the wonders of nature. Thank you a million times over. This will not be our last visit to South Africa! "
Mrs Deb
Milandi Joubert
Africa Travel Specialist
Hi I'm Milandi, I'm here to help you plan your ideal holiday experience
We arrange trips to more than 100+ destinations throughout the African continent.
Did you know
Age

Most of Rovos Rail's carriages are from the 1920s

History

The Blue Train began its service in 1923
Once more million thanks for organizing and supervising our trip of the lifetime.
"Once more million thanks for organizing and supervising our trip of the lifetime. I am glad with choose to stay in multiple lodges and locations as every one of our five stops was absolutely unique. Service and staff were outstanding everywhere. transfers were very smooth and easy. food quality matches Michelin restaurants. And game was superb! I personally enjoyed viewing at Bateleur in Kruger the most , as relatively open spaces gave us the opportunity to see all Big five in no time. Chobe in Botswana was second favorite but mostly because of boat cruises. Lukimbi accommodation, and Sanctuary kitchen were winners in those categories, respectively.
Victoria falls definitely not to be missed, canopy tour and heli ride were cherries on the cake.
Retrospectively I would probably not make any changes to out itinerary! Mr & Mrs Yuly " Mr & Mrs Yuly
It was a fabulous holiday
"I have booked through Cedarberg before and this is why I came back, as I was highly satisfied. This time it was a bit more complicated as Peter had less experience with Uganda himself and he had to communicate with Wildlife Frontiers a lot, which took time and some backwards and forwards. In the end it was so worth it, as it was a fabulous holiday. Peter also recommended the group experience and that was the right thing for a single traveller, we had a fantastic group of five and had all meals together. Otherwise I would have been on my own for the whole trip. "
Mrs Monika Maintz
You delivered us a near perfect experience
"We had a wonderful trip largely thanks Cedarberg Travel. THANK YOU!! Thank you again Mari. We had a trip packed with fun, laughter, wildlife and bucket showers, all at a relaxed pace which made us all believe we had a real holiday, even if it started at 5.am every morning! I believe that you gave us 3 wonderful lodges ( arguably best we have visited in the African continent all with their special touch and ambiance, thank you.) Once again, another "Mari masterpiece". You delivered us a near perfect experience, thank you again Mari. "
Mr Dennis Lee