Overview
A South Africa safari is often an exhilarating mix of game-viewing and sight-seeing across many provinces. It's a heady mixture. But not always relaxing. What could be nicer than breaking your safari with a 1 to 3 night trip on one of the luxury trains of South Africa - Rovos Rail or the Blue Train?
South Africa has three luxury trains. These vary in routing and price so that a wide variety of tastes are catered for. While the two mentioned above are the most up-market, the Shongololo Express offers a slightly more affordable option and longer tours.
Luxury Trains in South Africa - Rovos Rail
There is nothing which quite matches the magic of a hiss of steam as a vintage engine pulls into the station . . . There can be no grander way to experience the delights of a luxury train in Africa than Rovos Rail with a range of journeys. Choose between the ever-popular two night Rovos Rail journey between Pretoria and Cape Town (covering 1600 km) with off-train excursions in both Kimberley and Matjiesfontein . Or take the 56 hour 'safari train' between Pretoria and Durban with game-viewing en route. Another firm favourite is the 3 night journey from Pretoria to Victoria Falls. These are all leisurely, sophisticated train trips, in which you enjoy fine cuisine and wines.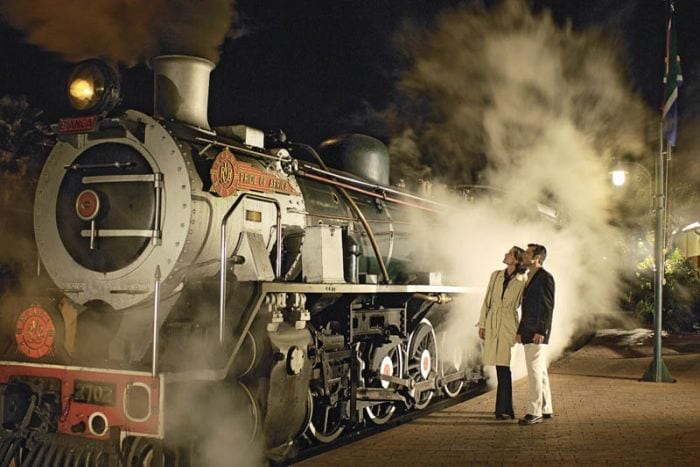 There are also longer 9 night+ itineraries throughout Southern Africa and even up to Tanzania. Have a look at each trip in detail below.
Your accommodation is in air-conditioned suites with exquisite wood panelling and period Edwardian features. There's a range of suites to choose from. Pullman Suites have a sofa during the day which converts to a bed in the evening; Deluxe suites are larger with a permanent bed, small lounge area and en suite shower room. Royal Suites are larger still with a full en suite bathrooms with even a bath.
Rovos Rail offers the ultimate in luxury train trains in Africa. See more details on the Rovos Rail experience below.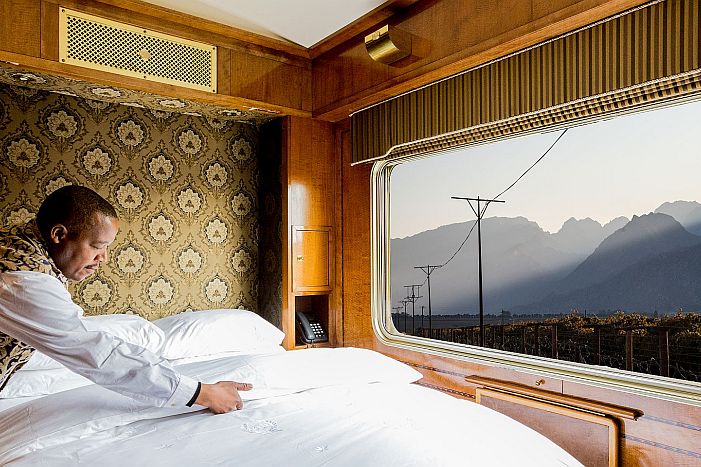 Luxury Trains in South Africa - The Blue Train
The Blue Train is a legendary luxury train in South Africa which offers its iconic 27 hour overnight train journey between Cape Town and Pretoria. This is ideal if you just can't afford the time for the 2 night option on Rovos. Also it has more dates to choose from. It's particularly known for its superb cuisine, attentive butler service and immaculate mahogany and marble fittings.
As with Rovos Rail, the Blue Train offers en suite compartments for all guests. Each air-conditioned suite in the Blue Train has an en suite bathroom and television with movie channels, telephone and a writing desk. The deluxe twin bed suite has a shower en suite and the deluxe double bed suite has a three-quarter bath en suite.
See the more details about Blue Train packages under Experiences…
Train Tours in South Africa - The Shongololo Express
The Shongololo Express , sister train to Rovos Rail, offers a slightly more affordable option. It offers a series of longer itineraries. The main difference is that the en suite compartments are slightly smaller and overall the train is slightly more modestly appointed.  We include one of the tours below but contact us for details on other routes..
Highlights
A luxury train journey is one of the most relaxing and evocative ways of crossing the vast landscape of Southern Africa.
Combine the elegance of the bygone days of luxury trains with modern comforts, superb cuisine and fine wines…
Choose between 1-3 night excursions. Or going all out with one of several longer itineraries which explore facets of Southern (and East) Africa.
Everything was perfect
"Your service and the holiday you put together for us was faultless. Everything was perfect from the choice of accommodation to the transfers, flights…… everything! It was seamless. "
Mrs Ruth Koper
Thank you for arranging such an excellent trip!!
"I would like to thank you for arranging such an excellent trip to see the wildflowers in the Cape, and especially for selecting our guide. He was perfect in all respects. He knew where to take us, knew the identities of most of the flowers and plants, and was a font of knowledge about southern Africa. As for the flowers, we couldn't have picked a better year or a better time, and your itinerary got us into some of the most spectacular scenes, better than we had ever imagined. "
Mr Bell
Very good value
"Peter was very helpful and clearly paid attention to our thoughts and ideas – we really valued his recommendations "
Ms Winter, UK
Tasha Eygelaar
Africa Travel Specialist
Hi I'm Tasha, I'm here to help you plan your ideal holiday experience
Did you know
Age

Most of Rovos Rail's carriages are from the 1920s

History

The Blue Train began its service in 1923
Great to deal with
"Cedarberg were really great to deal with. The Drakensberg mountains were spectacular. We most enjoyed Victoria Falls that literally took your breath away.  The river boat cruises at Livingstone were well worth it.  Also getting so close to the animals at Umlani in the Timbavati, even the lions and leopards. "
Mr Martin Butler, UK
The trip was amazing
"I will write in detail about all the places. In the meantime, I just wanted to write you a quick note to say THANK YOU so much for putting a wonderful trip together for our family. From the beginning to the end the trip was amazing. I will highly recommend you to anyone in the future for South Africa. "
Mr Gord Dubey, USA
Exceeded all expectations
"Cedarberg was professional, responsive, and personable. All flights, all transfers, all accommodation, all activities, and the safari itself went exactly to plan. The experience, end-to-end, exceeded all expectations. "
Mr Michael Barnard