Overview
A South Africa safari is often an exhilarating mix of game-viewing and sight-seeing across many provinces. It's a heady mixture. But not always relaxing. What could be nicer than breaking your safari with a 1 to 3 night trip on one of the luxury trains of South Africa - Rovos Rail or the Blue Train?
South Africa has three luxury trains. These vary in routing and price so that a wide variety of tastes are catered for. While the two mentioned above are the most up-market, the Shongololo Express offers a slightly more affordable option and longer tours.
Luxury Trains in South Africa - Rovos Rail
There is nothing which quite matches the magic of a hiss of steam as a vintage engine pulls into the station . . . There can be no grander way to experience the delights of a luxury train in Africa than Rovos Rail with a range of journeys. Choose between the ever-popular two night Rovos Rail journey between Pretoria and Cape Town (covering 1600 km) with off-train excursions in both Kimberley and Matjiesfontein . Or take the 56 hour 'safari train' between Pretoria and Durban with game-viewing en route. Another firm favourite is the 3 night journey from Pretoria to Victoria Falls. These are all leisurely, sophisticated train trips, in which you enjoy fine cuisine and wines.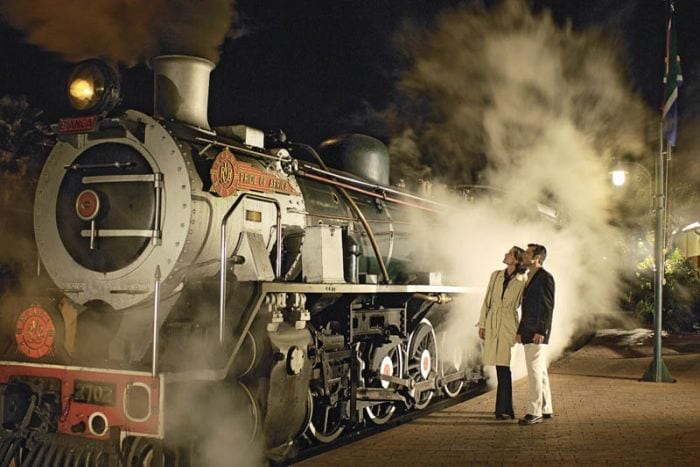 There are also longer 9 night+ itineraries throughout Southern Africa and even up to Tanzania. Have a look at each trip in detail below.
Your accommodation is in air-conditioned suites with exquisite wood panelling and period Edwardian features. There's a range of suites to choose from. Pullman Suites have a sofa during the day which converts to a bed in the evening; Deluxe suites are larger with a permanent bed, small lounge area and en suite shower room. Royal Suites are larger still with a full en suite bathrooms with even a bath.
Rovos Rail offers the ultimate in luxury train trains in Africa. See more details on the Rovos Rail experience below.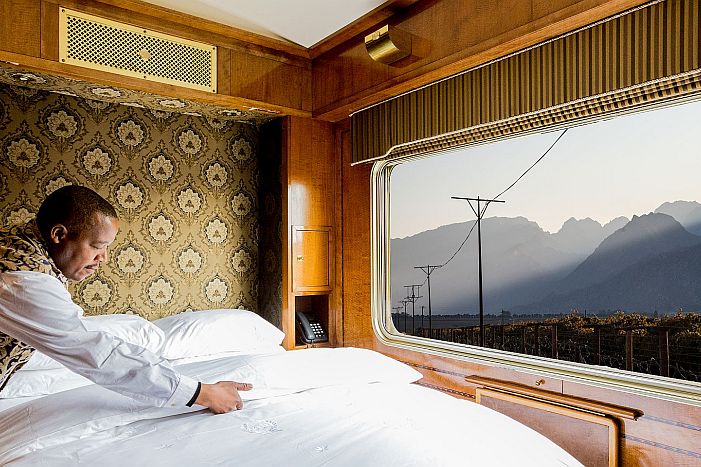 Luxury Trains in South Africa - The Blue Train
The Blue Train is a legendary luxury train in South Africa which offers its iconic 27 hour overnight train journey between Cape Town and Pretoria. This is ideal if you just can't afford the time for the 2 night option on Rovos. Also it has more dates to choose from. It's particularly known for its superb cuisine, attentive butler service and immaculate mahogany and marble fittings.
As with Rovos Rail, the Blue Train offers en suite compartments for all guests. Each air-conditioned suite in the Blue Train has an en suite bathroom and television with movie channels, telephone and a writing desk. The deluxe twin bed suite has a shower en suite and the deluxe double bed suite has a three-quarter bath en suite.
See the more details about Blue Train packages under Experiences…
Train Tours in South Africa - The Shongololo Express
The Shongololo Express , sister train to Rovos Rail, offers a slightly more affordable option. It offers a series of longer itineraries. The main difference is that the en suite compartments are slightly smaller and overall the train is slightly more modestly appointed.  We include one of the tours below but contact us for details on other routes..
Highlights
A luxury train journey is one of the most relaxing and evocative ways of crossing the vast landscape of Southern Africa.
Combine the elegance of the bygone days of luxury trains with modern comforts, superb cuisine and fine wines…
Choose between 1-3 night excursions. Or going all out with one of several longer itineraries which explore facets of Southern (and East) Africa.
Clearly experts on South Africa!
"Very helpful on the phone and by email. Lots of detailed advice and clearly experts on South Africa! Would definitely use again and have already recommended to friends. "
Ms Abrahams, UK
Everything was brilliant
"Ginny Russell and the Cedarberg team have arranged many trips to Africa for us over the last 25 years. Each holiday has been wonderful and we love planning them with Ginny. When we think Africa & safari we always think Cedarberg. Thanks again Ginny, we are already looking forward to our next safari. Val & Frank "
Mrs Val Cummins
Peter did a brilliant job
"Everything went as planned Peter did a brilliant job helping us to plan the holiday "
Mrs Sandra Cutmore
Natasha Jantjies
Africa Travel Specialist
Hi I'm Natasha, I'm here to help you plan your ideal holiday experience
Did you know
Age

Most of Rovos Rail's carriages are from the 1920s

History

The Blue Train began its service in 1923
We had a great time, a very memorable holiday
"Thank you for your patience with us through the planning stage. Standard of room we realise is important to us maybe we should have discussed this more at the planning stage. It was a very memorable holiday "
Mrs Sara Brill, USA
Impeccable
"Just a quick note to let you know we have arrived home safely and Sari and myself had a wonderful time in South Africa and your planning was impeccable. Overall you have done a wonderful job . It is highly appreciated and we are sorry we did not get a chance to meet you in Cape Town. "
Mrs Sara & Mr Andre, USA
Dream holiday
"Milandi (et all at C. A. T.) …"Like talking to a good friend/family member who genuinely, listens… then sets skill and extensive knowledge to work to fulfill (AND OFTEN BEYOND!!) all expectations!!" This Africa holiday was simply "ANOTHER" dream animal photo safari and experience Milandi (Cedarberg) put together… we have experienced TWO previous "dream holiday" from Milandi and Crew. How could a 3rd be better?… It simply was. "I may have left Africa" … "Africa will NEVER leave Me"… I (WE) will be going back, with Milandi's guidance B4 this decade is over It has been 3 weeks since return, still dreaming/thinking/processing this tremendous experience. Milandi and Cedarberg are My "Tools" towards many rewards!!! Thank-You, ALL "
Mr Wally Rohrer