Overview
Kinondo Kwetu is a small, all-inclusive luxury resort owned and operated by a Swedish family. But beyond the accommodation, the food, and the amenities you would naturally expect, it also offers another kind of luxury. We are talking about the luxury of peace and quiet, of freedom and rest. Kinondo Kwetu is a comfortable home, not a busy resort.
Home to Ida and Filip Andersson and their 3 children, a Swedish family related to the famed Baron Blixen,Kinondo Kwetu is often described as a 'home away from home' - a paradise for those wanting a more personal experience on the Kenyan coast. Located on a tranquil private beach on a 16 acre plot south of Diani Beach, distanced from residential neighbours by rocky cliffs and endless beach, Kinondo Kwetu is classified as a 'Kaya'area (protected by the National Museum) due to its surrounding holy forests and sacred land.
Private Strecth of Beach by the Indian Ocean
Kinondo Kwetu is situated at the far end of the remote Galu Beach, south of Diani beach. The nearest hotel is 2 km away and therefore the beach is very private. Lay down on a sun bed and admire the vast ocean or grab one of our foldable beach chairs and sit with your feet in the incoming tide.
Kinondo Kwetu's dhow and outriggers are out on the water, waiting to take you sailing. There are plenty of other water based activities: snorkeling, kayaking, island picnics, fishing and more. In the grounds there are two pools, one of them with sufficient depth to train for the PADI diving certificate; there are horses for those who ride and a tennis court.
Rooms
Beach Cottages
Kinondo Kwetu has 5 cottages. 3 double bedroom cottages, 1 double bedroom connecting to a single room for a smaller family. 1 big family Suite cottage with double bedroom connecting to a single room downstairs and 1 double bedroom upstairs. All are facing and have views of the ocean. Facilities • Ensuite Bathrooms • Private furnished veranda • Air Conditioned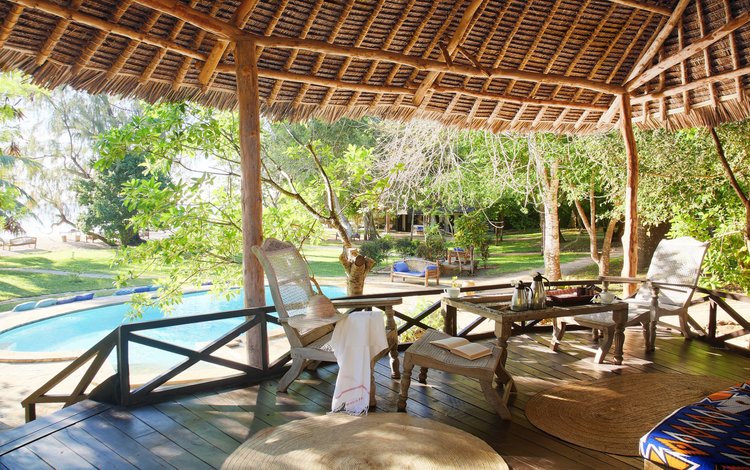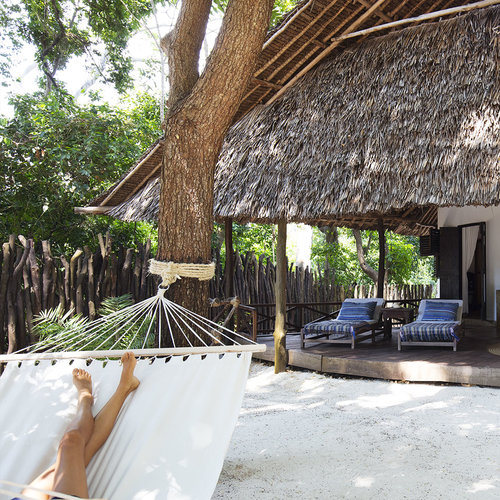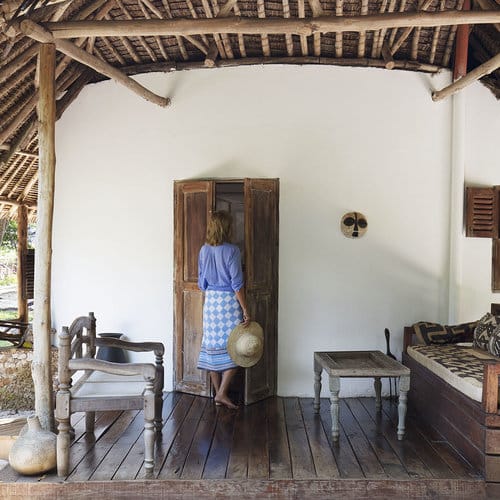 Mama Taa Villa
Mama Taa Villa perfect for both couples and families. The villa has 1 Honeymoon Suite, 1 family suite, 4 family inter-connecting rooms and 2 double rooms. All rooms are sold separately. Facilities • Ensuite bathrooms • Veranda or balcony • Air Conditioned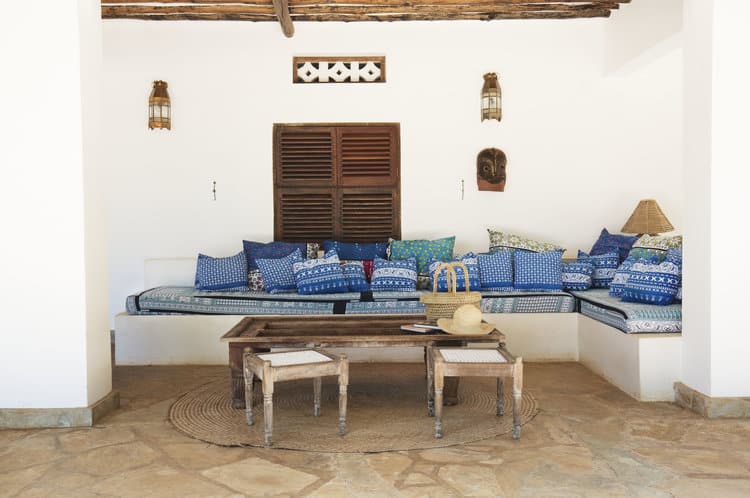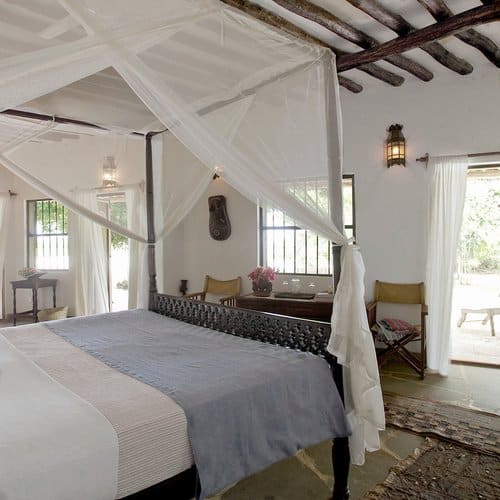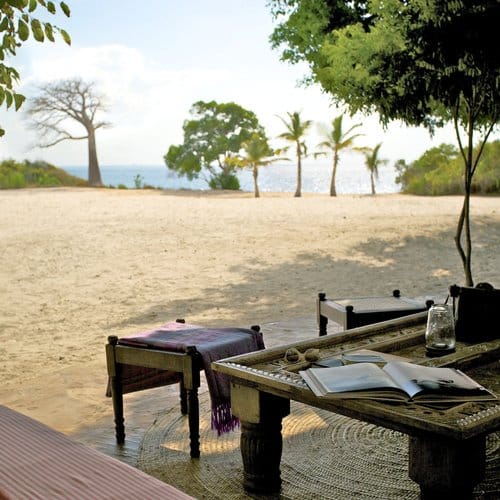 Mainhouse / Mama Tina Villa
Our Mama Tina Villa Rooms are a good option for families that want to place their teenage kids in a their own room as a cheaper option. 1 double bedroom & 2 bedrooms with a sharing bathroom. Facilities • 1 Double bedroom - Air Conditioned • 2 bedrooms with interconnecting bathroom - Air Conditioned

Alex House
Private Villa for family. Available on Holiday seasons only. Facilities • 4 bedrooms, 2 bathrooms, 1 open-plan living room/kitchen • Private • Air Conditioned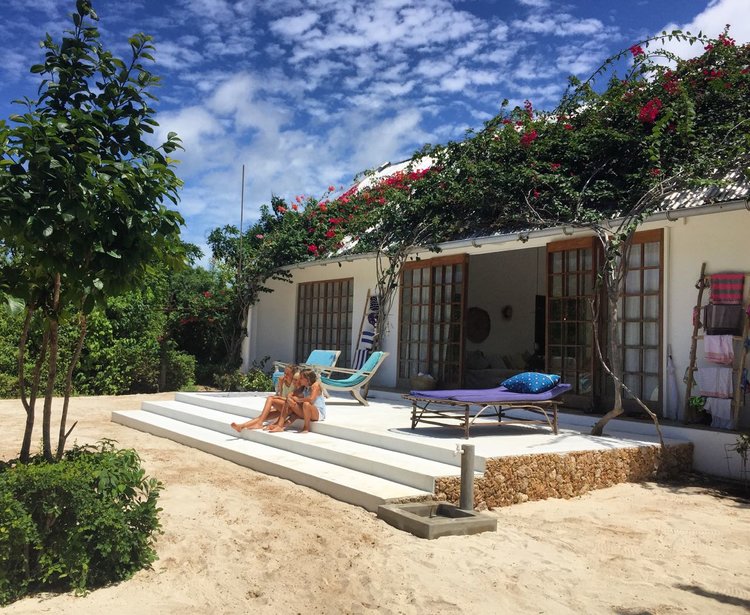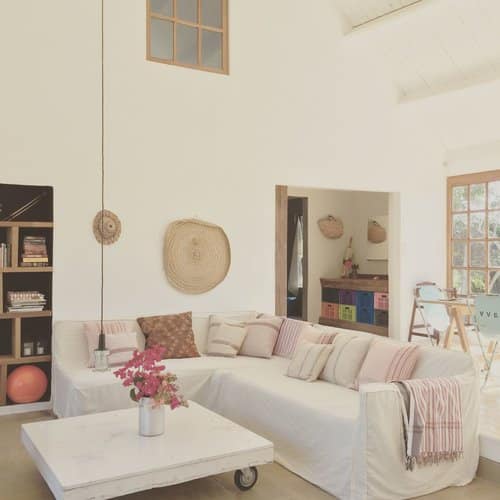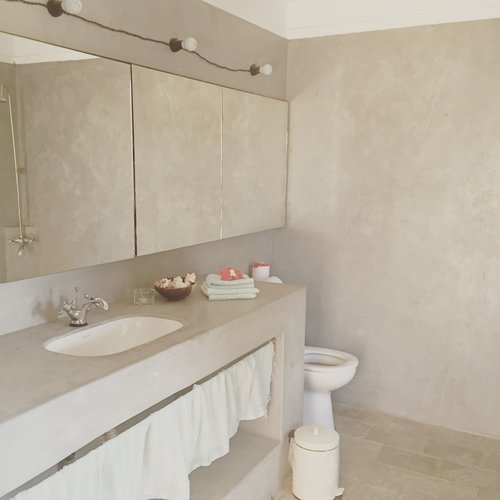 Includes
Full board, soft drinks, beer , house wines and selected spirits, yoga and gym equipment, tennis, sauna, canoeing and kayaking, snorkelling equipment, laundry, WiFi.
Family Suitability
Family-friendly all ages
Malaria Rating
Malarial area year-round