Miombo Safari Camp
CEDARBERG RATING
Comfortable
Overview
Miombo Safari Camp has the distinction of being the closest good quality accommodation to Hwange Main Gate and lies on a private concession on the eastern border of the Hwange National Park. Hwange rightfully boasts the highest concentration of wildlife species (mammals, birds, reptiles & insects) of any safari region in Africa.
Miombo Safari Camp is a comfortable authentic safari lodge which a range of accommodation to suit different budgets, but generally offering excellent value for money. It has a pleasant open sitting/dining area which is open on one side onto a shaded garden with a large swimming pool.
You can choose to take Miombo Safari Camp on a Fully Inclusive basis including all game activities and drinks (which we recommend). You can also opt for a Dinner, Bed & Breakfast basis which is ideal if you are planning to do game drives into the Park in your own vehicle but which allows you to add on game drives as you wish. The price we have given here is on a Fully Inclusive basis.
Accommodation
Choose between luxury tented suites, tree-houses and more modest thatched chalets. The four elevated tented suites have folding doors which open onto their own private deck and overlook the waterhole. There is an en suite bathroom with double vanity and shower and they are well-spaced for privacy. All have commanding views over the perennial waterhole, which is a magnet for wildlife especially during the dry season. One is a honeymoon suite which has a large bath and shower inside as well as an outdoor shower.
There are also two standard tree houses which are more rustic in decor. Both are ensuite with flush toilet, walk-in shower & vanity unit. They also overlook the waterhole with game-viewing possible either from your balcony or even from your bed. All rooms are equipped with safe, tea/coffee facilities and fans. Finally there are four classic thatched rondavels (which we are not so keen on), each with bedroom and private shower-room.
Families at Miombo Safari Camp
Miombo welcomes families and can accommodate a family of four in one of their raised tented suites.
Miombo Safari Camp gallery
Miombo Safari Camp on the map
Rooms
Elephant Camp - Elevated Tented Suites
Located on a raised platform and is luxuriously equipped with a large bath and private interior shower.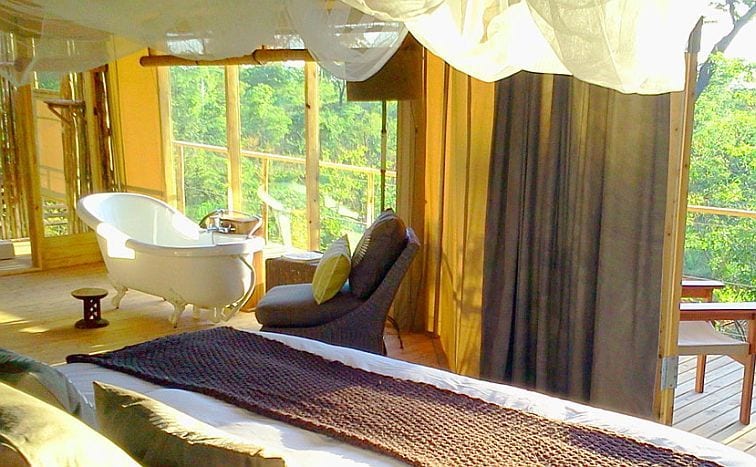 Little Miombo Tent
Little Miombo is adjacent to Elephant Camp & can be used as an independent self-catering camp or in conjunction with Elephant Camp. The 2 camps share facilities such as the swimming pool.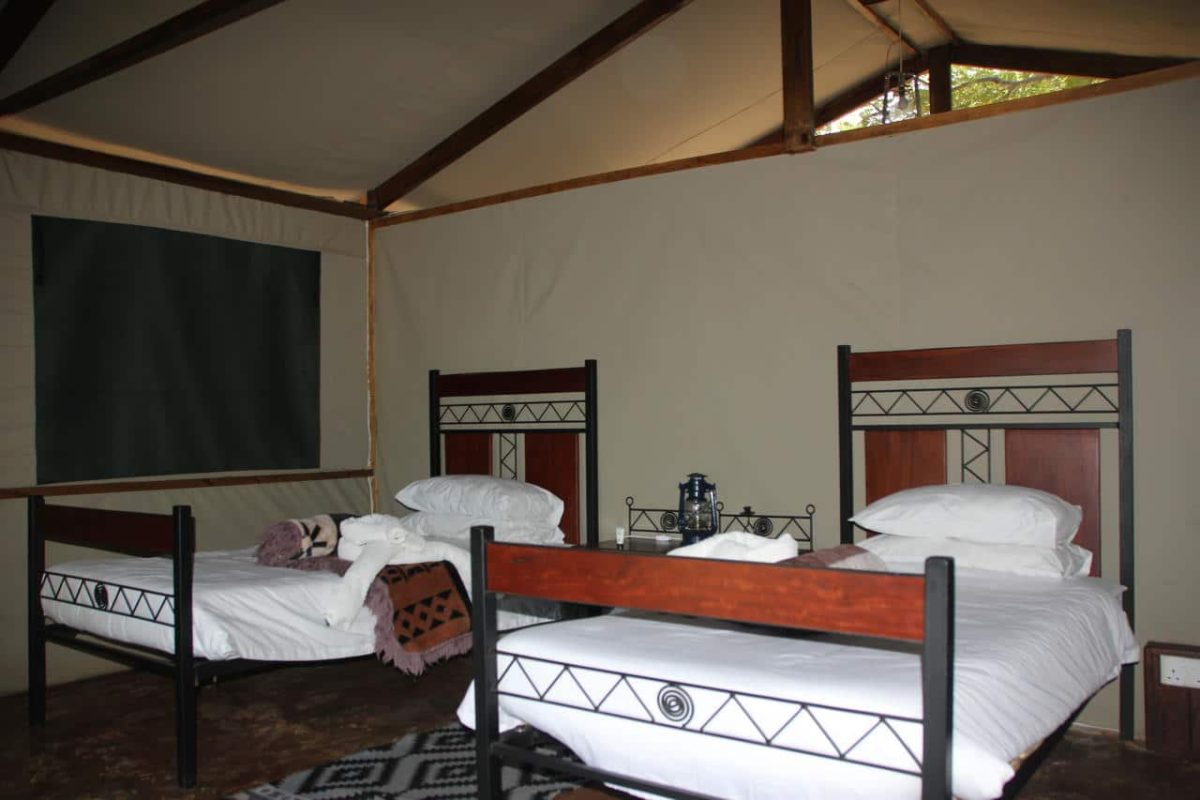 Elephant Camp - Elevated Treehouse
The standard tree houses offer rustic accommodation for safari-lovers and contain twin single beds.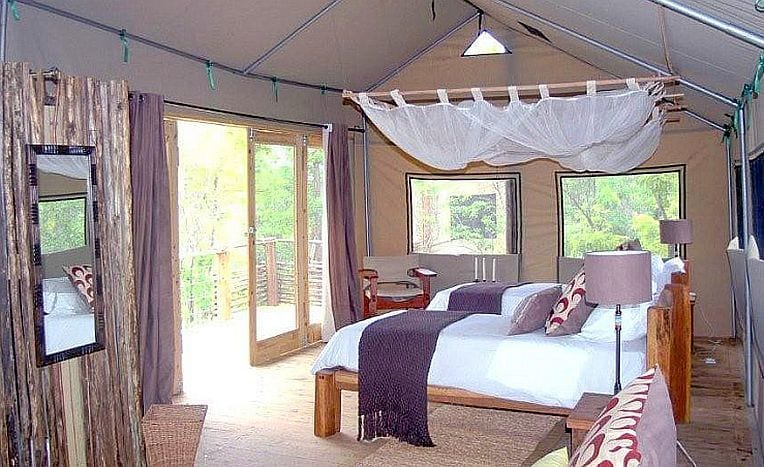 Elephant Camp - Chalets
In addition to the raised-platform guest suites, there are four classic ground-level thatched roof rondavels, each accommodating two guests and comprising a bedroom, wardrobe, private bathroom, and shower.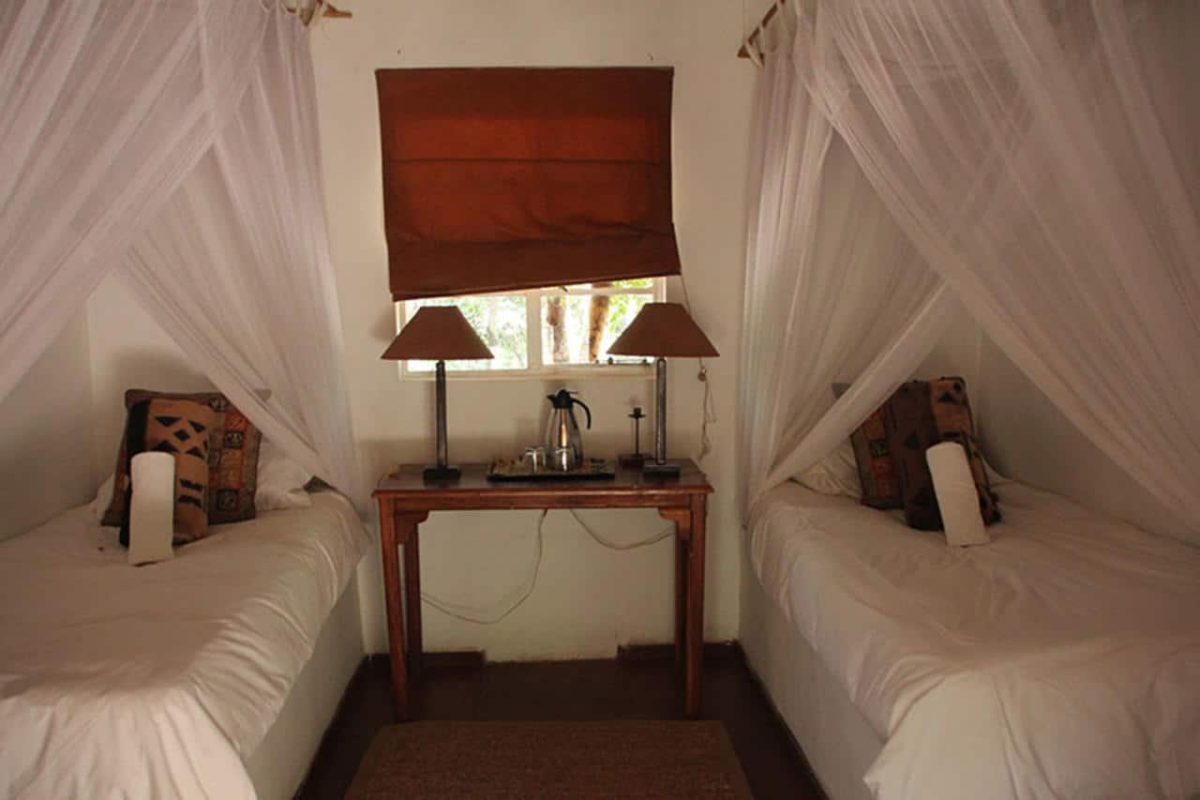 Elephant Camp - Family Chalet
The Family Chalet has a thatched main lounge, dining area, bar & swimming pool. This is a 2 bedrooms unit which would be great for families.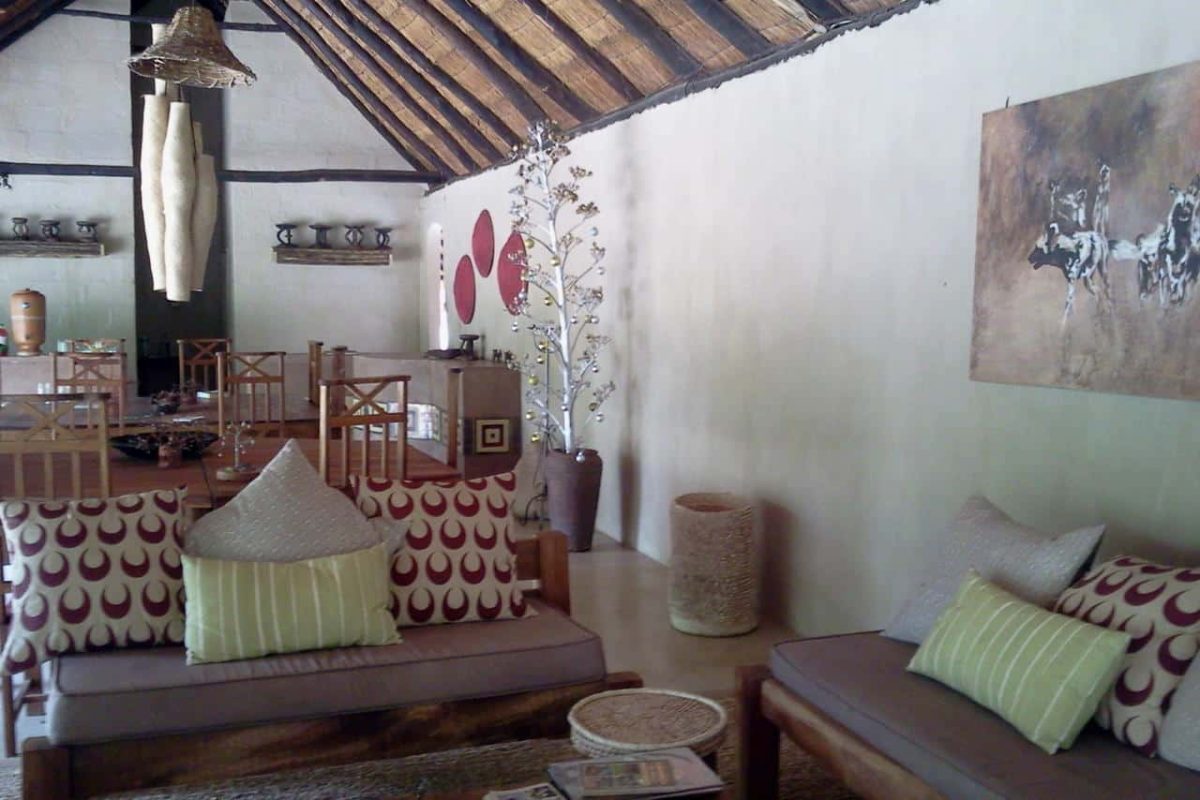 Miombo Camp review by Mari
Situated on the boundary of Hwange National Park 2 hours from Victoria Falls and a few kilometers from Hwange park entrance. We stayed for 2 nights and were really impressed. Great personal experience for a very reasonable price. We stayed in a tree house that overlook a waterhole. They offer 3 good meals a day and all clients eat together at a large dining table. As a special treat they arranged the Ingonyama performing troupe after dinner on our last night and I was very impressed with their true and artistic impersonation of wild animals. It can be arranged at an additional cost during your stay.
We were privileged to meet Sharon Pincott, she works closely with the Presidential elephant herd on a daily basis. We did a game drive on Hwange Estate, home range of the presidential elephant herd, made famous internationally by Sharon Pincott who resides in a cottage at Miombo. Usually an Elephant drive to meet the Presidential herd will be done by the guides of Miombo and not by Sharon. On our drive with her we spotted a newly born baby elephant and as it was part of the "W" family we named her Whisper.
That afternoon close to Miombo we visited the Painted Dog Centre which is included in the fully inclusive rate. http://www.painteddog.org/ – Painted Dog Conservation (PDC) works to save the endangered African wild dog it is an African wild dog research project in Hwange NationalPark. A great option to get closer to the wild life inside the park is also to combine your stay at Miombo with a Mobile safari inside the Hwange Park (at an additional cost and need to be pre-arranged) I think I will opt for that in high season during the drier months between July and September on my next visit.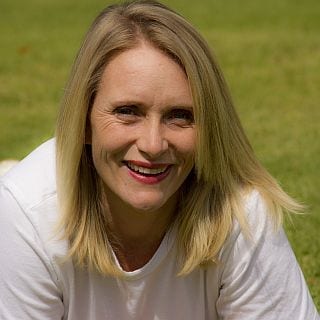 Includes
Fully Inclusive of all meals, coffee/tea, game activities and drinks. DBB rates also available.
Family Suitability
Family-friendly all ages
Malaria Rating
Malarial area year-round