Overview
Bomani Tented Lodge lies on a private concession of the magnificent Ngamo plains on the edge of Hwange National Park. Bomani is known for its unique open scenery and the vast herds of elephant. We love this location, which it shares with its sister lodge, Camelthorn Lodge. You can enjoy your breakfast whilst watching zebra and wildebeest quietly graze, or sip a sun downer as giraffe and elephant soak up the day's final rays.
The main lodge is an open fronted dining, sitting and bar with a teak viewing deck. There is a swimming pool as well and below is a wonderful campfire area overlooking the plains.
Accommodation
There is a range of different accommodation at Bomani. There are 5 Saddlebill tents which are raised on stilts. These are slightly smaller than the new tents. But full of charm, each with an en suite bathroom with shower. There are 4 Spurwing tents which are extremely spacious (62 sqm) and situated on the ground overlooking the plains. However rather plainer in ambience. Some can take extra children as they have two double beds. One is a honeymoon tent with a bath as well as shower.
There's a thatched bungalow (Sable Suite) with air-conditioning, overhead fan, minibar and sleeper couch for children.
Finally there is a two bedroom family suite (Sable Suite), slightly away from the other accommodation. it has amazing views over the Ngama plains. It comprises two large en suite bedrooms with luxurious baths and outdoor showers. There's a large open plan lounge and dining room so that you can enjoy private dining if you prefer. It sleeps 6 as two extra beds can be added.
Activities
At Bomani there are no rigid schedules and timetables. Instead they tailor your time around your particular interests. Activities include early morning and afternoon game drives but also plenty of walking if you are keen.
Join your guide on a sunrise game drive inside the Park, track herds of elephant by foot, and enjoy close up photography from inside the amazing look-up elephant blind. Or opt for a relaxing lie-in before visiting the nearby village and school for insight into the daily lives of the local children. Night drives are also common either at the end of a game drive or after supper, especially if lion are heard calling nearby.
Another popular game-viewing option are 'pump runs'. Hwange National Park and its wildlife relies on pumped water holes in the dry season. (This has always been the case, ever since the park's inception in the 1930s). Imvelo operates eight waterholes in the south-eastern part of Hwange, some many miles into the park. So you can take a full-day safari to visit these waterholes and drop off fuel and oil for the pumps plus rations for the pump keepers. You enjoy a picnic lunch at one of the waterholes, which are usually teeming with game as the dry season progresses, and then slowly head back to the lodge, game-viewing en route.
Finally horse-riding is available on their private concession. Several options are available depending on your ability from beginners (1 hour) to intermediate to experienced 3 hours to a full day).  You can even combine a horse safari with a visit to the local village. Horse-riding is an additional charge
Access
Getting to Bomani Tented Lodge is also part of the adventure. You can choose between a light charter flight, a road transfer or a combined road/train transfer on Imvelo's unique rail carriage from Hwange main camp.
Bomani Tented Lodge gallery
Bomani Tented Lodge on the map
Rooms
Saddlebill Tent
3 x Saddlebill Twin Tents: 50 sq m with views across the Ngamo Plain to Bomani Pan, raised teak deck, twin double beds, standing fan, en suite shower, toilet and basin.
2 x Saddlebill Double Tents: 48 sq m with views across the Ngamo Plain to Bomani Pan, raised teak deck, standing fan, en suite shower, toilet and basin. One of the rooms has a double bed, the other a kingsize bed.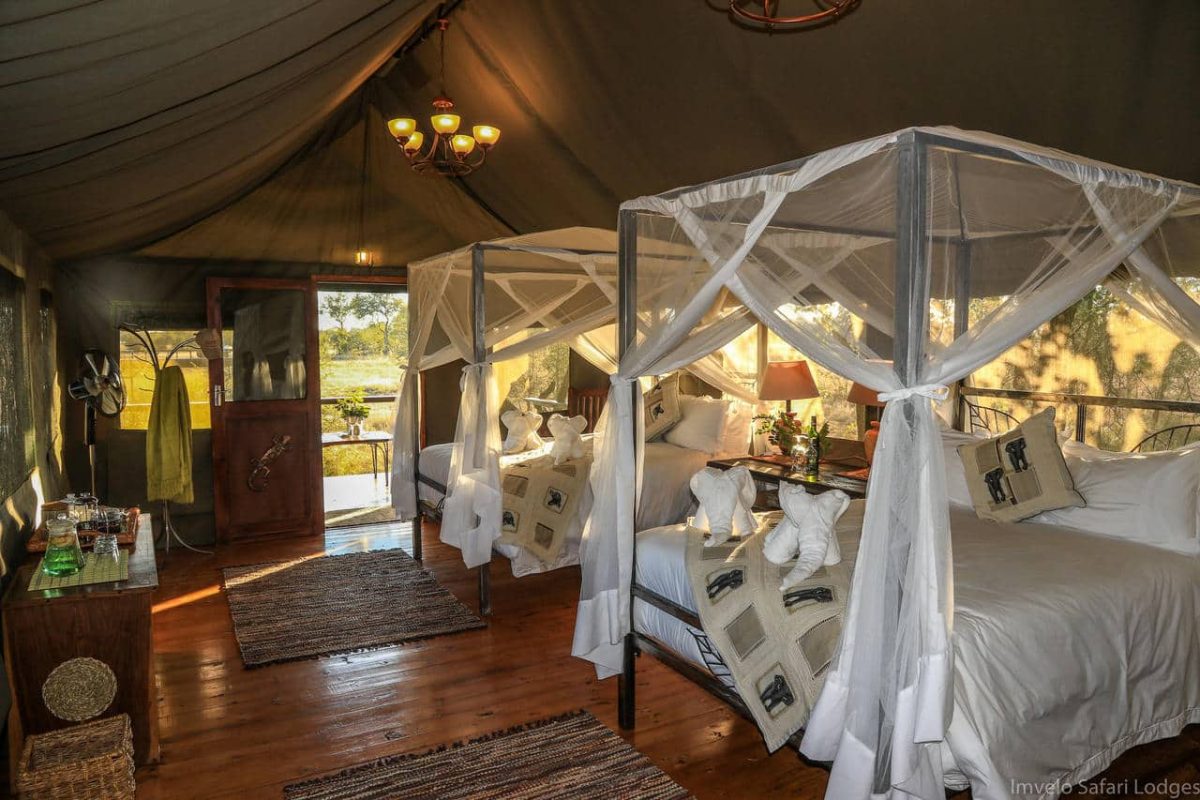 Spurwing Tent
2 x Spurwing Twin Suites: 62.5 sq m tent overlooking the lodge watering hole, twin double beds, overhead fans, en suite shower, toilet, basin, en suite lounge, veranda ideal for private dining, space for an extra bed for children.
1 x Spurwing Double Suite: 62.5 sq m overlooking the lodge watering hole, king-sized bed, overhead ceiling fan, en suite shower, toilet, basin, en suite lounge, veranda ideal for private dining.
1 x Spurwing Honeymoon Suite: 57.5 sq m tent overlooking the lodge watering hole, king-sized bed, en suite shower and free standing bath, twin basins, overhead fans, large tiled veranda ideal for private dining.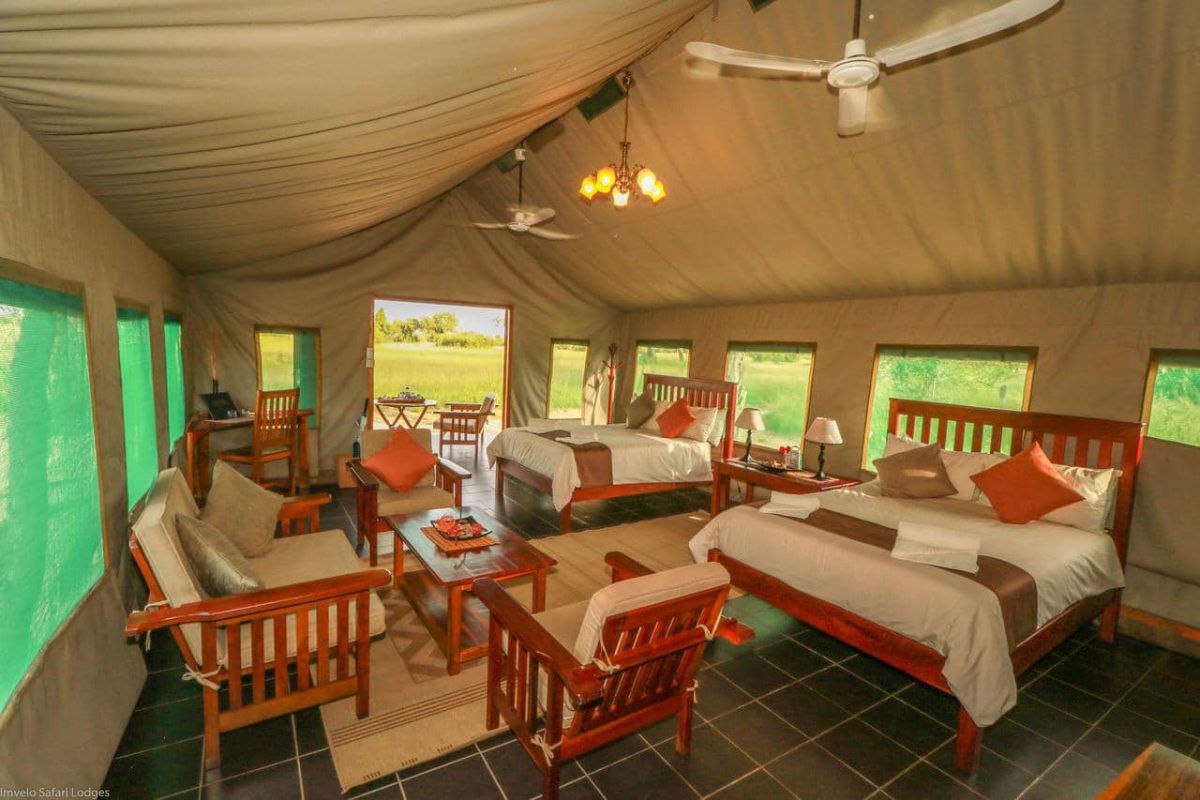 Sable Suite
The Sable Suite is our family suite is built among a grove of Camelthorn trees and slightly away from the rest of the lodge to give it some privacy. The family suite has splendid views across the Ngamo Plains with regular wildlife sightings as animals move in to drink from the nearby Bomani Pan.
The suite comprises of 2 large bedrooms (one with a king size bed and one with 2 ¾ beds), both with ensuite bathrooms which have luxurious baths, and delightful outdoor showers. There is also a large open plan lounge and dining room together to allow families to enjoy optional private dining.
Sleeps up to 6 pax comfortably (2 additional single beds can be placed into the lounge area)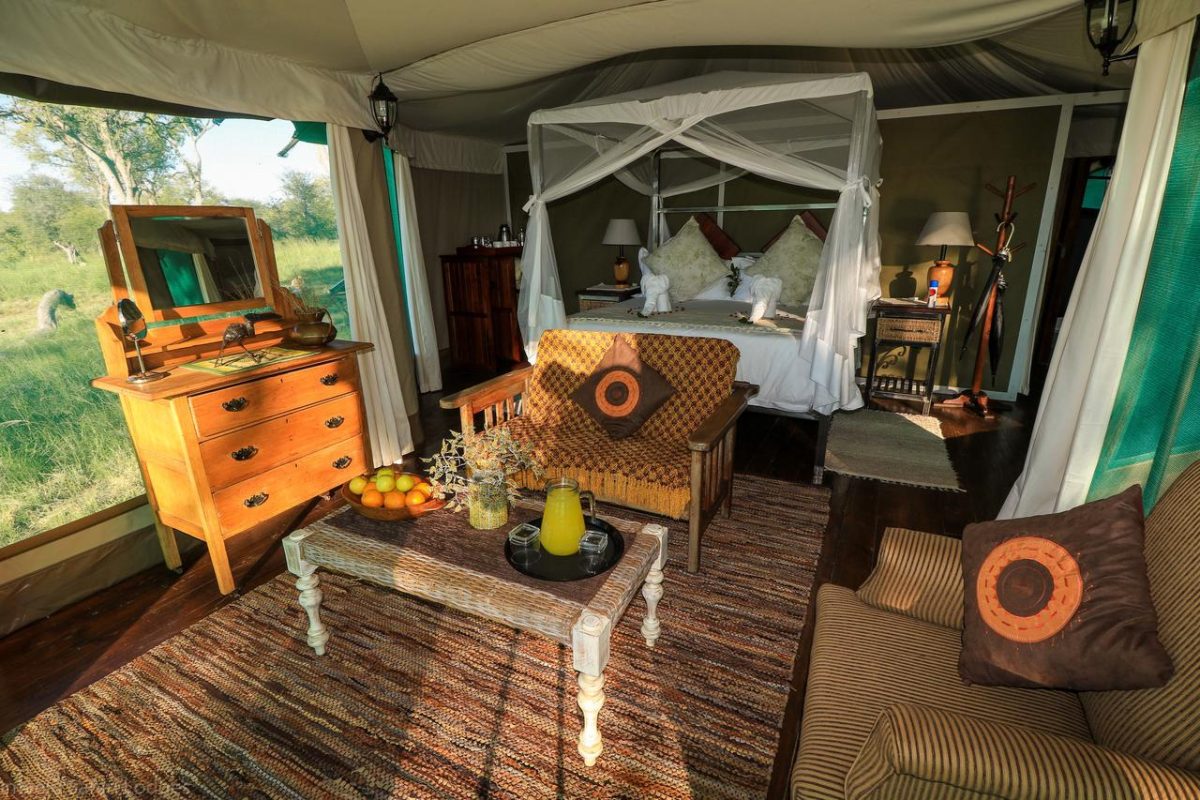 Thatched Bungalow
This brick under thatch chalet is elegantly furnished and luxurious with a private en-suite bathroom, hot running water and electricity by generator. The private veranda provides an up close view of the water hole and this lodge is the closest of all the lodgings to the main lodge area.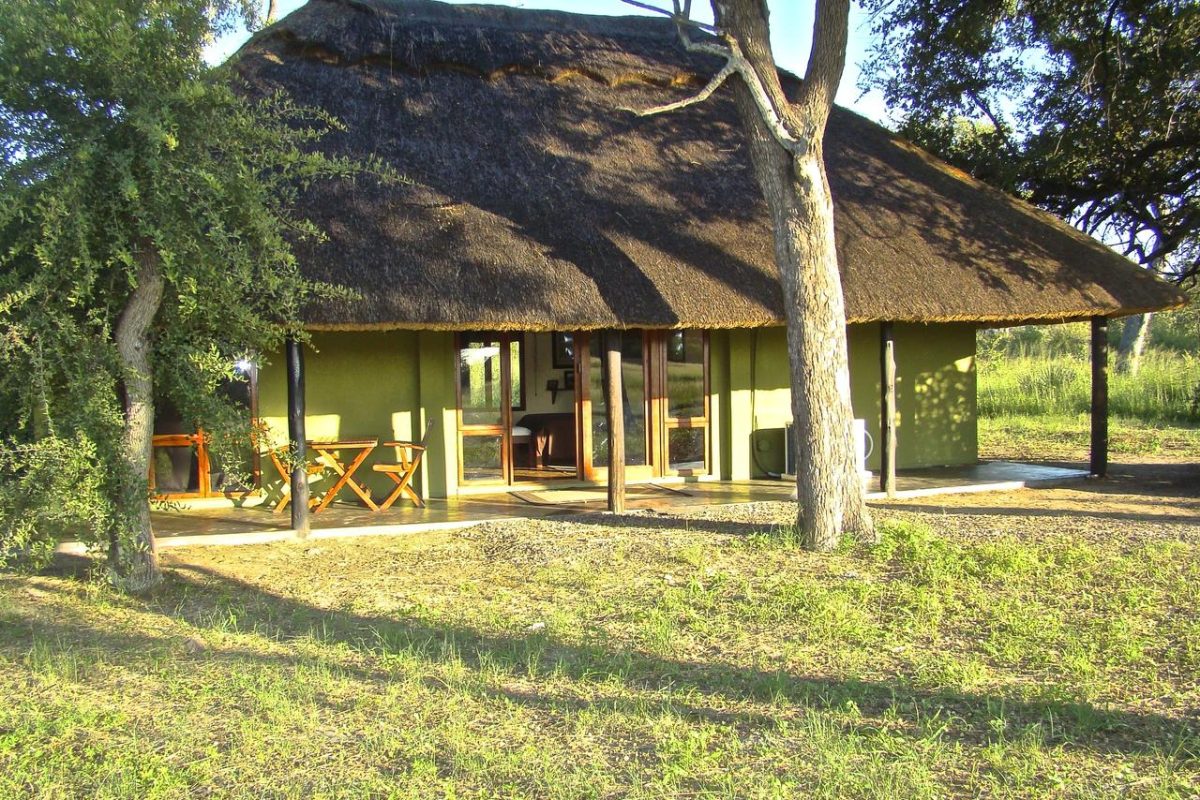 Bomani Tented Lodge review
Even though it is not as smart as Camelthorn Lodge, I think I enjoyed Bomani Tented Lodge as much because of its lovely setting overlooking the open plains of Southern Hwange. It also offers excellent value for money!
The guiding here and at Camelthorn was excellent led by Seps, their head ranger with game walks, game drives and night drives in search of lion. We also spent time at their amazing 'elephant blind' which is a semi-underground hide at a waterhole which gives you a ground level view of the elephants as they come to drink. Amazing for keen photographers!
Currently there are two styles of tent at Bomani even though everything is on one price level. The older tents are rather charming, smaller and on stilts. The newer Spurwing tents are on the ground and are very large but somehow less charming. However these would be perfect for families as there is plenty of space and each has two double beds. They would also be suitable for older, less mobile people as the steps up to the original tents are relatively steep. The older tents will be replaced (at the end of the year) with new tents which will also be on stilts and I suspect that these will then be my preferred option having the charm and new appointments.
There is no swimming pool at Bomani so perhaps think twice if you are wanting to visit in the hot late spring (such as October) or summer months. At that point, I would go for its sister lodge, Camelthorn as I think the chalets will be cooler than the tents.
The same activities are available at both camp: morning and afternoon game drives, bush walks, "pump" runs and visits to the community especially the local school. I really enjoyed the visit to the school and interacting with the kids.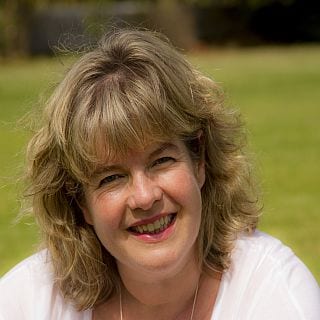 Special offers
Free Elephant Express Ride
Complimentary Elephant Express train journey if you stay 4 nights
Stay for 4 nights at either Camelthorn Lodge or Bomani Tented Lodge and get a complimentary rail transfer on the Elephant express from Dete down to the lodge (or on the return journey.)
Family - kids under 16 years stay for free
Kids under 16 years sharing with adults stay for free (up to 2)
Green Season 3 for 2 Offer
Stay 3 nights in the Green Season and pay for only 2 nights