Overview
The Cellars is the ultimate in classical romantic hotels
Set in gorgeous rose-filled and terraced gardens
Choose between two excellent and contrasting restaurants
Acclaimed Cape Malay restaurant
The Cellars Hotel is a gracious period hotel set in beautiful landscaped gardens in the historic Constantia Valley of Cape Town. The wine estate area of Cape Town on the slopes of Table Mountain. It's probably fair to say that the Cellars Hotel, (as the Cellars-Hohenhort is usually known), was the original country house hotel in South Africa. And it remains the ultimate for romantic getaways. It backs onto the forested slopes of Table Mountain and offers stunning views over the vineyards to False Bay.
The Cellars comprises two buildings, both filled with fine antiques and original art. Cellars Hotel building was originally an 18th century Cape Dutch homestead on the Klaasenbosch wine estate. Whilst the Hohenort building is a Victorian manor house with beautifully proportioned rooms, high ceilings and original features. It has two award-winning restaurants overseen by Cape Town's only Relais & Châteaux Grand Chef, Peter Tempelhoff.
The Greenhouse is one of South Africa's top 10 restaurants. Here the cuisine focuses on South African ingredients with modern interpretations. The more relaxed Conservatory serves simple beautiful dishes. The stylish vibey cocktail bar provides a great counterpoint for the elegant sitting rooms.
Accommodation at The Cellars-Hohenort
The 48 rooms and suites of the Cellars Hotel - including the charming Dovecote Honeymoon Suite - are decorated with immaculate taste. Rooms in the Cellars building are more contemporary in style whilst the Hohenort rooms have retained their classical ambience. You may also like to consider the Madiba Suite which is a self-contained small villa with two bedrooms (and a smaller third bedroom adjoining it).
Outside the nine-acre spectacular garden of the Cellars Hotel is lovingly attended - with garden tours on offer if you are interested - with rose gardens leading into terraced shrubberies and mature woodland. These are probably the best hotel gardens in South Africa and certainly some of the finest gardens in Cape Town. Within these extensive gardens are two swimming pools, a Gary Player putting and chipping green, tennis court and the Fresh Wellness centre. Beyond lies a small vineyard to complete the country ambience.
The nearby Cecilia forest offers wonderful walking. Though the Cellars Hotel is 20 minutes from the city centre, Constantia hotels such as The Cellars, are actually very well-situated for enjoying all the sights of Cape Town. Kirstenbosch Botanical gardens are very close by as are the wine estates of the Constantia valley. The popular scenic drive around Cape Point and Chapmans Peak is much more easily accessed from Constantia than the city centre. Plus there are several world class golf courses close by.
The Cellars-Hohenort gallery
The Cellars-Hohenort on the map
Rooms
Double Room
This is our entry level room category, they offer either vistas over the Cape Peninsula from the Hohenort building, or sprawling views over the incredible gardens from the Cellars Main House. Double rooms in the Main House are more contemporary in design, while our rooms in the Hohenort building will suit those guests who prefer a more traditional Edwardian style. Rooms range between 27-45m2 in size. Maximum two people per room.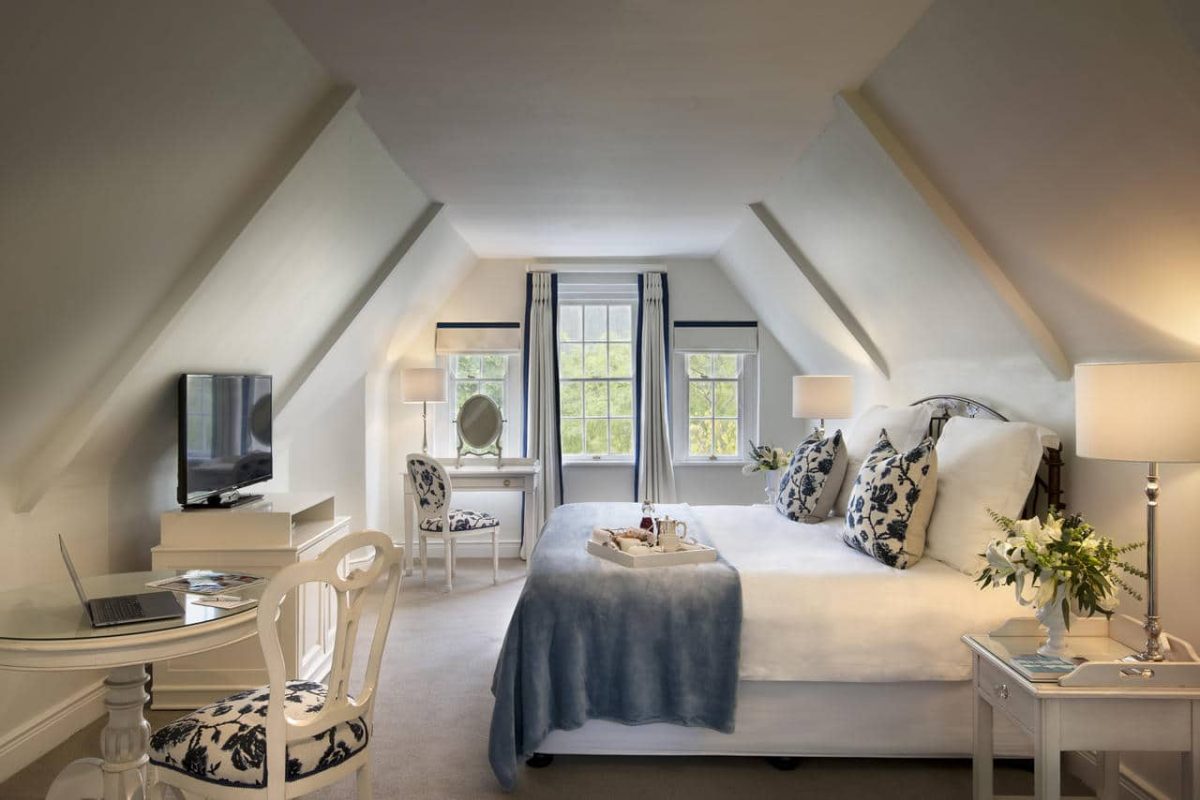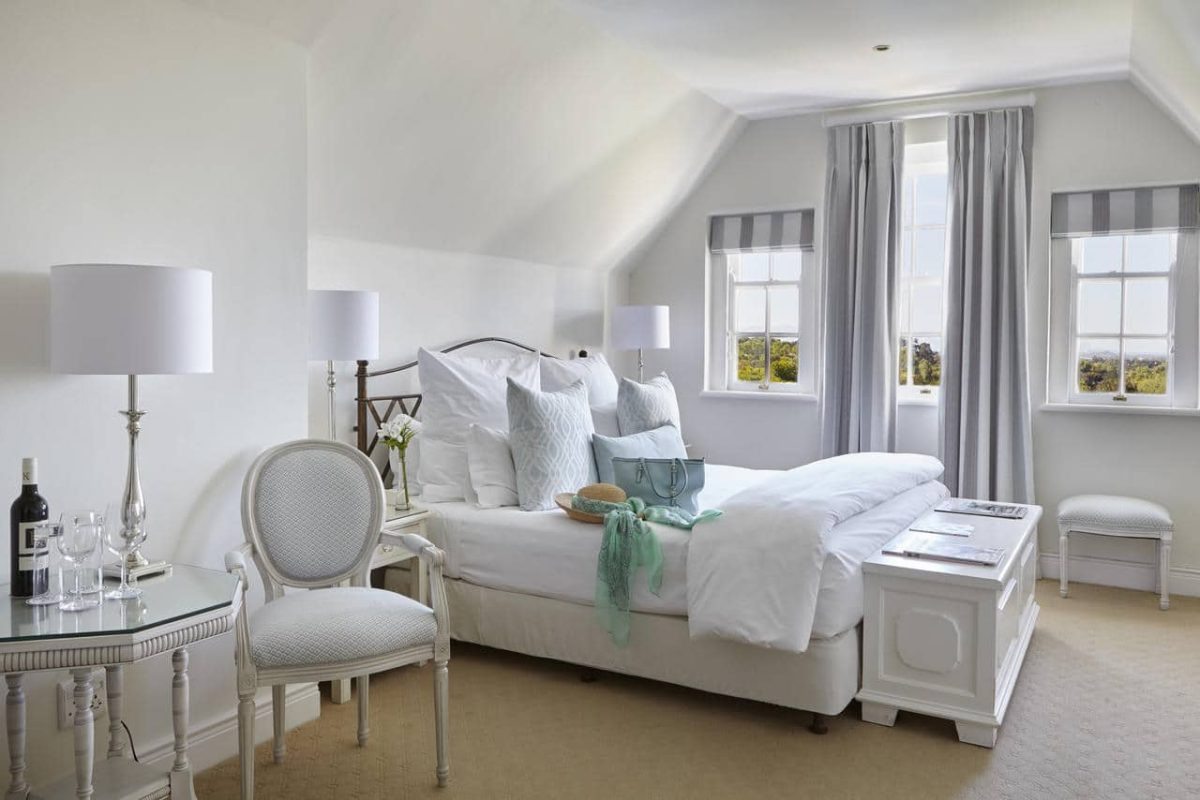 Luxury Double Room
With a choice between the Cellars Main House and the historic Hohenort Manor House, guests can select which Luxury Double room suits them best. These spacious rooms offer either vistas over the Cape Peninsula from the Hohenort building, or sprawling views over the incredible gardens. Luxury Double rooms in the Cellars Main House are more contemporary in design, while rooms in the Hohenort building are decorated in a traditional Edwardian style. These rooms range in size between 35-42m2. Maximum two people per room.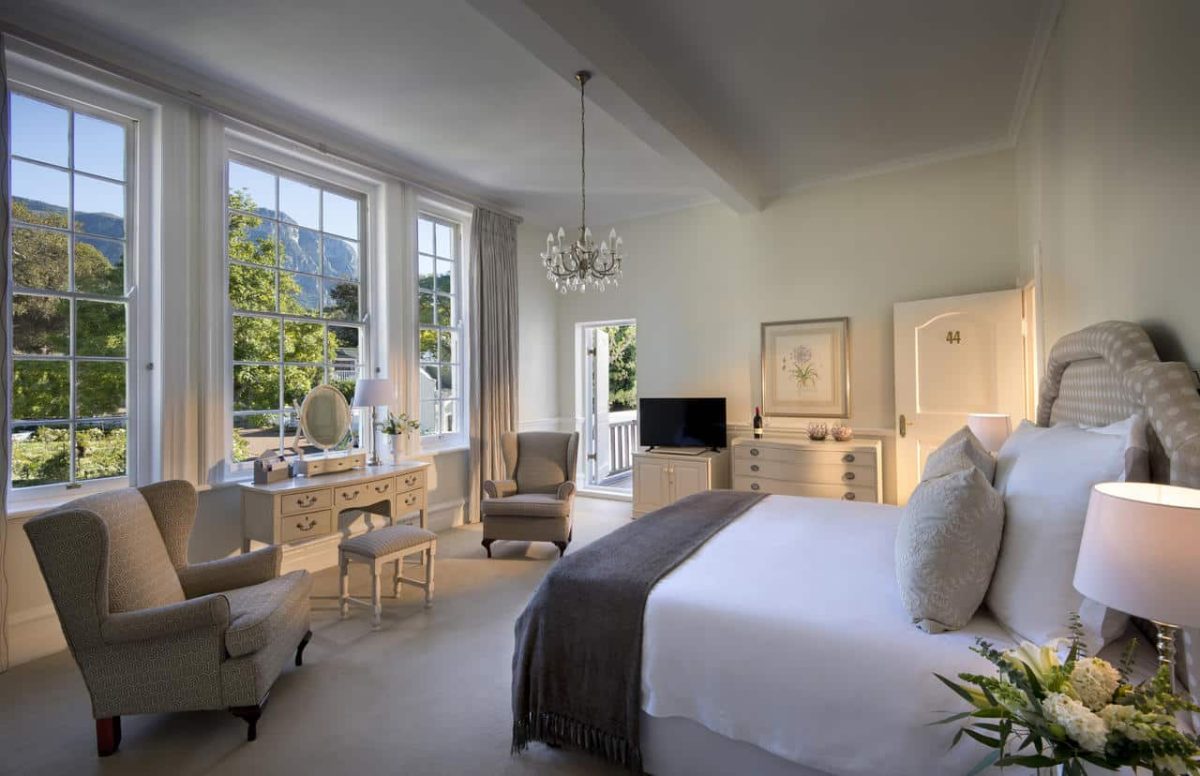 Luxury Double with veranda
Individually decorated in a classic style, these rooms make for the perfect romantic getaway. Relaxing outside on private sunloungers, guests can enjoy a cup of coffee while watching the sun rise, or a glass of wine during that most enchanting time of day, sunset. On chillier days, the views can also be admired from the cosy lounge area inside. On a clear day, they even offer panoramic views over Constantia Valley all the way to False Bay. These rooms are 46m2 in size. Maximum two people per room.
Suite and Premier Suite
Elegant yet supremely comfortable, with a spacious lounge area and convenient walk-in closet, each Suite features a highly individual signature look. We felt inspired by the natural beauty of our gardens, which is reflected in the design throughout the rooms, with light streaming in through large windows and a natural colour scheme creating a soothing retreat. These Suites all offer a spacious lounge area, walk-in closet and mini-bar, and range from 41-75m2 in size. Premier Suites are available either as a split-level Suite or one-level Suite. Each contains a spacious separate lounge, kitchenette, satellite television, elegant bedroom and en-suite bathroom. Premier suites range from 62-77m2 in size.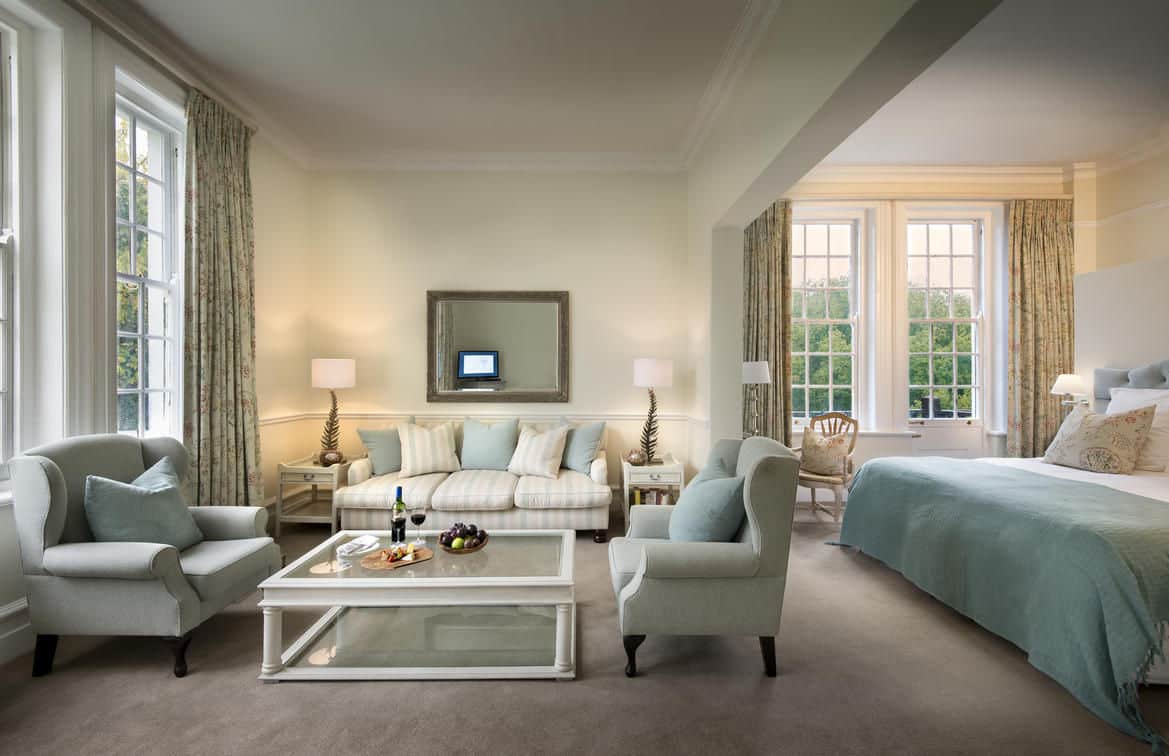 Madiba Villa and Liz McGrath Villa
Hidden away in our beautiful gardens, the two-storey Villa is self-contained, with a private driveway leading up to a discreet entrance. A large open-plan lounge and dining room welcome guests upon entering the house, with three double en-suite bedrooms leading off the central area. A fireplace, air-conditioning and under-floor heating provide maximum comfort for our guests at all times, while a private courtyard and swimming pool ensure a tranquil stay. Additional features, including a bar area and service kitchen, make the Villa ideal for guests accompanied by private staff. The Madiba Villa is 264m2 in size. The Liz McGrath villa is located adjacent to our fragrant herb garden, with a large private courtyard leading out from the lounge and dining room for up to six guests. The villa features two spacious bedrooms with en-suite bathrooms, and shares a private enclosed foyer with one of our Premier Suites – which can be used as an additional accommodation option. The fully-equipped kitchen and a separate lounge with fireplace and its own entrance from the foyer make the villa perfect for entertaining.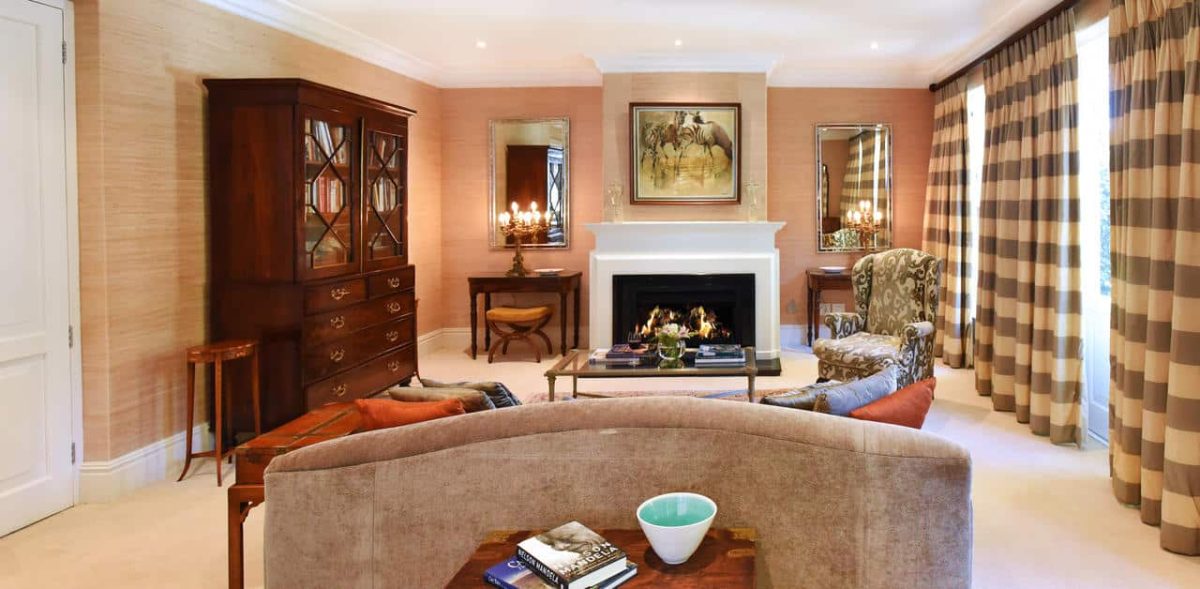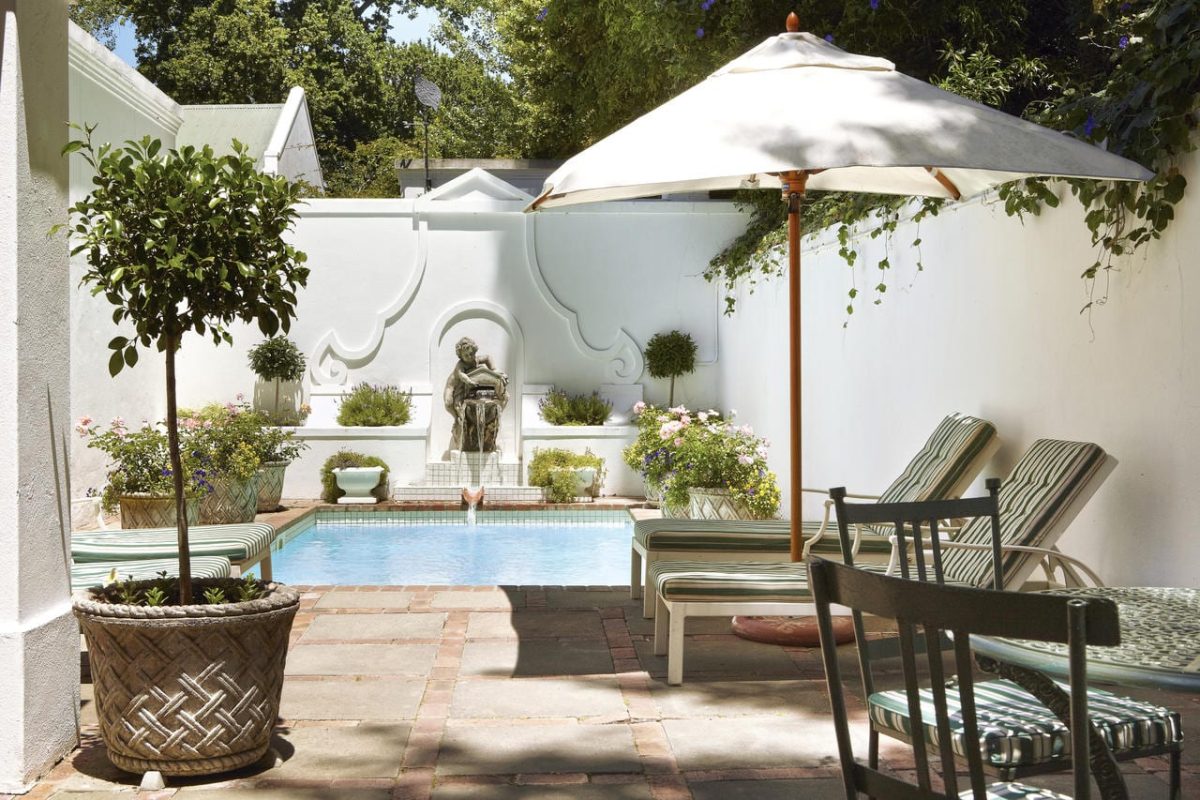 Special offers
3 for 2 Winter Offer
Book and stay 3 nights but pay for only 2...
7 for 5 special
Stay for 7 nights at any combination of The Collection hotels and pay only for 5 nights.
Enjoy a stay at the Cellars Hotel, the Marine Hotel and The Plettenberg for 7 nights and two of those nights will be free .  
Terms & Conditions: Also available from March to December 2023