Whale watching on Ile Sainte Marie, Pirate Island
LOCATED IN
Ile Sainte Marie
Seeing Humpback Whales off Ile Sainte Marie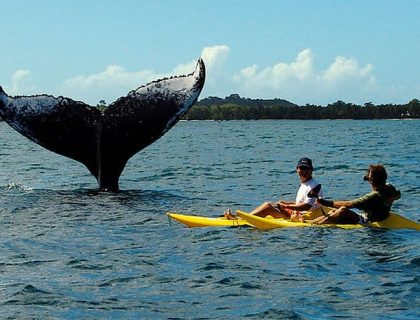 Much less developed than Nosy Be but equally beautiful, Île Sainte Marie is the long sliver of an island running parallel to the east coast of Madagascar. There's fantastic whale watching on Ile Sainte Marie.
This Madagascar island is worth visiting at any time (except, perhaps, January to March) but the best time to visit the island is from July to September. At this time, during their annual migration, humpback whales (Megaptera novaeangliae) can be seen breaching and blowing in the narrow canal that separates the island from the mainland. The humpbacks feed in the cold polar waters of the antarctic in the summer and then migrate thousands of kilometres to the tropical waters around Ile Ste Marie to calve and mate. Up to 15m in length and weighing 30 to 45 tons, they nonetheless, slip through the water and are easily seen from the shore. The best way to see them is out on the water with a specialist, such as the trips from the Princess Bora Lodge. The three hour boat trips are accompanied by a naturalist guide and contribute to the data collection of the local marine mammal conservation organisation.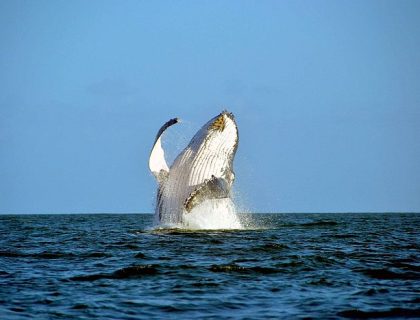 Now a tranquil, charming hideaway with a few hotels hidden in trees between traditional villages, the island has a swashbuckling and romantic history. As recently as a couple of centuries ago, the tiny bays sheltered pirate ships, hiding out ready to attack the galleons passing by on the Spice Route. According to historians, at one stage Sainte Marie's population was about 1,000 pirates, one of the foremost pirate strongholds in the world, and the present islanders are the descendants of these buccaneers.