Walking in the Drakensberg Mountains
LOCATED IN
Drakensberg Mountains
Walking in the Drakensberg Mountains
The Drakensberg Mountains offer superb mountain scenery, lush green in summer with spectacular waterfalls, woodland and crystal clear streams. There's a full range of walking trails from easy riverside walks to challenging mountain peaks.
We recommend staying at least 3 to 4 nights at one of the Drakensberg Mountain hotels or take our escorted Drakensberg Walking Tour…
Cathedral Peak Hotel
Montusi Mountain Lodge
Cleopatra Mountain Farmhouse
The Cavern Hotel
If you are staying at one of the traditional mountain hotels, they offer daily walks with the hotel guide. Each hotel has its local favourites. These walks usually vary with gentle walks on some days and full day hikes offered on others. However you can take many of the trails under your own steam as well.
The Cathedral Peak Hotel offers its 'flagship' hike up the Cathedral Peak twice a week. This is an 8 hour strenuous hike with some relatively easy rope work at the top to get to the peak. They also offer a shorter 6 hour hike up the Rainbow gorge.
All Trails App
This walking/running app lists many of the favourite Drakensberg walks. You may want to check it out as you can download maps for offline use. And also see plenty of user reviews as well.
The famous Amphitheatre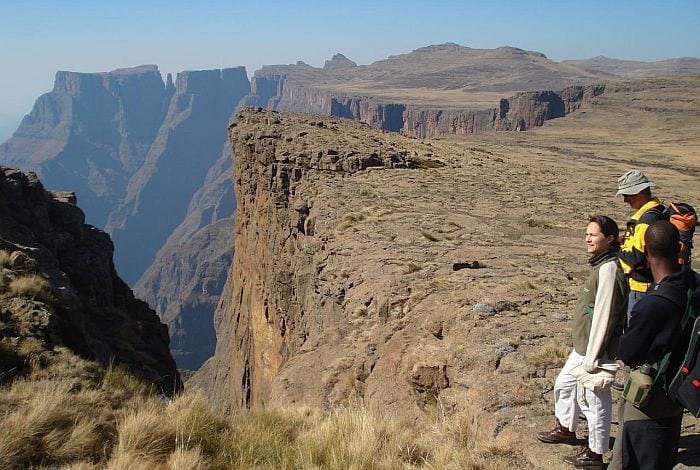 The famous Amphitheatre, an 8 km stretch of cliff-like mountains some 1400 metres high is found in the northern Drakensberg. The main peak is called Mont-aux-Sources. This is the source of five of the country's major river systems. The mighty Tugela River cascades 850 metres over the edge of the Drakensberg forming the Tugela Falls. The most popular long hike is a six-hour walk up the Tugela Gorge, which involves crossing/fording the river a number of times before emerging into the Amphitheatre. However you can choose to just walk part of the way if you want a shorter walk. The closest hotels are The Cavern or Montusi Mountain Lodge but Three Trees at Spioenkop is also close by…
If you stay at one of the lower lodges such as Cleopatra or Hartford House or Three Trees, you may need to drive a little to start your walk if you want the classic Drakensberg terrain. (There are walks from the lodges but not as mountainous…)
Note on When to Walk: The Drakensberg is in a summer rainfall region so the paths do get quite over-grown by the late summer. You may want to do a guided hike at that time to be sure of the route…