Sani Pass 4×4 Trip
LOCATED IN
Durban & Dolphin Coast
Sani Pass 4×4 Excursion via from the Drakensberg or from Durban
If you have time, we recommend the Sani Pass 4×4 trip from KwaZulu Natal up into the Kingdom of Lesotho. But not if you are afraid of heights or of a nervous disposition! Sadly this excursion will be disappearing soon. The Chinese are building a brand new tarred road to get to some mining deposits in Lesotho. Then this somewhat hair-raising experience may lose its charm.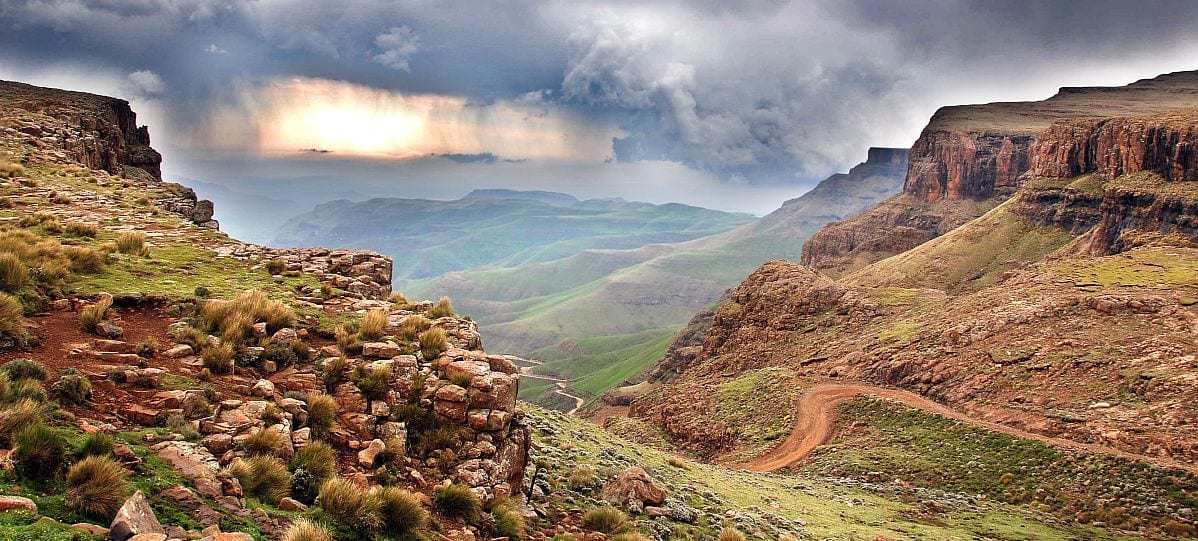 The tour begins in the nearby town of Humeville in the southern Drakensberg. Or from a selected hotel nearby. Then you begin your adventure on this extraordinary and alarming road of switchback turns high up into the Drakensberg mountains. The land is very rugged. And the route up the pass is steep. It is worth the experience and only experienced 4×4 drivers can make the summit. En route you enjoy stunning views of beautiful cliffs, high mountains, waterfalls and flowers.
You cross into the Kingdom of Lesotho (passports necessary), a land-locked mountainous kingdom which gained its independence from South Africa in the 1950′s. Here you can visit a Basotho village and learn a little of the Sotho culture to see how these people live so far from the rest of the world. Enjoy a simple lunch and savour an ice cold beer at the highest pub in Africa before returning down the pass.
Note on self-drive
The Drakensberg mountains are accessed via a series of inroads. If you want to do the Sani Pass 4×4 excursion, you will need to stay in this part of the Drakensberg for at least the preceding night (and preferably 2 nights). You will NOT be able to drive there from a 'central' Drakensberg hotel that morning!
Day tour from Durban
If you don't have a rental vehicle, we can organize this trip as a day tour from Durban. It's a long day (approx. 12 hours starting at 6am) but you get to see some of the most amazing country in KwaZulu Natal and Lesotho as well as a cultural visit to a Basotho village.
Please note: We don't arrange these Sani Pass 4×4 tours as a stand-alone activity. Only as part of a tailor-made holiday booked with Cedarberg Africa