Overview
Many families are used to being on the go. If your family are seasoned travellers, then you may want to venture further afield for a family safari in Africa.
Botswana Family Safaris
Botswana is a wonderful adventure safari destination for families. It's a very safe and stable country offering excellent family adventures and safaris for older children who enjoy being out in the wild. Plus a family adventure safari in Botswana has plenty of activity. Ranging from game drives in open 4 x 4, mokoro trips, boat cruises to fishing and game walks. (Note the latter is for older teenagers only).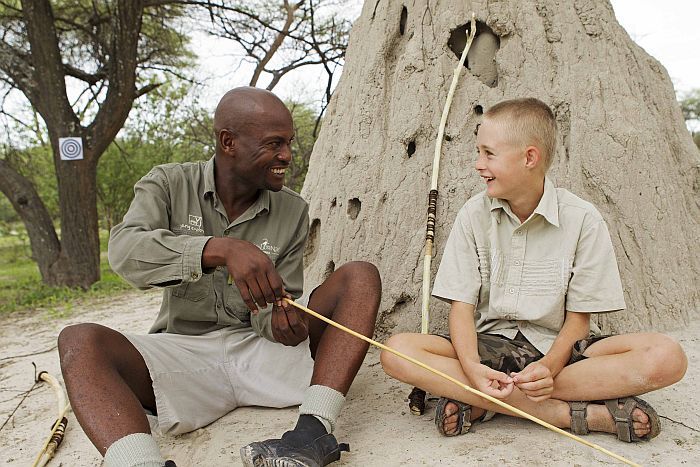 Mobile Camping Safaris
Another fantastic adventure option is to do a private mobile camping safari. As with all private activities, the advantage is that you have your own guide, vehicle and crew at your disposal. This means you can choose your own safari pace, to some degree. Your guide can also respond to the learning style and interests of your own tribe. This can be in Botswana or Zimbabwe.
For a more personal description of a Botswana family safari and the variety of activities on offer, read our review of the Young Explorers family safari.

Victoria Falls Family Activity Holidays
Does your family include teenagers and older children? If so, how about Victoria Falls?
The Victoria Falls will conjure up photo after photo from your budding young photographers. Meanwhile older teenagers will enjoy terrifying their parents with white water rafting, bungee-jumping and bridge-swinging. Especially if you have to join them!
Younger teenagers and children don't miss out with elephant interaction, boat cruises and game-viewing on the river all suitable for them. You can choose between resort hotels close to the  Falls offering loads of activities and children's activity clubs. Or fully inclusive smaller lodges on the banks of the Zambezi River. Here, many activities such as boat cruises, game drives, nature walks, local village visits and canoeing are all included in your stay. You can even stay on an idyllic island in the middle of the river Zambezi for a thrill to last a lifetime. There's a chance of sharing your dining room with the local elephants…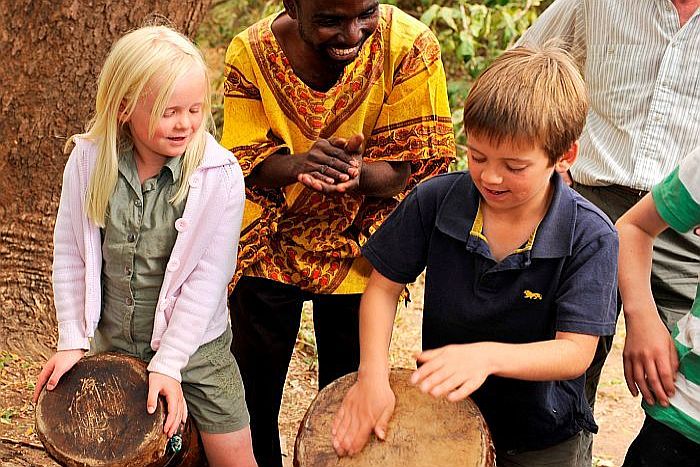 Zambia Family Safari Ideas
Zambia is rapidly gaining a name for itself as a child-friendly safari destination. Not only does it offer easy access to Victoria Falls but also adventure safari options with loads of variety.
As with Botswana, Zambia family safaris are probably best for slightly older children. Perhaps from 9 years and older, who are into their wildlife and fairly seasoned travellers.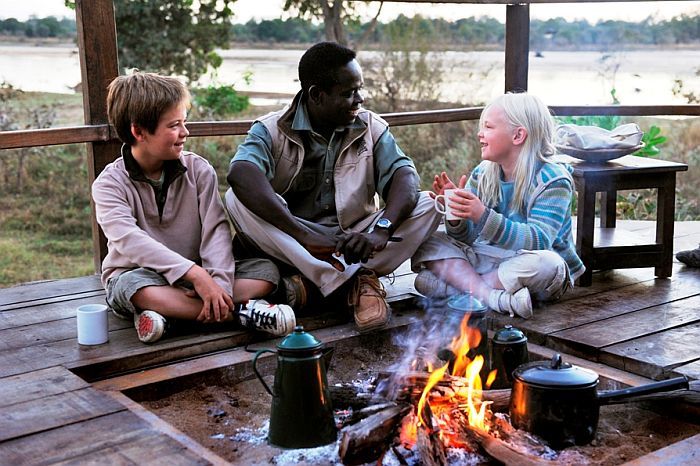 Again, a great plus point for a Zambia family safari is the range of safari activities on offer for kids. Here they won't get bored doing game drive after game drive. Given the river locations of most of the family-friendly lodges, you have the choice of  game drives in open 4 x 4 vehicles, boat cruises, canoeing and game walks. (Again, walking is for older teenagers only).
Another plus for Zambia are the Safari Houses. These are exclusive use houses or bush homesteads. A Safari House usually comes with its own ranger with a private vehicle for your game activities, a private chef and staff.
Note: most of the safari camps in Botswana and Zambia are only accessible by light safari aircraft. The need to fly-in everywhere does make these family safaris on the expensive side. This is especially true if you travel in the peak season from mid-June to October. Sorry!
READ MORE
READ LESS
Highlights
Head to areas with a vast range of safari activities to fight boredom: game drives, boating, canoeing, tiger-fishing…
Combine a safari with Victoria Falls for a great blend of game-viewing with adventurous activity.
South Africa - with its scenic diversity and wealth of activities - is also perfect for a family on the go.
Download our Insiders Guide to Family Safaris
Family-friendly Destinations, types of Family accommodation, sample tours & useful tips & tricks
Get our Free Family Safari guide
Tasha Eygelaar
Africa Travel Specialist
Hi I'm Tasha, I'm here to help you plan your ideal holiday experience
We arrange trips to more than 100+ destinations throughout the African continent.
Tailor make it all to suit
"Peter got it from the start of my gabbled explanation of reason for trip and abnormal itinerary. He pieced it all together and I always felt confident, even before the trip. "
Mr & Mrs Leake, UK
Everything went smoothly
"From the initial enquiry until the end of the holiday everything went smoothly. We were very happy with all aspects of the holiday. All the hotels were comfortable; well staffed; good food. "
Mrs Kate Mars, UK
Ginny's advice was spot on
"Ginny's advice was spot on – the locations, pace of trip and quality of accommodation was superb. The 2 slightly different safari areas also worked out well and it was great that our best viewing was at the second to end the trip on a high. "
Mr Matthew Campbell