Mumbo Island Camp
CEDARBERG RATING
Comfortable
Overview
 Mumbo Island is a fantasy lodge for short stay "Robinson Crusoes"
 Relax in a hammock, swim in the clear fresh water or go beach-combing between the boulders that line the water's edge
 Those looking for activity can try sea kayaking, snorkelling or scuba diving
 Mumbo is eco-friendly and uses sustainable materials
 Ideal for active family safaris in Malawi with a family tent available
Mumbo Island Camp is a luxuriously rustic and private eco-lodge on a practically deserted tropical island in Lake Malawi National Park, approx. 45 mins by boat from the lakeshore.
The actual camp lies under ancient fig and baobab trees. There are five reed chalets under thatch with wooden decks, each with glorious views over Lake Malawi. To get there, you head over a charming wooden bridge. Below the multi-coloured cichlid fish put on a show for snorkellers. Here you can enjoy kayaking, scuba diving, swimming, snorkelling or simply swaying in a shady hammock on your private deck.
Accommodation
The simply furnished reed chalets of Mumbo Island Camp are tucked into the lush foliage amongst the granite boulders. All have uninterrupted views across Lake Malawi. Each is simply furnished with its own shaded viewing deck and hammock. Next to each chalet is a simple bathroom with hot bucket showers and 'eco-loos'. (These are environmentally-friendly dry composter toilets to be precise. Non smelly!) Some bathrooms are adjacent to the chalets, almost en suite. And some are a few metres away depending on each chalet setting.
The family unit is in the forest, closer to the main areas. It has two twin bedded tents sharing one bathroom and a small sitting area. So that the camp takes 14 people in total. (The family tent is not raised high so there are no nasty drops to worry about. But it's important to note that it doesn't have a view.)
Activities
The most popular activities here are diving or snorkelling through the crystal-clear waters, lazing in a hammock in the 'chill-out' area or on your private deck, contemplating the breathtaking scenery. Each evening you can enjoy a boat cruise or even paddle around the headland to watch the sky turn scarlet, accompanied by the sound of mewing fish eagles and splashing otters.
Lake Malawi National Park is the first freshwater marine reserve in Africa and became a World Heritage Site in 1984. The warm waters of Lake Malawi National Park boast some 2000 species. It's no wonder this region of Lake Malawi is often considered the best freshwater diving and snorkelling location in the world.
Mumbo Island Camp is a PADI registered resort. Beginner, advanced and speciality courses in scuba diving are on offer, as well as gear hire and casual dives. The waters in this part of Lake Malawi are particularly clear making this one of the best dive sites on Lake Malawi. Plus keen birders will enjoy looking out for the plentiful Fish Eagles. You can also enjoy swimming, kayaking, and bird watching with guided or self-guided trails through around the island to various viewpoints.
Eco-credentials
Mumbo Island Camp adheres to strict principles of sustainable building, so the dining area, bar and water sport gazebo, are all hand built from timber, thatch and canvas.
Unlike most island destinations, Mumbo Island has never been populated by humans and is still in its natural state. This, together with the focus on non-motorised water sports, makes Mumbo Island Camp ideal for the active outdoors enthusiast.
Mumbo Island Camp gallery
Mumbo Island Camp on the map
Rooms
Mumbo Island Camp - Standard Tents
There are five twin bedded tents. Please note that the single beds can be pushed together to make a double bed.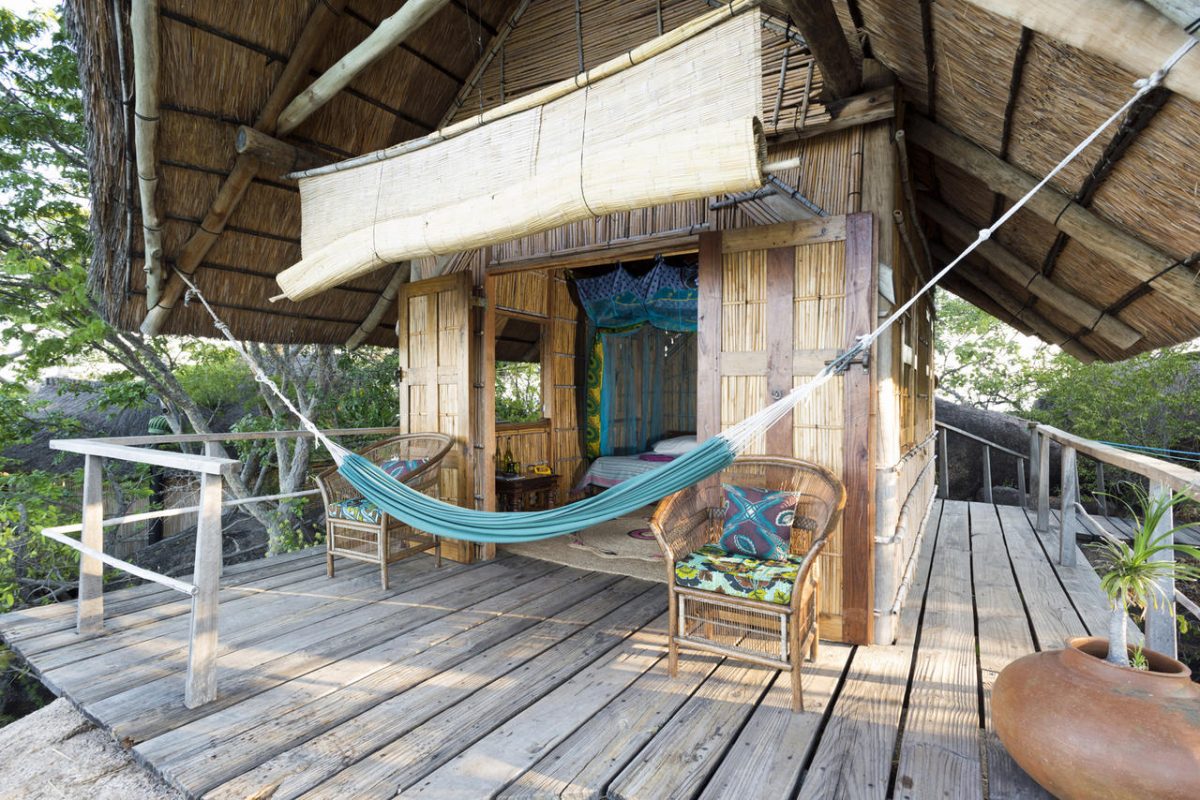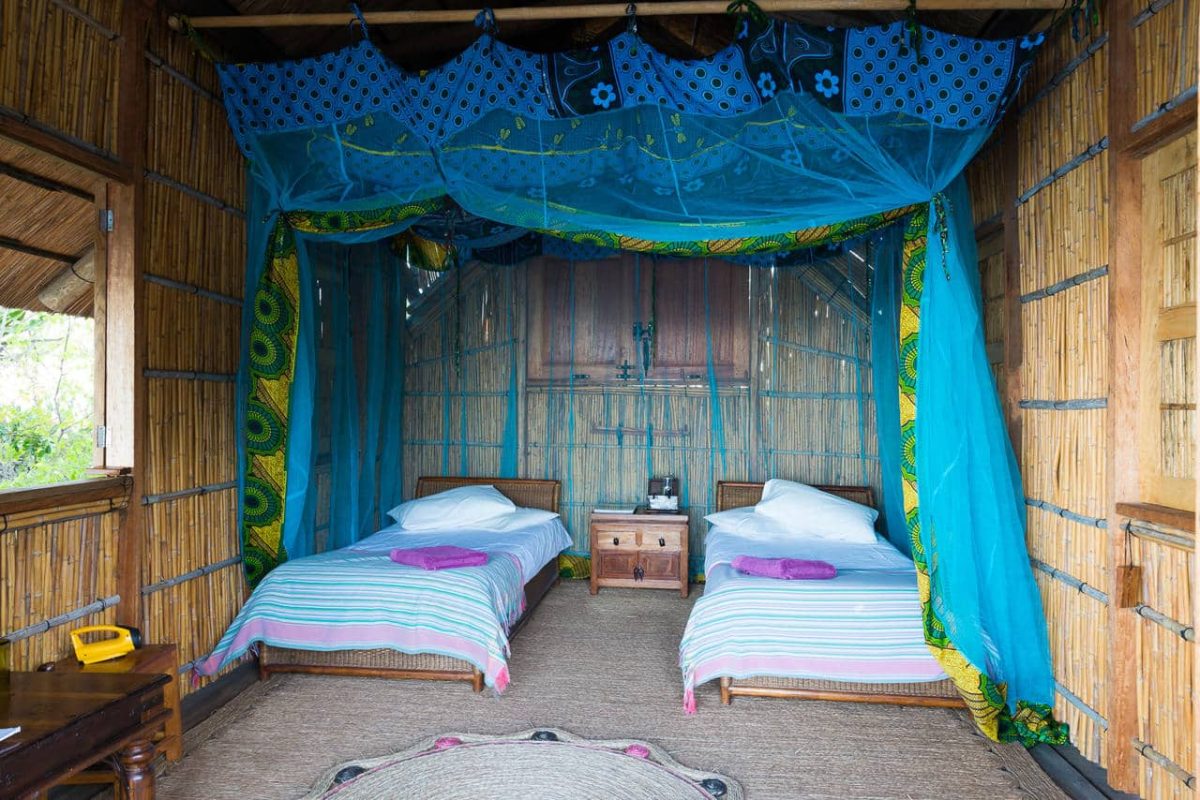 Mumbo Island Camp - Family Tent
There is one family tent with four single beds. Please note that the single beds can be pushed together to make a double bed.
Mumbo Island Camp review, Lake Malawi
I love to be close to nature, in a wild and remote place, but I also like a bit of comfort. Mumbo Island Lodge is one of those special places in Africa which offer just the right balance between rusticity and comfort. Mumbo Island on Lake Malawi is one such place.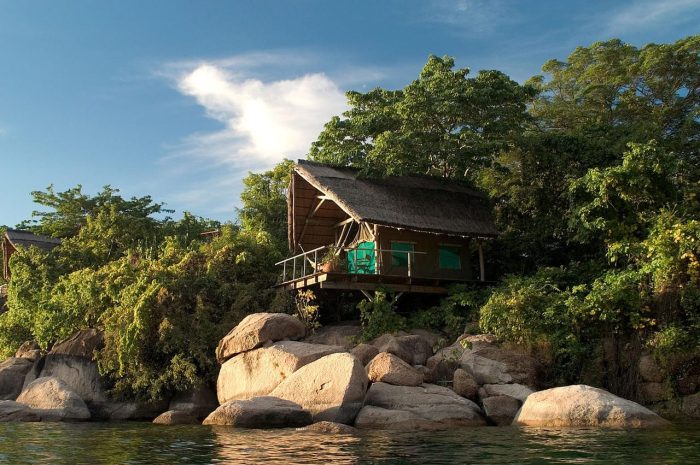 It sells itself as a Robinson Crusoe destination. Well all I can say is that if Robinson Crusoe ever had experienced Mumbo Island, he might not have rated a return to 'civilization'. This is a perfect place to chill out - completely away from it all but still with access to running water, stunning beaches, delicious home-cooked food and a campfire in the evening. (Needed only for ambience and certainly not for heat-generation.)
The drive from Lilongwe to the village of Cape Maclear takes 3-4 hours. The roads are in good condition but you cannot drive fast because of people walking on the side of the road and goats on a death wish. The second half of the drive is particularly scenic as you descend down the Golomoti pass from the Malawi highlands into the Great Rift Valley in which Lake Malawi lies. Along the road are toy stalls where master craftsmen sell intricately carved wooden toys: cars, landrovers, tractors, bicycles, motorbikes – every little child's dream. One stall had an amazing bicycle with 27 working gears
On arrival at Cape Maclear, we transferred to our boat for the 45 minute boat cruise to the stunningly beautiful Mumbo Island. What a special place with a lovely ambience. It comprises 5 reed and thatch chalets on their own little island, accessed by a suspension bridge from the main island, plus one family unit in the forest. The five view chalets are very simply furnished with beds, tables, chairs and of course that all-important hammock. A short distance away is your own private bathroom with eco-loo and basin under thatch and an alfresco bucket shower which is filled with hot water whenever you want it. Note that the family tents are in the forest (as a child could easily fall from the boulders outside the view tents) so its fair to say that this does NOT have the same ambience.
The main area is very simple (perhaps a little dark) with a small reading/sitting room, dining area and bar. Below is a lovely sandy beach in a pretty little cove with hammocks under some much needed shady trees & sun loungers.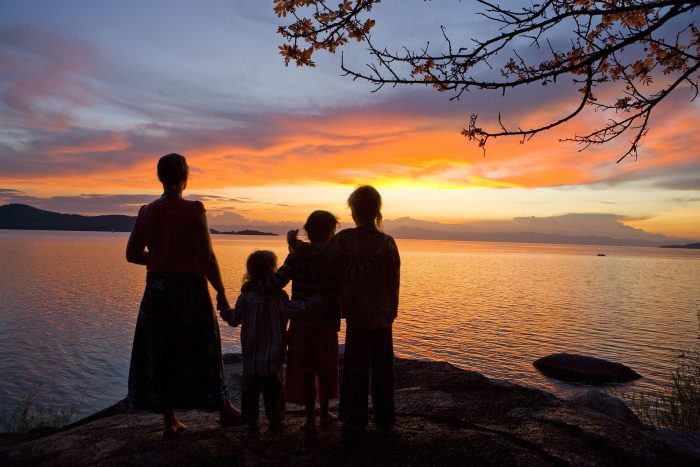 Activities at Mumbo comprise of swimming, snorkeling, kayaking and self-guided or guided walks around the island. There's a small dive centre at the beach where you get snorkeling gear and the best places are close to the beach so you don't have to swim far.
The guided walk around the island was lovely as well. I recommend trainers as the paths are steep in places and so it's good to have some grip. Lovely tranquil forest paths lead you to view points down onto Lake Malawi.
There is no electricity or internet connection on the island. Cooking is by gas and lighting is provided by wind-up torches and a solar powered light for reading in bed. Hot water is provided by a solar geyser.
We had a stunning, if eventful, kayaking trip around the island. The wind had got up so that the kayaking was not as relaxing as we were expecting. My partner and I even managed to fall off the kayak much to our amusement. Have you ever tried to get back onto a kayak when you are laughing hard? It's not easy. But our kayaking guide was right there with a helping hand – and amazingly, a straight face - and we were on our way again. The trip around the island takes about an hour and is very safe as you are always close to the shoreline (in case you are as accident prone as we were).
Later we enjoyed a more tranquil boat cruise around the headland to enjoy some sundowners as we watched the sun setting over Lake Malawi. I also had a happy time snorkelling around the boulders and enjoying all the fish. This is not the sub-tropical Indian Ocean in terms of variety and size of fish, but certainly a very pleasant snorkelling experience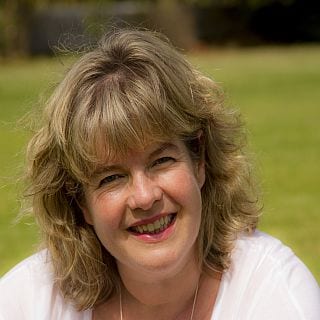 Includes
Full Board & Accommodation, non-motorised water sports and scheduled return transfers between camp and the island.
Family Suitability
Family-friendly all ages
Malaria Rating
Malarial area year-round
Good For
Adventure, Birding, Hiking, Nature, Watersports, Wildlife
See other options in this area