Overview
South Africa is unique in offering several Malaria-free safari areas and game reserves. This is ideal if you have young children. Or if you cannot, or don't want, to take anti-malaria medication for any reason.
Madikwe Game Reserve, the Waterberg and the Eastern Cape game reserves all offer the 'Big Five' as well as plenty of general game.
The Eastern Cape, the Pilanesberg (another malaria free game reserve) and the Waterberg are also more accessible than some of the traditional safari areas. This means reduced travelling time which is especially important for families with young kids. But the greater accessibility can sometimes translate into less of a 'safari' ambience. However this is definitely not the case with Madikwe Game Reserve (in the remote North-west of South Africa). It offers some of the most quintessential savanna plains.
Lets look at these malaria-free safari areas in more detail with their plus and minus points.
The 75 000 hectare Madikwe Game Reserve boasts a healthy wildlife population including plenty of predators, elephant, buffalo.  It is especially known for its wild dog sightings though these cannot be guaranteed.
Alongside the Eastern Cape lodges, Madikwe is at the forefront of offering child-friendly safari experiences with many lodges offering a children's safari programme with special activities and even kiddies game drives for the very young.
Madikwe Game Reserve is pretty remote, about 4 to 4½ hours' drive from Johannesburg or a one hour charter flight. It offers the most classic 'African' terrain of all the non-malaria reserves with open savanna plains and views for miles from its hills. It also has the most consistent game-viewing. But its remoteness may not suit everyone.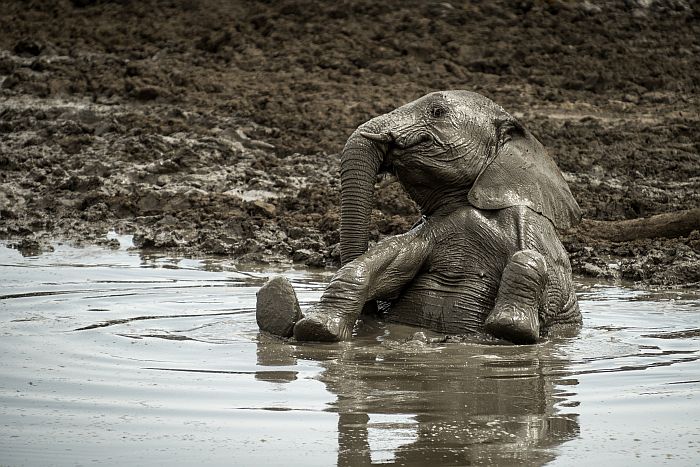 The Eastern Cape is the other prime malaria-free safari area in South Africa. The original Addo Elephant National Park has been joined by several private malaria-free game reserves such as Shamwari, Kwandwe, Kariega, Amakhala to name but a few. Its attraction – the accessibility from the Garden Route - can also be a negative. Some lodges are almost too close to civilization. However the lodge locations vary considerably. So this is where using a safari specialist who knows all the camps really makes a difference.
As with Madikwe, the Eastern Cape has a number of family-friendly safari lodges. These vary considerably in nature so chat to us about your preferences. The Eastern Cape game reserves are around 1 to 1½ hours' drive from Port Elizabeth and about 3-4 hours from the Garden Route.
The third ''main'' malaria-free safari area is the Waterberg, only 2½ to 3 hours drive from Johannesburg. The Waterberg is a stunning area of natural beauty. This dramatic forested plateau is dissected by ravines and waterfalls with panoramic views over the plains below. The area is home to several private game lodges. Some offer Big Five game viewing and luxurious accommodation. Others offering a more relaxed game-viewing experience without major predators, where you can enjoy horse-riding safaris and walking.
The Waterberg is ideal if you are short of time as it's close to Johannesburg so a 2 night safari is perfectly possible without spending too much time travel there and back. For that reason, it's great to add to another safari destination. It is exceptionally beautiful but the game-viewing is not as consistent as Madikwe or 'the Eastern Cape reserves, especially in terms of predators.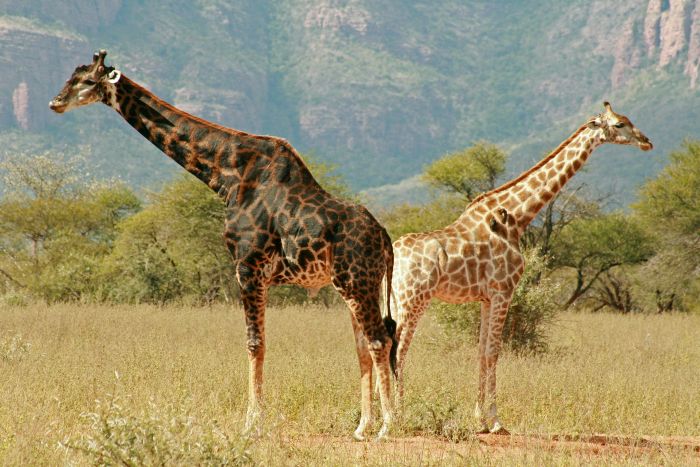 Again there are several discrete parts of the Waterberg so chat to us to make the right choices in terms of camps.
Finally there are two other malaria-free game reserves.
One of our favourite malaria free safaris is at Tswalu Game Reserve in the Kalahari Desert. This offers a superb wild safari experience. But, with charter flights in and out as well as luxurious accommodation, it's doesn't come cheap. However we think its worth blowing your bonus on….
The Pilanesberg Game Reserve is our least favourite. (There, I've said it.) It is one of the most accessible reserves, (adjacent to Sun City). But the game-viewing is not as good compared to other reserves. But if you have young children and you fancy a Sun City visit or a short transfer to get somewhere, then the Pilanesberg could be perfect for you.
Back to Main Wildlife safari page
Highlights
Main Malaria-free reserves: Madikwe, Eastern Cape, Waterberg, Kgalagadi in Northern Cape & Reserves in Western Cape
Low malaria-areas (where you dont need to take anti-malaria medication include Mashatu and northern Kwa-Zulu Natal reserves
Download our What to Wear on Safari Guide
An important part of planning an African safari is deciding what to wear, what to take and what to pack. Get the low-down here.
Get our Free Guide here
Mari Jacobs
Africa Travel Specialist
Hi I'm Mari, I'm here to help you plan your ideal holiday experience
Did you know
Where

Most of South Africa is malaria-free, exception being the Kruger & far-northern KZN

Seasonal

Malaria is seasonal in South Africa given the cooler winter climate
Mr Guy Crabb - Ginny
"Ginny listened to what we wanted and delivered an itinerary that pretty much blew us away. "
Mr Guy Crabb
Great Recommendations
"I am into the details and ask lots of questions and I got all the info that I needed (and more) very quickly, which enabled my review all of Cedarberg's recommendations and check for alternatives. I am very pleased to say that I changed none and all of the recommendations were 1st class. "
Mr Ian Crispin, UK
It was amazing
"Thanks Conrad for your help organizing all of this trip for us, it was amazing – and I'll be sure to refer you to any future friends of mine wishing to come to Africa. "
Mr Ross, Melbourne