Gondwana Lodge at Sanbona
Overview
Sanbona Wildlife Reserve, just off the scenic Route 62 between Montagu and the Little Karoo, offers 54,000 hectares of exciting wildlife, undulating mountains and plains, indigenous wild flowers and San rock art. It is the perfect environment for exciting safaris away from it all. With elephant, buffalo, black rhino, cheetah and male and female white lion, Sanbona is home to the Big Five.
Gondwana Lodge at Sanbona is family-friendly but also very suited to couples as well. The lodge resembles a typical thatched Karoo homestead. All of the spacious rooms have en suite bathrooms with bath and shower, minibar, private patio or balcony, underfloor heating and air-conditioning. Eight of the twelve rooms at Gondwana Lodge are interleading via a small foyer.
The main lodge has a communal rimflow pool, sitting area, outside terrace and restaurant for indoor/outdoor dining. Gondwana Lodge has a resident therapist who offers beauty treatments and massages in the 'Relaxation Retreat'.
Family safaris
Gondwana Lodge is the family-friendly lodge at Sanbona and welcomes children of all ages. It allows children of 4 years old to join their parents on a game drive with specially adapted higher sides on open vehicles for extra security. Many rooms are inter-leading and many have sleeper couches for younger children to sleep in their parents' room
Gondwana Lodge also has its own fully equipped play room/day centre. This offers wildlife DVDs, puzzles, educational games & books. Plus an outdoor play area and spacious lawn. It is manned by child-minders to give you complete peace of mind. On arrival each child receives a welcome pack and their special children's co-ordinator discusses activities with each family.
They have a range of activities which are tailored to the children's ages. Children enjoy the interpretive trail and 'skull park' next to the lodge learning about animals. The activity books are designed to be completed during a game drive and encourages inter-action and questioning. All activities are included at Gondwana but you can arrange child-minding (at extra cost) if you want a quiet dinner alone with your partner.
Second time visitors
As Sanbona Wildlife Reserve is so vast, it is ideally suited to second time visitors to South Africa, or for clients who are also visiting another game reserve as well rather than for people who are anxious to see as much game as possible in a short period of time. Sanbona Wildlife Reserve offers a more holistic experience where you enjoy the wildlife, plants, birds, San rock art and the extraordinary geology. Activities include game drives, bush walks, fynbos & rock art walks, bird-watching and star-gazing.
Other Sanbona accommodation is at historic Sanbona Tilney Manor (six suites) with its Wellness Centre and Spa, or Sanbona Dwyka Tented Lodge (nine suites).
Gondwana Lodge at Sanbona on the map
Rooms
Luxury Suites
Overlooking Bellair Dam and resembling a typical thatched Karoo homestead, offering 12 generously proportioned luxury suites, each with endless views over the plains, Anysbergmountain and beyond. Children of all ages will be entertained with an exciting "Kids on Safari" program. SUITE CONFIGURATION Suites can accommodate a maximum of 2 adults sharing with 1 child, in a king or twin bedded configuration 6 suites are located on the ground floor with private deck 6 suites are located on the second level with private balcony/ viewing platform All rooms have sleeper couches which can sleep one child under the age of 12 years Four pairs of rooms are interleading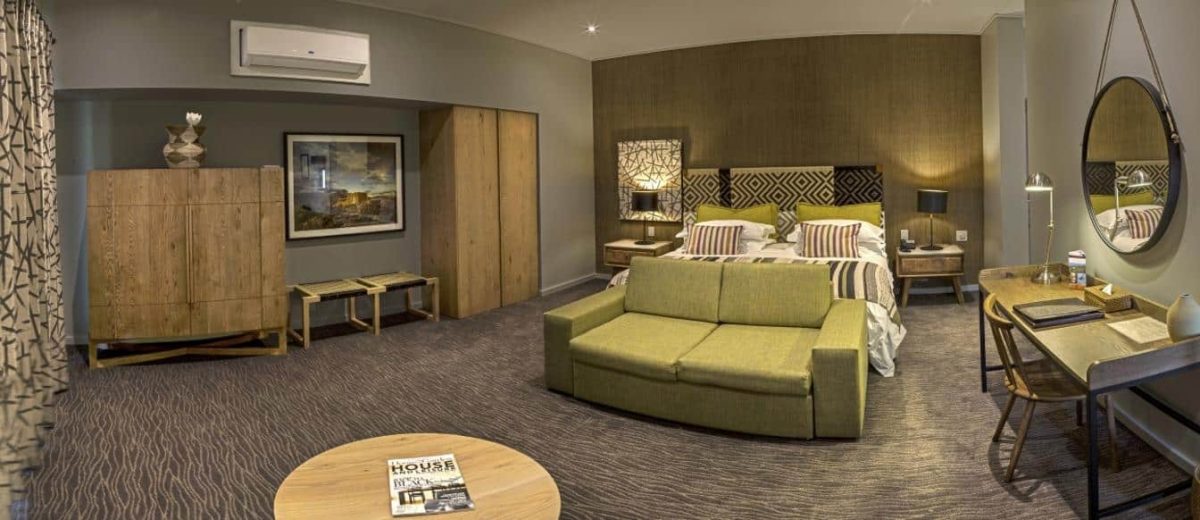 Special offers
Stay 4 nights, pay for 3
Does what it says on the tin - stay for 3 nights but pay for only 4
Exclusive Use Offer
Book sole use of any lodge for 2 nights and receive 1 complimentary room.
Winter Offer - extra discount of 10%
Save 10% if you stay 3 or more nights
Save 10% if you stay 3 or more nights from April to September (excluding Easter)
Terms & Conditions: Also April to Sept 22