Overview
Sanbona Wildlife Reserve, just off the Route 62 between Montagu, Swellendam and the Little Karoo, offers 54,000 hectares of exciting wildlife, undulating mountains and plains, indigenous wild flowers and San rock art. With its elephant, buffalo, black rhino, cheetah and a male and female white lion, Sanbona is home to the Big Five. You can also visit the raptor rehabilitation and breeding centre or spend an afternoon spotting some of the 160 bird species.
Game-viewing
As Sanbona is so vast, it is ideally suited to second time visitors to South Africa. Or for clients visiting two game reserves rather than for people who are keen to see as much game as possible in a short period of time. Sanbona offers a more holistic experience where you enjoy the wildlife, plants, birds, San rock art and the extraordinary geology. Activities include game drives, bush walks, fynbos & rock art walks, bird-watching and star-gazing.
However Sanbona has some of the only free roaming white lions in Africa. This exciting white lion project is located in the far northern part of Sanbona close to Sanbona Dwyka Tented Lodge. Here they are trying to re-integrate the offspring of the original two white lions released into Sanbona Wildlife Reserve, into one of the tawny prides.
Other Sanbona accommodation is at Sanbona Dwyka Tented Lodge with its Relaxation Retreat (nine suites), or Sanbona Gondwana Lodge with twelve suites, ideal for family safaris.
Tilney Manor at Sanbona gallery
Tilney Manor at Sanbona on the map
Rooms
Luxury Suite
Tilney Manor at Sanbona offers six spacious suites with luxurious bathrooms, indoor and outdoor showers and private verandas with breath-taking views of the surrounding mountains and plains. Tilney Manor also has a Relaxation Retreat (with complimentary sauna and steam room for use of all guests). The main lodge is an original Victorian homestead with lounge, dining room and terrace for alfresco dining. There's a stylish pool with a shaded deck that offers panoramic views over the plains, as well as indigenous planting.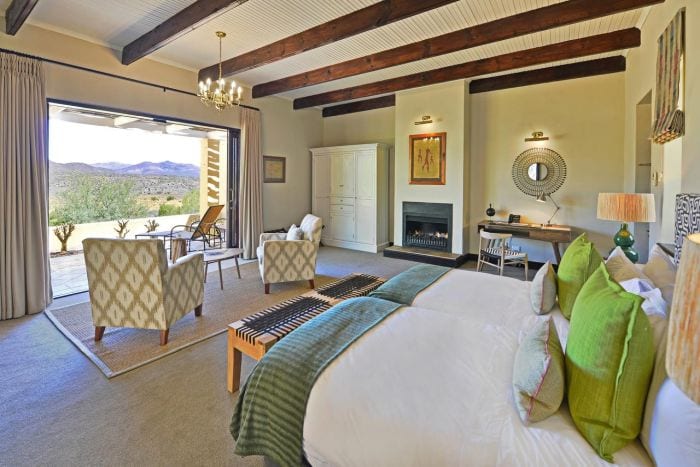 Special offers
Exclusive Use Offer
Book sole use of any lodge for 2 nights and receive 1 complimentary room.
Terms & Conditions: Also valid April to Sept 22
Winter Offer - extra discount of 10%
Save 10% if you stay 3 or more nights
Save 10% if you stay 3 or more nights from April to September (excluding Easter)
Terms & Conditions: Also April to Sept 22