Dwyka Tented Lodge at Sanbona
Overview
Sanbona Wildlife Reserve, just off the Route 62 between Montagu and the Little Karoo, offers 54,000 hectares of exciting wildlife, undulating mountains and plains, indigenous wild flowers and San rock art. Dwyka Tented Lodge with its Relaxation Retreat and remote location is ideal for honeymoon couples and people seeking a true wilderness retreat experience.
Accommodation
Dwyka Tented Lodge at Sanbona is situated in the north of the reserve on the horseshoe bend of a dry ravine, surrounded by remarkable rock formations. All of the nine rooms are very spacious with luxurious open plan bathrooms, indoor and outdoor showers, mini bar, private deck & spa bath/jacuzzi, underfloor heating and air-conditioning. Dwyka Tented Lodge also has a resident therapist who offers beauty treatments and massages in the 'Relaxation Retreat'.
Game-viewing
With elephant, buffalo, black rhino, cheetah and male and female white lions, Sanbona is home to the Big Five. You can also visit the raptor rehabilitation and breeding centre or spend an afternoon spotting some of 200 bird species.
As Sanbona is so vast, it is ideally suited to second time visitors to South Africa, or for clients visiting two game reserves rather than for people who are keen to see as much game as possible in a short period of time. Sanbona offers a more holistic experience where you enjoy the wildlife, plants, birds, San rock art and the extraordinary geology. Activities include game drives, nature walks, fynbos & rock art walks, bird-watching and star-gazing.
However Sanbona has some of the only free roaming white lions in Africa. This exciting white lion project is located in the far northern part of Sanbona close to Dwyka Tented Lodge. Here they are trying to re-integrate the offspring of the original two white lions released into Sanbona Wildlife Reserve, into one of the tawny prides. This is essential for survival because the original two lions were in captivity and therefore have no hunting skills to pass onto their offspring. So they are introducing suitable tawny lionesses to the cubs to teach them how to hunt, ie. mentoring system on how to be a lion in the wild. As you can imagine, this is very delicate conservation work and so visitors will not always be able to visit the white lion project but it is available on request.
Other Sanbona accommodation is at historic Sanbona Tilney Manor (six suites) with its Wellness Centre and Spa, or Sanbona Gondwana Lodge with twelve suites, ideal for family safaris.
Dwyka Tented Lodge at Sanbona gallery
Dwyka Tented Lodge at Sanbona on the map
Rooms
Luxury Tents
Nine beautifully appointed tents exude an atmosphere of pioneering adventure in a vast and hidden landscape. All of the luxury tents can sleep a maximum of 2 adults and have a private deck with a spa bath. No children under the age of 16 years allowed.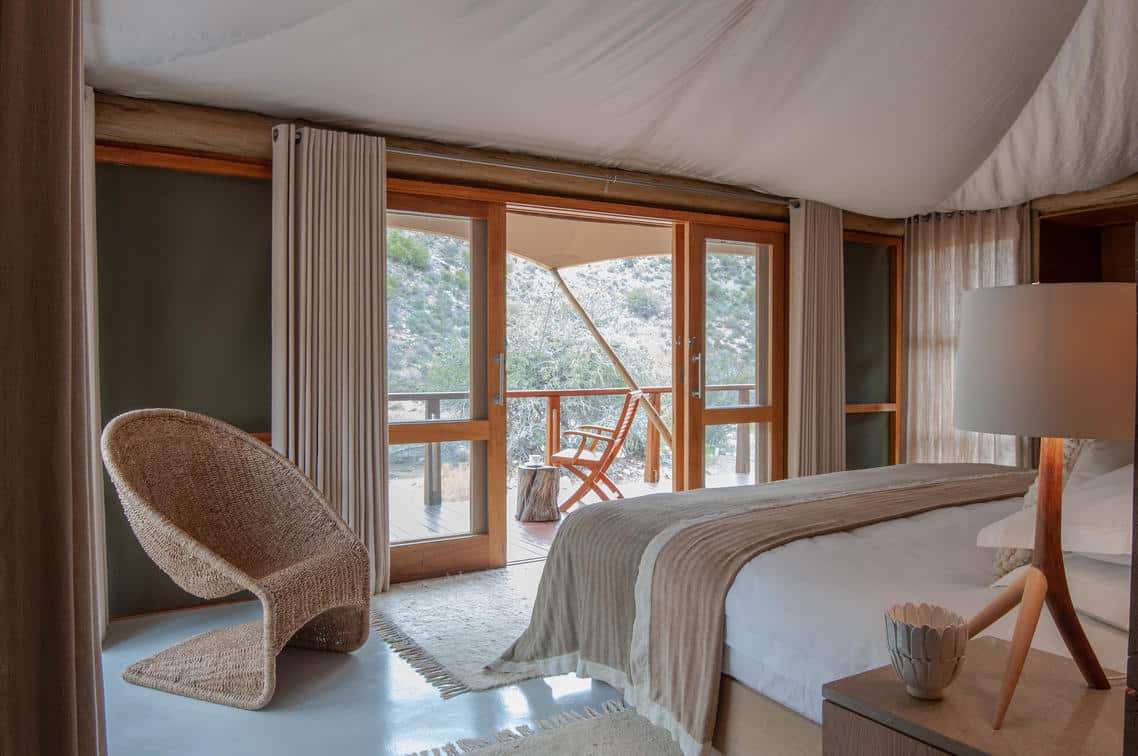 Special offers
Stay 4 nights, pay for 3
Does what it says on the tin - stay for 3 nights but pay for only 4
Exclusive Use Offer
Book sole use of any lodge for 2 nights and receive 1 complimentary room.
Winter Offer - extra discount of 10%
Save 10% if you stay 3 or more nights
Save 10% if you stay 3 or more nights from April to September (excluding Easter)
Terms & Conditions: Also April to Sept 22