How to take gorgeous photographs during your African Safari
The following are some tips on safari photography for our clients who are looking to return from their safari with some note-worthy photographs. It is not aimed at the very keen photographer who's taken out a second mortgage to feed his photographic obsession…
And nor am I going to give more than broad recommendations on what equipment to take on safari. Instead it is based on my experiences of numerous game drives mainly in Southern Africa. However, I have enlisted the much greater photographic skills of Neil Whyte of Savanna Game Lodge in the Sabi Sands. He is an experienced ranger and keen photographer for many years. He has reviewed my tips below and added some more tips of his own.
Note: I refer to the ranger as a 'him' as this is the case in 90% of the times. But please be aware that 'he' stands for he or she with no preference.
Safari Photography vehicles
Before You Go
Consider taking two cameras between two of you. One 'point and shoot' or one camera with a wide angle lens (18-55 mm), and one camera with its zoom lens already mounted (eg. a 100-400 mm would be ideal). A safari is a bumpy, often dusty, experience and things happen in the blink of an eye. You don't want to have to change lenses on the go and risk missing the action – more on that in 'Nature of the Game Drive'. Plus a smaller camera is best on a game walk…
Your camera bag should ideally be big enough (waterproof and dust resistant) to hold your camera with its zoom lens mounted (including hood if possible). So that it's protected when not in use, but ALWAYS ready to go…
In your camera bag:
Spare memory card or card reader – so that you can download images. You would be amazed how quickly a memory card can get full. You always take more photos on a game drive than you expect. I recommend taking them at maximum resolution. You never know when you will be lucky, or skilled enough, to take that killer shot.
Battery charger and adapter – for the country you are travelling to. Nearly every camp in Southern Africa has some capacity to charge camera batteries. If most of your safari is in remote areas, then I recommend taking a spare battery as well. Just in case, as power shortages can happen…
Bean bag or monopod – to steady your camera.
Binoculars – not a camera item but worth reminding you about. Preferably one per person but at least one to share between two people. (So for a family of five for example, I recommend at least three pairs.)
If you are a keen photographer – bring a long lens (400 mm upwards). I would also recommend a monopod or a window clamp which can be fixed onto the seat back or vehicle door. The jury is still out on which is better in our Southern African safari context so see 'Nature of Game Drive' below.
If it is a new camera, play around with it at home before your safari. Make sure you know how to do the basics. For example how to compensate for low light conditions; how to blur the background to focus on the animal. Ideally, go on a photographic course to familiarize yourself with your equipment and what your equipment is capable of.
If you are a keen photographer, ask your tour operator to request a ranger who is a keen photographer himself. If not a photographer, then at least one that understands the needs of a photographer. This may not always be possible given ranger leave schedules…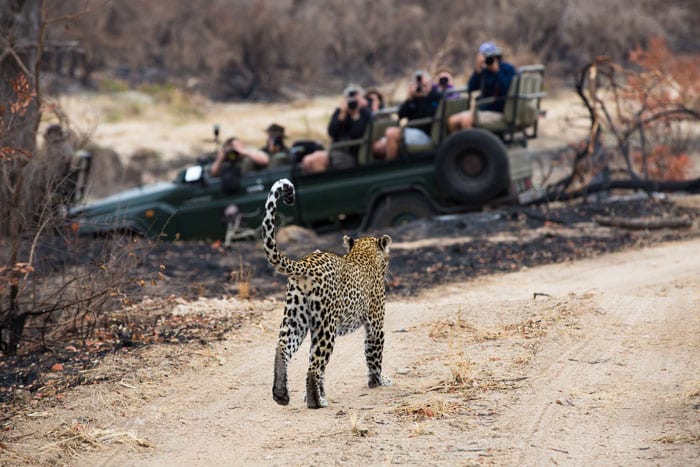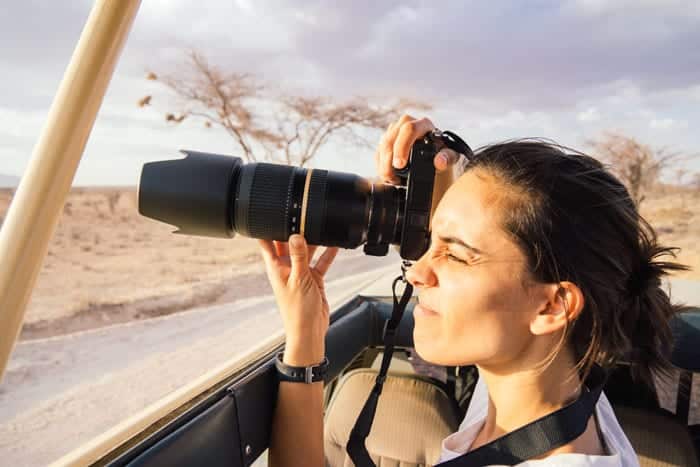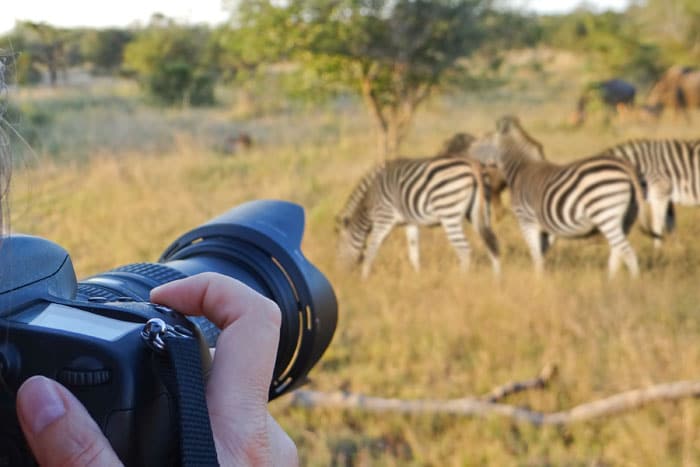 Nature of the Game Drive – Tips on Safari Photography
If this is your first safari, it is worth discussing the nature of the game drive and how it affects your photography. Generally in Southern Africa, all safari vehicles are open sided. (As opposed to East Africa where vehicles are closed with the opportunity to stand up and look out of the roof.) Overall this is fantastic for game-viewing. You have a greater sense of being in the bush and greater visibility. It does have a photographic impact as there are no obvious ways to use a bean bag to steady/support your camera.
The sides are metal railings rather than fixed doors. There is not enough space for a tripod, although some of the compact tripods can be useful.
• Neil: "I would not recommend a tripod, unless it is a small, light one that guests might want to use for self-timer shots at drink stops. Or for creative photographs of things like stars where you have very slow shutter speeds."
Some of the Botswana and Zambian camps have adapted their vehicles to provide camera resting places, complete with bean bags, but this is not always the case. Thus generally we recommend a mono-pod or possibly a window mount. The drive can be dusty, or you might even have rain, so camera equipment needs to be protected. Many game reserves allow off road driving to get close to a special sighting so it can be bumpy. At other times the terrain may not allow you to get close to the game and that's when your zoom lens comes into its own.
Get a free no-obligation quote!
Want to discuss options, but not ready to start booking?
Enquire Now
Animals change their behavior in the blink of an eye. You have to be ready to act quickly and also to make compositional decisions quickly. If your guide is a keen photographer, trust his judgement with regard to positioning of the vehicle. Guides usually know the animals' behavior, and can predict to some extent what the animal will do. This is critical for getting a great photo!
• Neil : "Not sure if you want to put this in… but it is very frustrating when a guest shouts "Stop Stop Stop" when you as a guide have a clear idea of what you want to do!"
Finally game drives take place in the early morning and late afternoon. Thus it is highly likely that you will be operating in sub-optimal light conditions for part of the game drive. Experiment ahead of time with ways to compensate for this (fast lens, changing ISO levels, bringing a beanbag to steady the camera). Similarly at the end of the morning game drive, the light may be so bright as to make most images too washed out without the use of filters or other compensation.
See Tips on Safari Photography Part 2 for more on Private Vehicles, Where to Sit & Tips for when you are on the Game Drive
"Tips for Safari Photography Part 1" was written by Cedarberg Africa
Cedarberg Africa is a travel and safari company specializing in tailor-made itineraries in Southern Africa. As we have special rates with all the hotels and game lodges, booking through us will cost no more than booking direct. And sometimes less. So our expertise and knowledge comes at no extra cost to you!
Remember that we can tailor-make any holiday for you, so if some of these ideas sound great, but you're not too sure of others, then contact us and we will plan the perfect getaway for you.