Many articles about the best time to visit Rwanda or Uganda for gorilla trekking say that the only time you should come in during the short dry season. Given Rwanda is a mountainous rainforest climate, that only means June to August. So it doesn"t give you much time!
We feel this is misguided. You can easily visit Rwanda throughout most of the year, with the exception of the two rainy periods of mid March to mid May and early November. These are the time of the major rains. See our climate chart below…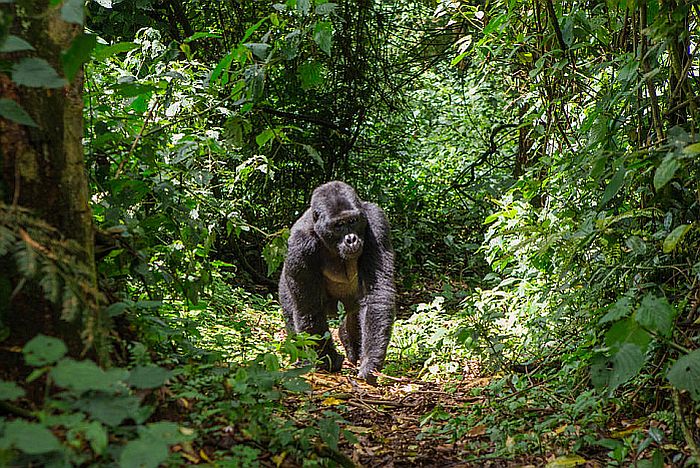 Rwanda Climate – Temperatures and Rainfall
Temperature-wise, Rwanda experiences little change in highs and lows from month to month, and no real winter/summer distinction as it is so close to the equator. For much of the year, the daytime temperatures are a very pleasant mid to high 20s centigrade (25-28C). (This equates to the mid 70s to early 80s in Fahrenheit)
However there is a distinct dry season, from June to early September. And two distinct rainy seasons. The long rains peak in April and stretch over mid-March to mid-May. Then there is a shorter surge in late October and November.
The rest of the summer is rainy but not as dramatic. (And remember this is summer rainfall so it is not cold.)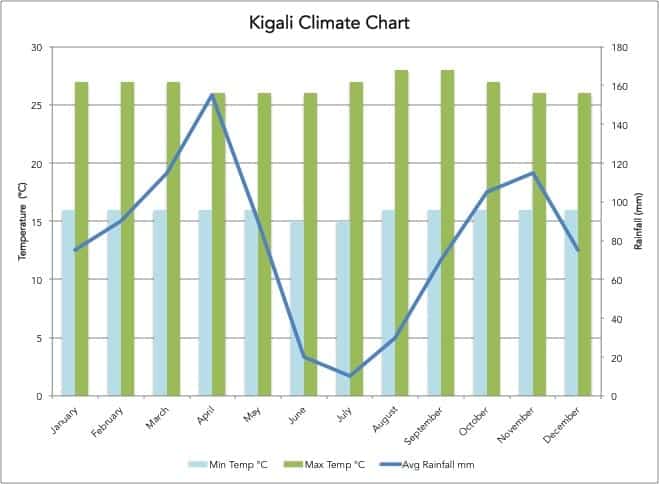 Here is the same chart for the Volcanoes National Park. It is the same rainfall trend but much lower temperatures.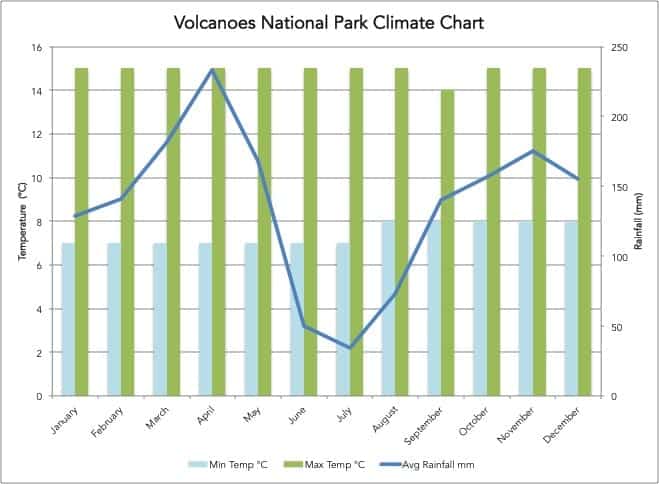 Dry Time is Prime Time
Yes this is the best visit to see the gorillas and the rest of the country. The dry season is short from June into early September. Your sightings of the mountain gorillas are likely to be in good weather. the dry season is the time when overall game-viewing is best.
Temperatures creep up towards the end of the dry season. This is not so noticeable in the highlands of the Volcanes Park or Nyunywe or Bwindi Impenetrable Forest. But it will get very warm in the savanna plains of Akagera or Queen Elizabeth Park
Summer Season – Late November to mid March
This is actually a good time to visit, if it suits you better. During the summer, you can and should expect some rain but it is difficult to predict when. We visited at the end of November and though we had some rain, it was never persistent and didn't really interfere with any of our activities.
Other advantages are:
Akagera is looking green and lush and the open terrain means that it is still easy to spot the wildlife
Great birding, especially in Nyungwe National Park but also in Volcanoes
The drier areas can almost get too dry and too dusty
The occasional rains cool down the temperatures so that its lovely to be on safari
Easier to get hold of gorilla trekking permits so easier to book last minute
Prices are a little lower (though not a massive difference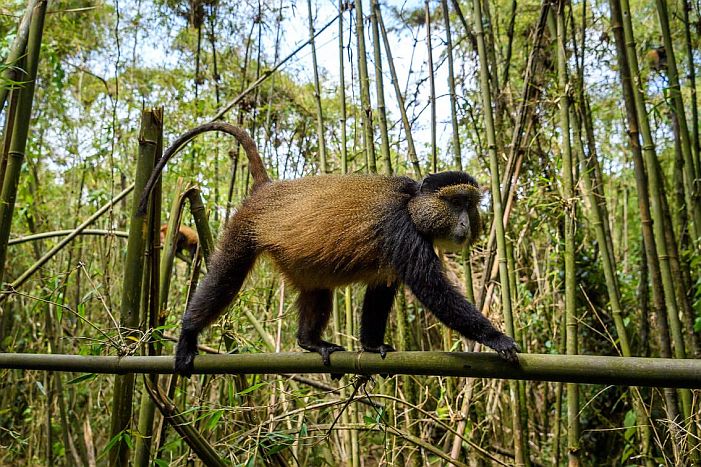 TIP on Gorilla trekking in the early summer
If you don't wish to hike as far to find the gorillas, this is also a good time to visit Rwanda or Uganda. The summer is when the bamboo shoots on the lower slopes of the mountain are at their best. So the gorilla families tend to stay in these bamboo forests, lower down.
So often your hike to encounter them may only be 1 to 1½ hours long. (No promises). Whereas in the dry season, they have to go higher and higher up the mountain in search of food. So you have to hike higher as well.
But – remember – though the hike is shorter, the terrain is harder underfoot as there is quite a bit of mud. You will definitely need a porter at this time of year. Not so much to carry your backpack, but to assist you over the muddy terrain.
Start chatting to us
Keen to start planning? Tell us what you have in mind & we'll create a tailor-made itinerary for you
Contact Us Now
Rainy Months – mid October to mid November & mid March to mid May
Try to avoid this time. We suggest this for three reasons.
Firstly heavy rain does hamper your trekking experience. The mountain gorillas tend to hunker down a little under heavy rain. (As we all do). So they are less active. And the young ones are being protected by their months rather than swinging and playing in the trees.
Secondly April is the anniversary of the Rwandan genocide of 1994. And so the country is somewhat subdued during this month.
Finally it is noticeably colder at night during April and May. (That's why you will see fireplaces in nearly every lodge in the Volcanoes National Park!)
Related articles
What is the typical cost of a safari in Rwanda or Uganda?
Gorilla Trekking – Rwanda versus Uganda?
'When is the best time to visit Rwanda or Uganda' is written by Cedarberg Africa
Cedarberg Africa is a specialist tour operator and safari designer for Southern and East Africa. We're a family-run company with 25 years of experience. We offer 16 different countries. Given our volume of business, we make our money through specially negotiated rates with the safari camps. So you will get the benefit of 1st hand safari experience. And at a fair but competitive price. Contact Us today to start planning your safari adventure.