\There can be few more moving experiences than meeting the brown-eyed gaze of the endangered mountain gorilla. This is what makes gorilla tracking in Africa one of many people's top 'bucket list' experiences. You may have to trek for up to 6-7 arduous hours for the reward of a magical encounter with a 220kg 'silverback'. But the euphoria of the hour-long audience will match the anticipation. In the past, uncontrolled hunting and the accelerating human encroachment into its habitat meant that the mountain gorilla was on the brink of extinction. However, due to conservation efforts, numbers are once again slowly increasing. Now there are about 1,000 individuals in the wild.
Where do the Mountain Gorillas live?
Roughly half of the word's mountain gorillas live in Uganda's Bwindi Impenetrable National Park. And the remainder in the volcanic Virunga Mountains.Gorilla families can roam freely in the Virungas, crossing borders between Rwanda, Uganda and the Democratic Republic of Congo (DRC). The Volcanoes National Park in Rwanda protects both the Virungas mountains and its wildlife. Here a handful of family groups have become habituated to limited human contact.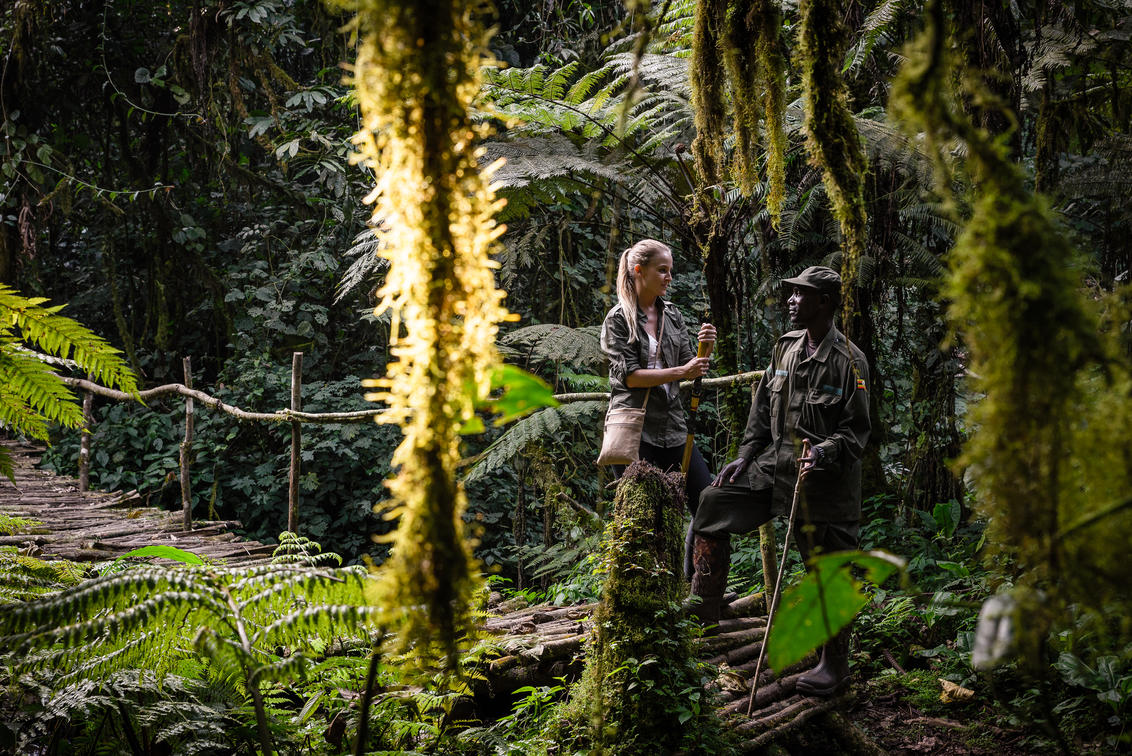 In the Volcanoes National Park, in Rwanda there are 12 habituated, and highly protected, mountain gorilla families. This is one of the best places for gorilla tracking in the world. The number of gorilla tracking permits is strictly limited. Only eight people a day can visit each family and can stay for just one memorable hour. That means a maximum of 56 permits per day (as only 7 families are visited on any one day). You can book the permits up to two years in advance and we recommend booking as early as you can.
The gorilla tracking permits are expensive (currently $1500 per person in Rwanda and $800 in Uganda). However this money gives these poor countries an economic reason to conserve this highly endangered primate. Armed trackers guard each group of gorillas 24/7.
Common Questions about a Rwanda Gorilla Safari
How much trekking is involved?
Each trekking group is assigned to a group of gorillas. This means your gorilla tracking experience will vary from 3 hours to up to 6 or 7 hours. (But they consider fitness when assigning walkers to specific groups. The fitter walkers will head to the furthermost groups of gorillas. However this is not an exact science as you can imagine!) So you may have to walk for some hours in what can be very muddy wet conditions. (Said from personal experience!)
Level of fitness required?
This is uphill walking at altitude so it's best if you are fairly fit. But it is not a route march so the pace is not strenuous. However the terrain and altitude will make it a relatively arduous experience. Generally speaking the Volcanoes National Park in Rwanda offers a greater chance of seeing the gorillas without needing to trek for 6 hours.
Tip: We strongly recommend taking a 'porter" not so much to carry your daypack. But to provide a very useful helping hand in muddy conditions. I also found it reassuring to know that if I fell, my camera in my daypack was safe.
Get the Ball Rolling
Love the sound of trekking to see the Gorillas? Not sure where to start? We've been trekking in both countries. Chat to us!
Contact Us
Chances of seeing the gorillas?
Nothing is guaranteed with any wildlife safari. And gorilla tracking is no different. Having said that, you are almost virtually guaranteed to see them. They try to maximize your chances by sending out trackers early in the morning. With radio contact to both locate, and then stay with, the gorillas so that hopefully your trekking guide will have a good sense of where he needs to get to when your hiking party sets out. So nearly everyone sees the gorillas. If your budget allows, why not stay longer than one full day and purchase two permits for gorilla trekking. We always stay 2 nights in the Volcanoes area so that this is nearly always a possibility.
What is the terrain like?
Gorillas preferred the habitat of bamboo forest and so getting to them usually involves a combination of steep muddy slopes, dense vegetation, slippery underfoot conditions after rain and high altitude.
Interested in a Gorilla tracking safari?
Why not complete our easy enquiry form and one of our team will be in touch with you!
Enquire Now
Uganda or Rwanda for Gorilla trekking?
This is the fifty million dollar question!
Ease of Trekking
Broadly speaking Gorilla tracking in Rwanda is a little easier than in Uganda. The treks are on average a little longer and sometimes you start high and need to trek downwards to reach the gorillas. What goes down must come up which means you are often hiking uphill later on in the day. In Rwanda, some of the gorilla troops can be quite low down, especially in the summer months of December to February. This means less far to trek and at lower altitude.
Distance
The Bwindi Impentrable Forest in Uganda is further from Kampala and so it takes quite a bit of time to travel there. Given the distance, we recommend allowing 3 nights/2 full days for gorilla trekking in Uganda. The Volcanoes National Park in Rwanda lies only 2-3 hours from Kigali so it is easier to combine a short visit to Rwanda for gorilla tracking with a Tanzania or Kenya safari.
Plus it also means that you can stay only 2 nights in the Volcanoes region and get in two gorilla hikes or a gorilla trek and a golden monkey trek on the second day. As you can easily travel to Kigali in the afternoon for an overnight stay or even onward evening flight.
Cost
However one of the big differences is the cost of the permits. In Rwanda the permits are a truly eye-watering $1500 per permit. But the permits are considerably less in Uganda ( but still a hefty $800 per permit price.) This means that opting for a second days permit is more of an option for people in Uganda than in Rwanda.
Both Parks have other excursions on offer if you do stay two or three nights, with chimpanzee tracking in Bwindi and golden monkey trekking in Volcanoes National Park.
Safari Experience
Finally I would say Uganda offers a more complete safari experience if you are only visiting Rwanda or Uganda and wish to combine a safari with gorilla trekking. With many more national parks on offer. However Rwanda does have Nyungwe Forest and Akagera National Parks and so can give you plenty of interest for 8 to 10 nights.
As you can see it is not a simple case of one being better than the other. Personally I loved Rwanda but other colleagues have loved Uganda equally as much. For a more personal sense of what it's like, ask Kate, Ginny, Peter or Milandi, between us, we've been lucky enough to track in both Rwanda and Uganda!