What to pack on your first safari
'What should we wear on safari in South Africa?' is one of the most frequent questions we are asked. So this article discusses what safari clothes are right for South Africa (and our other safari destinations) and how does this differ by season?
For the in-depth answer, download our free guide complete with detailed packing lists.
Otherwise, read on for a few tips, or head to our Safari pages for more on our top safari destinations.

Neutral colours on Safari?
If you don't own any clothing in neutral colours, it is not really necessary to buy it just for the safari. UNLESS you are intending to do a walking safari. Wildlife sees a safari vehicle as one huge animal or unit. So a flash of brighter colour on a guest will not trigger any associations.
A walking safari is a different matter. You are invading their territory and will now be smaller than many of the animals you are viewing. The ranger will expect you to dress appropriately in bush colours i.e no white or bright colours at all.
However, there is another consideration. If you are staying at one of the smarter game lodges, many fellow guests will have the classic safari gear (in khaki or green). You may want to blend in with your fellow guests and not just the wildlife. But this is a matter of personal preference.
What to Wear on safari – Tsetse Flies
This is NOT an issue in South Africa. But you should avoid wearing either blue or black on safari in Zambia and also in Zimbabwe as tsetse flies are attracted to these colours. This is not a serious issue. But the bites can be very itchy. And some people (such as me) are slightly allergic and so the bites end up being red and swollen. Not attractive. And not worth it. Just wear Khaki, brown and green.
Washing at Bush Camps
Remember that laundry is included at many of the camps in Botswana and Zambia. You are restricted by a 20kg luggage allowance and so you'll need to have clothes washed. Washing is often done by hand by the camp staff, and will probably not be ironed. You may want to think twice before bringing the silk blouse or the linen trousers! Some of the newer crease-proof technical materials are ideal for a real bush safari.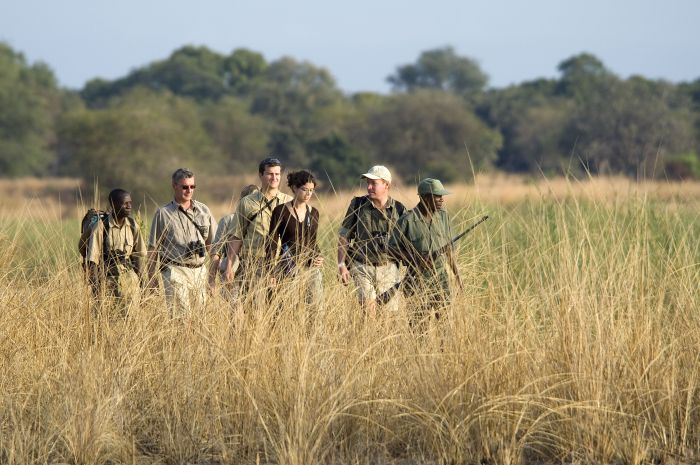 What to wear on safari in South Africa by Season:
Spring
The 'shoulder months' of Spring and Autumn in South Africa are always a tricky one as far as packing is concerned. Temperatures may vary wildly within an average two week holiday period. You never know when Winter will change to Spring or Spring to Summer…
Spring-like weather starts in late August. This happens later in Cape Town and along the Garden Route, but there is no guarantee of this. As in Europe and the States, spring often brings variable weather – beautiful for days and then a bit cold & rainy for a day or two. Rain might occur if you are in the Cape so bring a rainproof jacket and comfortable walking shoes. Hats and umbrellas (and all manner of clothing) can be purchased easily here if needed.
Even if the days are warm and sunny, night time temperatures will be noticeably cooler. We recommend taking a warmer jacket for the evenings (pashminas for women work well).
If you are spending some time on safari, be prepared for low temperatures once the sun has set. This applies to early mornings as well. So bring a variety of clothes for both warm and hot weather options i.e t-shirts, short-sleeved tops, pedal pushers and swim gear (especially if you are spending time in the Kruger). Even so, be ready for temperatures to change quite suddenly.
Get the ball rolling…
Tell us what you want to do, and we'll send you a no-obligation proposal and price
Contact Us
Summer
Summer in South Africa is generally hot to very hot. Although you'll experience the occasional cooler day in and around Cape Town and the Garden Route.
In the northern provinces of KwaZulu Natal and Kruger, or hotter areas like the Cedarberg or Northern Cape, the daytime temperatures will often be in the high 30's (95°F and higher). So bring plenty of hot weather clothing.
The northern part of the country has a summer rainfall pattern. This generally takes the form of a cooling late afternoon shower – welcome relief from the heat – but occasionally it can rain for 2-3 days. This is also the case for Botswana, Zambia and Zimbabwe.
Remember that we recommend long trousers and long-sleeved shirts in the evenings to guard against mosquitos. (Remember that Malaria is only an issue in the Kruger and far northern KwaZulu Natal – the rest of the country is malaria-free. ) Alternatively, liberally smother yourself in mosquito repellant.
Download our Guide to What to Wear on Safari
An important part of planning an African safari is deciding what to wear, what to take and what to pack. This guide gives you the low-down…
Get our Free Guide here
Hi I'm Gloria, I'm here to help you plan your ideal holiday experience
Autumn
Again Autumn is a tricky one to call as far as packing is concerned. Bring plenty of hot weather clothing – especially if you are spending time in the Kruger, KwaZulu Natal, Botswana, Zambia or Zimbabwe – but also be ready for temperatures to change quite suddenly.
Night time temperatures will start getting noticeably cooler so have a warmer jacket for the evenings. If you are spending some time on safari, be prepared for a sudden downturn in temperature once the sun has set. It's not uncommon to start a game drive at 4.00pm feeling hot & sticky and end it three hours later feeling on the cold side. You may feel vaguely silly bringing hats and warm jackets to the game vehicle when it's so hot. But you won't regret it later.
Planning a Safari in Africa?
Not sure where to start ? Tell us what you want to do, and we'll send you a no-obligation proposal and price
Contact Us
Winter
I have lived in South Africa for over 20 years and have noticed that South Africans, particularly those living in the bush, tend to ignore the fact that they have a winter. However our overseas guests, used to wall-to-wall central heating, certainly feel it.
During winter, you will need to pack a range of clothing as the South African winter varies in intensity from province to province.
In the Cape, where the winters are similar to Mediterranean Europe (think Spain, Italy or Southern USA), the hotels and lodges are reasonably well-equipped with underfloor heating, fireplaces and even electric blankets. However South African lodges do NOT have central heating and it's fair to say that buildings are not heated to the same degree as in Europe or the US. Some are distinctly cold. You also might have some rain in the Cape so come prepared with a rainproof jacket.
The rest of the country has dry winter with pleasant sunny days. It is not uncommon for the daytime temperatures to be 25°C (77°F) so bring some lightweight shirts and t-shirts as well.
However it's the diurnal range in winter which usually flummoxes visitors. A South African can say that it's 25°C (77°F) during the day. But he won't say that the day could have started at 5°C (41°F)! In fact it's the warm sunny days which produce the sudden downturn in temperatures in the evening as there is no cloud cover. If you are on safari in June or July, you will need to come fully prepared with hats, gloves and scarves. Yes the lot! Especially if you are heading to the Eastern Cape or Madikwe.
Hope this article on 'what to wear on safari in South Africa' was useful! If you are still in the research phase, why not head to our South Africa pages to start dreaming of your next safari. Alternatively, make use of email or our live chat if you want to ask us any questions…
Magical Moments in Southern Africa
---
"What to Wear on safari in South Africa" was written by Cedarberg Africa
Cedarberg Africa is a travel and safari company specializing in Southern and East African tailor-made itineraries. As we have special rates with all the hotels and game lodges, booking through us will cost no more than booking direct, and sometimes less. So our expertise and knowledge comes at no extra cost to you!