'What shall we wear on safari in Africa' is a frequently asked question. The complete answer as to what safari clothes are appropriate differs by season and by country as I will show.
So you've booked your safari holiday and time is getting close and you start to think about what are you going to wear. Do you really have to get yourself kitted out to resemble Robert Redford in Out of Africa? And if you do, will you be out of place or fit right in?
How much gear do you have to go and purchase, which you might never need, or might never use again once you return?
As these are some of the concerns our clients have, we thought that we would put together an Insider Guide to What to Wear on Safari. It takes into account the mode of safari – are you primarily doing drives in a game vehicle or will you being doing a fair bit of walking? It also takes into account the time of year as many clients don't realize the temperature differences between seasons.
Sometimes it might go into too much detail with a comprehensive packing list. So we apologise ahead of time if we've done this. However personally I like to have a comprehensive packing list when I travel anywhere as it means that it is one less thing for me to think about in the run up to a trip.
For the in-depth answer, download our free guide complete with detailed packing lists.
Otherwise, read on for a few tips, or head to our Safari pages for more on our top safari destinations.

Neutral colours on Safari?
If you don't own any clothing in neutral colours, it is not really necessary to buy it just for the safari, unless you are intending to do a proper walking safari (see box).
However if you are staying at one of the smarter game lodges, many fellow guests will have the classic safari gear (in brown, khaki or green) and you may want to blend in with your fellow guests and not just the wildlife. This is a matter of personal preference. No special clothese needed. Just a reasonable smattering of breathable fabrics such as cotton or linen in neutral colours of cream, beige, green, brown etc.
However please don't feel that you need to dress like Robert Redford in Out of Africa (however positive the connotations). Nothing marks a person out as a tourist as much as being dressed head to toe in khaki and wearing a photographers flak jacket!
Note: If you usually like bright colours, you can always change for dinner to change it up a bit.
Walking Safaris in Africa
That being said, if you are doing a walking safari (of any length from several hours to several days) then you DO need to be more careful about which colours you wear. You ranger will expect you to dress appropriately ie in soft, earthy colours with no white socks, brightly coloured t-shirts or strong patterns. How strictly they will enforce this varies from guide to guide. But it is not unheard of for people to be sent back to their tents or chalets to change their clothing whilst everyone else waits for them, which is embarrassing for the person concerned and inconvenient for everyone else.
Consider yourselves warned!
We also recommend long trousers, socks and proper shoes, if you can bear it, especially in areas which suffer from tsetse flies (see box below).
Why the stricter dress code for walking?
Why is there so much more fuss over walking you ask? Primarily it is because of the wildlife see a game vehicle as a sort of huge animal which they will not mess with. Overall the colour will be khaki green and the odd bright colour will not affect them. They notice the vehicle. But because it is so much bigger, they do not interact with it, and it does not impact on their behavior. However on foot you are entering  their territory. Your aim, given you are now much smaller than many animals around you, will be to blend into your environment as much as possible so that you can observe the animals without being noticed.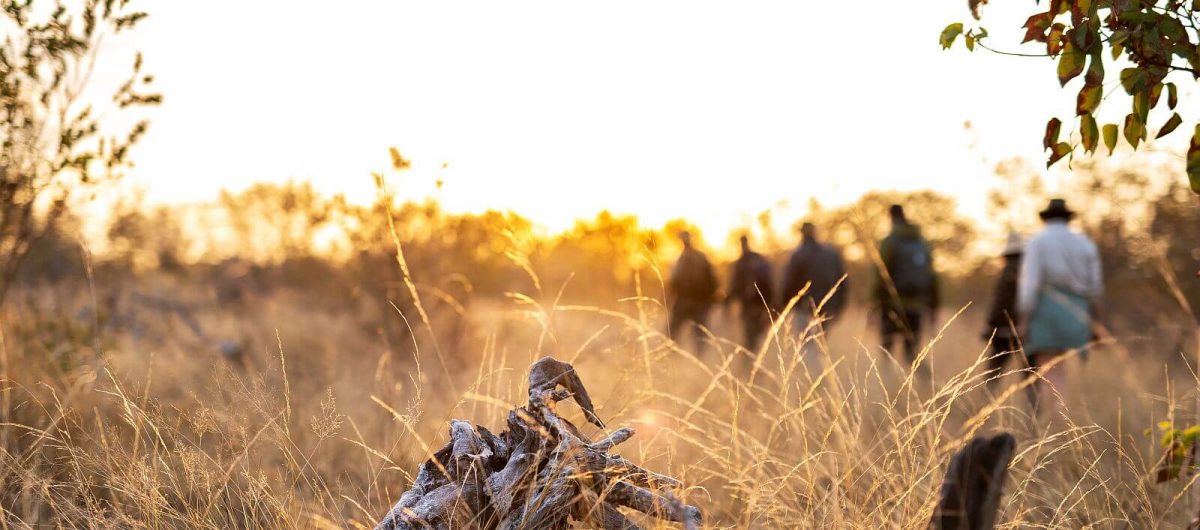 Washing at Bush Camps
Remember that laundry is included at many of the camps in Botswana and Zambia, when you are restricted by a luggage allowance of 20kg including camera equipment, and so may well need to have clothes washed.
Washing is often done by hand by the camp staff, and will probably not be ironed. You may want to think twice before bringing the silk blouse or the smart linen trousers.  We recommend a few of the newer technical materials which are crease-proof and ideal for a real bush safari.
Safari Clothing & Insect Life
This is NOT an issue in South Africa. But you should avoid wearing either blue or black on safari in Zambia and also in Zimbabwe as tsetse flies are attracted to these colours.
No doubt you will have heard about the need to cover up in the evenings because of mosquito activity.
This advice is correct but can be difficult to follow in the summer months when it is so very hot. Again it is a matter of personal preference as mosquito activity varies from place to place (often within a short distance).
I would recommend bringing a couple of long sleeved thin cotton shirts (which are also useful if you are having too much sun during the day) and some thin linen or cotton trousers. However an alternative would be to smother yourself in insect repellant.
Tsetse Flies
Where I would issue much stronger warnings would be in safari areas prone to tsetse flies. Again this varies by the exact terrain but some wildlife parts of Zambia, Malawi, Tanzania & Kenya have tsetse flies. Tsetse flies do not pose any health risk any more but they can give very itchy stings which are noticeable on your skin (as many people react to the bites) and last for a few days.
If you are in tsetse fly country (and I recommend asking your ranger when you arrive at a lodge) then you should cover up and wear long trousers with socks especially if you are on a walking safari.
You should also avoid the colours of blue, black, and some people say white, as these colours seem to attract the tsetse fly. (You may see tsetse fly traps on your game drive which are coloured with blue and black stripes to attract them!)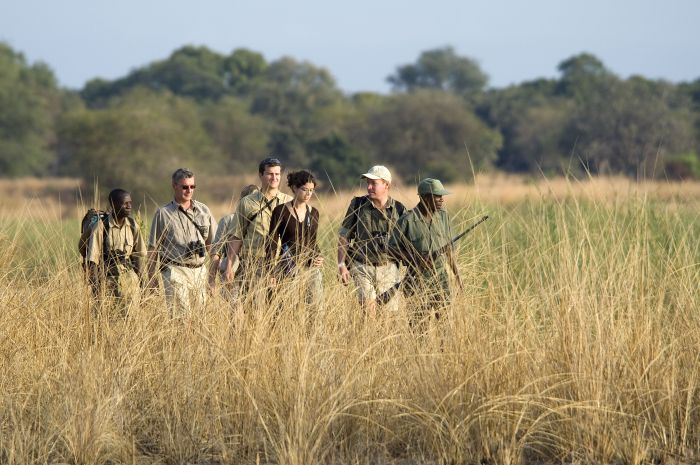 What to wear on safari in South Africa by Season:
Spring
The 'shoulder months' of Spring and Autumn are always a tricky one as far as packing is concerned. Temperatures may vary wildly within an average two week holiday period as you never know when Winter will change to Spring or Spring to Summer…
Spring-like weather starts in late August – later in Cape Town and on the Garden Route, but there is no guarantee of this. As in Europe and the States, spring often brings variable weather – beautiful for days and then a bit cold and rainy for a day or two. Rain might occur if you are in the Cape. Hats and umbrellas can be purchased easily if needed.
Even if the days are warm and sunny, night time temperatures will be noticeably cooler so have a warmer jacket for the evenings – pashminas also work well.
So bring a variety of clothes- both warm and hot weather options – t-shirts, short-sleeved tops, pedal pushers, swim gear – especially if you are spending time in the Kruger but be ready for temperatures to change quite suddenly.
Get the Ball Rolling
Love the sound of a safari in Africa? Not sure where to start? Chat to us!
Contact Us
Summer
Summer in South Africa is generally hot to very hot – with the occasional cooler day in and around Cape Town and the Garden Route.
In the northern provinces of KwaZulu Natal and Kruger, or hotter areas like the Cedarberg or Northern Cape, the day time temperatures will often be in the high 30's. So bring plenty of hot weather clothing.
The northern part of the country has a summer rainfall pattern. This generally takes the form of a cooling late afternoon shower – welcome relief from the heat – but occasionally it can rain for 2-3 days so have a couple of warmer items just in case.
As said before, we recommend long trousers and long sleeved shirts in the evenings – if you can bear it – to guard against mosquitos. (Malaria is only an issue in the Kruger and far northern KwaZulu Natal – the rest of the country is malaria-free. ) Alternatively liberally smother yourself in mosquito repellant.
Download our What to Wear on Safari Guide
An important part of planning an African safari is deciding what to wear, what to take and what to pack. Get the low-down here.
Get our Free Guide here
Kate Bergh
Co-founder & Director
Hi I'm Kate, I'm here to help you plan your ideal holiday experience
Autumn
Again Autumn is a tricky one to call as far as packing is concerned. Temperatures vary wildly from place to place so be prepared.
Bring plenty of hot weather clothing – especially if you are spending time in the Kruger and KwaZulu Natal – but also be ready for temperatures to change quite suddenly.
Night time temperatures will start getting noticeably cooler in April so have a warmer jacket for the evenings. If you are spending some time on safari, be prepared for a sudden downturn in temperature once the sun has set. It's not be uncommon to start a game drive at 4.00pm feeling very hot and end it three hours later distinctly on the cold side. You may feel vaguely silly bringing hats and warm jackets to the game vehicle when it's so hot, but you won't regret it later.
Chat to us
Tell us what you have in mind and we'll craft an itinerary for you, at no obligation
Contact Us Now
Winter
During winter, you will need to pack a range of clothing as the South African winter varies in intensity from province to province.
In the Cape, where the winters are similar to Mediterranean Europe (think Spain or Italy or Southern USA) the hotels and lodges are reasonably well-equipped with under-floor heating, fireplaces, even electric blankets! You also might have some rain in the Cape so come prepared with a rainproof jacket
The rest of the country has dry winter with pleasant sunny days. It is not uncommon for the daytime temperatures to be 25°c so bring some lightweight shirts and t-shirts as well.
However it's the diurnal range in winter which usually flummoxes visitors. A South African can say that it's 25°c during the day but forget to say that the day could have started at 5°c. In fact it's the warm sunny days which produce the sudden drop in evening temperatures as there is no cloud cover. If you are on safari in June or July, you will need to come fully prepared with hats, jackets etc. The South African game lodges do not have central heating and are fairly open to the elements. So you will need to wrap up warmly in the evening and to take spare clothing for the game drive (for when the sun sets).
Hope this article on 'what to wear on safari in South Africa' was useful! If you are still in the research phase, why not head to our South Africa pages to start dreaming of your next safari. Alternatively, make use of email or our live chat if you want to ask us any questions…
Magical Moments in Southern Africa
---
"What to Wear on safari in South Africa" was written by Cedarberg Africa
Cedarberg African Travel has been designing tailor‐made holidays and safaris to East and Southern Africa since 1995. A fully licensed and bonded tour operator in the UK and South Africa, we assure you of great value and unbiased, expert advice.