Viewing Spring Flowers
The spring flowers of the Cape West Coast, Cederberg and Namaqualand in the Northern Cape have a worldwide reputation.
This area of South Africa receives little rain throughout the year but after the winter rains from May to July/August, the normally dry landscape becomes a carpet of wild flowers with vibrant bands of gousblomme and vygies, as well as nemesias, lachenalias, babiana and ixias.
You may not feel you need any tips for flower viewing (how hard can looking at flowers be?). But there is quite a lot to consider if you would really like to get the most out of this "super-bloom" experience.
The wide variety of wild flowers is largely due to the varied topography – fertile valleys contrast with high mountains, the semi-desert plains of the north contrast with the unique Sandveld region near the coast with its wetter vlei areas.
Certain species are found nowhere else in the world such as the yellow Leucospermum reflexum, the Snow Protea (protea cryophylla), blue Lachanaea filamentosa, yellow sparaxis, pink Cyanella alba and the Clanwilliam Cedar (widdringtonia cedarbergensis).
Click here to visit our Cederberg or Namaqualand pages for tours and accommodation.
Please take special note:
Rainfall varies from year to year. Back in 2017 (and even to some extend in 2018) we had one of the worst droughts in decades, with extremely low rainfall in the Cederberg and Namaqualand regions. So the below is based on a 'normal' winter rainfall. We advise that you check flower reports for the areas you would like to visit.

Visit Flowers of Namaqualand and the West Coast Page, Flowerline, or call the West Coast Flowerline 078 692 7198 for regular updates on the spring flowers, flower shows and weather forecasts.
[This article is written by Cedarberg Africa, a specialist tour operator for Southern Africa. Being based in the Cederberg, we know the spring flower area very well and this article is a collection of our tips for flower viewing for the visitor. Enjoy the article!]
Spring Flowers in the Namaqualand
Tip 1:
Know when the Spring Wild Flowers are (read this if nothing else!)
This is probably the number one thing that visitors misunderstand. Our spring is NOT the same as cooler Cape Town. Our spring starts earlier. I cannot tell you the number of times we get requests for late September when all the flowers have gone!
Our spring starts in mid August. The flower season peaks between early August and late August and it is dependent on the winter rains.
The further north, the earlier the flowers…
As a general rule the wild flowers begin flowering first in the Northern Cape in Namaqualand in late July or early August. They then advance southwards through Nieuwoudtville and the Cederberg region and then appear on the West Coast at the end of August. Thus the West Coast offers the best chance of seeing spring flowers in early September.
So you can see that if you do a tour through the whole area, there will be some areas which are at their peak, some which are just beginning and some which are going over.
Plus there's an element of luck as it all depends on the amount of rain. Some years are better than others! If there has been a steady flow of gentle cold fronts during the winter, then it is likely to be a good and long-lasting flower season. But one or two violent storms interspersed with lots of dry weather are not so good.
Spring temperatures are also important. If it heats up too quickly then the early visitors have glorious sunshine but the flowers do not last very long.
The Catch 22 is that lots of rain means good flower displays. But if it continues to rain during the spring (August), then it's not so much fun to view the flowers!
(You can tell that as a tour-operator, I don't like being at the mercy of the weather gods can't you!)
The bottom line is to come with an attitude of acceptance. Try to be prepared to explore other attractions of the area if the flowers are not so amazing. For example the Cederberg has some stunning mountain passes and fantastic hiking country to enjoy. There is plenty to do here, year round. View the Bushmen rock art, do a walking trail or visit a Rooibos tea farm. The spring flowers are almost an added bonus.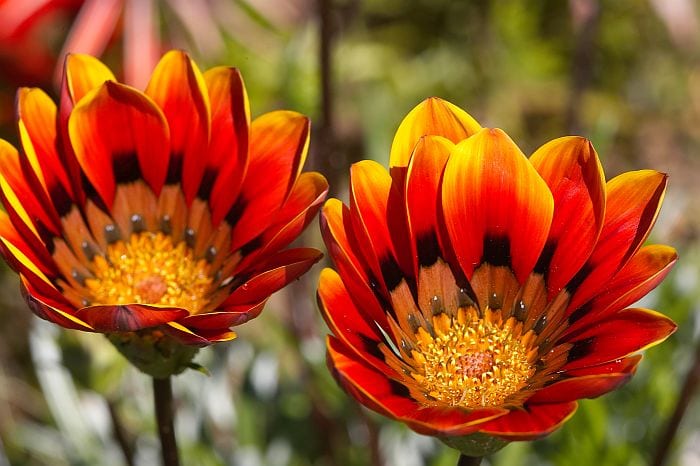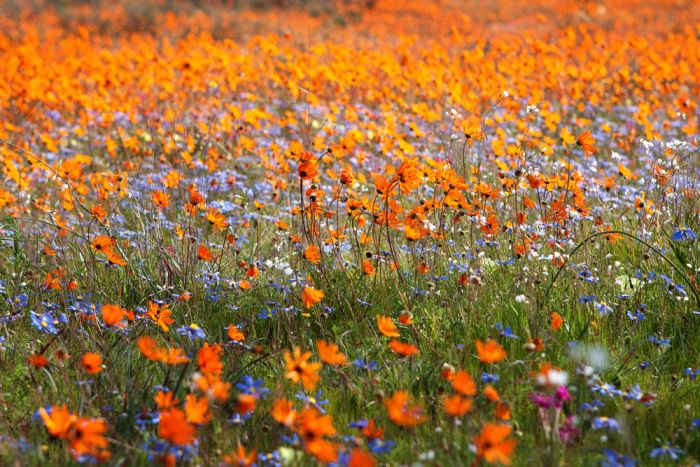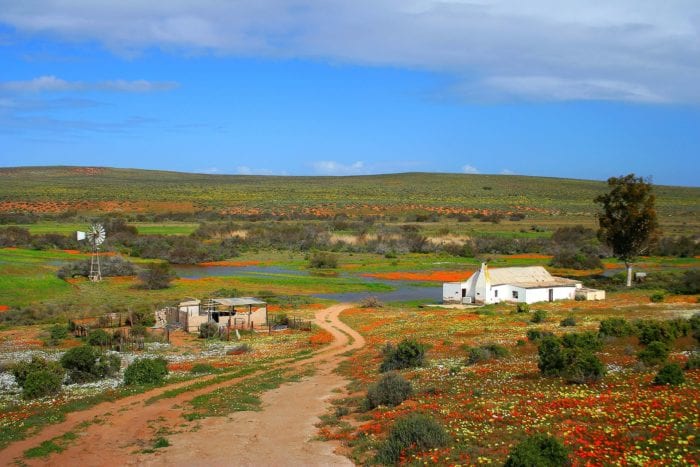 Tip 2:
Book Early
I cannot stress this enough. The 'season' is short and so people book months in advance. We run 5 day flower tours and these usually book up a few months in advance. We can assist with ad hoc private tours if you book enough time in advance. But we don't take last minute bookings because all our preferred accommodation has been booked up. We'll refer you to the local information offices (see numbers below) who may be able to assist with last minute accommodation enquiries.
Ideally you want to be looking at early to mid August for Namaqualand, early to late August for the Cederberg and late August to early September for the West Coast. The West Coast flowers can continue until mid September in a good year or only to say the 10th Sept in an average year.
So depending on your dates, you should choose your area…
(For example, if you are planning a trip for early September, you will be too late for Namaqualand but fine for the West Coast around Paternoster and Langebaan. Similarly if you are coming in early to mid August then the best displays will be further north, with not much happening yet closer to Cape Town…)
Want to see the flowers?
Tell us when and where, and we'll send you a proposal and price
Contact Us
Tip 3:
Flower Viewing
As the flowers face the sun, a good general principle is to travel north relatively quickly and then do most of your flower-viewing in a southerly direction so that the flowers are always facing you.
Similarly, as the displays are noticeably better if you travel with the sun behind you, you should plan your daily circular route accordingly. So try to travel in a westerly direction in the morning, southerly during the day. And then turn east in the afternoon.
The flowers are at their best between 10:30-11am and 4.00pm in the afternoon. So there is no need to rush out straight after breakfast, (unless you have some travelling to do before you get to the flower region).
The flowers will not come out in heavily overcast or rainy weather. So you should plan to visit other sights on such days.
Get out of your car and walk amongst the flowers – you will appreciate them so much more!
Pick up a printed flower guide to add to your enjoyment. These are available for not much money from various tourism offices.
Use the local tourism offices in each area to find out which local routes have the best flower displays
Don't pick the flowers!
Ways to tour the flowers
Fundamentally there are four main options
One – Plan a visit using a rental car and a reputable tour operator such as us – Cedarberg Africa – who will be able to advise you where to go, when and where to stay. This gives you the flexibility as you are free to explore some back roads and get out of the car to walk in the flowers as much as you want. Note: We don't take bookings for less than 4 nights. If you just want a couple of nights, contact the relevant tourism office – see below.
Two – Take an escorted flower tour such as our five day Wild Flower Tour with a small group of like-minded enthusiasts. The benefits are that your guide is both knowledgeable about the flowers and also knows which daily routes are likely to prove most rewarding in terms of flower-viewing. Note: We are booked out for 2019 but we are taking bookings for 2020.
Three – If you don't have so much time, you can also do a private day tour from Cape Town to the southern West Coast. This works well later in the spring when the wild flowers of the West Coast are in bloom (late August and early September.) But it is too far to get north to Namaqualand or the Cedarberg in one day. The only caveat is that these private tours tend to be expensive and the Cape Town guides are not so knowledgeable. (All the specialist guides are booked up doing longer tours!)
Four – If you have just 2-3 nights, you can drive (or we can book a private transfer for you) to one of the lodges in the Cederberg. Good examples would be Cederberg Ridge Wilderness Lodge or Bushmanskloof Wilderness Reserve, or Oudrif Lodge. From here, you can do a day visit to Nieuwoudtville to see their flowers as well. This is a good option is booking relatively late when accommodation in Nieuwoudtville is booked up – see later.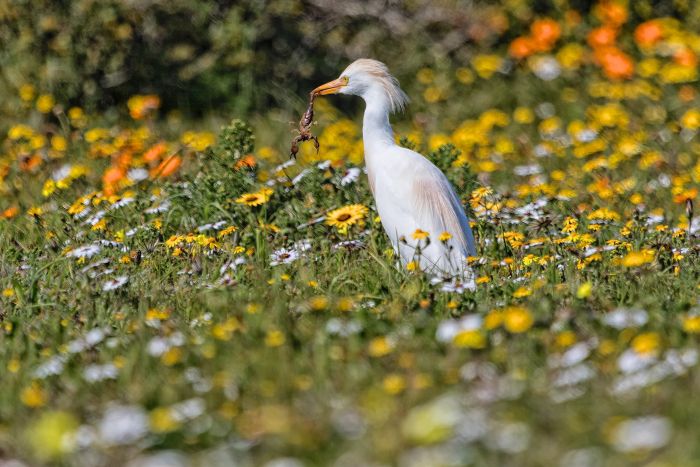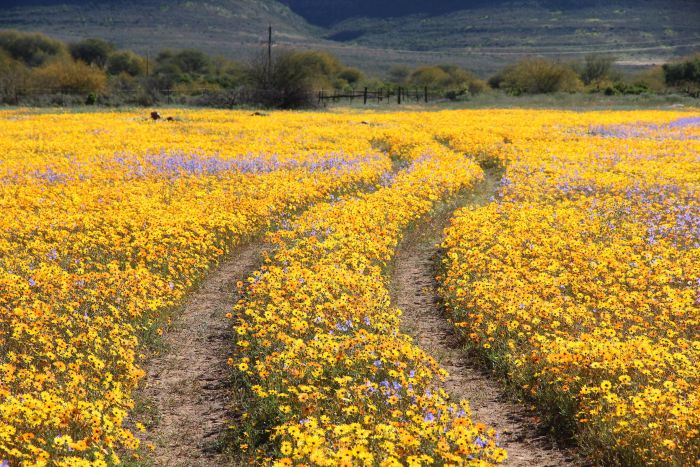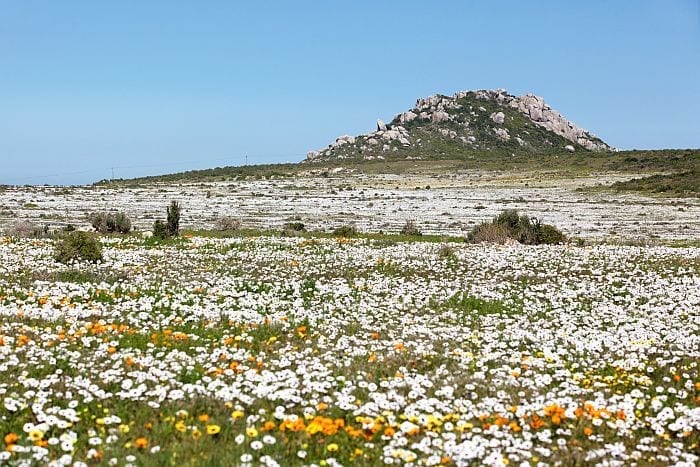 Namaqualand
We suggest that you head north to Springbok and then meander southwards at a more leisurely pace so that the spring flowers are always facing you. There are various side roads which are often rewarding for flowers. Visit the Goegap Nature Reserve near Springbok and Skilpad Wildflower Reserve at Kamieskroon.
(However if you are travelling in September, don't plan much time here as usually the best displays are over.)
Niewoudtville
Try to include Niewoudtville on any flower tour. Many flowers, bulbs and orchid species that are not found anywhere else in South Africa can be seen here. The other charming aspect of Nieuwoudtville is the number of local farms which open their gates to visitors (usually for a small fee). They allow you to drive all over the farm viewing the flowers – perfect for picnics. Some even also have little curio shops and'coffee shops during the flower season.
The flower season in Nieuwoudtville also tends to be longer than elsewhere.
But: Accommodation is always an issue in Nieuwoudtville. Tourism is virtually non-existent for most of the year so it has very few guesthouses. These get booked up months (even a year) in advance. But you can plan a scenic day tour from Clanwilliam which is larger and more developed for year-round tourism.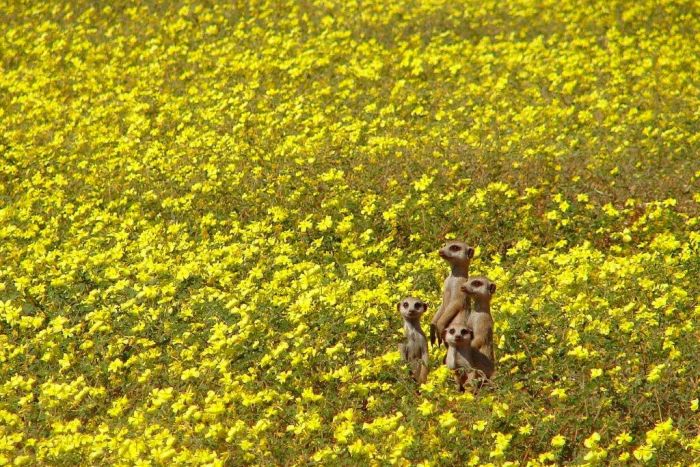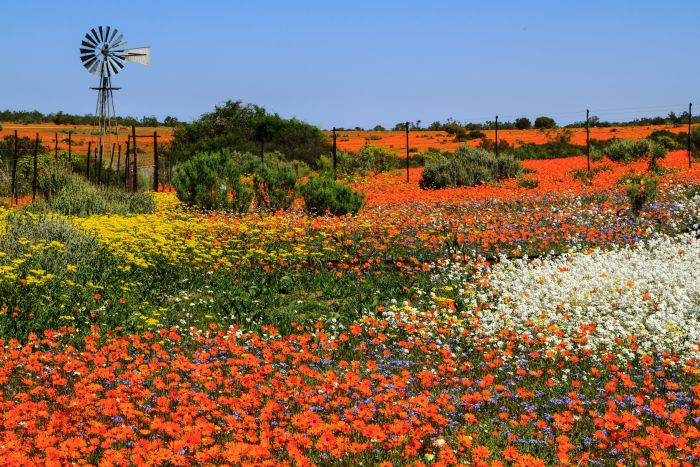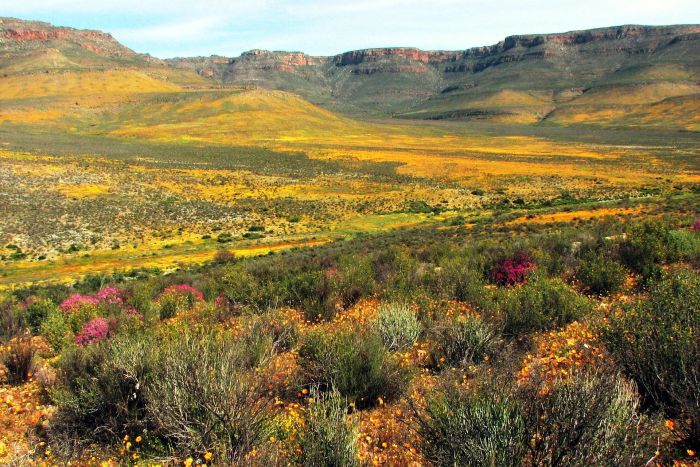 Clanwilliam and the surroundings
From Nieuwoudtville you travel down the dramatic, if slightly challenging, Botterkloof pass and into the Cedarberg. This is not recommended in bad weather! At the foothills of the Cedarberg lies the picturesque town of Clanwilliam and a number of rewarding flower routes. These include the splendid Bieudouw valley. Which can be the highlight of any flower tour in a good year, as well as the Boskloof valley or Nardouwsberg.
A visit to the Ramskop Wild Flower Garden is an absolute must! Ramskop probably has one of the best displays of wild flowers in the country. And it looks especially fine during the flower season and beyond. There's a new medical plant section in the garden.
If you pick your dates right, you can also visit the Clanwilliam Flower Show held at the end of August. The show usually starts the Friday before the final weekend in August. Every year about 400 species from 32 families are exhibited in their typical setting at the Clanwilliam Flower Show. Here the flowers botanical names, as well as their tongue-twisting local names, are displayed.
TIP: Accommodation in Nieuwoudtville often gets booked months in advance. But you can stay in the Clanwilliam area for 3 nights and use it as a base. Good options are Cederberg Ridge Wilderness Lodge, just outside town.
Cederberg Mountains
The high Cederberg Mountains don't usually have many spring flowers. (As the real displays are in the drier valleys). But higher up in the Cedarberg mountains, the protea flowers and other fynbos species are seen later on in the spring (September to October) with their spectacular large bulbous flowers.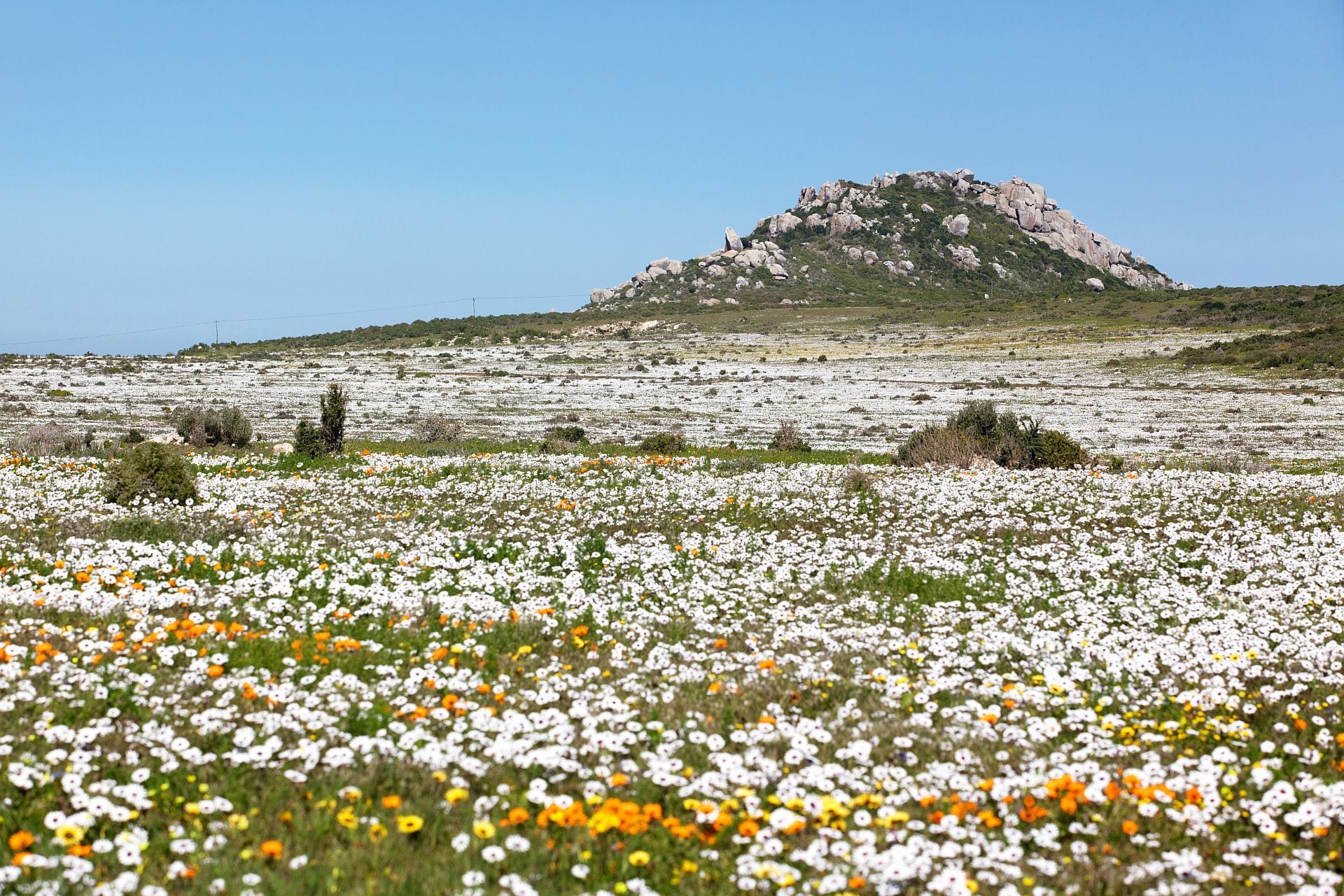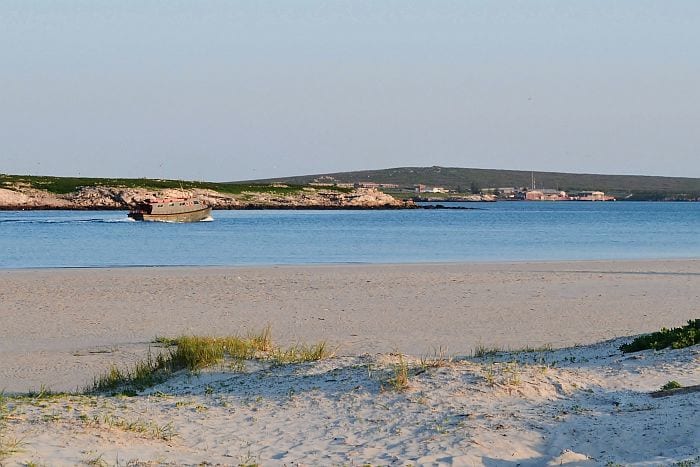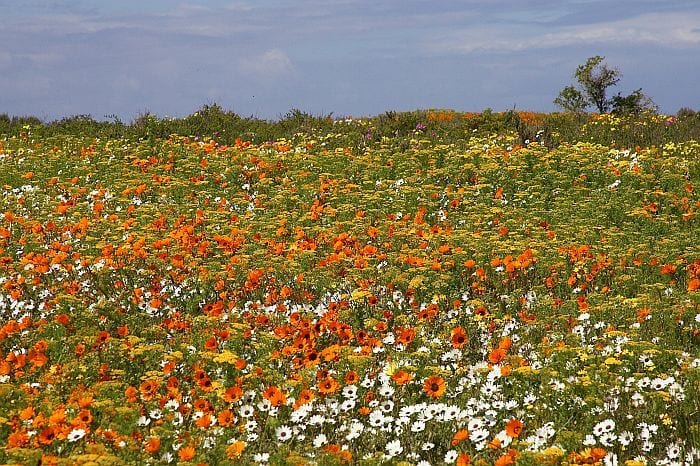 The Sandveld & the West Coast
From the Cederberg you can head west to the ocean through an area known as the Sandveld. Continue south along the West Coast Road (R27) via the picturesque fishing village of Paternoster with its Columbine Nature Reserve. Then head along to the West Coast National Park. Along this coastal strip, you find the strandveld of salvias and showy daisies.
Within the West Coast National Park lies the Postberg Nature Reserve which is open during August and September. This reserve boasts the greatest variety of birds, game and Sandveld flowers in the Western Cape. This special section of the park is only open during August to October. We recommend visiting during the Darling Flower show held in mid-September.
The Duckitt Orchid Show runs concurrently with the flower show on a local orchid farm. You can also visit the Tienie Versveld Reserve near Darling which hosts babianas, lachenalias and chincherinchees .
As well as wildflowers, the West Coast offers stunning seafood restaurants, great birding, Fossil Park, and the impressive Khwa Ttu rock san cultural center. So there's plenty to do here.
Contact us today and we'll plan the perfect flower tour for you!
Planning a trip to see the flowers?
Tell us what you want to do, and we'll send you a proposal and price
Contact Us