Let's face it, for many of us the idea of venturing off into the vast unknown is an attractive daydream. No people, no hassle, no traffic – just wide open vistas and gaping silence. Plus the sense of tranquility and peace that goes with it. But then reality sets in…
You are planning your first visit to South Africa and there are loads of places you want to see. You have a few nights unaccounted for, but not enough to head off into the wilds of the Kalahari Desert or remote parts of Venda. You'd like to visit more of the remote South Africa, the off-the-beaten-track places. But they are simply too far away. It would take too much time to include them without exhausting yourself.
Most people give up at this point and just head for the tried and trusted routes. Yes, they are beautiful. But then you are missing out on almost the very essence of South Africa: its vast interior heartland. It would be like visiting Paris and thinking you've seen Provence, or visiting New York and thinking you now understand what makes the prairie lands tick.
The Good News
The good news is that that 'essence' is not as far as you might think. This is down to the unique geography of South Africa. Most of the coastal areas of South Africa,from the West Coast all the way through to the Drakensberg in KwaZulu Natal, are backed by a line of mountains. You can see this very clearly in the map below. 'Beyond' the mountains lie the vastness of the Karoo. North of that is the Kalahari Desert.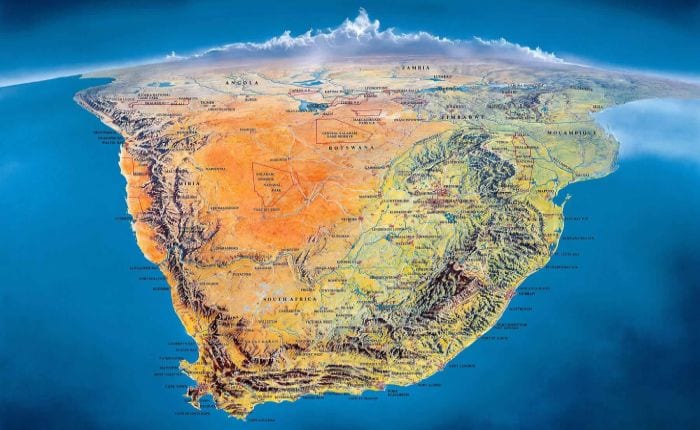 So to get a true taste of remote South Africa, you just need to explore a little 'beyond the mountains'. The rest of this article gives our suggestions for the best places to do just that.
Our Criteria were simple:
• Easy driving distance, so that you could have a 1 or 2 night stay if that's all the time you have.
• Scenic drive (at least for the most part)
• Attractive places to stay when you get there and something to do
Remote South Africa Spot Number 1: The Cedarberg
The Cedarberg is one of those weird places that feel like it's way off the beaten track, whereas the reality is that it's only 2½ hours from Cape Town. Plus the N7 is a scenic and easy road to drive.
So why do people feel that it's so far? Probably because it feels so very different from Cape Town. For one thing, it's noticeably hotter. For another, there are far fewer people. If you go for a hike in the Cederberg Wilderness Reserve, you may not see another group of walkers on the whole trail. Finally its beauty is not the velvety mountains of the Winelands but the unique red-brown rocky outcrops of the Cedarberg.
From here you can continue northwards, but most clients return to the Winelands. Or head, via the mountainous area of Worcester and Villiersdorp, down to Hermanus.
Distance from Cape Town – 2½ hours
Ideal Length of Stay – 2-3 nights, good to combine with the West Coast, Winelands or both
Scenic Drive – Yes, very scenic, almost all the way from Cape Town but especially after Malmesbury (45 mins)
Attractive Place to stay – Plenty, but probably the best for this purpose would be either Bushmanskloof Wilderness Reserve or Oudrif Farm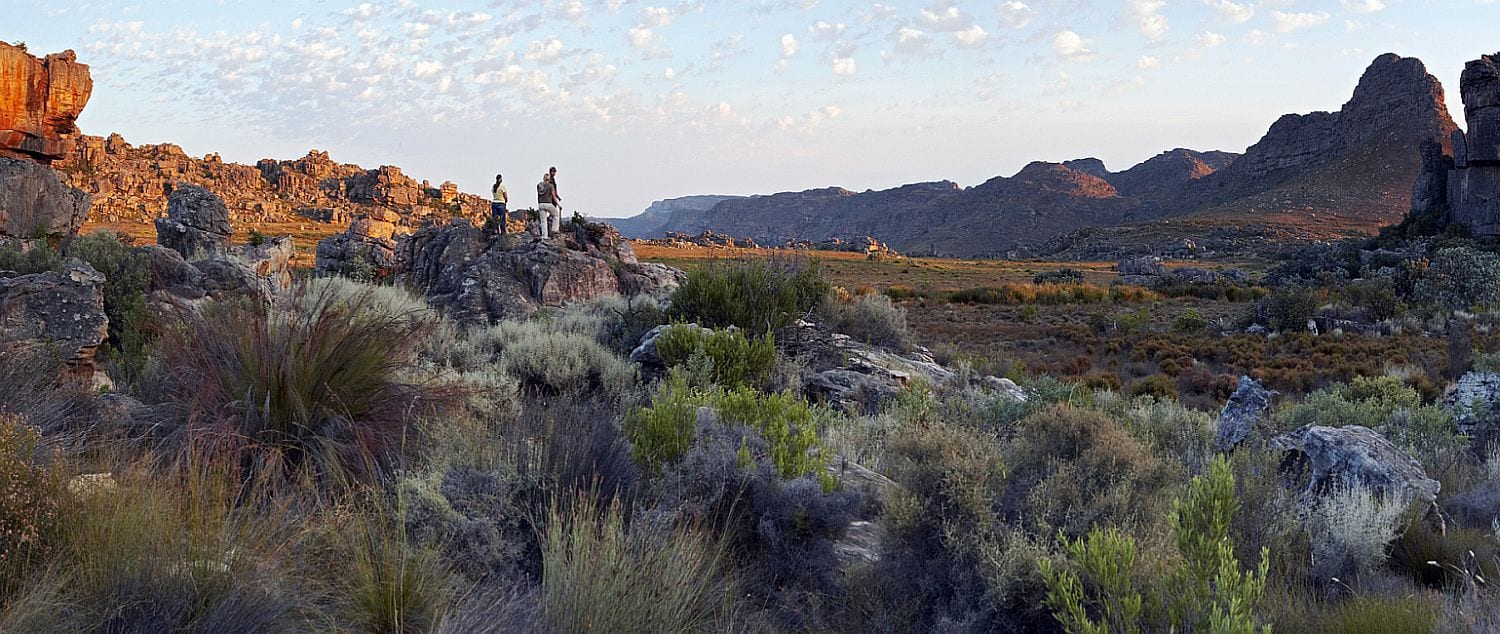 Remote South Africa Spot Number 2: Nieuwoudtville
It was my trip to Nieuwoudtville that was the inspiration for this article. I already live in a relatively remote part of South Africa: the Cedarberg (see above). Yet when I went for a weekend to Nieuwoudtville, I was instantly reminded of how quickly the landscape changes once over the mountains. Barely an hour from my house, the landscape had changed from the characteristic reddy-brown crags of the Cedarberg to the vast open vistas of the Karoo. The lovely and dramatic Botterkloof Pass was its introduction. Another 45 mins and I was in the tiny country village of Nieuwoudtville for a taste of the Northern Cape. Here you can walk, visit the waterfalls and canyons, enjoy a traditional farm lunch and see the spring flowers in season. But to be honest the scenic drive there and back is at least half of the experience.
Distance from Cape Town – 4 to 4½ hours, but only 2 hours from Clanwilliam and less from Bushmanskloof
Ideal Length of Stay – 1-2 nights, good to combine with the Cedarberg
Scenic Drive? – Yes, especially if you take the Botterkloof Pass in one direction and the Van Rhyns Pass on the way back.
Attractive Place to stay – Papkuilsfontein Guest Farm for true old-fashioned hospitality
Remote South Africa Spot Number 3: Sanbona and Route 62
This is kind of an open secret, but still worth telling. Route 62 is the scenic interior road from the Overberg region to the Little Karoo. It has been on the tourist map for years but still many don't know about it.
It's delightful because its so varied. You start with the lush green vineyards of the Breede River valley with charming country towns such as Robertson and Montagu to explore. Then gradually it becomes more and more rugged and stark as you travel towards the Little Karoo where you encounter green countryside once again. Most people don't stop en route, which is a shame as that makes it a long drive. Best to stay overnight to enjoy the quirky little towns en route such as Montagu and Barrydale.
Distance from Cape Town – 5 hours drive from Cape Town to Oudtshoorn, Montagu is almost in the middle, 2½ hours from both Cape Town and Oudtshoorn
Ideal Length of Stay – 1-2 nights, 2 nights if staying at Sanbona
Scenic Drive? – Yes, and its beauty changes in style as the drive continues
Attractive Place to stay – Les Hauts de Montagu
Or if you have 2 nights (and reasonably deep pockets), Sanbona Dwyka Tented Camp in Sanbona Game Reserve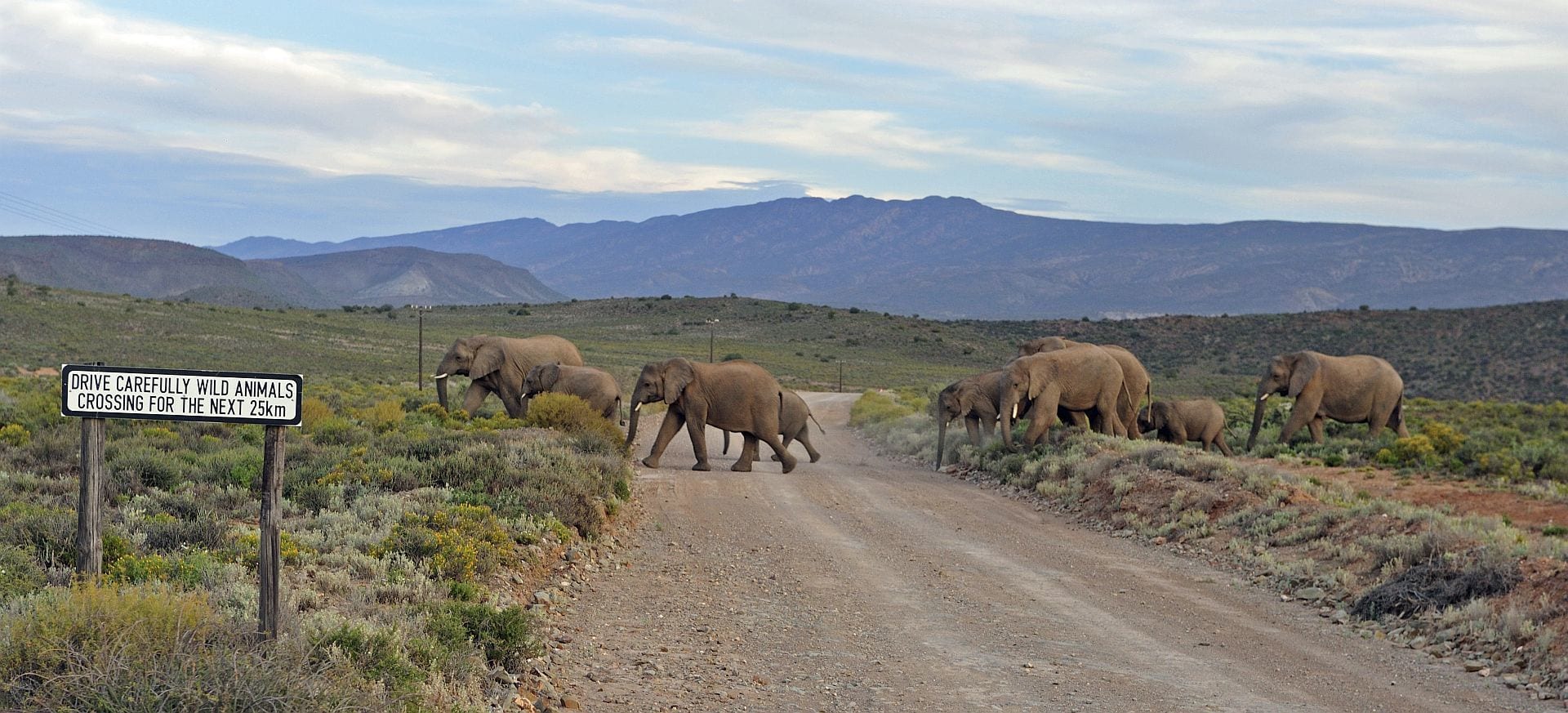 Remote South Africa Spot Number 4: Graaff Reinet and Samara
Recently I headed to Graaf-Reinet after a few years' absence. I was reminded of two things:
1) The austere beauty of the Karoo and other-worldliness of the Graaff Reinet area
2) But also how easy it is to combine with the Garden Route and the Eastern Cape Game Reserves
It is a comfortable scenic drive from the Little Karoo to one of the oldest towns in South Africa, Graaff-Reinet, with its truly amazing array of museums and art galleries. Many of these are sponsored by Anton Rupert, probably its most famous 'son'. There's now a seriously nice place to stay as well (see below). From here, you head to one of the Eastern Cape Game Reserves only 3 hours drive away, and then back along the Garden Route.
But the attraction of Graaff-Reinet is only partly the town. Its environs are almost more interesting. From here, you can visit the stunning Valley of Desolation, the Camdeboo Nature Reserve, the eery Owlhouse at Nieu Bethesda, the Mountain Zebra National Park and Cradock. Phew!
To make it really worth your while, I strongly recommend adding 1 or 2 nights at Samara Game Reserve which is nearby (only 45 minutes away).
Distance from Little Karoo – 3 hours, 3 hours to the Game Reserves
Ideal Length of Stay – 2-3 nights if staying only at Graaff-Reinet, or 1-2 nights in Graaf-Reinet and 1-2 nights at Samara.
Scenic Drive? – Yes, both getting to Graaf-Reinet and driving around
Attractive Place to stay – The Drostdy Hotel is the best to stay, newly renovated to offer understated five star luxury at an excellent rate. Plus we also rate Samara Game Reserve for superb game-viewing and stunning landscapes.
Remote South Africa Spot Number 5: Eastern Highlands
When we started our travel business some 21 years ago, we had many intrepid clients driving through the Eastern Highlands on their way from the Drakensberg Mountains to the Eastern Cape. However nowadays most people choose to fly between Port Elizabeth and Durban. This is because everyone is trying to cram this vast country into a small 2 week suitcase and some destinations simply don't fit!
But that's a real shame as a three week holiday is sometimes achievable. And with more time, you can explore the interior more without missing out on the country's famous highlights.
The Eastern Highlands is where South Africa meets the mountainous kingdom of Lesotho. It combines the drama of the high mountains, typified by the Golden Gate National Park, with attractive country towns. Though it is one of the more remote areas, it does a thriving trade for long weekenders from Johannesburg so the towns have some restaurants, shops and activity.
Ideal Length of Stay (instead of flying) – I recommend at least 2-3 nights to drive instead of fly, assuming that you stay in the Drakensberg mountains afterwards. Spend 1-2 nights in Graaf-Reinet and then 1-2 nights in the Highlands. If you don't like long drives, then I would even break this up into three separate stays. If you have enough time, I also recommend 2 nights IN Lesotho for a real adventure.
Distance from Graaff-Reinet – 5½ to 6 hours to Ladybrand, Ficksberg and Clarens, then 2½ to 3½ hours to the Drakensberg Mountains, depending on where you are staying.
Scenic Drive? – the first part from Graaff Reinet is rural farmland, attractive but nothing special. However once you head up into the Maluti mountains, it becomes very scenic.
Attractive Place to stay – Franshoek Mountain Lodge, Ficksburg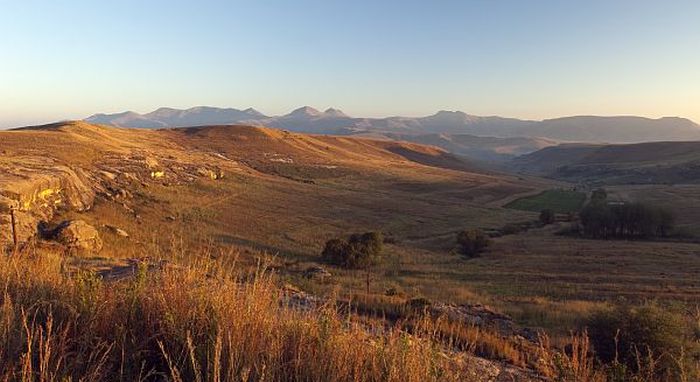 Need to chat...
Want to discuss options, but not ready to start booking? Thats fine! we'll send you a no-obligation proposal & price...
Contact Us
__________________________________________________________________________________________________________________________________________________
This article is courtesy of Cedarberg Africa
Cedarberg Africa is a travel and safari company specializing in Southern and East African tailor-made itineraries. As we have special rates with all the hotels and game lodges, booking through us will cost no more than booking direct, and sometimes less. So our expertise and knowledge comes at no extra cost to you!
Remember that we can tailor-make any holiday for you, so if some of these ideas sound great, but you're not too sure of others, then contact us and we will plan the perfect getaway for you.