Overview
Surrounded by mountains and indigenous wildlife, Samara Private Game Reserve lies on 28,000 hectares of pristine Karoo wilderness, about 20 minutes outside of Graaff-Reinet. It offers the perfect escape for the weary city slicker. Discover the Africa of dreams with vast open plains, spectacular sunsets and a starry sky so close you can almost touch it.
Samara Karoo Lodge, with its wide veranda, combines colonial comfort with glorious Karoo hospitality and food.
Six light and spacious en suite rooms and garden suites are all air-conditioned with the décor being a mix of Karoo style and modern African influences. The Manor suites are within the lodge and an additional three Karoo suites are located in the grounds. They also have a two-bedroom Sibella cottage which is perfect for families or two couples travelling together. It is a little away from the main lodge (5 minutes walk) and overlooks a waterhole.
The Manor at Samara - This light & airy luxurious lodge has four en suite rooms which can be sold individually or as an exclusive use villa. If taken as exclusive use, you can create your own private safari experience.
A fly-camping experience is also available (ages 16+) for anyone brave enough to trek through big five territory (with a trained guide & armed tracking team!) to spend a night in a tent in the wilderness. Alternatively, spend a night at Samara's star bed on the bank of the Milk River. However, both experiences are subject to availability - so make sure to enquire before booking!
Activities
Samara's diverse ecosystem is home for over 60 mammal species including white rhino, aardvark, cheetah, giraffe as well as plentiful antelope such as kudu, duiker and hartebeest. Enjoy ancient rock art, wilderness drives, 'walk and stalk with cheetah' walks, aardvark tracking, spa treatments, picnics and extended nature walks.
When on the vehicle you will be able to get off and explore aspects of getting closer to nature and learning to track animals and approach them on foot. Study the finer detail of the bush and experience the feeling of wide open spaces around you - no vehicles, no noise, no rush. Individual walks can be arranged from the lodge in summer when you arrive and in winter most walks will be conducted in conjunction with the game drive.
Family Safaris
Children of all ages are welcome at this non-malaria reserve. But only older children of 8 years upwards can join adult game drives. A dedicated children's programme is on offer with shorter 'bumble' drives for younger children after breakfast. There's also a Kids club and an Adventure club. Two children up to 13 can share with their parents in a Karoo suite, and one child in a Manorhouse suite.
Unique vegetation & wildlife
Samara Private Game Reserve is unique in that the property consists of five biomes on one piece of land - Nama-Karoo, Plateau Grassland, Savannah, Forest and Eastern Cape thicket. One of the rangers can arrange a walk to enable you to experience this unusual bio-diversity as he shares his extensive knowledge of the individual characteristics of each of these biomes.
The Aardvark is one of the most widespread mammals in Africa, but also one of the most unseen creatures that Africa has to offer. At Samara they are renowned for the unusually high incidence of these famously shy and elusive creatures and a night safari at Samara will increase the possibility of encountering one of them. However, they cannot guarantee sightings but the winter months afford a higher likelihood of being able to see them.
There are just over 220 species of birds recorded on Samara Private Game Reserve, so this is a bird watcher's paradise. In August you are most likely to view the endangered Blue Crane and you may be lucky enough to see Black Eagles soaring below you from Eagles' Rock, one of the magnificent view points.
Samara Karoo Lodge gallery
Samara Karoo Lodge on the map
Rooms
Karoo Suites
Set a short distance away from the main Karoo Lodge homestead, three Karoo Suites are standalone cottages in the traditional Karoo style. Each has a fireplace, air-conditioning and luxury en-suite bathroom with large separate bath and shower and two wash basins. Private covered patios with outdoor seating provide the ideal location for morning coffee or a nightcap under the stars. They even have outdoor showers in the traditional Karoo style. Two extra beds for children can be accommodated in these suites.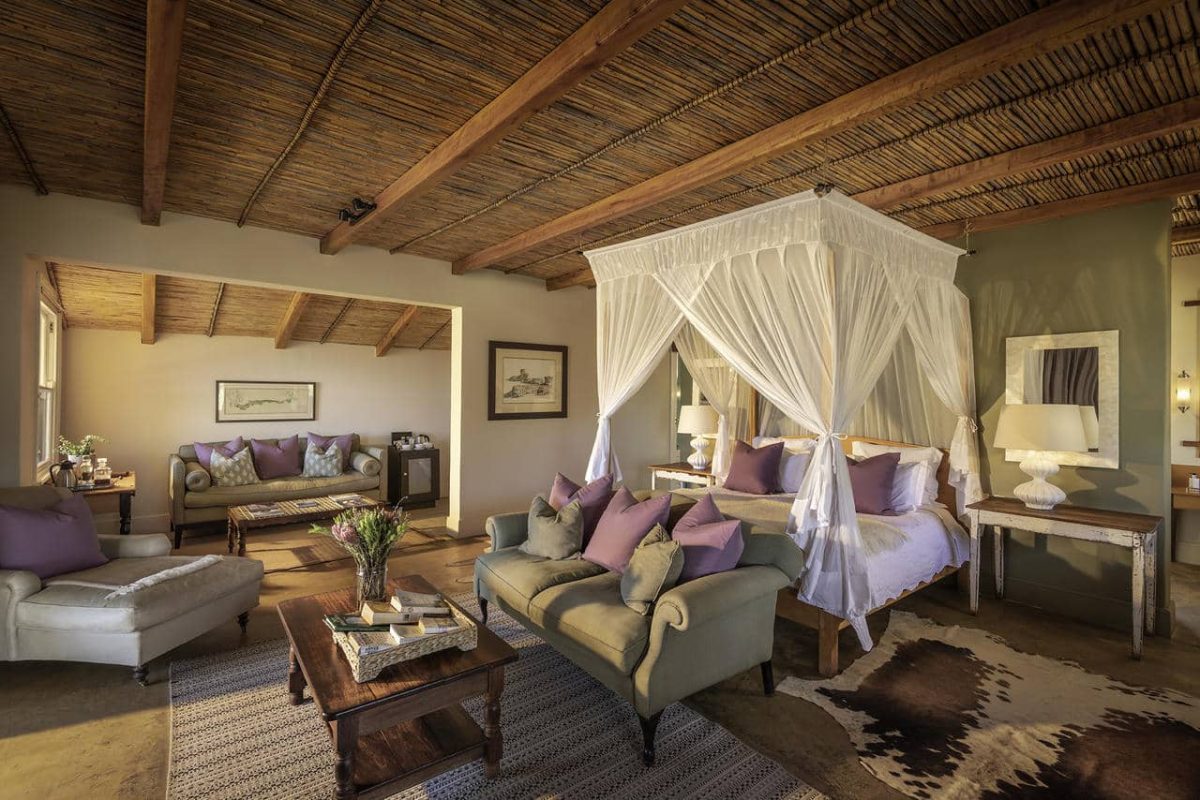 Lodge Suites
Four Lodge Suites are located inside the main Karoo Lodge homestead. They are spacious, light and airy, with air-conditioning and en-suite bathroom with large freestanding bath and shower. These suites open onto the wide wraparound verandah with outdoor seating synonymous with traditional Karoo farmhouses. One extra bed for a child can be accommodated in these suites.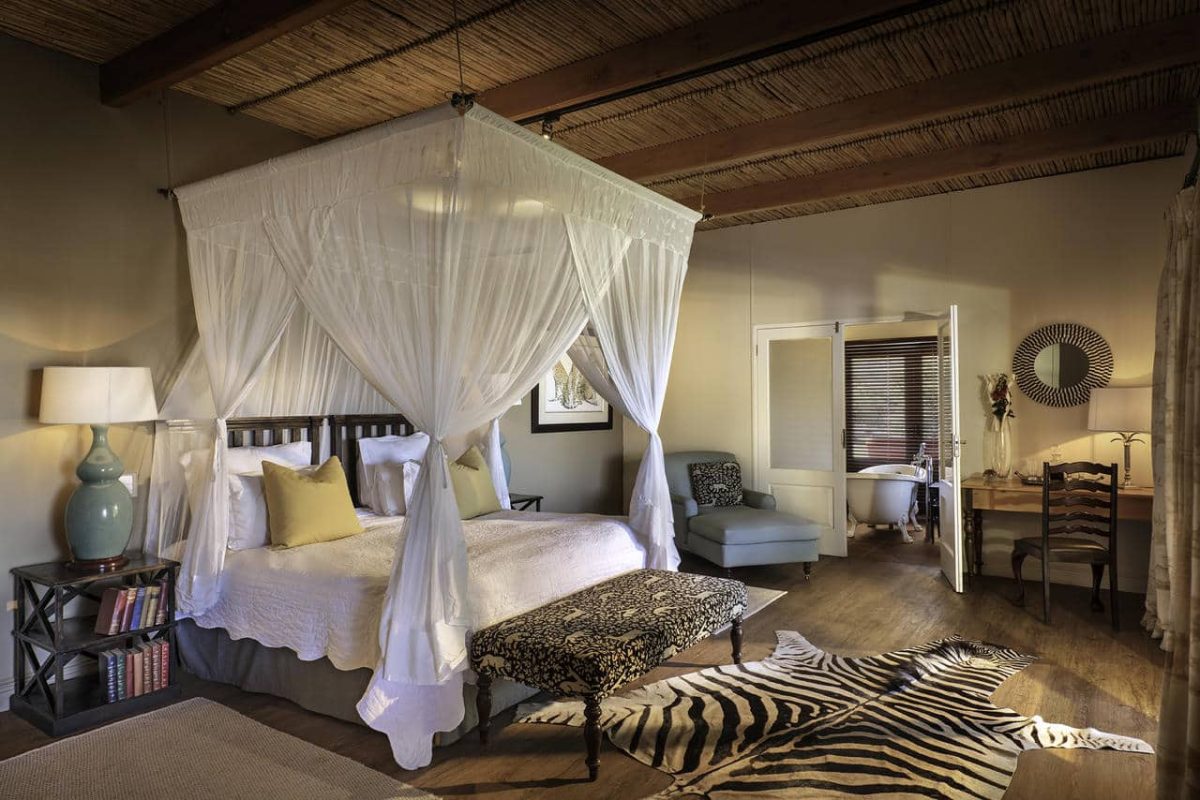 Sibella Suites
The two Sibella Suites are named in honour of Sibella, Samara's famous cheetah who became a world-renowned ambassadress for cheetah conservation. The Sibella Suites are located a little walk away from the main homestead, by a waterhole where bird- and wildlife abounds. These smaller suites are interleading and provide ideal accommodation for families with young children. Each suite has a shower, basin and air-conditioning. The shared deck provides welcome shade during hot summer days.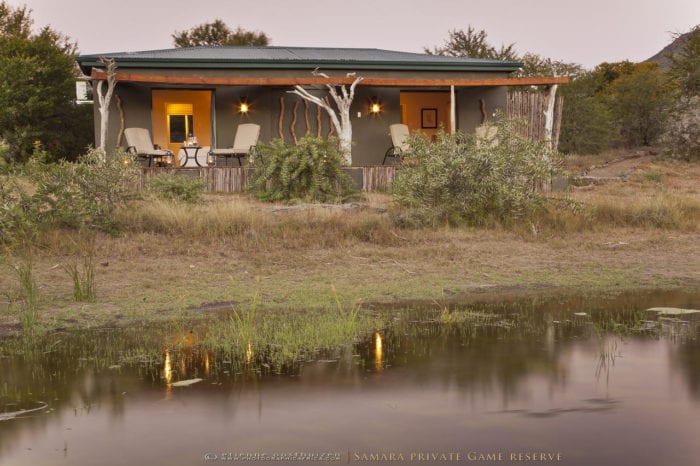 "Samara game reserve was everything and more than we hoped. Wonderful in every way, outstanding even. Wonderful food, staff and rangers. Top notch management. The only downside is the long journey to get there and the very rough safari tracks within the reserve. However, with the lodge surrounded by wildlife who needs to leave the peace and quiet of there own bit of heaven on there own private veranda. Awesome place "
Special offers
Family Long Stay Offer
Stay 5 nights and get 15% off accommodation
Honeymoon Offer
Stay 4 nights and one newly married partner only pays 50%