The safari – and photographs
In my first post on tips for safari photography, I focused on tips for preparing for your safari in terms of what equipment to bring. Now we focus on the safari itself…
These tips for safari photography are based on my keen amateur experience. However I have enlisted the much greater photographic skills of Neil Whyte of Savanna Game Lodge in the Sabi Sands. He is an experienced ranger and keen photographer for many years. He has reviewed my tips below and added some more tips of his own.
Photography safari experts
Safari Photography – Do you want a private vehicle?
Most safari vehicles theoretically take up to 10 people. With one person sitting next to the driver, and three rows of seats each taking up to 3 people. But at many game lodges, there are reserve restrictions on vehicle numbers and so the game drive may sometimes have 7 or 8 people. You need to be aware that you might not always get a 'window seat'. (Many of the more expensive camps in South Africa limit the number of people on any game drive to four or six people to ensure a window seat for all.)
On a game drive, you are likely to have a mix of keen photographers and general safari clients. The needs of these two groups of people differ. A photographer might be keen to spend an hour with one sighting. This might be far too long for the average safari participant who will be keen to head off to find something new. The result is usually a happy medium. But if you know you have specific interests, then it's worth considering a private vehicle. This is certainly more expensive but allows you to spend as long at a sighting as you wish.
Where to sit?
Generally we recommend either the front seat next to the ranger or the first row of seats behind the ranger. If the ranger is a keen photographer himself, the front seat may not be available (as his camera equipment is there!) However if it's available, the side door gives you a more stable base upon which to put your beanbag/camera on. You are also at eye level with the game. But you lose the advantage of height.
We recommend the first seat because you are higher and generally have good all round visibility. But you are close enough to the ranger to
a) ask questions and
b) for him to be aware that you are still taking pictures so that you don't have to ask him to 'hang on' whilst you take your last shot.
Discuss this with your ranger on arrival, so that he is aware of your needs, and can suggest the best place to sit.
Don't be afraid to ask your ranger to move the vehicle slightly to get a better shot. A good ranger will generally position the vehicle for the best visibility and lighting for the whole vehicle. But you might need it slightly changed for your particular shot. They will be happy to oblige if it is safely possible to do.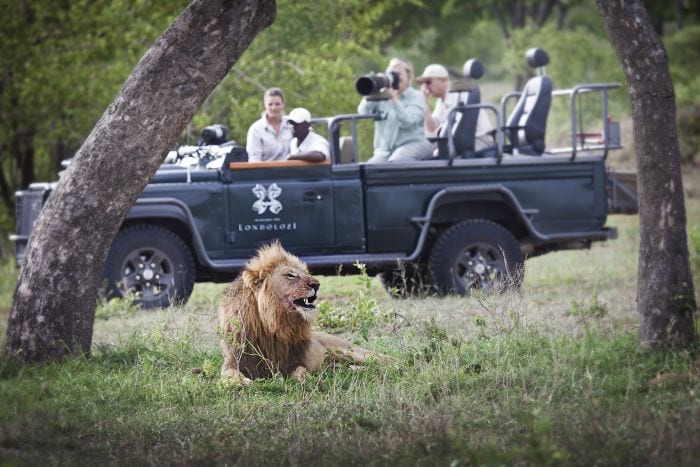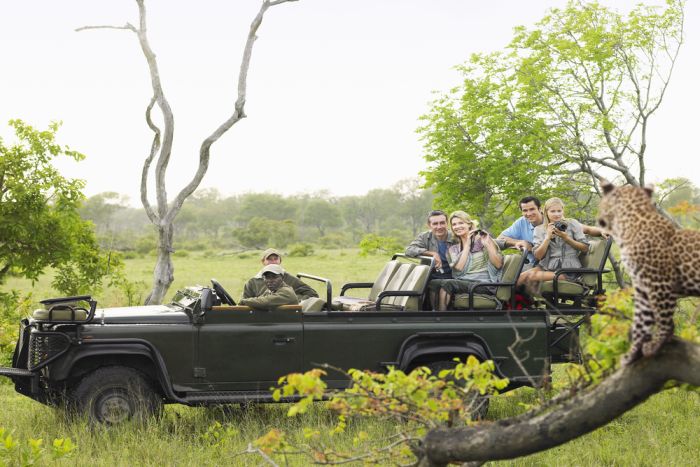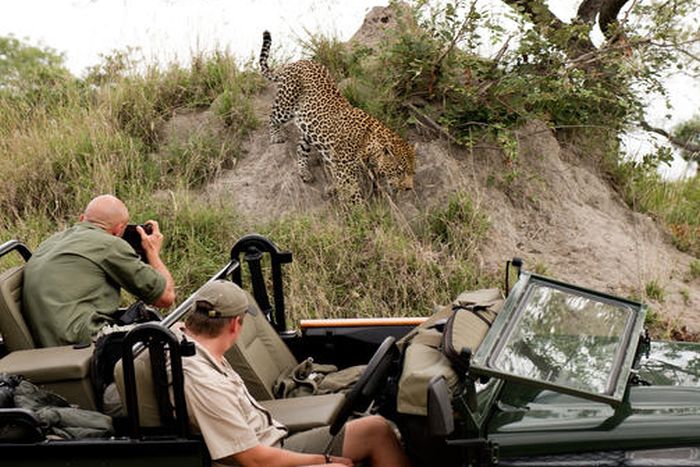 Tips when on the Game Drive
Animals move quickly – sometimes you will only have a moment to take the shot before the leopard disappears into the distance. So we recommend taking a couple of quick shots (the best you can). And then thinking about what you really want to capture – if the animal is still there. Aim to get a variety of shots – perhaps a portrait shot. A shot with the animal in context and perhaps a close-up of some interesting aspect – a horn or tusk or ox pecker on a mane.
Colours of the animals and lighting – You may be very excited by the elephant being so close to the vehicle. But generally a grey elephant against a green bush background in bright light doesn't make for a great photo. Take a shot for 'memory' and then think about how to make the image more exciting. Can you change the background? Is it worth waiting for the animal to actually DO something?
Background – if you are at a waterhole, can you wait at a point where the background and lighting is most attractive? Ask your ranger whether it's possible to move. If the background is likely to be green bush then consider blurring the background to focus only on the animal (by choosing a big aperture).
Need to chat?
Tell us what you want to do, and we'll send you a no-obligation proposal and price
Contact Us
Patience – sometimes animals move (very fast) and sometimes they just lie there. It's ALWAYS worth waiting around for quite a while to see if the lion or the wild dog or the leopard will move. Your ranger will be a good judge of whether this is likely or not. One of my most exciting game drives was in the Moremi (Okavango Delta of Botswana) when we came across three lions sleeping under a tree. Other vehicles came and went with people taking quick photos. Our ranger spotted a herd of zebra in the distance coming closer and suggested we wait… just in case… The reward for our patience was to see the whole process of a lion kill. From the first moment of awareness of the zebra's presence to the low silent stalking through the long grass to the final awful minutes of the kill.
Other vehicles came back after the kill, but we were the only vehicle to see the whole experience and to capture it on camera. Try to capture the animal doing something. Wait at the ready for the hippo to yawn or the giraffe to bend down tentatively to drink at the waterhole. You may not be lucky but it's always worth waiting for a while.
Rule of thirds – try to avoid the temptation to put your animal right in the centre of the shot. Divide up the image into nine parts (imagine four gridlines crisscrossing) and try to put the focal point at one of the four intersections of these gridlines. If the animal is moving, try to leave space in your composition for the animal to 'move into' so that the image retains the life and action of the original. When there is lots of action, use continuous shooting so that you don't miss anything and then delete the ones you don't want.
Taking close-ups – select single focus and focus right on the eye to take the sharpest pictures possible. Multi-focus will take an average reading and so the tree in the background will be as much in focus as the hyena and often that's not what you want.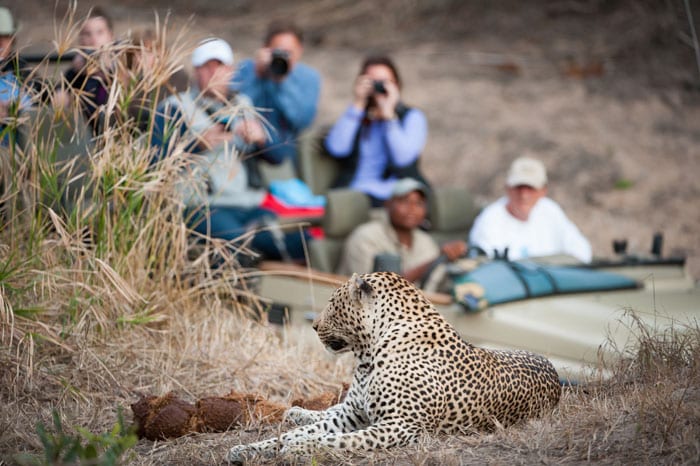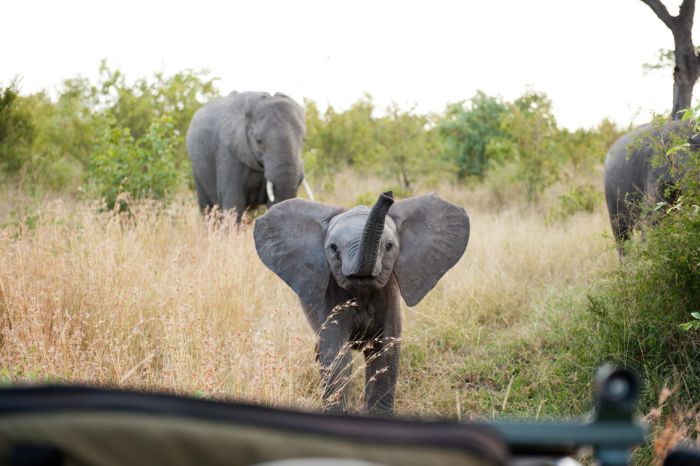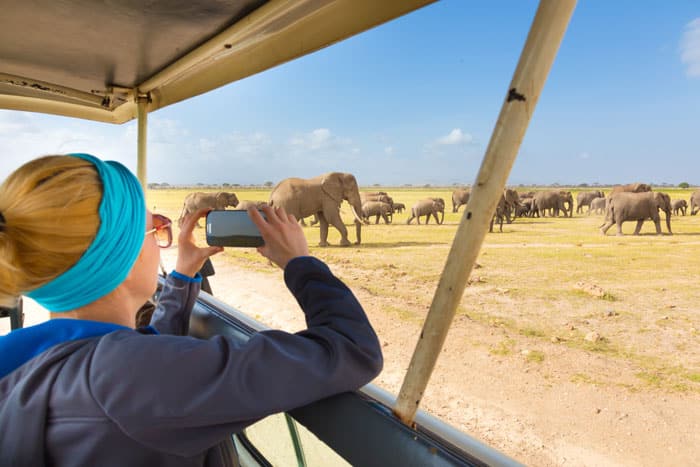 Some extra tips for safari photography
• As the light gets brighter, be more selective about your shots. The strong African light will rob all but the most interesting of much of their appeal.
• If you don't have a good zoom lens, don't be tempted into taking numerous shots of animals in the medium distance. You will end up with lots of blobs in front of green or brown bush!
• If you are interested in night photography, purchase an external flash. These are pretty expensive additions! But the pop-up flash on the camera is only effective for up to 3 – 5 meters. This can be very frustrating when trying to get a wildlife photograph at dusk or night. Often you spend the whole sighting trying to figure out why the photo is so dark, rather than enjoying the sighting! Night photography is challenging. So make sure you are familiar with your external flash before coming on safari.
Need to chat?
Tell us what you want to do, and we'll send you a no-obligation proposal and price
Contact Us
• Some rangers, such as Neil of course, will be happy to do a crash course/refresher course on your equipment before the safari. So enquire at the lodge and with your ranger. They may be able to sit down with you for a 45 minute tutorial on your camera and the environment. But note that not all rangers are keen photographers who'll be able to assist you.
• Don't spend the whole sighting looking through your view finder. Take your shots but also take time to actually enjoy watching the animals – be in the moment!
• Finally – from personal experience – take lots of photos! As you experiment to get the best light, composition, action etc. But remember to be as active deleting the images as soon as possible. Either as you head back to the game lodge at the end of the drive, or soon the next day. There is nothing worse than arriving home and having to review 25 images of zebra followed by 20 images of elephant and so on. Reduce the 25 zebra images down to 5 whilst on safari and then at home you can select the 1 or 2 really good ones – if you are lucky!
"Tips for Safari Photography Part 2" was written by Cedarberg Africa
Cedarberg Africa is a travel and safari company specializing in tailor-made itineraries in Southern Africa. As we have special rates with all the hotels and game lodges, booking through us will cost no more than booking direct. And sometimes less. So our expertise and knowledge comes at no extra cost to you!
Remember that we can tailor-make any holiday for you, so if some of these ideas sound great, but you're not too sure of others, then contact us and we will plan the perfect getaway for you.