Overview
Below are our top picks for Indian Ocean island honeymoons. Choose from Mauritius, the Seychelles, Mozambique. (And even Madagascar for a more adventurous option.)
Mauritius Honeymoon Ideas
The stage-set elegance of the Mauritius beach hotels is perfect for long-lingering gazes into each others' eyes over cocktails. The dazzling sand demands a lazy stroll hand-in-hand. And, when they've has gone to such lengths to make your suite such a haven of tranquillity and indulgence, it would be perverse not to spend a considerable amount of time with 'do not disturb' hung on the door handle.
But it is the people of Mauritius that make this such a great honeymoon destination. Nowhere but Mauritius combines the sensuality of a tropical island with effortless hospitality quite so effortlessly.
The quality of the hotels means that there are rarely any nasty surprises to take the gloss off your honeymoon. Plus we steer clear of hotels that focus heavily on honeymoons. After all, most of us like to be treated as 'special'. This illusion is rather compromised if you are one among 50 newly-weds!

Honeymoon in the Seychelles
The first Western eyes to see the Seychelles sealed its reputation as the islands of love. The suggestive fruit of the Coco de Mer added to this reputation, And not without reason. There is no aphrodisiac so potent as warm sun on your skin. Plus the pervasive scent of wild-growing vanilla adds to the allure. And with so many islands and so few people it's incredibly easy to find a little spot of paradise on your honeymoon.
The Seychelles is innately romantic, with its unparalleled natural beauty. It's more developed for honeymoon couples (rather than families or the nightlife seekers) than other Indian Ocean islands. Indeed, it particularly excels when it comes to the small and extremely exclusive private island resorts, such as North Island and Fregate.
Check out our Indian Ocean island blog on Mauritius versus the Seychelles for more comparisons.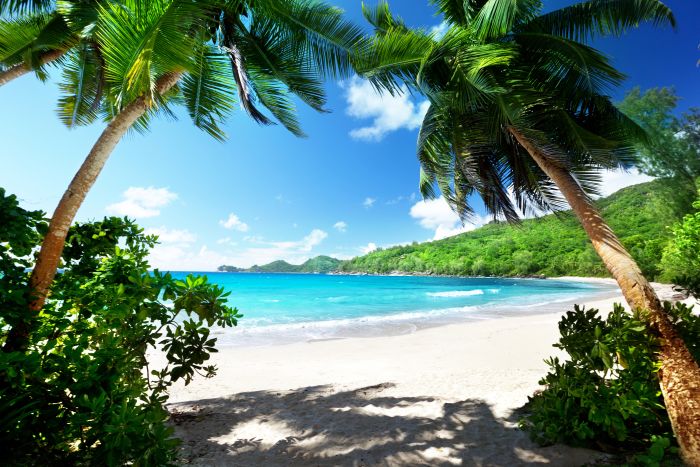 Mozambique honeymoon ideas
A Mozambique honeymoon is an idyllic option if you value perfect unbleached coral, flawless white powder beaches and barefoot luxury. Time and budget are the only limits to your choice. But these island hideaways amply repay your investment. Plus there are few better places to explore the marine environment with world class diving and snorkelling on offer.
Being small and intimate, Mozambique beach resorts are chilled and peaceful. They are ideal for honeymoon couples looking for 'me time'. This could be a real 'need' after the exhausting excitement of your wedding.
However, Mozambique is not right for those whose idea of heaven is a a five star resort with all the trimmings, an extensive array of water sports and interesting shops to explore. It's neither a replacement for Mauritius nor the over-water villas of the Maldives. But it does offer classic 'barefoot luxury' with a Swahili, Portuguese and African tempo.
TIP: This is the only destination where you can seamlessly combine a safari with Indian Ocean beaches without needing an overnight stay en route, as there are direct flights from the Kruger to Vilanculos.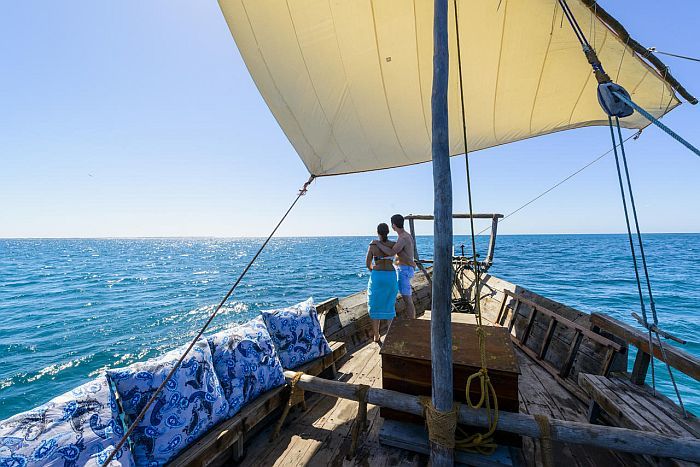 Madagascar honeymoon ideas
Here's one from the left field. Would a more active, adventurous honeymoon option appeal to you? If so, check out our Madagascar pages. On the huge island of Madagascar you can still enjoy white powdery sand, a great climate year round, world-class snorkelling & diving. Plus the unique endemic wildlife, from the world's tiniest primate to half the world population of the endlessly fascinating chameleon.
Have a look at our sample trip ideas below. Or better yet, contact us and we will tailor make your perfect Indian Ocean Honeymoon for you.
Highlights
Mauritius - exquisite hotels and hospitality with sandy beaches waiting to be strolled on
Seychelles - the quintessential paradise islands
Mozambique - laid-back barefoot luxury and seamlessly connecting with the Kruger
Madagascar - the bio-diversity hotspot with superb snorkelling, diving and unique Malagasy vibe
Very helpful discussions
"Very helpful discussions beforehand to give us lots of options. The personalised website was really good. The pre-holiday booklet was really useful as well. "
Mrs Rachel O'Connell, UK
Most amazing holiday in SA
"Thank you for the most amazing holiday in South Africa. The three lodges were all selected with great care and each had a different atmosphere. All transfers worked entirely smoothly and we were even met on arrival at Johannesburg airport to be escorted the few yards to the airport hotel! Cedarberg really came into their own when BA messed up theoutgoing flight (twice) and Ginny spent her entire Bank Holiday weekend sorting it out for us. "
Mr Mike Ricks, UK
"Overall, the trip was wonderful! You and Cedarberg continue to excel in local knowledge, attentiveness in creating wonderful customized itineraries. Every camp was a perfect blend of game, local hospitality and the kind of unique experiences we were looking for. I also had the distinct pleasure thanks to you and the boys – of celebrating my birthday in all three camps! What a memorable and lovely treat. Elewana Pepper Camp was the best in the combination, with Kaz Kaz a close second. The boys loved our driver here—sorry I forgot his name. But he had a great sense of humor, was rather adventurous and aggressive with the driving when there was a crossing and as such, we had fabulous visibility and photos. Kaz Kaz and the entire location was ideal. Remote and relaxed. My only challenge was the very limited wifi – this should have been a weekend spot for me so I would have been less concerned about getting messages. But it worked out. The team at Kaz kaz were less polished (and less fluent in English) but they more than made up for it in their warmth and hospitality. The reduced English fluency meant our guide was unable to share as much about the local people and culture – (which we got lots from in Elewana thanks to Leperes). The last night sunset celebration – which seemed to be just for us, was truly special. I think I sent you some photos. We could not have asked for a better send off. We also had the wonderful delight of seeing all of the big 5 in Kaz Kaz – including a rhino, rather unexpectedly and rather close! Needless to say Kaz Kaz was a huge hit in the family. The tents were also quite spacious and comfortable. I could stay here a week. "
Mari
Sonja Brand
Africa Travel Specialist
Hi I'm Sonja, I'm here to help you plan your ideal holiday experience
We arrange trips to more than 100+ destinations throughout the African continent.
Winning itinerary!!
"Without ever meeting us, Kate and Tash from Cedarberg Travel & African Safaris created a winning itinerary for my friend and I! The itinerary was well-balanced in its schedule, activity levels and locations. We started in Cape Town with several tours and an excellent tour guide named Tobi. Tobi quickly clicked with us, laughed with us, and answered all of our questions about aspects of the city including a recommendation for the Gold restaurant ( a blast). After a long bit of air travel getting to South Africa and 3 full days in Cape Town, Kate scheduled a stay in the Cederberg mountains at luxury lodging and it was exactly what was needed. We had a few days to rest and pamper ourselves, and as hobby photographers, we did our own African sunset photoshoot with the mountains as our backdrop. Our trip included 5 days of safaris. Once again, we had a stellar guide and tracker (Solomon and Jeff) who taught us the soul of a South African who loves the animals and lands of his home. Every time Solomon stopped to educate us, we were like elementary kids, gathered around him with elbows on knees, eyes focused, and fully attentive. He gave us story after story of information about the circle of life at Kruger NP. We ended the time at Victoria Falls. All the details for the trip were provided and we had no glitches! Both myself and my friend want to return to South Africa and the first thing I did on my return was email Kate and ask if she could keep me in her files because I really hope to go back and I'll do that trip through Cedarberg Travel & African Safaris! "
Mrs Myers
Seamless arrangements
"We were often posting on Facebook during our travels and many of our friends were asking who arranged our trip, so don't be surprised to get a few referrals. Again, thank you so much for your time and effort with our trip! "
Ms Tammy
Great Recommendations
"I am into the details and ask lots of questions and I got all the info that I needed (and more) very quickly, which enabled my review all of Cedarberg's recommendations and check for alternatives. I am very pleased to say that I changed none and all of the recommendations were 1st class. "
Mr Ian Crispin, UK