So what is the best area to stay in Cape Town
for 1st time visitors?
A few days ago, I enjoyed a superb stay at Steenberg Hotel in the Constantia area of Cape Town (see my review HERE).
It was a sybaritic mix of beautiful scenery, vineyards, wine-tasting, and gourmet food. All in the shadow of sublime Cape Dutch architecture and ancient oak trees. Afterwards we drove into the city and it took us only 25 minutes on a very easy road.
Whilst staying there, we were chatting about how CRAZY it is that people still think that the best place to stay in Cape Town is the V&A Waterfront. When the Waterfront was re-imagined over 20 years ago, it was only natural that it was flavour of the month for a year or two. But they've done an excellent marketing job ever since then. Everyone's heard of it. Ergo they think that's the place to stay.
But most Capetonians don't understand why! In reality it is only the best option for a small percentage of our clients.
So we want you to ask yourself: Do I really want to stay in the Waterfront?
Cape Town is NOT like most cities
The reason why the Waterfront is not necessarily the best place to stay in Cape Town is because Cape Town is unlike practically any other city in the world. In nearly every city in the world, the top attractions are right in the city centre. Think London, Paris or New York…
But Cape Town has a socking great mountain in the middle of the city. And most people enjoy exploring both the city and the different facets of the mountain.
So what are you going to do during your stay in Cape Town?
These are the most common attractions for a stay in Cape Town
Table Mountain (City bowl)
V&A Waterfront
Kirstenbosch
Cape Peninsula tour
Visiting the Winelands
Beaches
Visiting the markets (City)
Robben Island (Waterfront)
But you'll notice that many of the things that people enjoy doing here are NOT all in the centre of the city!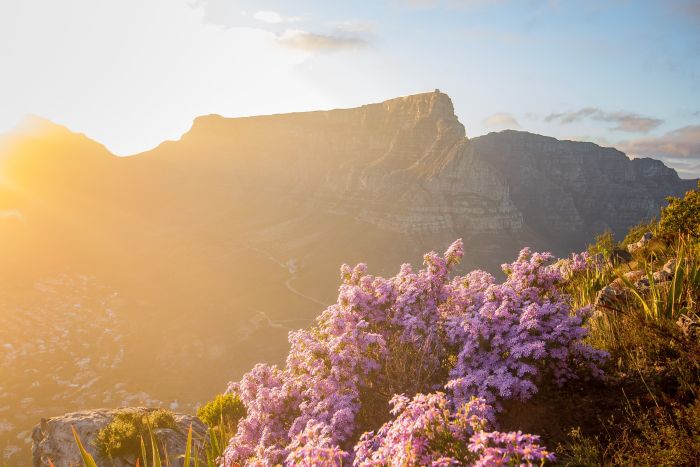 Of these eight attractions, only FOUR are central to the city.
If you just go with same-old, same-old thinking, you may end up staying in the wrong area for YOU. This could mean unnecessary driving or traffic. Or shops or city noise when you don't want them. Or indeed too much peace and quiet, when you're looking for night-life.
You want to enjoy your time in Cape Town to the full, especially if you're new to the city. So let us guide you.
Where to Stay in Cape Town? Ask yourself these Questions:
So don't ask how close is my hotel to the Waterfront? Ask yourself what you are want TO DO whilst you are here?
Do you like to go out to dinner and then retire to bed afterwards? Or might you like to enjoy some night life or clubs after dinner?
Do you want to have a real sense of city vibe (shops, markets, bustle, and city skylines) or does a more peaceful mix of city and greenery appeal?
Do you like explore different aspects of a city? Or are you more into galleries and museums?
Is shopping an important part of a city stay? Or do you like to be more out in nature walking in parks or reserves?
How much is city noise a concern for you?
Does the beach vibe of Cape Town appeal to you?
I think you get where I am going with this. Depending on your interests, we may recommend a very different part of the city.
Our Guide to the Different Areas or Neighbourhoods of Cape Town
We know that the diverse areas of Cape Town can be confusing, especially to the first-time visitor.
So below I summarise the advantages (and disadvantages) of each part of Cape Town. Follow the links to each area so that you can see more pictures and hotels.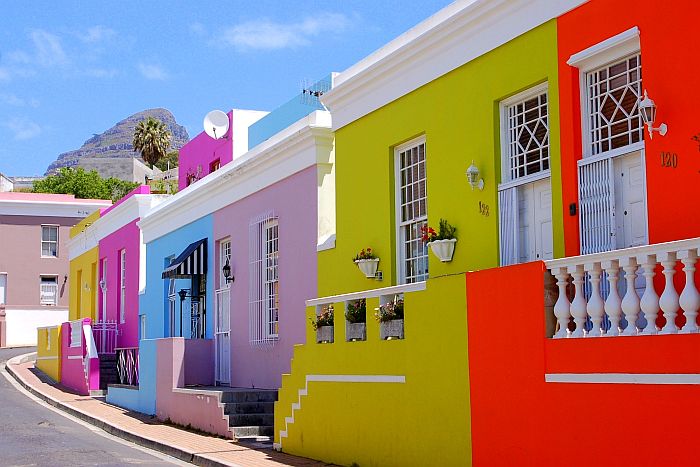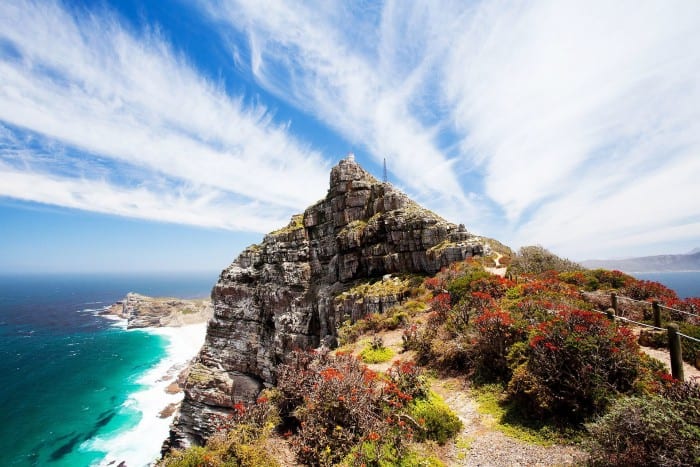 1) Areas of Cape Town – V&A Waterfront
Type of Hotel: All medium to large hotels
The V&A Waterfront is the perennial favourite of 1st-time visitors. Hotels, shops and restaurants all conveniently in the same place. Great for some people but definitely not all!
Good for
Robben Island trips
Boat cruises into the bay
Lots of (touristy) restaurants
Zeitz MOCAA gallery
Extensive shopping
Relatively safe (beware pick-pockets as in any large city)
Reasonably central to the city (Markets, Museums, Galleries)
Not so good
Traffic congestion getting in and out of the Waterfront
Lots of people everywhere
It's not a neighborhood so lacking in Cape Town character
Could be in various parts of the world!
Only one boutique option (The Dockhouse)
Touristy, so hotels and restaurants are more expensive than elsewhere, for the same quality
Some of our favourite places to stay in the V&A Waterfront: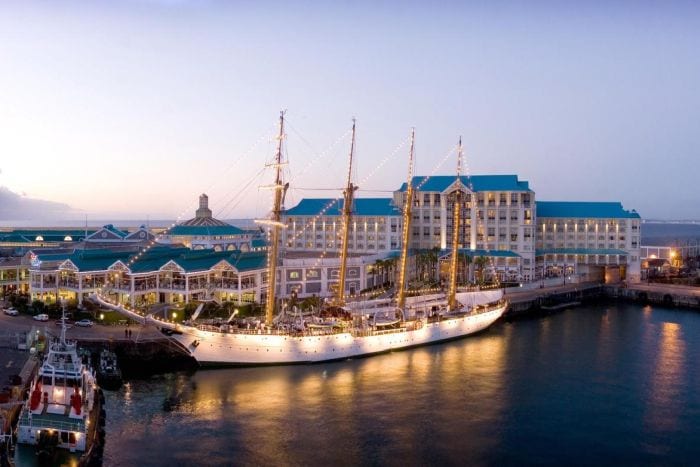 The Table Bay Hotel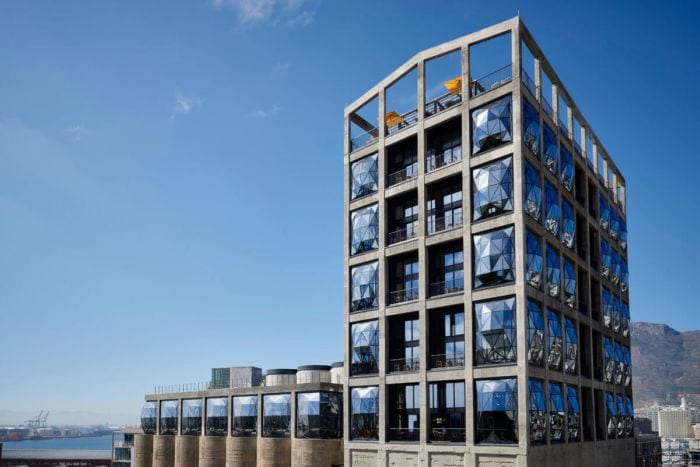 And of course the stunning Silo Hotel…
2) Areas of Cape Town – The City Centre
Type of Hotel: Medium to large hotels
The city centre has seen a revival in fortunes in the last 10-15 years with a number of new hotels, led by the Taj Cape Town.
Good for
MOST accessible to the full variety of Cape Town attractions.
Walking distance to markets, museums and galleries.
Many of the top restaurants are here.
City vibe and naturally great for nightlife.
Taxis and Ubers come within 2-3 minutes.
Not so Good
Traffic noise, if staying in lower hotel floors.
Evening walking is not recommended for solo travelers or couples.
Some of our favourite places to stay in Cape Town city centre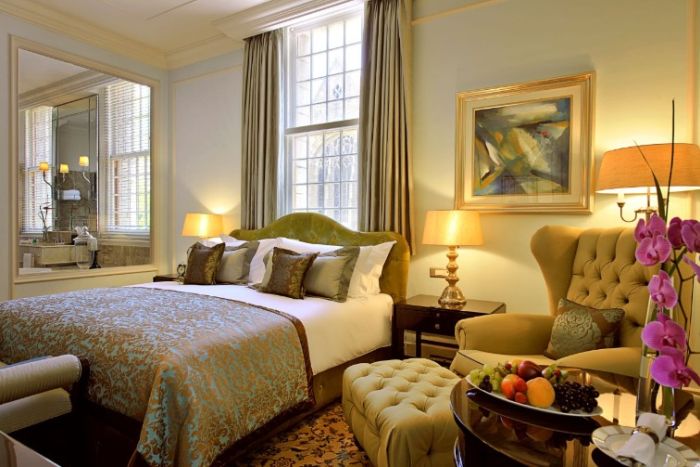 The Taj Hotel, Cape Town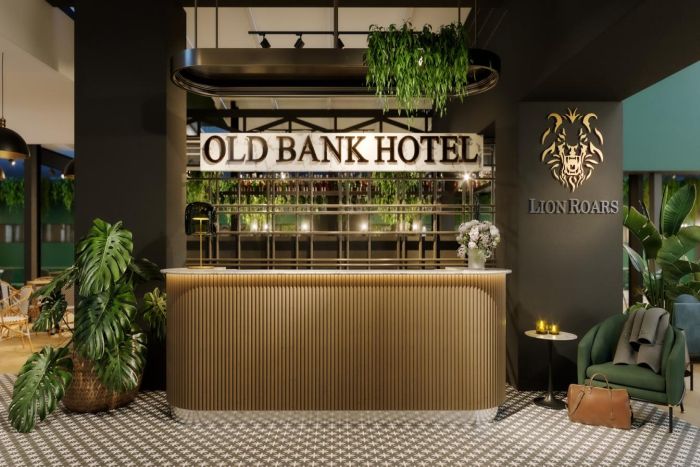 The Old Bank Hotel
3) Areas of Cape Town – the City Bowl
Type of Hotel: Mostly small boutique hotels, except for the Mount Nelson
The 'City bowl' generally refers to the quiet, leafy residential areas close to the city centre just below Table Mountain. But naturally there's some cross-over. The area around Kloof Street shares some of the vibe of the city centre and you can walk to some of the city centre sites.
Good for
Closest to Table Mountain.
Easy Access to the city centre, Waterfront (15 mins), and Atlantic beaches (15 mins).
Many local eateries and quick access to cafes and bars of Kloof Street.
Mostly small boutique hotels.
Not so Good
Some hotel options are just a little too far to walk to Kloof Street.
Too quiet for some.
Some of our favourite City Bowl Boutique Hotels
4) Areas of Cape Town – Constantia & Newlands
Type of Hotel: Mixture of small guesthouse to small/mid-sized hotels
Constantia is a very prosperous semi-rural area of historic Cape Town with plenty of wine estates, restaurants. Interestingly its list of advantages is longer than most other areas. So it's worth thinking about!
Note: Newlands (e.g. The Vineyard) is closer to the city centre and so it shares some of the characteristics of Constantia but also the City Bowl.
Good for
Easy access to Kirstenbosch (10 mins)
Cape Town wine-estates (if not visiting the Winelands)
Much shorter Cape Peninsula day (as save 60 mins of driving overall).
Very picturesque
Mix of Town and Country
Great for Active people (hikers and mountain bikers).
Some of Cape Town's top restaurants are here.
Great Golf Courses.
Not so Good
No big city vibe here.
25 to 30 mins drive to the City centre or Waterfront. And you need to avoid the rush-hour times (7 to 8am in morning and 4.30 to 5.30pm in the afternoon) as otherwise it can be longer!
Some of our favourite hotels in Constantia & Newlands:
5) Areas of Cape Town – Atlantic Coast
Type of Hotel: Mixture of small guesthouses, small/mid-sized hotels & private villas.
We love the upmarket beach resort vibe of Atlantic Seaboard side of Cape Town. It is so different from the rest of the city with lots of beachside restaurants and bars.
Good for
Beaches
Sunsets
Beach Resort Vibe with ocean-side restaurants
As accessible to Table Mountain as the city centre and closer than Waterfront
Hiking on Table Mountain via the Twelve Apostles side
Not so Good
Overall probably the least accessible area of the city (if include the airport), even though Constantia is a little further out.
Can be very windy in summer
Cold sea-water!
Our favourite places on the Atlantic:
5) And the Cape Peninsula
The Cape Peninsula is broadly the area from Chapmans Peak Drive through to Nordhoek, Kommetjie and then around to Simonstown and Kalk Bay. These are actually little towns with their own quirky personalities, little eateries and boutique shops. And you can't really call it Cape Town as the driving distances starts to be noticeable (e.g. 45min to well over an hour to get to the city centre).
But if you have enough time, it's worth spending a couple of nights here as well, as the settings are magical.
Thinking of staying in Cape Town?
So many properties to choose from! Not sure where to start? Chat to us, we can help you!
Contact Us
Conclusion: Do I really want to stay in the Waterfront?
So back to that question: Do you really want to stay in the Waterfront?
Not necessarily. The best area to stay in Cape Town is the one that is right for YOU. Not the place that your book club friend recommended because that's where they stayed.
Yes most people will probably want to visit the Waterfront for half a day. Perhaps to enjoy a boat cruise, go to the Zeitz MOCAA or enjoy a waterside lunch. So by all means VISIT the place. But you may want to stay somewhere else?
Places to stay in Cape Town