Overview
Set in 6 acres of established gardens with views to Table Mountain
One of the most established hotels in Cape Town
Stylish contemporary bedrooms with glamorous bathrooms
Serene pampering Banyan Tree spa and wellness centre
Walking distance to the upmarket boutiques of the Cavendish centre
The Vineyard Hotel is one of the original Cape Town hotels and offers a delightful alternative to staying in the city centre. (Cape Town is a city of several discrete areas each with their own attractions and so the city centre is not necessarily where you want to be). This vibrant hotel lies in 6 acres of garden with rolling lawns and established trees has an excellent location in the leafy Newlands area only 15 mins from the city centre & V&A Waterfront yet closer to Kirstenbosch gardens and wine estates of Constantia. The hotel terrace and gardens, complete with trails along its river frontage, have glorious views over the forested slopes of Table Mountain.
The 200 year old Vineyard Hotel oozes with history with many original letters and paintings of its first owner, Lady Anne Barnard, on display in the public areas. However why we like the four star Vineyard Hotel so much is the seamless combination of an established hotel, which runs like a well-oiled machine - with new contemporary styling - in the bedrooms and in the two restaurants. The original foyer leads into the conservatory restaurant, the Square, for breakfast, lunch and relaxed evening dining with a focus on sushi and Asian dishes. Beyond the conservatory are the various sitting rooms and bar with French doors opening onto the expansive terrace overlooking the gardens and Table mountain - also the venue for alfresco breakfasts and lunches. The hotel also has Myoga Restaurant, one of the best restaurants in Cape Town, renowned for its contemporary fusion style of cooking with a superb tasting menu on offer.
Accommodation
The hotel is filled with works by leading South African artists and offers a choice of either Mountain facing or Courtyard facing rooms (standard or deluxe rooms with a terrace), or the contemporary and luxurious River Suites. All offering dressing gowns, tea & coffee facilities, minibar on request, satellite television, telephone, international computer connections and sockets, 24 hour room service as well as glamorous modern marble bathrooms with separate shower. Families are welcome at the Vineyard Hotel with one extra child being able to share with parents and a small number of inter-leading rooms.
At the south end of the hotel gardens is a large outdoor swimming pool. Adjoining the pool area is the hotel's well-equipped fitness centre, indoor heated pool, healthy eating restaurant as well as the superb Angsana spa. Its full range of treatments is very popular with hotel guests and locals alike so we strongly recommend that booking ahead to avoid disappointment.
The Vineyard Hotel is well-positioned to enjoy all the delights of Cape Town. It's easy to get to the city centre and the V&A Waterfront whilst the Kirstenbosch botanical gardens are close by and the Constantia wine estates lie only 10 mins drive to the south. We recommend that you take a rental car or engage a private guide. However the Vineyard also offers complimentary shuttles to the stylish Cavendish Square with its up market boutiques and to local restaurants, though it's only a five minute walk.
Vineyard Hotel & Spa gallery
Vineyard Hotel & Spa on the map
Rooms
Courtyard Facing
Overlooking shady courtyard gardens, Courtyard Standard single and double rooms have a bathroom with separate shower and bath and are furnished in contemporary style, some with original Cape-style wood furniture. Each room is equipped with a flatscreen, a hairdryer, complimentary tea & coffee making facilities and wall safe.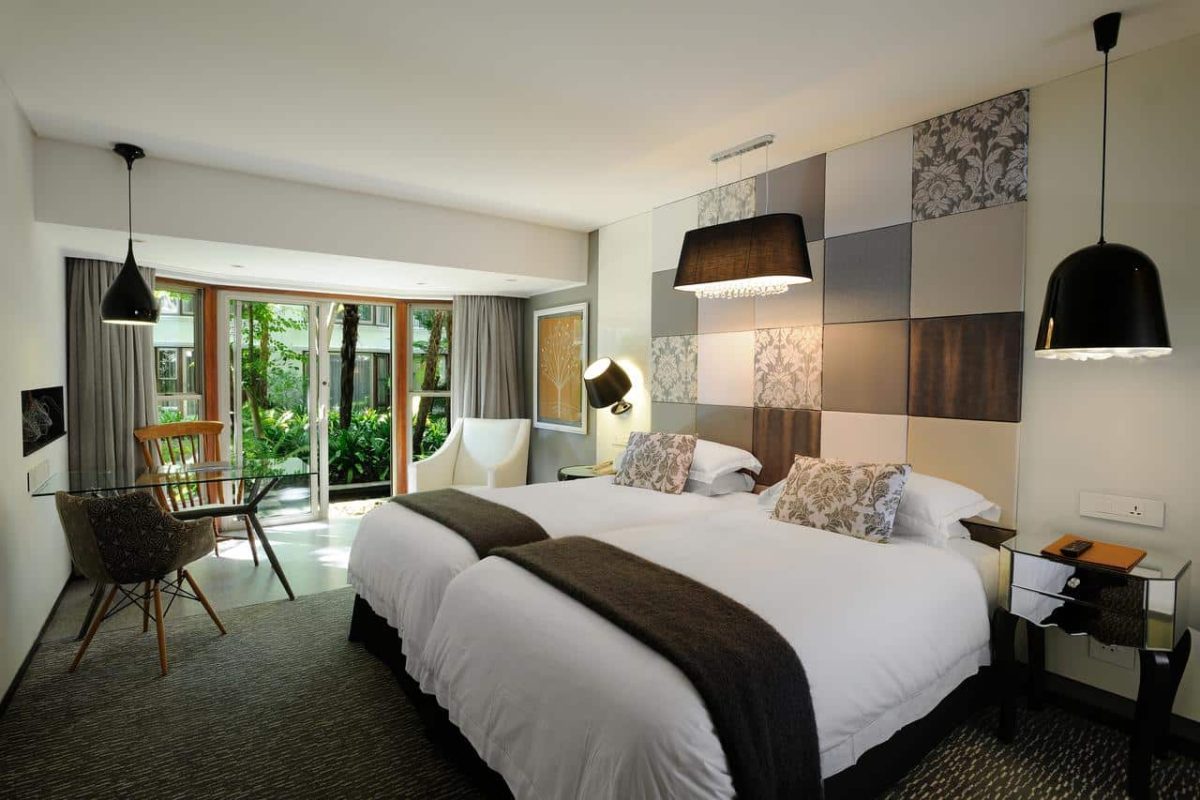 Courtyard Deluxe
With views, or private patio access to lush tree-ferned gardens, these spacious Courtyard Garden Deluxe rooms have bathrooms with separate bath and shower. They feature softly styled décor with local wood and stone. Each room is equipped with a flatscreen, a hairdryer, complimentary tea & coffee making facilities and wall safe.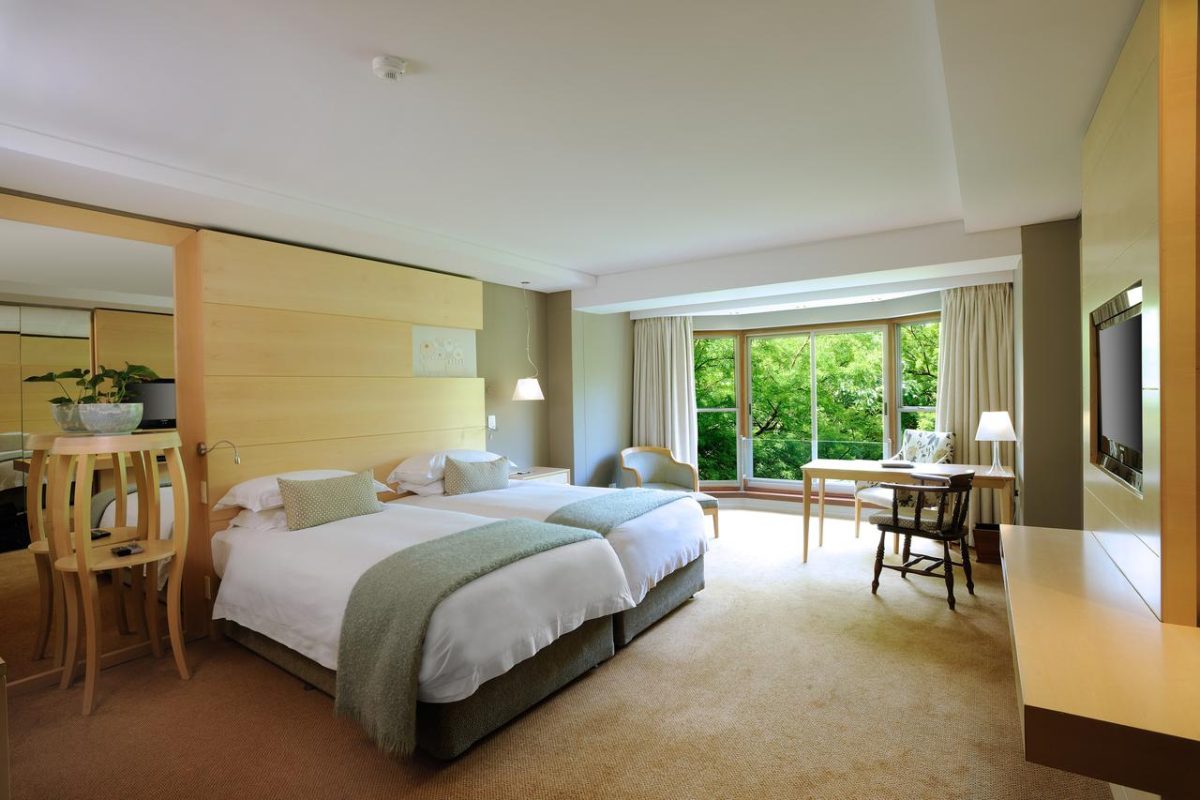 Mountain Facing
On the 2nd/3rd floors, Mountain Standard single or double rooms overlook our gardens with the eastern slopes of Table Mountain as backdrop. Bathrooms each have a separate shower and bath. Bedrooms are decorated in quiet, natural-toned neutrals. Each room is equipped with a flatscreen, a hairdryer, complimentary tea & coffee making facilities and wall safe.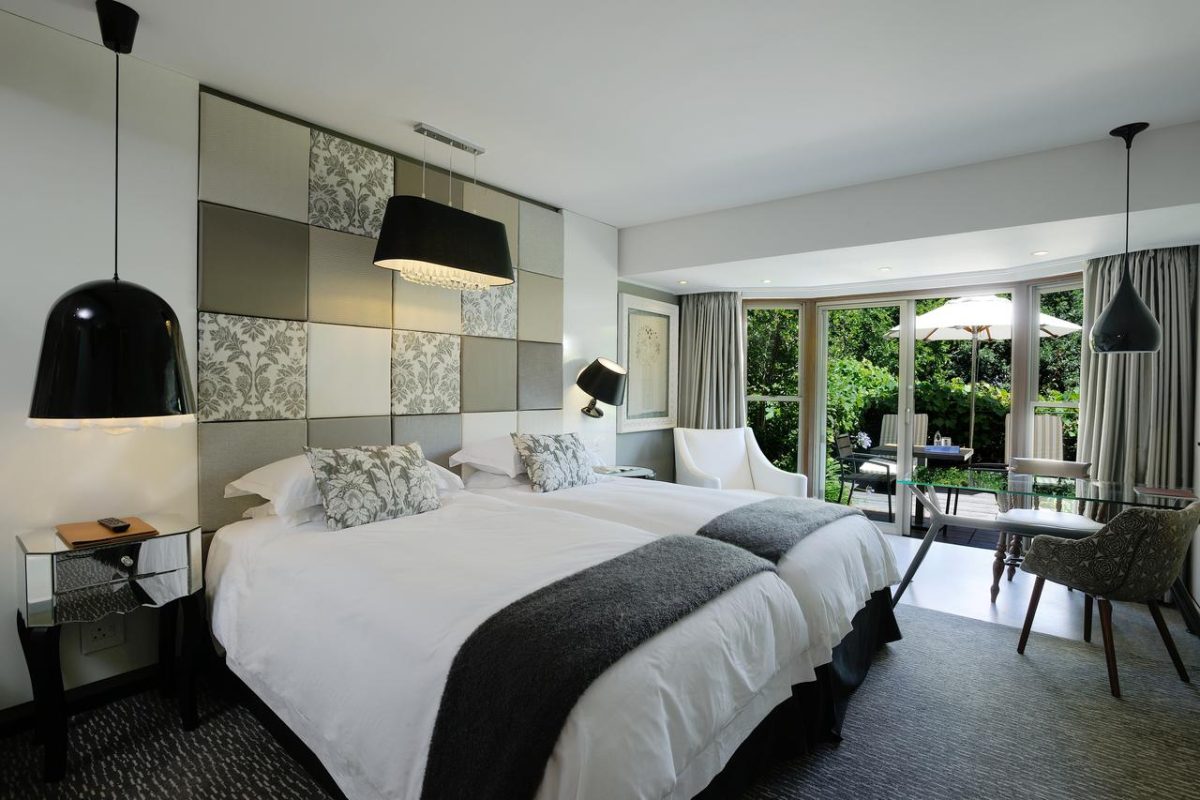 Mountain Deluxe
Similar to Mountain Facing rooms but with a larger bedroom (approximately 26 sqm) and sliding doors opening on to its own balcony /patio where guest can sit outside admiring the spectacular view of Table Mountain.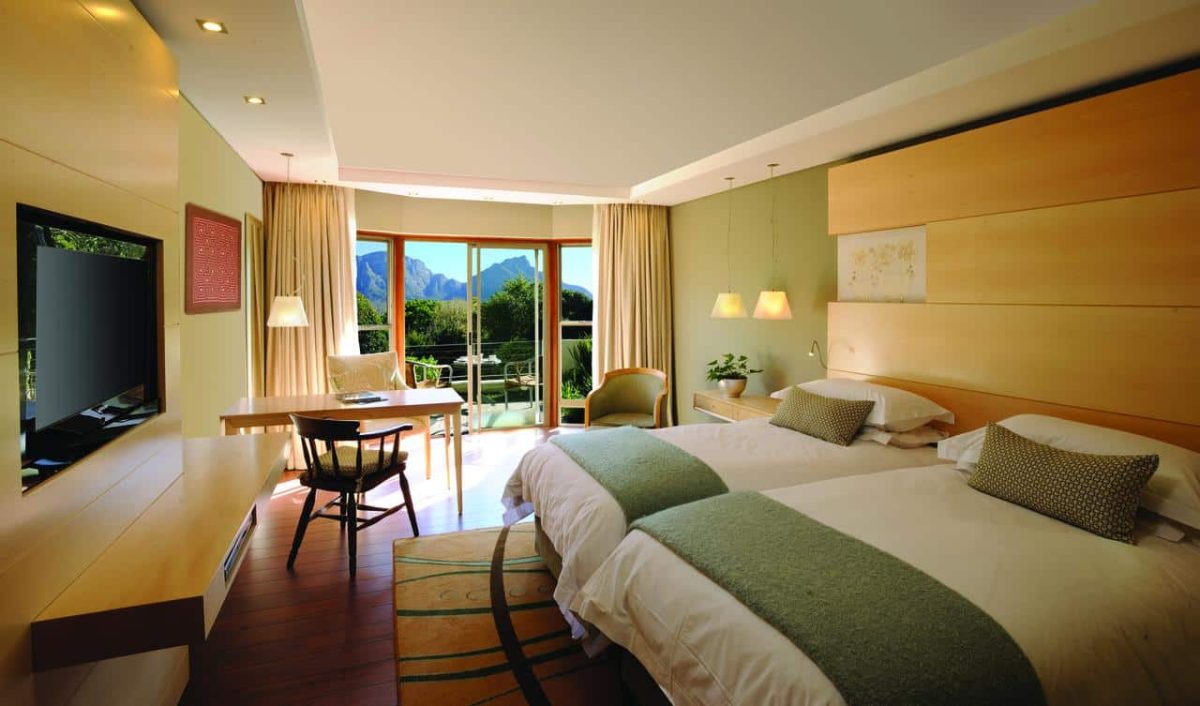 Junior Suites
At the north end of the estate, Garden Junior Suites are restfully styled spaces with deluxe bathrooms with separate showers and baths. The bedrooms step down to cosy lounge areas and private garden patios. Each Junior Suite is equipped with a flatscreen, a queen bed, a hairdryer, a wall safe, Nespresso Coffee Machine and DVD player.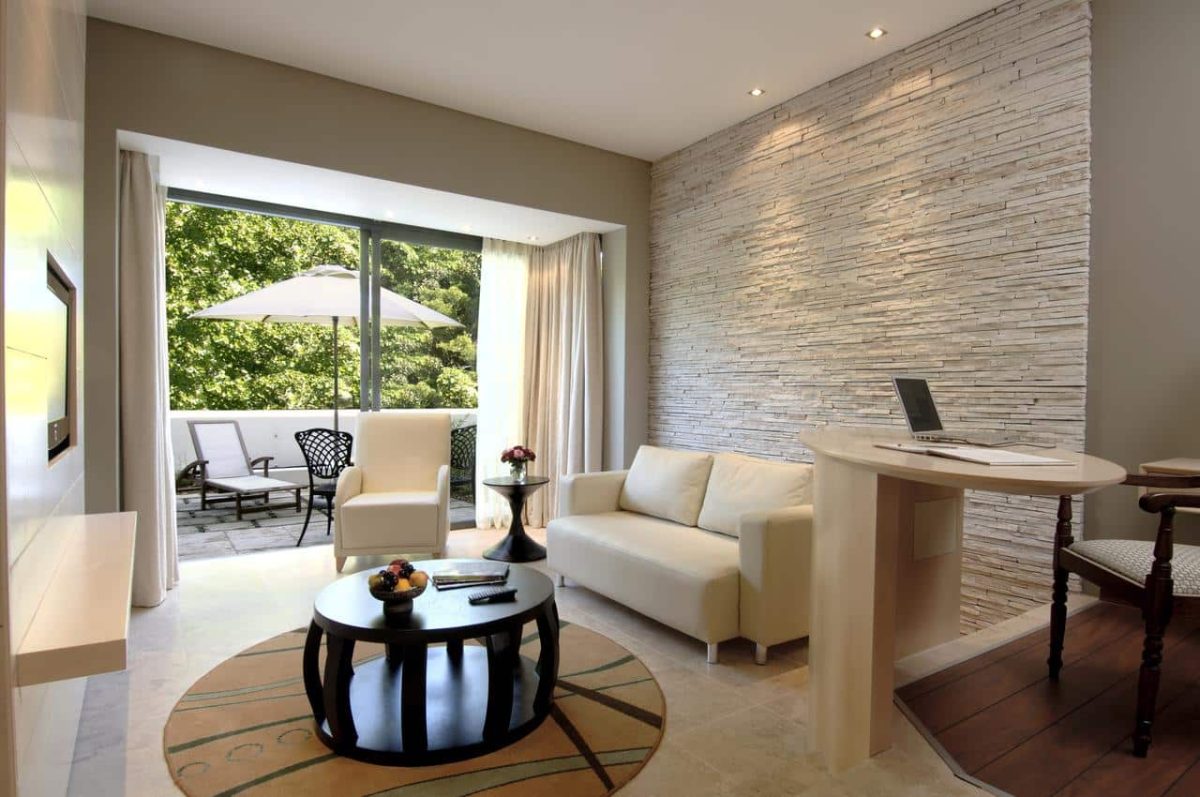 Mountain Deluxe Suite
Choose from seven newly-designed deluxe suites on the north side of the estate with a spacious balcony overlooking the gardens and mountains.
ROOM DETAILS
King or twin beds
Balcony with table, chairs, loungers
Separate lounge with six-seater dining table
Refreshment counter
Nespresso coffee station
Complimentary luxury items
En suite bathroom
Total size of 85m²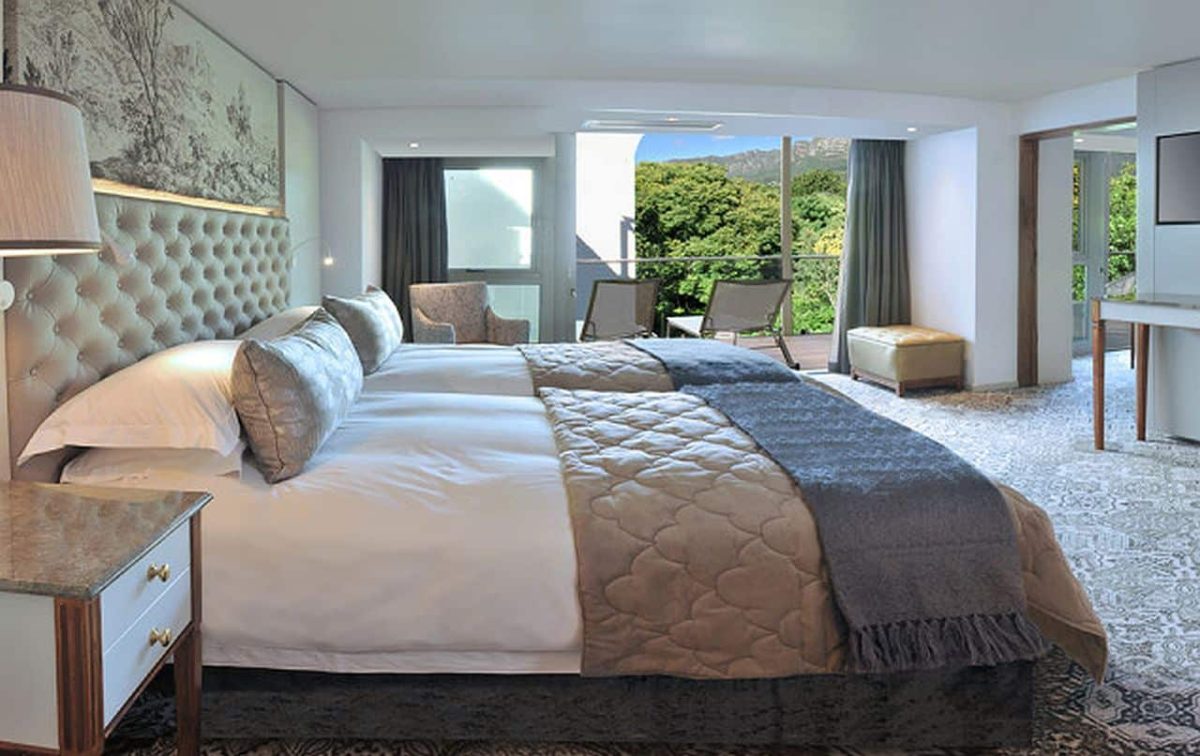 Garden Suites
Located at riverside near our spa, River Suite has patio access, a deluxe bathroom with a separate shower and bath, and an open-plan bedroom and a lounge area styled in rich colours and dark woods. The Suite is equipped with a flatscreen, a queen bed, a hairdryer, wall safe, Nespresso Coffee Machine and DVD player.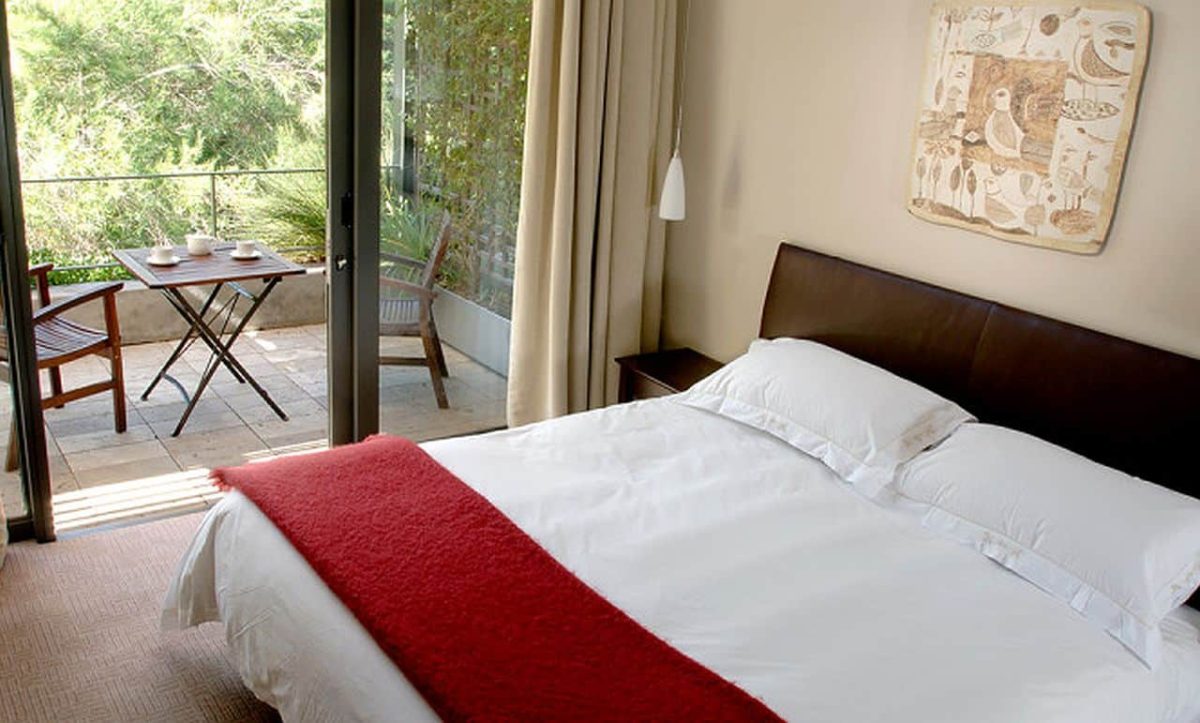 Apartments
The Vineyard apartments are self-catering with 2 bedrooms, 2 bathrooms, kitchen, dining and living room and are absolutely ideal for families or guests wishing to stay for a long period of time in Cape Town and still enjoy all the benefits that The Vineyard Hotel has to offer.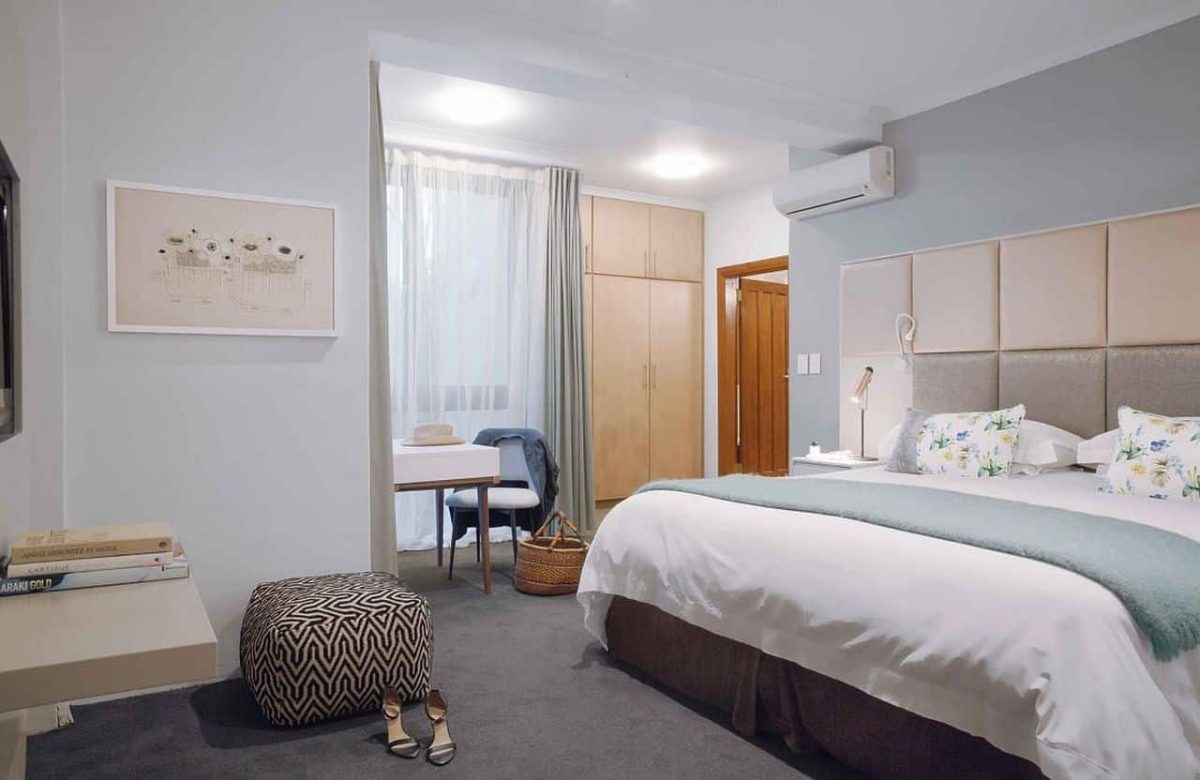 Deluxe Apartments
Choose from 3 eco-friendly, contemporary deluxe apartments that are perfect for family visits and longer stays. The deluxe apartments feature generous-volume interiors and large picture windows looking out to the banks of the Liesbeek River and the Mountain. Key technologies were incorporated to ensure reduced resource consumption and to meet Green Star building standards.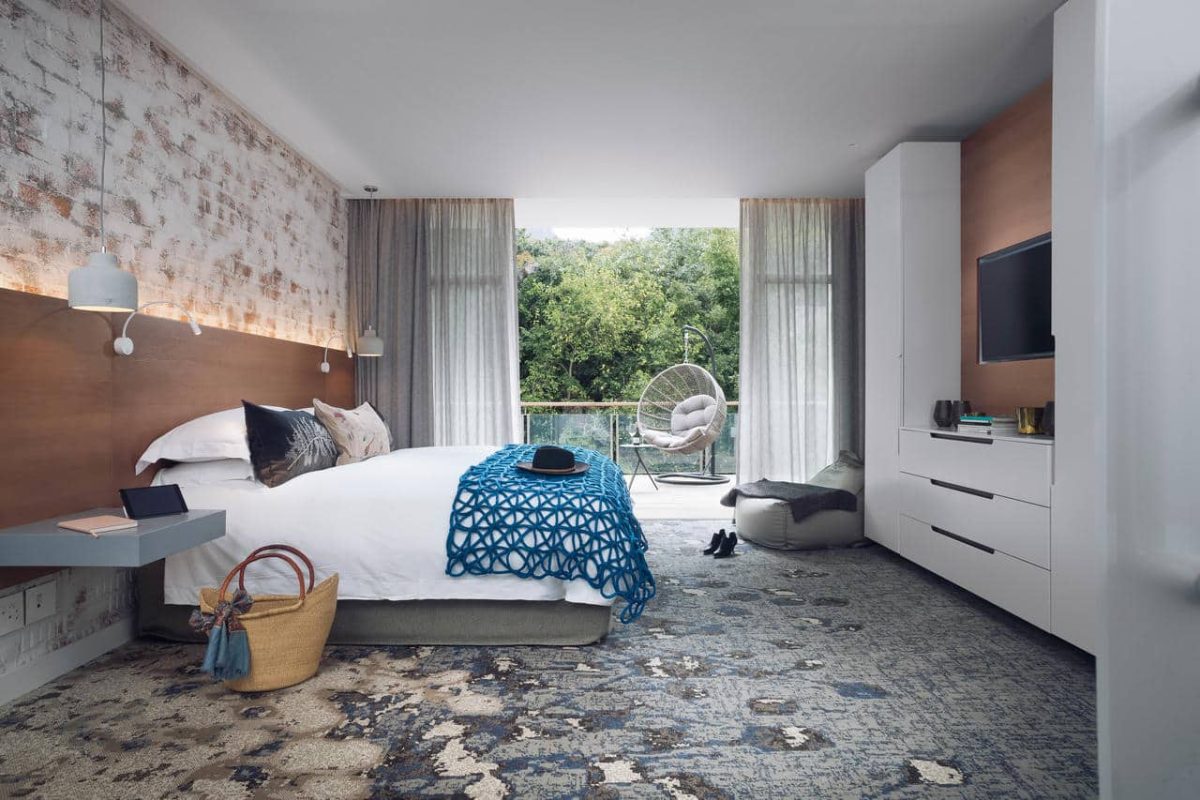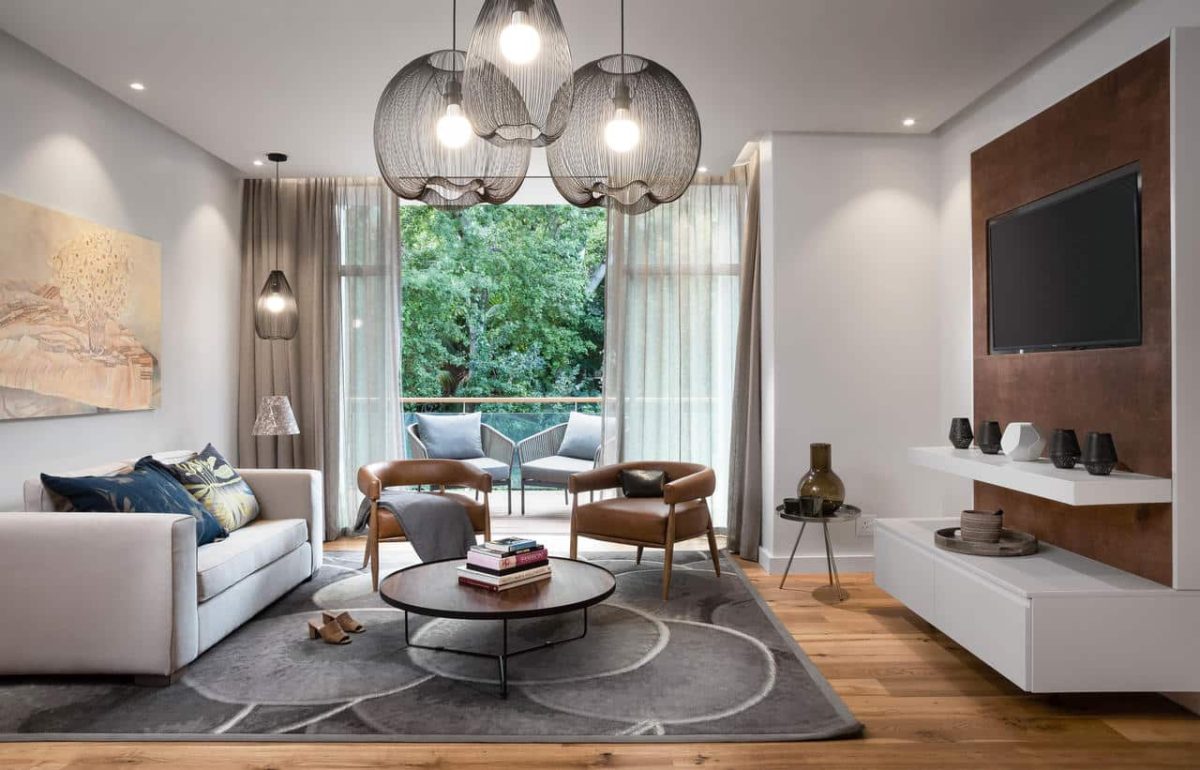 Special offers
Winter Offer
Stay 3+ nights and get 15% off your room rate
Stay 2 nights and get 15% off your winter room rate