Overview
Superb location on the West Quay overlooking the yacht marina at the V&A Waterfront
One of the most refined hotels in South Africa
Acclaimed restaurant and whisky bar
Known for its impeccable and discreet service
Africa-inspired spa and wellness centre with views to Table Mountain
A harmonious blend of traditional elegance and contemporary luxury, the Cape Grace Hotel is perfectly positioned on the yacht marina of the V&A Waterfront in Cape Town. The Cape Grace has something of the atmosphere of a country house hotel with friendly staff, attention to detail and unobtrusive service. It enjoys the colourful activity of the working harbour on one side, and the serene tranquility of the yacht marina on the other with its own bridge connecting to the vibrant shopping and restaurant area of the Waterfront.
Accommodation
Well-appointed, exquisitely detailed and luxuriously comfortable, all 120 rooms and suites have stylish interiors inspired by Cape Town's heritage and floral kingdom. All have French doors inviting Table Mountain and maritime views in; as well as sitting area, walk-in dressing room, air-conditioning, TV, telephone, wifi access and minibar.
The hotel's acclaimed Signal restaurant is a vibrant combination of seamless service, relaxed atmosphere and culinary flair, reflecting a modern South African influence. Tasting menus including a vegetarian option are available, paired with wine if you choose. The Bascule Whisky Bar & Wine Cellar on the water's edge provides the ideal setting in which to sample the largest collection of whiskies in the Southern Hemisphere, whilst the comfortable well-stocked library is the perfect place to chat, read, or enjoy traditional afternoon tea with home made pastries and scones.
Other facilities include the enticing African-inspired Spa, the heated outdoor swimming pool and the Platandia boutique, show casing diamond, platinum and tanzanite jewellery.
The Cape Grace Hotel offers special services such as complimentary wine-tasting, personalised picnic baskets for a trip to the beach or an evening concert in Kirstenbosch Gardens, romantic touches for honeymoon couples, even an in-room gym service complemented by a specially designed Health Menu is offered for all guests. Children of all ages are made to feel especially welcome with gifts, evening bedtime stories in the library and special family experiences.
The impeccable, yet friendly, service and refined taste throughout the hotel makes the Cape Grace Hotel one of the best choices for Cape Town & the Waterfront.
Cape Grace Hotel on the map
Rooms
Luxury Room
Enjoy captivating views of Cape Town's bustling working harbour from our spacious Luxury rooms – conveniently situated on the, 1st, 2nd and 3rd floors of the hotel. With French doors, a dressing area and reading nook; each room is designed to create a welcoming ambiance of old-world serenity. The hand-crafted decorative touches are themed around our local flora and cultural heritage – inspiring travellers from both near and far. Luxury rooms can also be booked with inter-leading doors – a great feature for families or larger groups.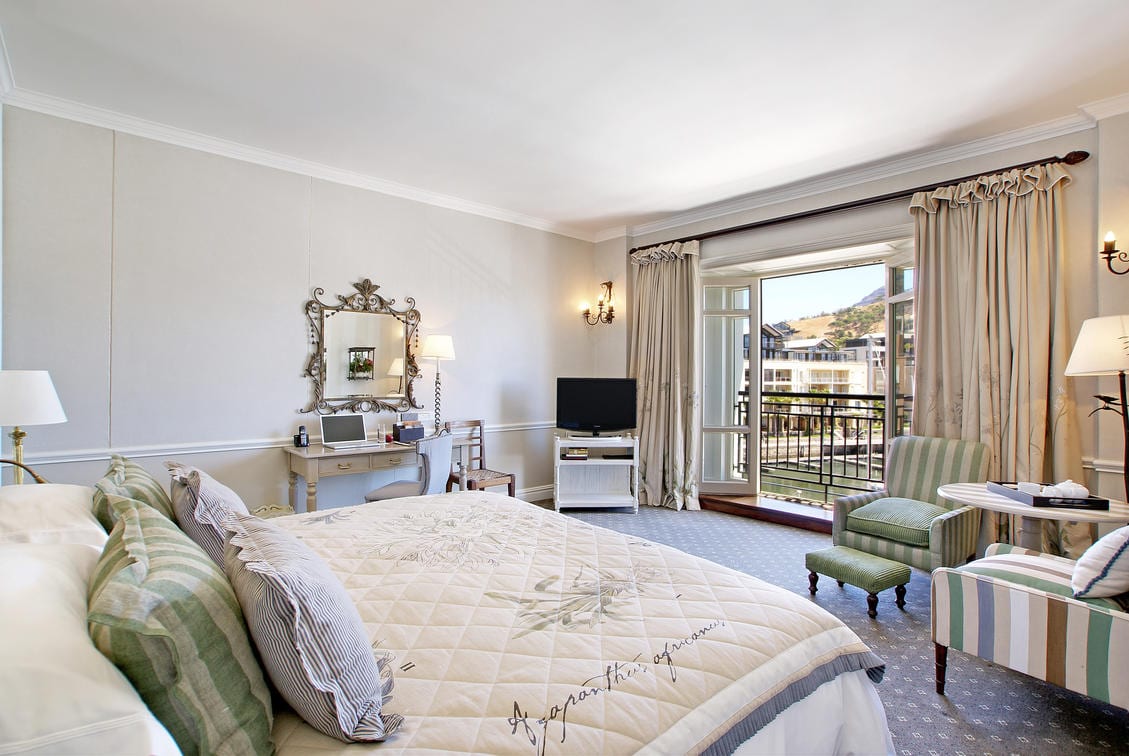 Table Mountain Luxury Room
Our Table Mountain Luxury Rooms boast glorious views of the iconic Table Mountain, Signal Hill or the international yacht marina – for those who wish to soak in the beauty of Cape Town's best features. We invite guests to enjoy our warm and elegant rooms with personalised details such as an intimate reading area complete with our guests' own book selection. Our Table Mountain Luxury Rooms are suitable for families and larger parties as inter-leading rooms are available on request.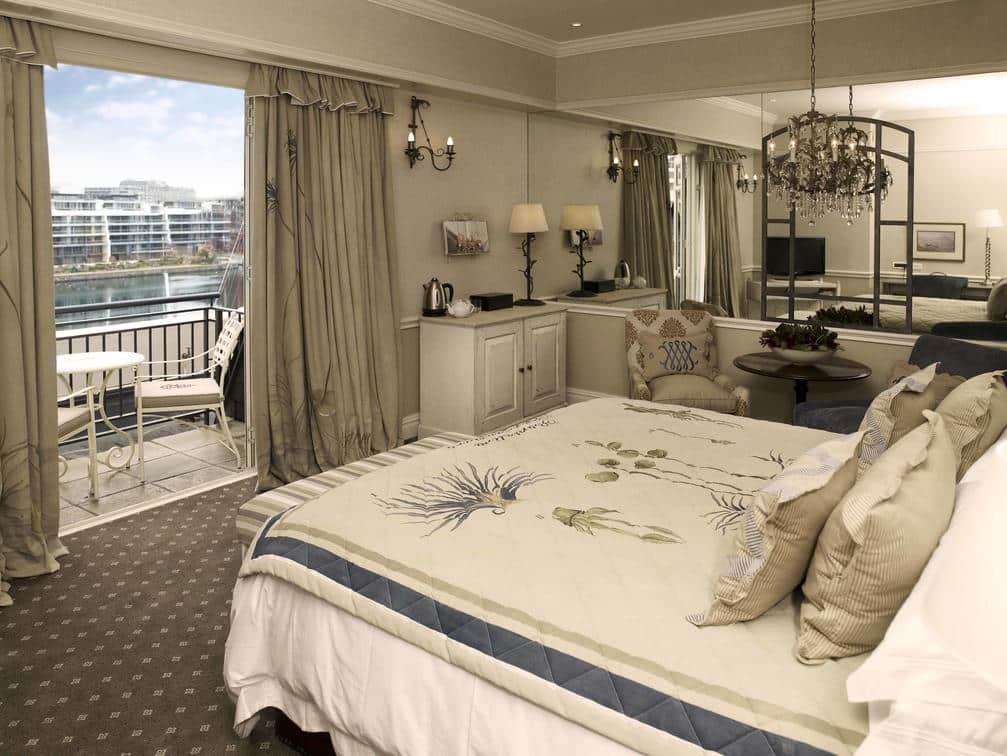 Superior Room
Dappled light from the bustling working harbour adds a special ambience to our Superior Rooms. With a generous step-out balcony from where to enjoy the sights and sounds of the V&A Waterfront, the abundant room size and walk in closet makes Superior Rooms ideal for young families. The fold-away sofa coupled with story-time and gingerbread painting ensures comfort and entertainment for the little ones, while the fresh flowers, personally selected books and a private mini bar add a signature touch of luxury.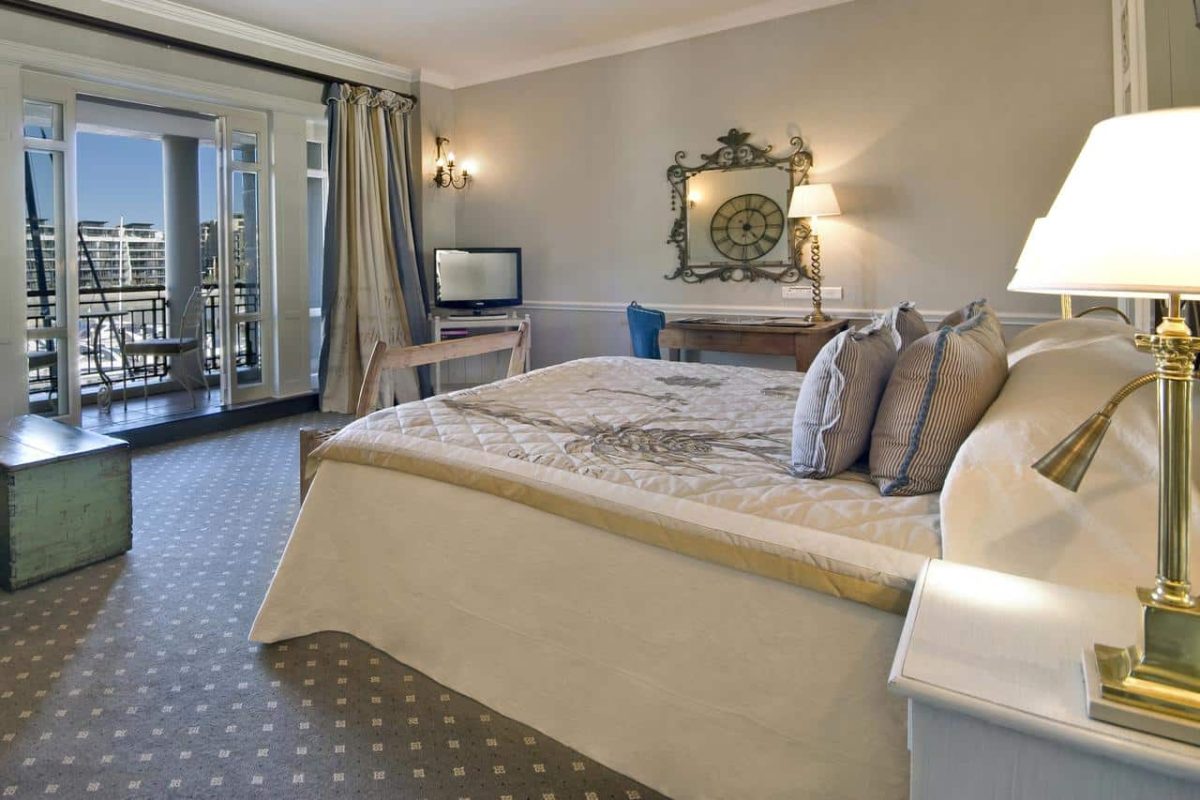 Table Mountain Superior Room
Boasting views of Cape Town's iconic Table Mountain and the V&A Waterfront's tranquil yacht marina, our Table Mountain Superior Rooms offer a generous step-out balcony perfect for leisurely breakfasts or sundowners. The ample room space and walk in closet makes these rooms ideal for family vacations or romantic getaways. Enhance the occasion with special touches like champagne on ice, scented candles, artisanal chocolate platters and ambient dining in Signal Restaurant – all designed to help create truly memorable moments.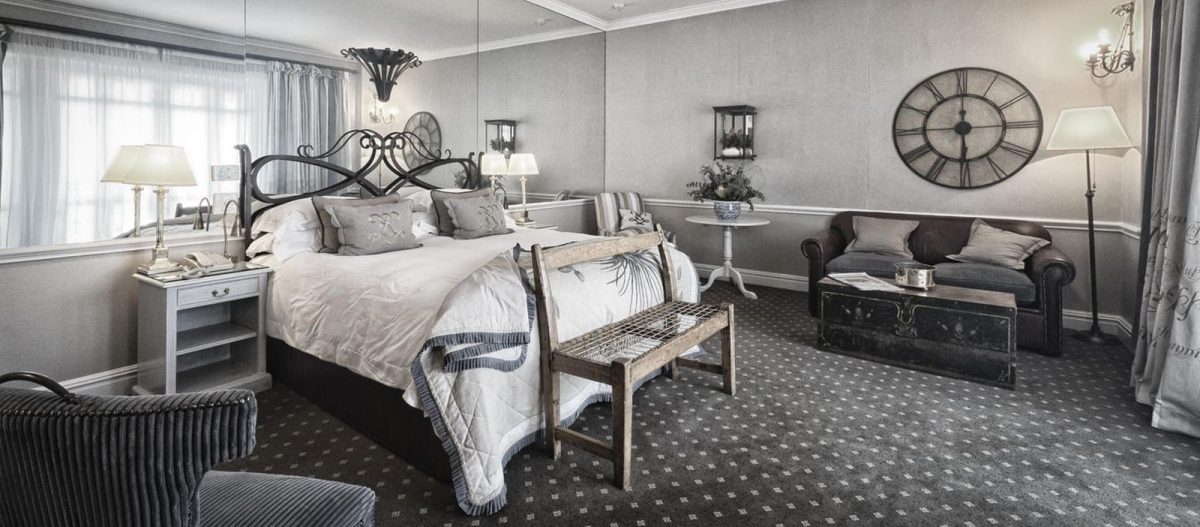 Rooftop Luxury Room
With postcard-worthy views of Cape Town's working harbour, yacht marina or Table Mountain, our Rooftop Luxury room offer guests seclusion and serenity. Situated on the top floor, away from the hustle and bustle below, each room is designed to feel like a private retreat – perfect for those looking to escape from it all. Exhale and enjoy a personalised selection of books in a softly-lit reading area, a walk-in closet and the privacy of the top floor balcony. Check in with our exclusive reception – situated on the fourth floor for your convenience – ensuring that every detail of your journey with us is considered from the moment you arrive. Dip into an array of complimentary snacks and refreshments before heading out, or savour a port, sherry or refreshing local iced tea as the evening winds down.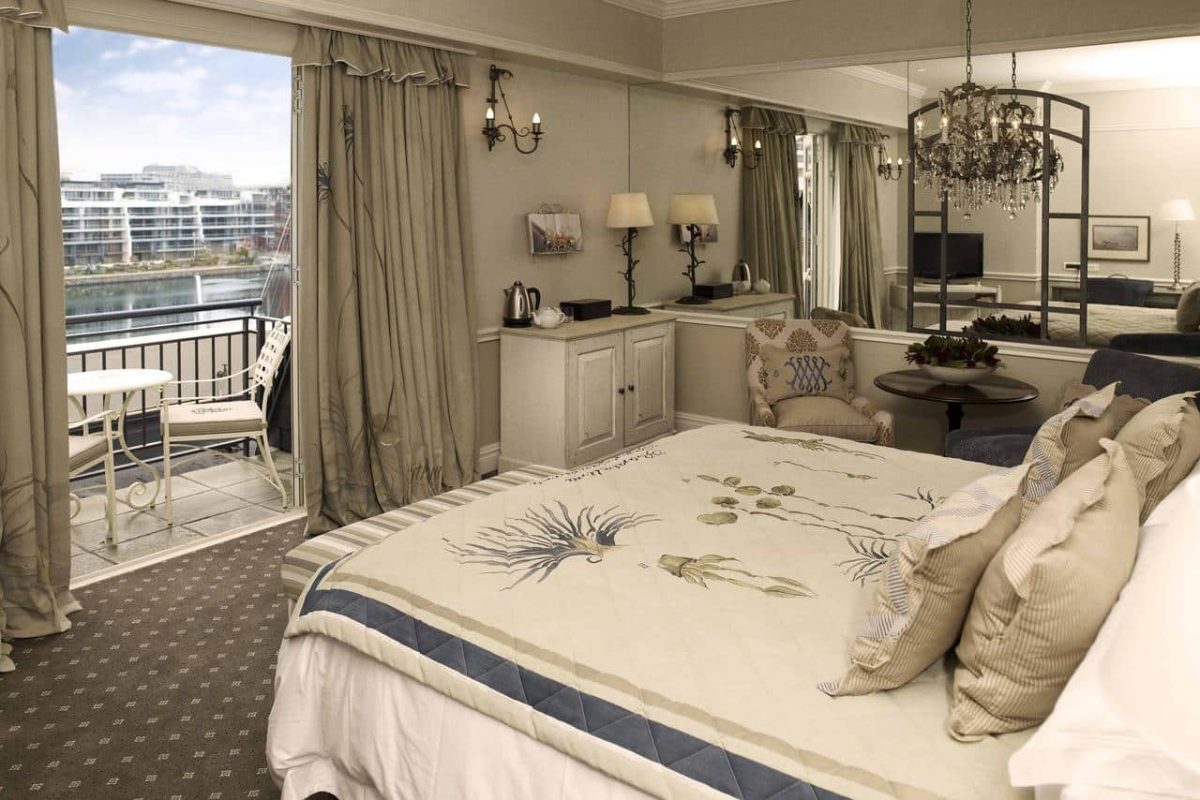 Rooftop Terrace Room
Elevate your senses and retreat from the world with the awe-inspiring views from our Rooftop Terrace room. Perfect for honeymooners or guests in search of quiet and tranquility, these top floor rooms feature French doors that open onto step-out terrace that make the most of the Table Mountain, yacht marina or harbour surrounds. Special touches like fresh flowers, a reading area with personally selected books and the luxuriously marbled bathroom complete the feeling of being on top of the world, ensconced in private comfort. To ensure that every detail of your stay is taken care of, we have an exclusive reception area directly situated on the fourth floor where you can check in and enjoy a selection of complimentary snacks and drinks available throughout the day. Refreshing ice tea, mineral water or a welcoming glass of port or sherry awaits.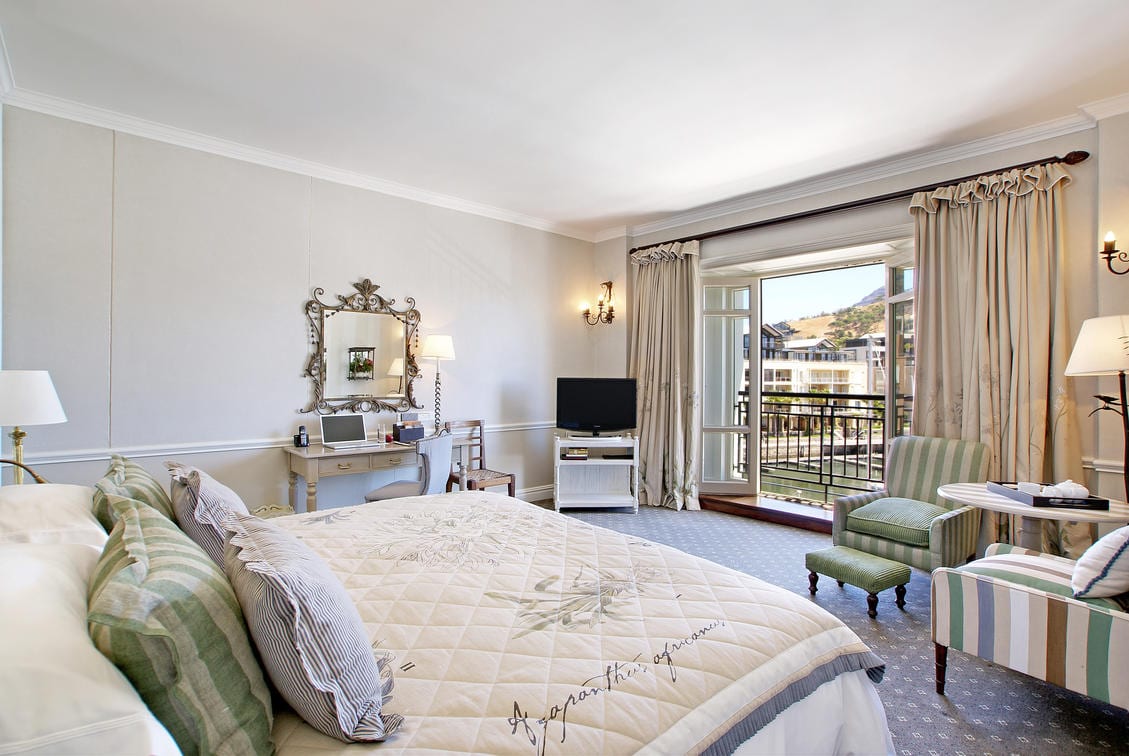 One Bedroom Suite
Celebrate a romantic anniversary or special occasion with our One Bedroom Suite – exquisitely detailed to ensure your retreat is leisurely and memorable. Curl up in the separate lounge and dining area with in-room entertainment, or enjoy the generously sized balcony overlooking the yacht marina or Cape Town's working harbour – a blissful setting for a private dining experience. Our One Bedroom Suites can be booked as inter-connecting rooms, allowing for a family or 4 guests to enjoy a shared space together.
Two Bedroom Suite
Put your feet up and make the most of your in-room downtime in our Two Bedroom Suites. The roomy balcony, luxurious home comforts, a well-equipped kitchen and sunny lounge and dining area make the collective spaces ideal for families or friends travelling together. The private en-suite bedrooms with rich furnishings and fascinating antique pieces ensure extra privacy and an indulgent stay.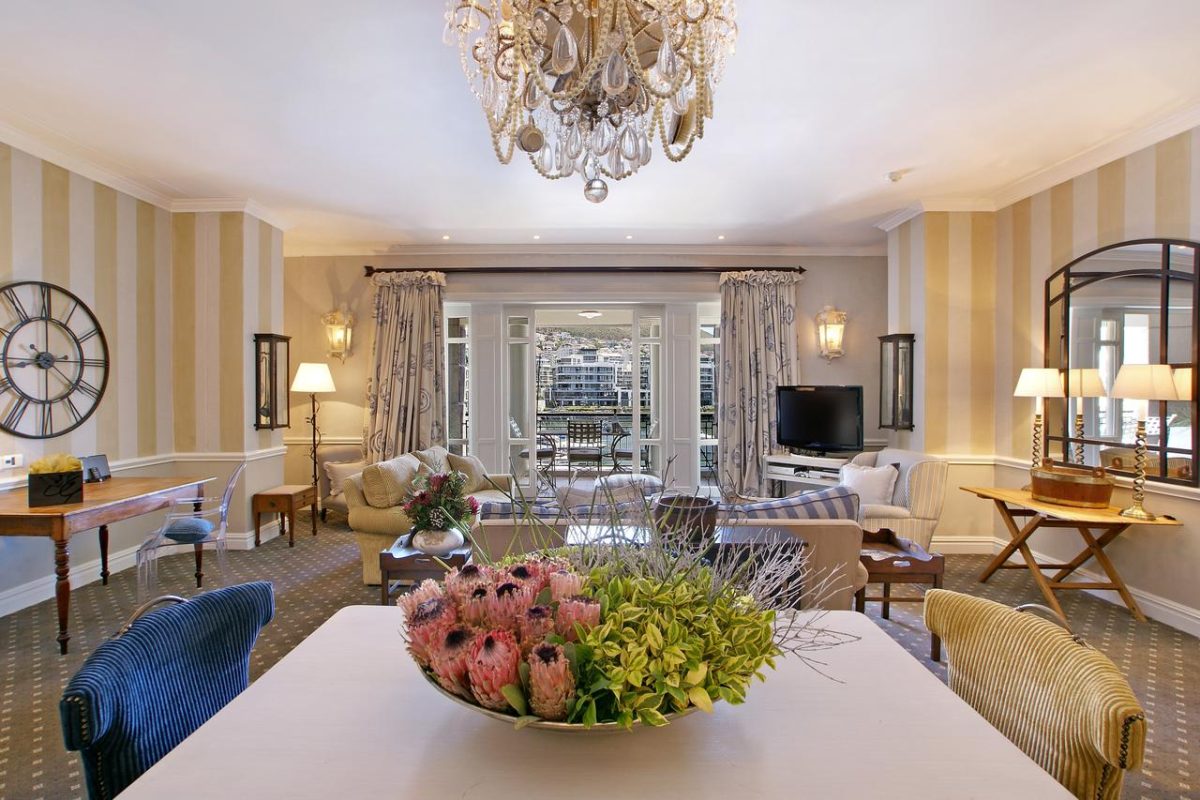 Three Bedroom Suite
Enjoy time away with family, friends or colleagues in one of our expansive Three Bedroom Suites. The three en-suite bedrooms with their own private entrances make travelling with a group easy and discrete, while the beautifully equipped kitchen area and dining room invite socialising in relaxing comfort and style. Unwind from a day out with a sumptuous dinner party or cocktails on the patio balcony, with its family-sized dining area, and enjoy the twinkling lights of the buzzing Waterfront below.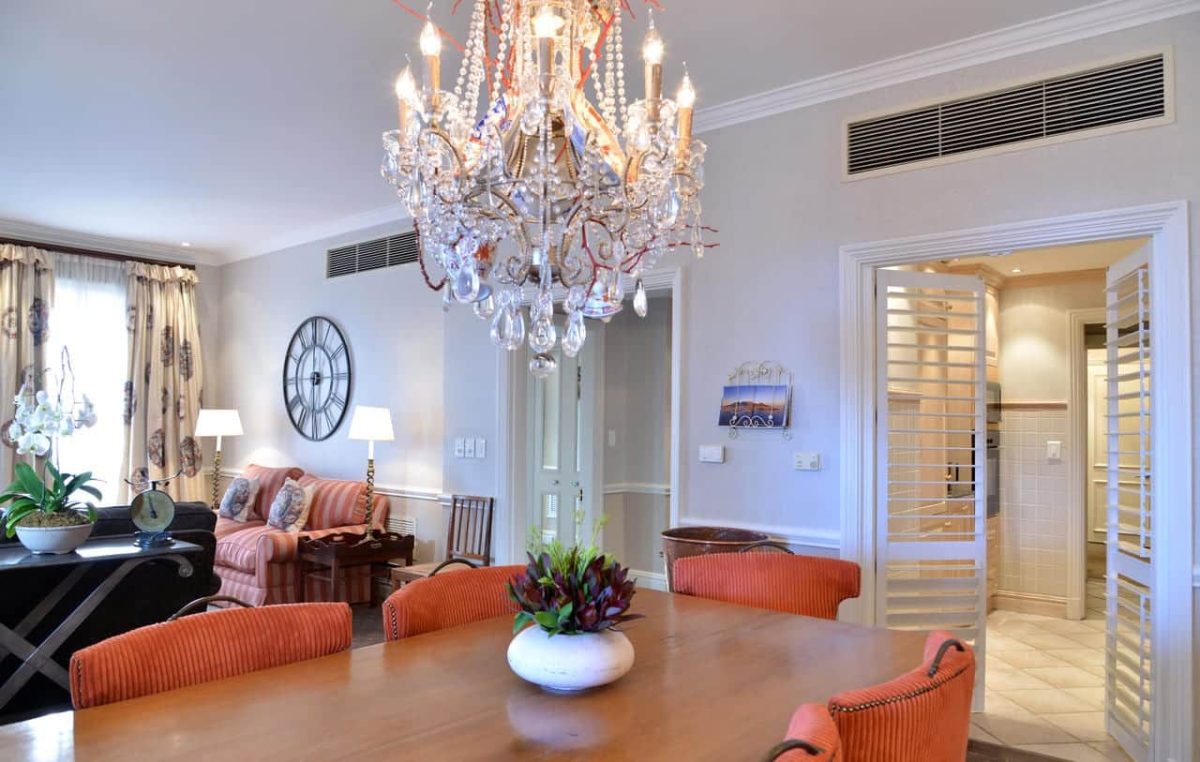 Penthouse
Situated above the marina, our two Penthouse Suites are our most exclusive offering. With wrap-around views, lavish details and tailored service, every element of the Penthouse Suite environment has been selected to offer a sense of nourishment, tranquillity and escape. Check in with our dedicated reception situated on the fourth floor, positioned to ensure that every detail of your stay is thoughtfully considered, and sample a delicious array of snacks and local refreshments made available throughout the day. Recline in the generous lounge and dining area or enjoy a drink from the complimentary mini-bar, on the private rooftop terrace with breath-taking views of the V&A Waterfront harbour. The bedrooms invite total relaxation with luxurious furnishing and a grand walk-in closet, ordered with your attire that will be carefully unpacked as part of our service. A private Jacuzzi and outdoor dining area on the terrace creates the perfect setting for romantic dinners for two; ideal for honeymoon couples or those wishing to indulge in ultimate seclusion. Penthouse Suites can be booked as inter-connecting rooms for those looking to enlarge their space, or to accommodate additional guests.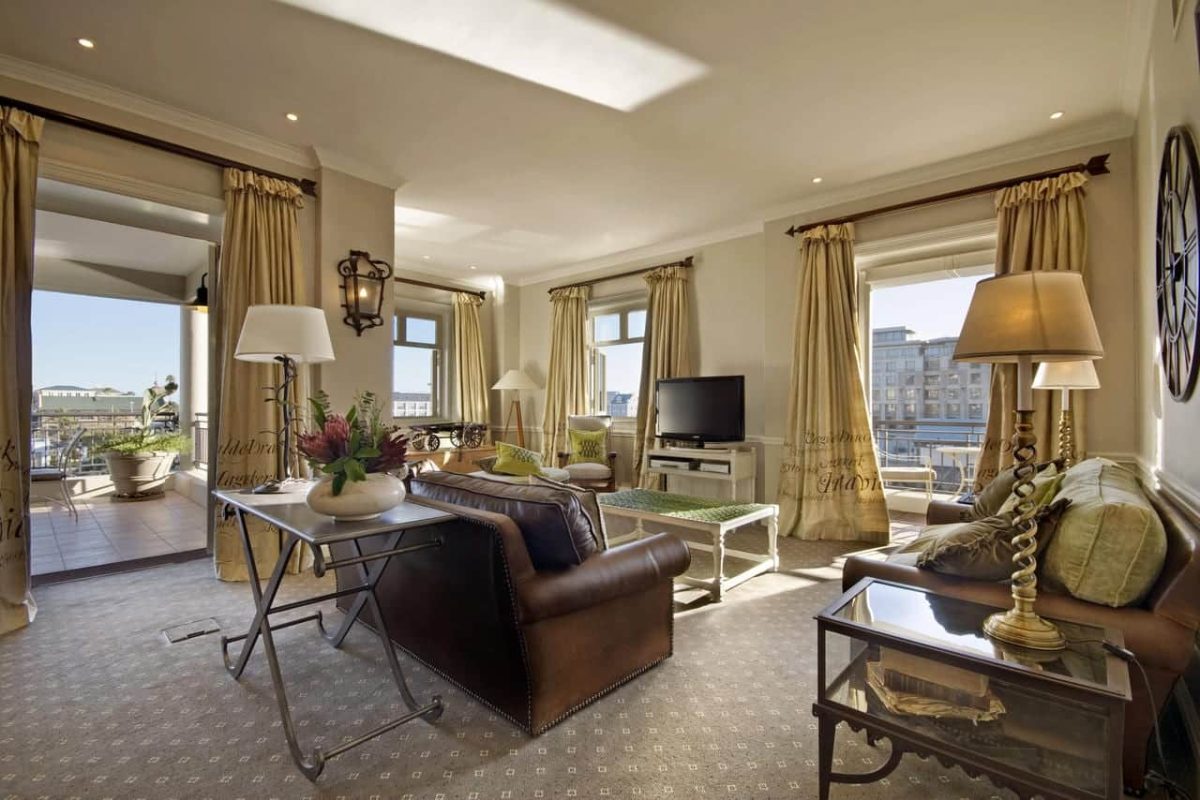 Family Suitability
Family-friendly all ages
Good For
Shopping, Watersports, Beach, Gourmet, Relaxation, Birding, Cycling, Fishing, Flora, Golf, Hiking, History & Culture, Leisure, Nature, Sports, Wine
See other options in this area