Overview
The rare and elusive Mountain gorillas live in small family groups in the high-altitude cloud forests of equatorial Africa. They live in only two areas. One is the Virunga Volcanoes which straddle Uganda, Rwanda and the Democratic Republic of Congo. The other is the Bwindi Impenetrable Forest in Uganda. We offer gorilla trekking tours to both the Virunga and Bwindi rainforests.
But their numbers declined dramatically in the last few decades of the 20th century. This is mainly due to the erosion of their habitat. However their numbers have increased by over 40% since 1989, mainly due to conservation. So now there are over 1000 mountain gorillas roaming wild.
Gorilla Trekking Tours & Conservation
Gorilla trekking tours, with small numbers of people, play a vital role in this form of conservation. It allows for a carefully managed and minimally-intrusive encounter between you and a few gorilla families. These gorillas are habituated to humans, but the encounter is still carefully regulated. Ever since the mountain gorilla research of Dian Fossy, the pioneering primatologist, people want to emulate her close encounters with these most charismatic apes.
So the gorilla tracking permit prices are deliberately very high. As this vital revenue is what enables environmentalists to preserve the remaining unique montane and bamboo forest. The forest will be destroyed, if not for the gorilla trekking fees and the tourism dollars which go to the local communities. They will plough up or burn the forests to create more land for subsistence farming.
Why it's worth the price?
Despite the high fees, people snap up the gorilla tracking permits many months ahead. For the committed world adventurer, devoted photographer or wildlife lover, there is nothing to beat the thrill of an encounter with a male 'silverback'. An hour passes in a flash but you have forget your time with them. Perhaps it is the fact that mountain gorillas are notoriously hard to capture on camera? Or the challenging trek to get to them? It all combined to reinforce what an incredible privilege it is!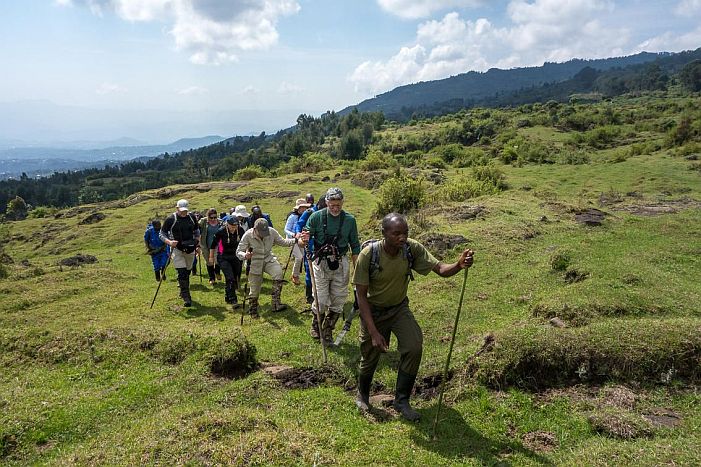 Back to Wildlife Safaris main page...
Extremely helpful
"Peter was extremely helpful. He answered any questions and concerns I had really quickly. Cedarberg website is great with lots of tips. I thought the booking information and itinerary were outstanding and all the pre holiday information made us feel really looked after. "
Mrs Lottie Murphy, UK
Cedarberg was very thorough
"Cedarberg was very thorough , helpful and easy to deal with. Very comprehensive information pack. "
Mrs Pamela Bailey
Excellent bespoke itineraries
"Milandi puts together excellent bespoke itineraries, is proactive and provides excellent customer service "
Mrs Jessie, UK
Gloria Darvall
Africa Travel Specialist
Hi I'm Gloria, I'm here to help you plan your ideal holiday experience
We arrange trips to more than 100+ destinations throughout the African continent.
Did you know
Unique

Bwindi & Volcanoes National Parks are the only place in the world where you can see Mountain Gorillas

Conservation

Gorillas now number over 1,000
Couldn't have been happier…
"Cedarberg and specifically our specialist Peter, have been excellent. Really communicative and just very on the ball. From the planning and payment, all the way through to arriving back home. The transfers, hotels, everything was spot on. Couldn't have been happier with how our honeymoon went. "
Mr Clark Hoy, UK
Everything was perfect
"Your service and the holiday you put together for us was faultless. Everything was perfect from the choice of accommodation to the transfers, flights…… everything! It was seamless. "
Mrs Ruth Koper
Holiday of a lifetime
"Just wanted to write a quick note to say a big thank you for all your help in arranging what was a fantastic trip for the three of us. My dad loved every minute of it. And said it was a holiday of a lifetime – which is what I of course had hoped it would be for all of us. "
Jo & Family