A Gorilla tracking safari in Rwanda…
"In Africa, if you see lots of people walking in the same direction then they're either going to market or on their way to church". So said our guide Amos as we drove towards Nyanza, at the beginning of our week-long safari through Rwanda. The 5 of us had arrived the previous morning in Kigali off a one and a quarter hour connecting flight from Nairobi. None of us (Clare, Stuart, Olivia, Chris and myself) had been on a gorilla safari in Rwanda before. And the Land Cruiser buzzed with excitement and anticipation as we started to settle into the rhythm of our road trip.
Check out our pages on Rwanda Safaris…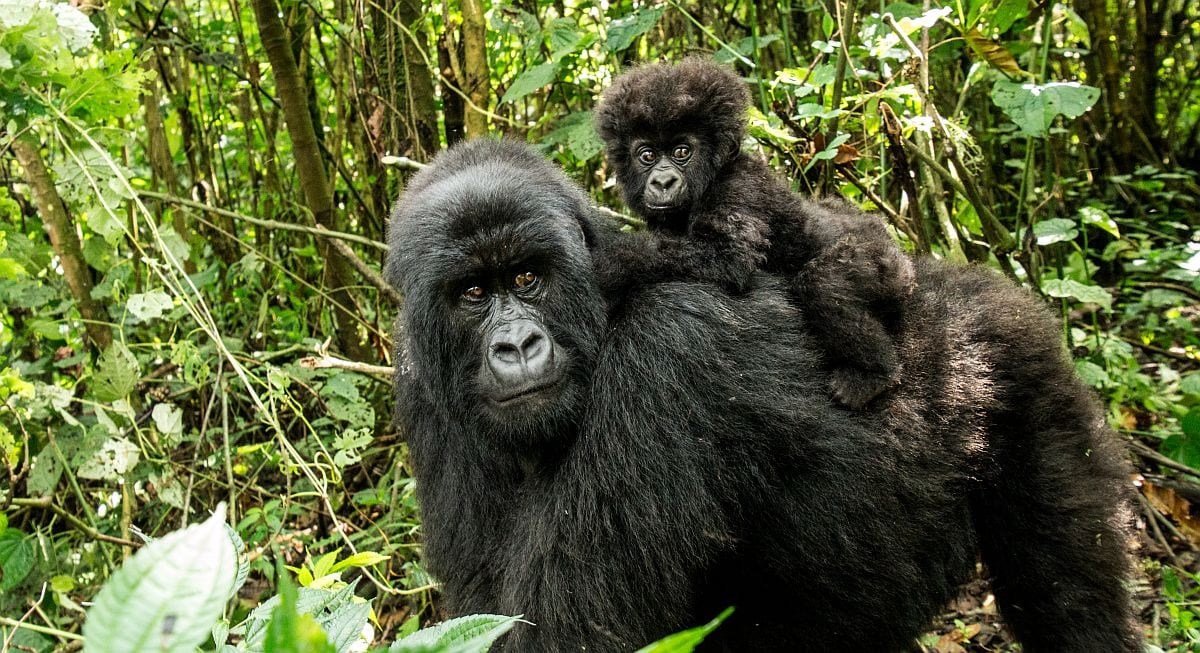 Rwanda Safari Day 1 – Kigali
Amongst the chatter and banter of getting to know each other and Amos we watched myriad Rwandans walking along the road with bananas, pineapples & furniture balanced on their heads; others pushing bikes loaded to what appeared to be breaking point with sacks of potatoes; others still hurtling downhill at alarming speeds on bikes. Laden with plastic barrels of banana beer swollen out of shape by fermentation. And masses of children waving or rolling tyres along the road with a forked stick. Or carrying water on their heads in brightly coloured jerry cans. Or standing around in small groups playing or running after our vehicle. A favourite pastime on the slower roads was to try and hitch a ride on the back bumper.
Of course such sights are common in Africa! But in Rwanda you see more people in constant motion than usual. The country has a population approaching 11 million in a land less than half the size of Scotland. Whatever time of day, there were always people on the move. . .
Rwanda Safari – my first impressions
So, what were my preconceptions of Rwanda at the start of the trip, and how would they change?
Like most people I guess, the 2 things that Rwanda immediately made me think of were mountain gorillas and the genocide of 1994. The former preconception would be pleasantly confirmed when we were lucky enough to go gorilla trekking in the Volcanoes National Park. Up in the north-west of the country. And the latter shockingly reinforced on our last day when we visited the Kigali Genocide Memorial and Museum. That 2 hour visit left us all stunned, shaken and unable to reconcile what we had seen and read there with our experience of travelling in what seemed such a peaceable, pleasant country. . .
Get the Ball Rolling
Love the sound of a visit to Rwanda to see the Gorillas? Not sure where to start? Chat to us!
Contact Us
The city of Kigali
Kigali is pretty much right in the centre of Rwanda. And locals say everywhere is a two hour drive from there. Though in some cases this is a bit of an underestimate. In the case of Nyanza, the capital of the South Province, it turned out to be accurate!
By this early stage of our Rwanda safari, several things had struck me. The feeling of safety to wander around the capital as a tourist; the lack of litter by the side of the road; the high quality of the roads and the abundance of agricultural produce in the fields and being transported. Kigali had surprised all of us in a positive way. Driving to Lemigo Hotel from the airport and on subsequent visits to the capital, Kigali seemed both safe and clean. It is, for an African city at least, well ordered and presented. Roundabouts were beautifully planted and one is a popular spot for wedding photos! Here and elsewhere in the country it seems safe to walk around.
The lack of litter seen on Rwanda safaris is also a pleasant contrast to what you sometimes experience. This is partly due to the country-wide ban on plastic bags, which so often blight the roadsides. Tea and coffee are the major exports and we saw much evidence of both being grown. Rice paddies too were frequently seen. And the steep, hilly country prevalent throughout the central and western parts of Rwanda. It is not called "The Land of a Thousand Hills" for nothing! These parts are invariably covered in terraced fields supporting such crops as sweet potatoes and cassava. And everywhere you look in Rwanda you will see bananas growing!
Rwanda Safari Day 2 – Kigali to Nyungwe
First stop in Nyanza was Rukali Palace Museum, where they have rebuilt the ancient palace of the Mwami or monarch. We also visited the western-style palace dating from 1932. Both very interesting and worthwhile. I was especially struck by photographs in the 1932 palace depicting extraordinary feats of high-jumping prowess. It was hard to see from the photos, but there appeared to be a kind of mound to aid take off. And the thin bamboo bar was amazingly high.
An hour down the road we came to Butare, where we visited the excellent National Museum of Rwanda. A pleasant hour! We were educated on the country's geology, geography, ancient and modern history. And the flora and fauna, all presented in a crisply modern building. Lunch in Butare established a theme that was to re-emerge many times on our visit… The very slow delivery of food! One of the party members ordered a pizza. And we blamed him (fairly or unfairly) for the nearly 2 hours it took to have lunch! And, generally speaking, Rwanda is not a destination for those searching for culinary distinction. Overall I felt that given the abundance of beautiful fresh produce everywhere, the food produced was sometimes a little bland and uninspiring. The best food we had was at Sabyinyo Silverback Lodge near Volcanoes National Park, closely followed by Nyungwe Forest Lodge.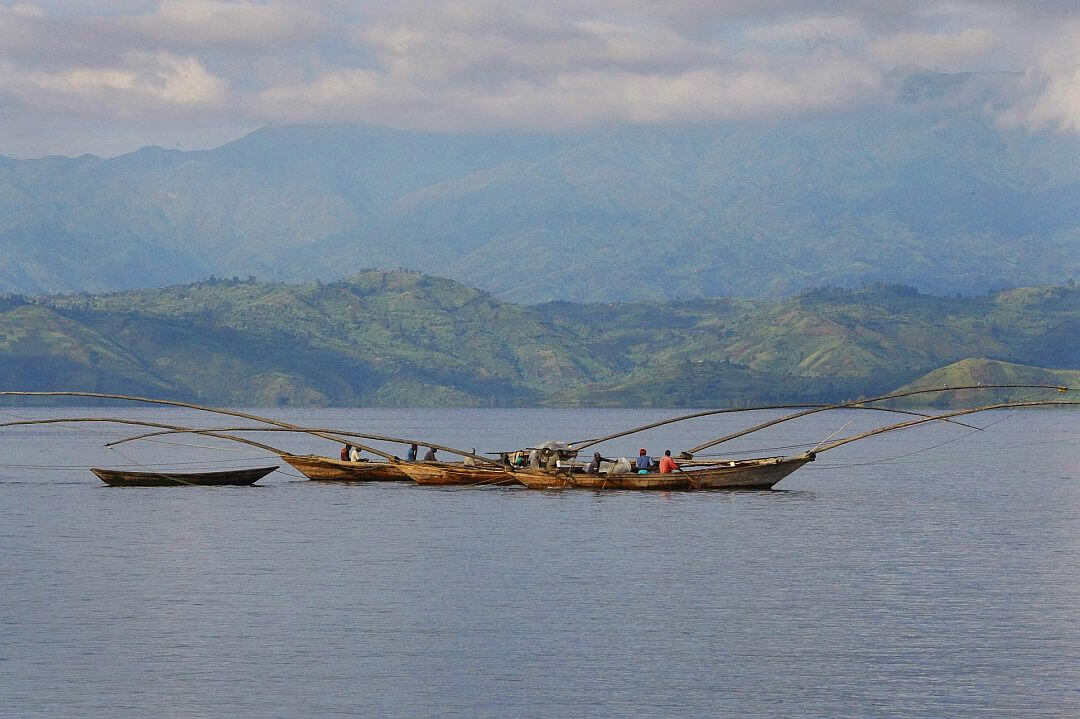 Rwanda Safari Day 3 – Nyungwe
At 4 o'clock the next morning I was awoken by a phone call from reception announcing it was time to get up. And it was! After a quick breakfast at Nyungwe Forest Lodge we headed to the Rwandan Office for Tourism and National Parks (ORTPN) to pick up our guide for the day.
Today we were going to enjoy one of the key activities of the trip: trekking for chimpanzees. Instead of doing this in the main part of Nyungwe National Park, we were going to try our luck in Cyamudongo Forest. Which is an outlying and physically separated part of Nyungwe National Park.

The Chimpanzees
It took about one and a half hours to drive from the ORTPN headquarters to the starting point of the walk. Hence the horribly early start… But almost immediately we were rewarded for our lack of slumber! A lone chimp was spotted high up in a tree of the montane forest, right by the side of the track we had come along. After watching him (or her!) for about 10 minutes our guide, Claude (our guide), led us along the track and then down into the forest.
Chimpanzees are both arboreal and terrestrial; and for the sake of our viewing I was hoping they would exhibit more of the latter behaviour. Although they have been observed rounding up and killing colobus monkeys, chimps are predominantly vegetarian, feeding on fruits and leaves. Claude told us that they tend to start their feeding in the area they where they have slept. And then move on in search of different foodstuffs to balance their diet. And unfortunately on this day they were already moving on just before we got there. We did see a few more in isolation or very small groupings. But a really good sighting of a large group eluded us…
But the chimpanzee sightings we had were still fascinating. And we thrilled to the characteristic screeching calls and also heard a kind of drumming we couldn't account for. Until, that is, Claude showed us some trees with elegant buttresses emanating from their trunks. And explained that the chimpanzees bang these to make a kind of drumming/ thumping sound. I imagine the buttress amplifies the noise, making it carry further.
Rwanda Safari Day 4 – Nyungwe to Lake Kivu
The next day started early – we had a long journey ahead of us along the eastern shores of Lake Kivu. After the chimpanzee trekking we had returned to Nyungwe Forest Lodge for a snooze and a bit of down time. Opened quite recently, this is the only luxury lodge in Nyungwe area and has a beautiful location just outside the western edge of the National Park, in the Gisakuru Tea Estate (the tea plantation surrounds the lodge). The main lodge sits slightly higher than the rooms (24 in total) which sweep round in a semi-circle. Beautifully appointed and stylish, my room offered a welcome deep bath to soothe away the aches and pains of the Chimp trekking.
The wet, muddy and very slippery road to Lake Kivu
Soon we were bowling along but the going was getting muddy. Chinese road engineers were working on building a section of tarred road which would ultimately make the journey a lot quicker and more comfortable, but in the short term just left the road very slippery, muddy and wet. Even the ubiquitous motorcycle taxis that we had first encountered in Kigali braved this treacherous surface, and I didn't envy them much.
The need for the new road was brought home to us powerfully that day; with a stop in Kibuye for a couple of hours for lunch and site inspections, we were on the road for just shy of 12 hours whilst covering a total distance of around 220 km. It is hoped that in a couple of years or so the road will be tarred all the way from Gisenyi at the north of Lake Kivu to Cyangugu in the south-western corner of the country, and the journey time should be halved.
The mud more or less disappeared after an hour or so as we left the road building behind and re-joined the original road surface. Less mud, but many more rocks, ruts and lots more bumping around. Our stop at Kibuye gave us welcome respite from this "African Massage." Tucking into my Tilapia ( a popular fish) and chips I gazed as far as I could across Lake Kivu towards the Democratic Republic of Congo on the other side.
The way to Gisenyi
With some reluctance we re-joined the road (track!) for the drive to Gisenyi. Stunning scenery took our minds off the jolting ride. As we approached Gisenyi in the gathering dark and in pouring rain streams of people walked in both directions. Some used banana leaves as improvised rain shields and on an open truck ahead I saw two passengers sheltering under upturned washing up bowls to keep the rain off.
Earlier that afternoon we had seen a football match in full swing on a big flat clearing and quarter of an hour further down the road I saw a small gathering under a small stand of trees being addressed by a preacher with what I assumed was a bible under his arm. Football and religion: two important strands in Rwanda. The former a national passion (we saw impromptu and more formal games of football everywhere we travelled and when Rwanda beat Zanzibar to reach the semi-finals of the CECAFA Cup – for East and Central African countries – the jubilation was substantial). The latter is a powerful force in the country which is 65% Roman Catholic.

Rwanda Safari Day 5 – Lake Kivu to Kinigi
The next morning we had the chance to relax and enjoy some chill time at Lake Kivu Serena Hotel. It's right on the lakeshore and has jet skis, windsurfers and Adventurecats etc and there's a lovely swimming pool. Understandably it's a popular spot for a bit of R&R in many Rwanda safaris.
Next we headed to Kinigi, the gateway for the mountain gorillas and home to the headquarters of the Volcanoes National Park (VNP for short).
Read more about Peter's Rwanda Safaris with his account of Gorilla Trekking in the Volcanoes National Park
____________________________________________________________________________
Personal trip report by Peter Bates, a Cedarberg Africa Travel consultant.
Cedarberg Africa is a specialist tour operator for Southern and East Africa. We focus on upmarket tailormade safaris for discerning and inquiring people. Several of us have visited Rwanda and so we can chat to you about a possible trip from personal experience, weighing up the different options, to plan a trip that is just right for you.
Contact us if you'd like a tailormade safari quote for your Rwanda safari trip.