My recent Uganda safari tour by Mari Jacobs
I was looking forward to my Educational Uganda safari tour for years. In fact I was chomping at the bit due to a two year delay because of Covid. But it exceeded my already sky-high expectations.
What is so special about a Uganda Gorilla Safari?
Uganda is one of the most beautiful countries in Africa! Not only is it beautiful, green and full of surprises. Its beauty was amplified, to me at least, by the fact that but it also offers something different to the usual African safari destination. You are much more active, which appealed to me. And yes, getting so close to primates is really a life changing experience!
Spending time with gorillas in the wild is by far the best up-close wildlife experience in Africa. A face-to-face encounter with these rare black gentle giants, against the rainforest's green, is one of the biggest reasons people come to Uganda. Africa's great apes survive in what remains of their natural habitat, the high montane bamboo forest. Thanks to gorilla trekking in Uganda (and Rwanda), populations are slowly on the increase. It's a conservation success story. A peaceful co-existence between the local community and their primate neighbours!
Adventure Safaris
Uganda is the dream destination for any adventure seeker!
Chimpanzees roam in numbers in Kibale forest, and great was my surprise when they walked past our party without causing a fuss. These habituated Chimps is exciting to watch and definitely worth spending some extra days in Uganda. It will also give you the opportunity to stay at one of my favorite places in Uganda.
Ndali Lodge, is set in a stunning location on the rim of an extinct volcano which has now filled with water to become the breathtaking Lake Nyinambuga. This owner run, English style lodge offer great food, staff and service and is one of those places that just have that "something else" going for it! The Lodge is about 45 minutes from the chimpanzee tracking trailhead at Kanyanchu. It's a perfect base to hike around the region and go primate tracking in the nearby Kibale Forest.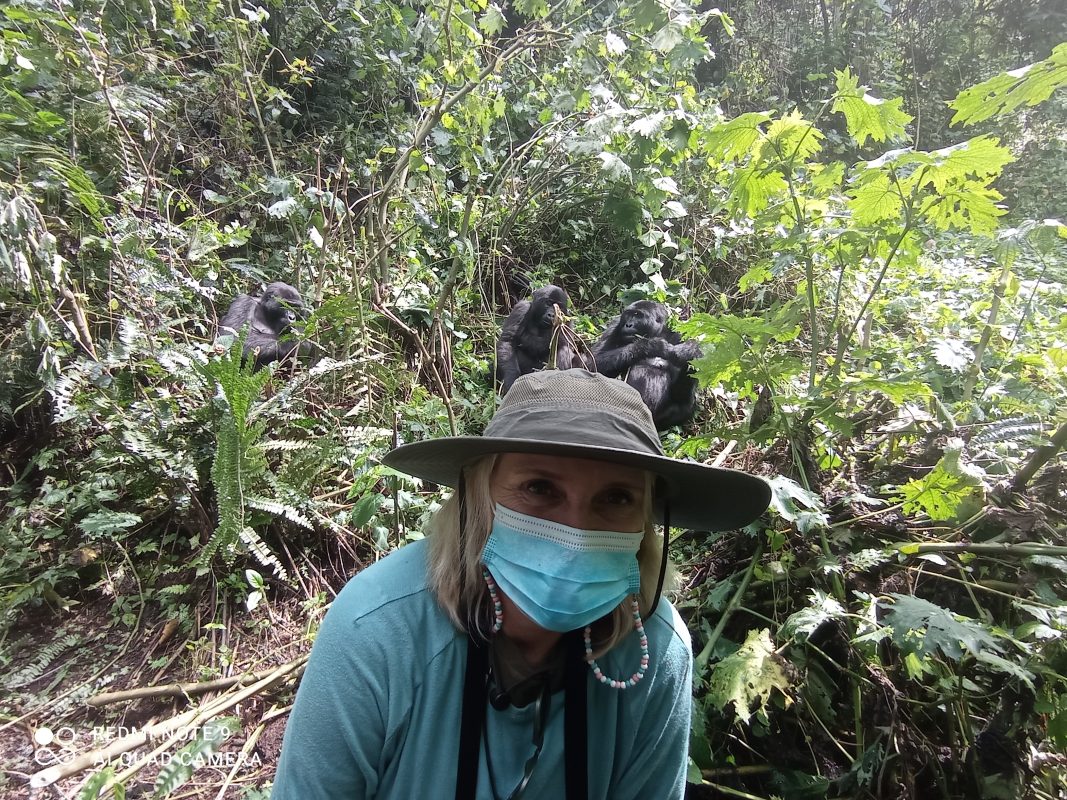 Gorilla Trekking in Uganda
The main reason we all want to visit Uganda!
Trekking for gorillas in mountainous rainforest often means hours of hiking through dense forest behind a tracker who slashes a path with a machete. You need to be walking fit and we recommend good hiking boots that protect your ankles plus gaiters (Don't worry you get these at the lodges).
In Uganda, gorilla trekking is considered a year-round activity with the suggested best time to visit the rainforests during one of the two dry seasons from the middle of December to the end of February. And the second from early June to late September. We did the trip in May and only had a day or two with short, light rainfall early morning and late afternoon.
Will I Definitely See Gorillas on a Uganda Safari tour?
Because they are so closely monitored you probably have a 99% chance of seeing them. Of course, there are no guarantees with wild animals but it is very seldom that traveler's don't find the gorillas during a trek. At the moment Uganda only issue 40 gorilla permits per day which makes the experience pretty special in my book. You have 1 hour to spend with them. One suggestion is that even if you feel you are fit and strong to consider to use the service of a porter. The reason is twofold. Firstly, you support the community (thereby you are supporting conservation) and secondly, they really help you during the hike to cope with the terrain, altitude, humidity and your daypack! They also give you a push where needed or a helping hand just as you start to slip. In the wet season, the mud can make trails slippery and the trek tougher. Primates may also seek refuge from the rain in nests or trees, making them harder to find and see.
Morning Logistics
You will be divided into groups of similar age and fitness levels and the oldest and least fit people will generally be allocated the gorilla family that is nearest the starting point. The fittest or youngest people will be chosen to find the group furthest away. To be honest I expected worse (I did not even drink my glass of wine the night before) and the trek was not as tough as what I thought.
On our Gorilla trek we were lucky to see a 3-week-old baby gorilla as part of the family group! Most treks start close to Buhoma but if the permits are sold out like in our case we had to drive an hour to the start of the trek. Some treks are further away and we drove about an hour to get to our starting point and if most permits are sold out you might have to drive 1,5- 2 hours to Ruhija.
Buhumo Lodge
And to top it all off we got a complimentary massage at Buhomo lodge after the trek. Very welcome!
Buhomo Lodge's food is fantastic. The staff are excellent. It is a luxury lodge but rustic and simple. Nothing fancy, however a fantastic location. You can just walk into the village and to the start of the Gorilla treks (dependent on where you have your permits to start.)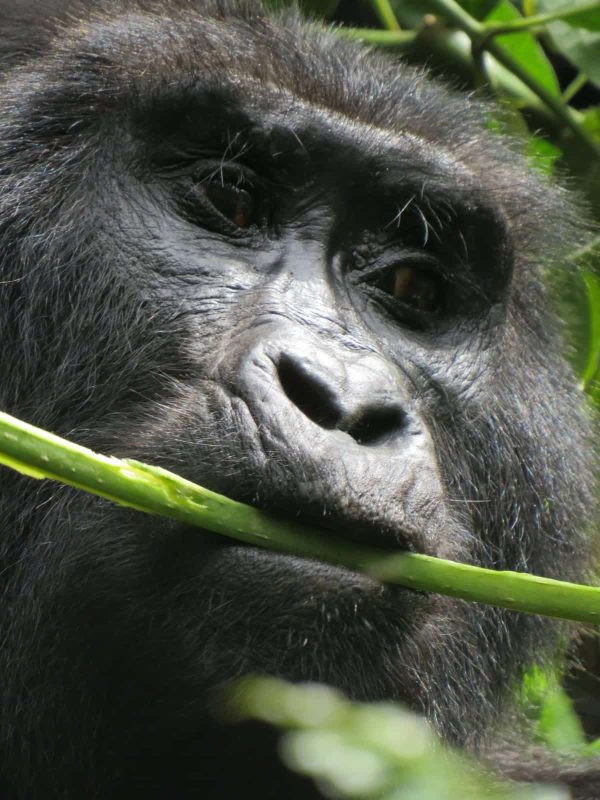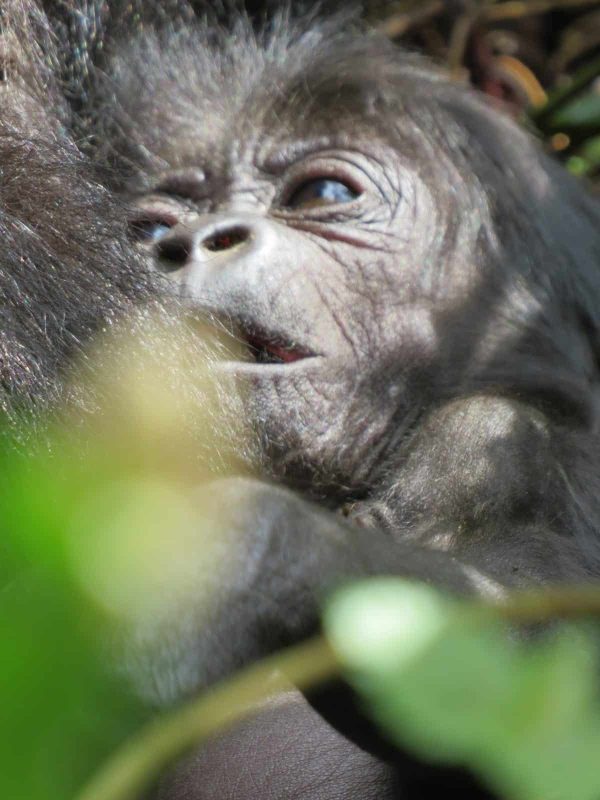 Other Delights of a Uganda Safari tour?
Uganda offers some of the most diverse wildlife viewing, dramatic landscapes, and immersive cultural experiences in Africa. The people of Uganda are welcoming and curious about their visitors and a Ugandan will go out of their way to make anyone feel welcome.
I liked the fact that we were much more active than on most safaris. We did crater walks, a swamp walk and a safari walk at Ishasha too. I also found the Community visit at Agartha's was quite unique. And it was more personal as the home visit was well planned and not too invasive of people's privacy! We tasted some of the home-made porridge and local drinks.
Although Uganda is home to the Big Five (lion, leopard, rhino, buffalo, and elephant) it also boasts unique wildlife such as tree-climbing lions and the Nile crocodile.
The two game drives we enjoyed in Queen Elizabeth Park were much better than I had expected. We had a lion sighting and a leopard sighting on the first short drive. On the Kazinga channel cruise we saw plenty of elephant, some swimming in the river. As well as buffalo, hippos and plenty of birds!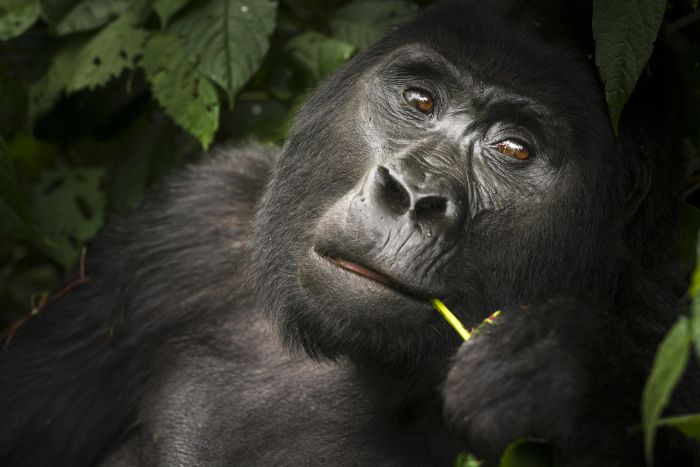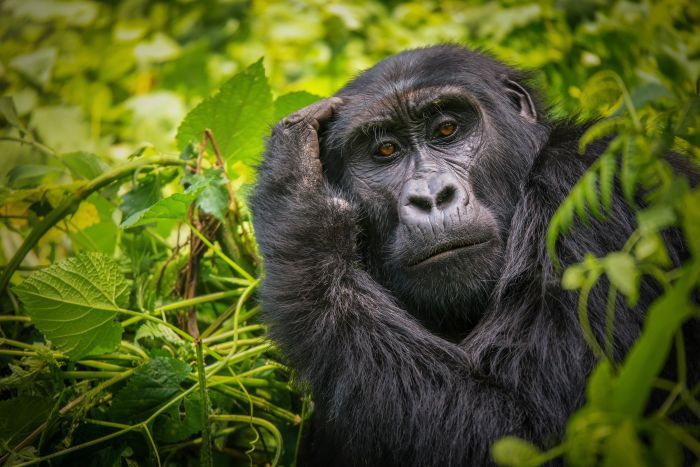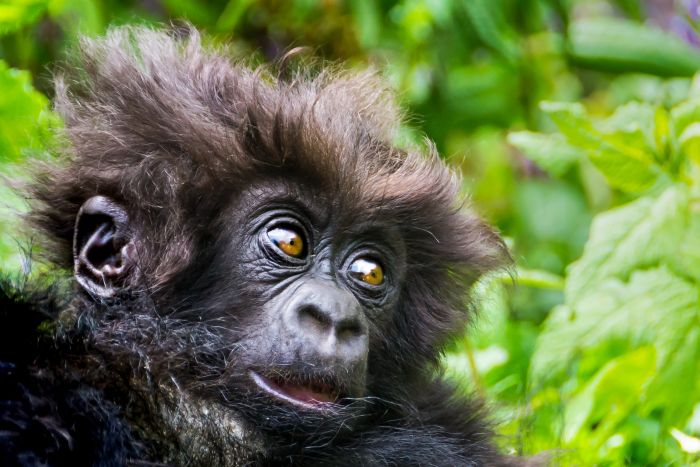 Ishasha Wilderness Lodge
Ishasha is a Wilderness Camp but most clients will love it. It is tented and quite basic but it has a charming authentic safari experience. The en suite facilities include a bucket shower. So hot water is not on tap but brought your shower bucket, when you want to show.) In the evenings you enjoy a sundowner on the game drive and when you get back to camp, we enjoyed a drink around the fire overlooking the Ntungwe River.
The following morning, we did a safari from the lodge however you need to get a Park Guide and pay them separately- the cost was USD 15 per person. We saw buffalo, hippo and plenty of birds. I liked the fact that it gives you a break from all the driving! It also feels like it prepares you for the Gorilla hike!
As we drove out of Queen Elizabeth Park, we managed to see the tree climbing lions- 4 lions in a tree!
I highly recommend a visit to Uganda and I promise you will love it just as much as I did!
Get the Ball Rolling
Love the sound of trekking to see the Gorillas? Not sure where to start? We've been gorilla trekking in both countries. Chat to us!
Contact Us
---
This post about Uganda Safari Tours was written by Mari Jacobs, a consultant of Cedarberg Africa. She travels regularly throughout Africa to the countries we offer.