Overview
On your first night on honeymoon, on safari...unbelievable array of stars in an inky sky, cool drinks around a crackling bonfire, the tempting smell of a delicious meal. The anticipation of the adventure at dawn the next morning, when you head out into the bush. Isn't this incredibly romantic? A once-in-a-lifetime honeymoon to remember and tell your children and grandchildren about?
Okay, we accept it won't be absolutely everyone's dream. But not everyone loves the beach and, even if you are not a nature-lover from childhood, maybe a safari could be your perfect honeymoon too? Given the chance again, I'd shortlist Botswana, Zambia or the Serengeti in Tanzania or Kenya. A safari honeymoon is certainly not an inexpensive option. But it is a truly memorable one and could be the start of a newfound love...of the great outdoors.
You won't have to rough it on a safari honeymoon. Such a honeymoon is an intimate experience with a good dash of style and romance. There are luxurious lodges to choose from which offer once-in-a-lifetime experiences. But there are also more modest safari camps which simply ooze character and romance. Either way a safari honeymoon offers you some of the most beautiful scenery in Africa.
Botswana Honeymoon Ideas
Imagine taking a quad bike in the Makgadikgadi salt pans. Silently walking past a herd of buffalo on a bush walk. Enjoying a sundowner as the sun sets over the waters of the Okavango Delta?
Cape Town, Botswana & Victoria Falls
Fly around Botswana Safari Honeymoon Offer 

Safari Honeymoons in Zambia & Victoria Falls
There's an innate romance of staying in a remote, utterly beautiful piece of wilderness. Why not stay on an island in the middle of the Zambezi River. Or head to the Lower Zambezi, one of our favorite areas, which is packed with wildlife, adventure and a romantic charm. Think of canoeing gently through the Zambezi's channels with your loved one. Or enjoying a private starlit dinner on a sandbank by the river.
No Zambia honeymoon would be complete without the magnificent Victoria Falls. Spend your days boating on the river, canoeing, lazing by a pool or sipping cocktails. All this while idly watching hippo frolic on the opposite bank. However, if the mood takes you, there is a huge range of adrenalin-surging options on offer as well. Such as white water rafting and helicopter flips. Or you may like to swim to Devil's pool at the very edge of the Falls on Livingstone Island? There is also bridge swinging on offer and the treetop canopy tours.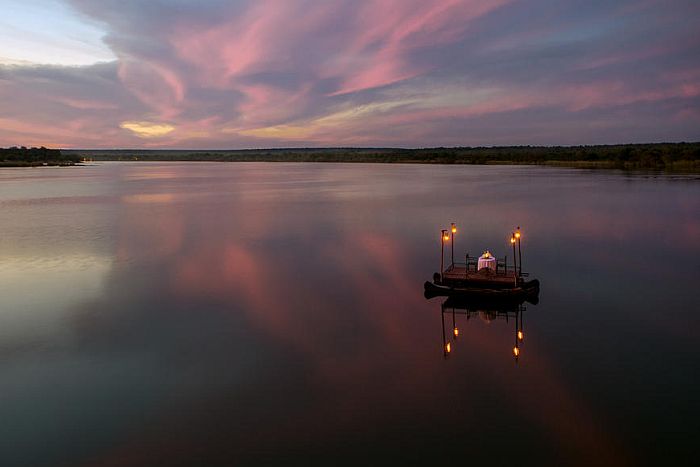 Kenya Safari Honeymoons
The Masai Mara offers big game viewing a-plenty. Plus there are certain extravagant pleasures that set your heart aflutter - and ballooning over the Masai Mara at dawn is one of them. Truth told, it probably isn't the 'best' way to see the game, but it's a huge treat.
More on Honeymoons
Highlights
Imagine sleeping out on your private deck under a star-lit sky.
Or silently gliding on a dug-out canoe through the lily-studded waters of the Okavango delta, watching elephants come to drink at the water's edge.
Perhaps you may like to enjoy a private dinner on a sampan on the Zambezi river?
Or simply relax on your deck listening to the animal sounds of the bush all around you.
Dream holiday
"Milandi (et all at C. A. T.) …"Like talking to a good friend/family member who genuinely, listens… then sets skill and extensive knowledge to work to fulfill (AND OFTEN BEYOND!!) all expectations!!" This Africa holiday was simply "ANOTHER" dream animal photo safari and experience Milandi (Cedarberg) put together… we have experienced TWO previous "dream holiday" from Milandi and Crew. How could a 3rd be better?… It simply was. "I may have left Africa" … "Africa will NEVER leave Me"… I (WE) will be going back, with Milandi's guidance B4 this decade is over It has been 3 weeks since return, still dreaming/thinking/processing this tremendous experience. Milandi and Cedarberg are My "Tools" towards many rewards!!! Thank-You, ALL "
Mr Wally Rohrer
Ginny's advice was spot on
"Ginny's advice was spot on – the locations, pace of trip and quality of accommodation was superb. The 2 slightly different safari areas also worked out well and it was great that our best viewing was at the second to end the trip on a high. "
Mr Matthew Campbell
Clearly experts on South Africa!
"Very helpful on the phone and by email. Lots of detailed advice and clearly experts on South Africa! Would definitely use again and have already recommended to friends. "
Ms Abrahams, UK
Natasha Jantjies
Africa Travel Specialist
Hi I'm Natasha, I'm here to help you plan your ideal holiday experience
Did you know
Botswana

Nearly 80% of Botswana is protected land for wildlife

Victoria Falls

At its best between May & August
Exceeded our expectations
"From our first phone call, our requirements for the holiday were quickly and efficiently met and the overall standard of accommodation booked for us met and, in some cases, exceeded our expectations. All the transfers worked well and directions to our hotels were accurate and simple to follow. The information booklet supplied was very helpful. "
Mr B Smith
Great itenerary
"The service that Cedarberg provided for us was outstanding. The itinerary that they put together worked seamlessly, all the pick ups were as they had stated and whenever we had a query about any aspect of the trip they came back to us quickly and provided all the information that we needed. I cannot recommend them highly enough . "
Mr Kevin Wilson
Wonderfully professional, yet absolutely approachable
"Bookings made to your perfect itinerary, with ease. No stress, just marvellous conversations about what you would like to see and do. Really really knowledgable consultants. And when they have sorted your dream itinerary, they follow up with lots of help and advice. We have always felt totally relaxed and looked after during our adventures in Africa. Cedarberg take care of everything. "
Mrs & Mr Birchall, UK