Where are some of the most romantic or evocative places to enjoy a sleep-out on your safari or honeymoon? Where you can fully immerse yourselves in the sights and sounds of the bush? The calls of the hyenas and jackals, the chatter of the birds at dusk and again at dawn? The spectacular sky with the Southern Cross constellation glittering above you and of course the glorious African sunset and sunrise…
More prosaically, what exactly do I mean by a sleep-out?
Firstly what is a Sleep-Out?
Broadly there are two types of sleep-outs.
The first option is a separate place that you go to enjoy a sleep-out in the bush. Some safari lodges now offer you an opportunity to sleep out under the stars for the night. The exact format varies but the basic concept is the same – you head off to the sleep-out platform in the late afternoon by foot or by vehicle.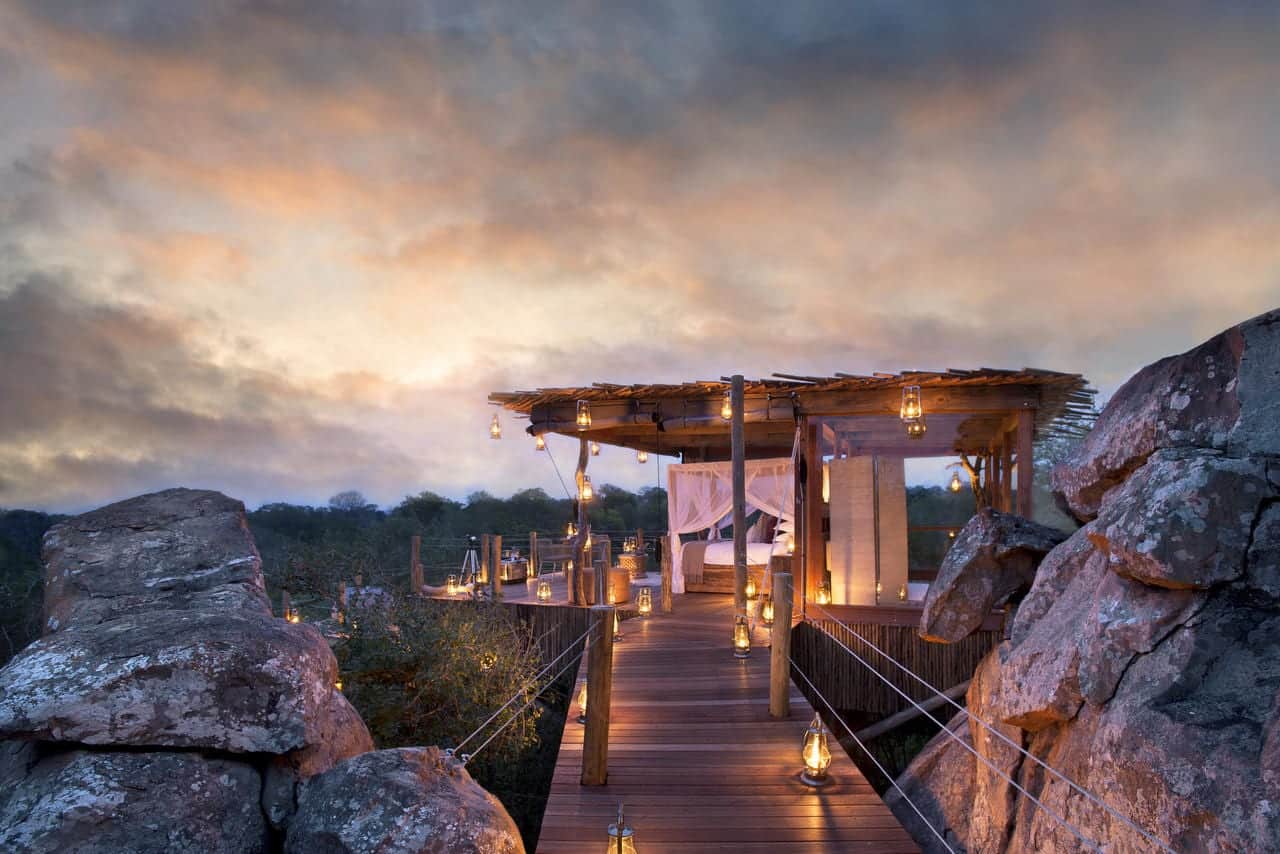 At some sleep-outs it is just one couple, either alone or with a game scout nearby. At other camps, it is offered to more people so that it is quite a festive atmosphere, though less romantic.
The second, much less scary, option is when your suite has some sort of an outdoor 'sala' (sleeping area) where you can sleep under the stars but still within the confines of your accommodation.
Is it for you?
This is something only you can answer. Some people love to do it, others not. There is no element of danger – the camps are not daft and guest safety is paramount. But you don't want to head out to the 'sleep-out' only to feel terrified and ask to be collected three hours later. Chances are that it won't be the soundest sleep you have ever had – don't underestimate how loud the bush sounds can be, or how close an animal can seem, especially lions roaring to gather their pride. But of course for many people this is exactly the appeal. How primitive it is will also vary considerably so don't hesitate to check that it suits you.
Best Sleep-Outs in Africa
So in no particular order…
1) Lion sands, Sabi Sands Game Reserve
Lion Sands were pioneers in offering rather beautiful sleep-outs in a platform set high up in a tree. Its very romantic because, lets face it, aside from the adrenalin rush of being outside in the middle of a Big Five Reserve at night, you are not really roughing it with proper four poster beds and a decent bathroom all on one level. You are taken to the sleepout at sunset where drinks and a delicious picnic dinner await you. Once you are dropped off, with mosquito repellent, torches, lantern and a two-way radio, you are on your own until dawn. The original Chalkley Sleepout has been so popular that they now have three sleep-outs, one of which can accommodate children.
They are now offering sleep-outs in their sister camp, Marataba Safari Lodge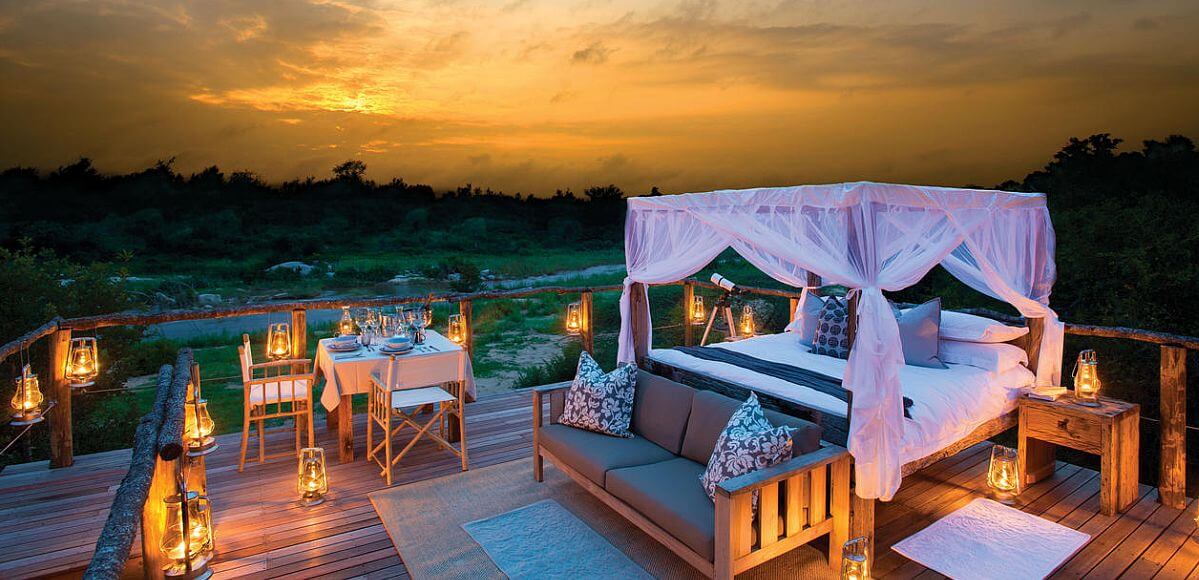 2) Rhino Post Plains Camp, Kruger National Park
Rhino Post Plains Camp is a private concession with the Kruger Park and specializes in walking safaris. A one night sleep-out is on offer (if booked) for everyone staying at the camp on that particular evening so it is not a romantic 'couply' thing. You all walk to the sleep-out which has a deck with a firefit to braai the evening meal and relax around the campfire and then you retire to your own sleep-out deck. There are rudimentary bathroom facilities but on one level down so fairly difficult to get to in the middle of the night.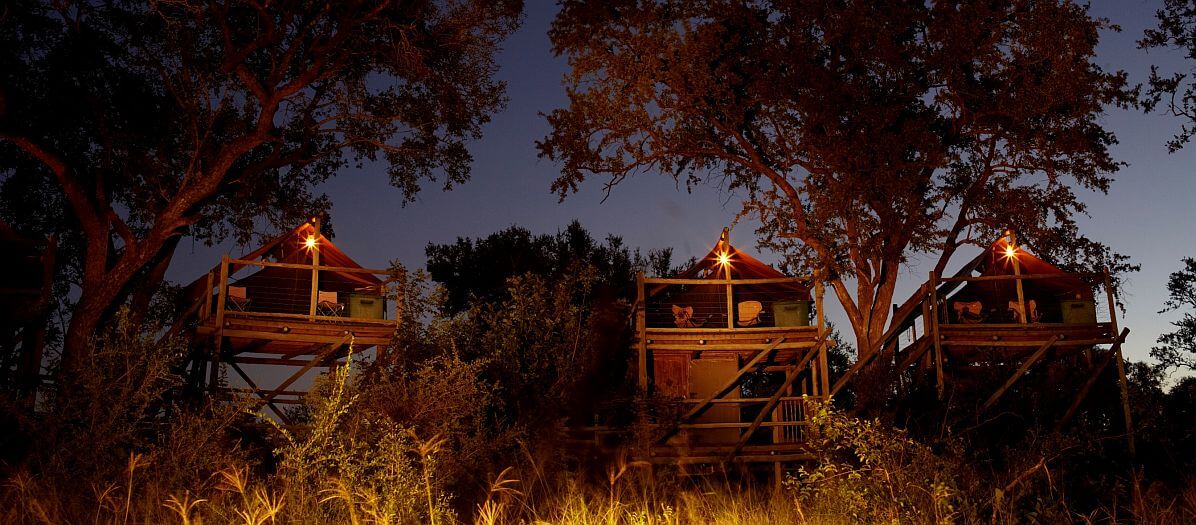 3) Tswalo Malori sleepout, Northern Cape
Another rather luxurious option is the Malori Sleepout at Tswalu Game Reserve with its large deck, stunning panoramic views over the vast game reserve and shower facilities.
Special Offer: Tswalu and Cape Grace are offering a wonderful 8 night special programme. Spend 4 nights at the Cape Grace and 4 nights at Tswalu and enjoy a complimentary night at the Cape Grace, as well as complimentary flights between Cape Town and Tswalu, airport transfers and a complimentary Malori Sleep-out experience.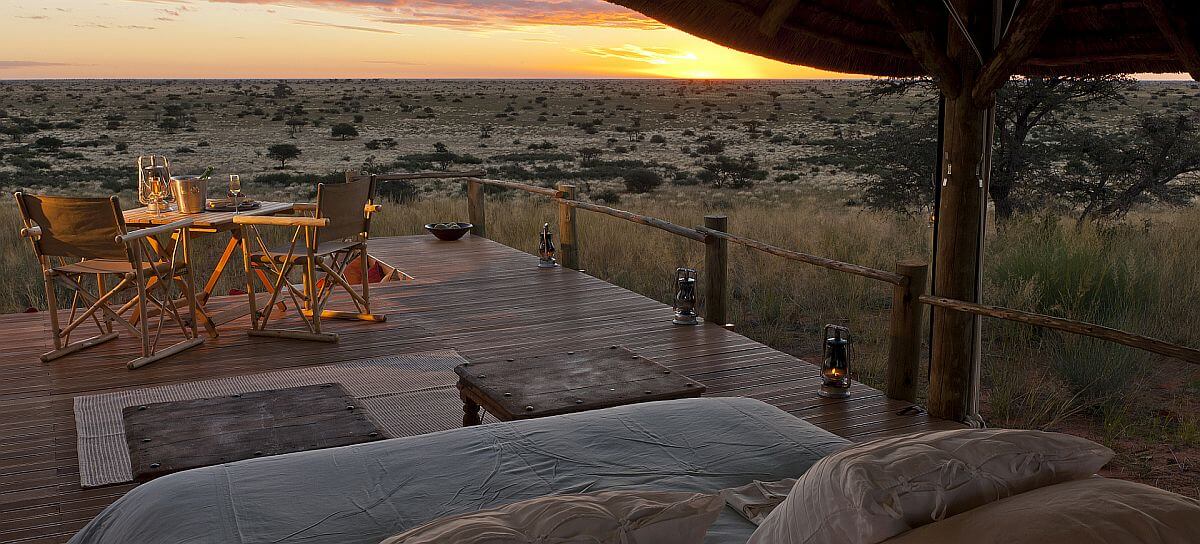 4) Star beds at Loisaba, Kenya
Heading to East Africa? Loisaba Game Reserve was the pioneer of the 'Star Beds' concept and their Star beds remain one of the loveliest. More than one couple can sleep out at the same time with three separate platforms which all have two double beds so that a family can even enjoy the sleep-out experience. Again as with Plains Camp, you spend the evening all together around the camp fire before retiring to your deck, but this can be offered to just one couple as well. This can be booked if staying at Loisaba Lodge or Loisaba Cottage.
5) Sleepouts at Jacis Tree Lodge, Madikwe
Jaci's Tree Lodge in Madikwe has brought this Star Bed concept to South Africa. Their sleepout platform is set overlooking a river so that you can enjoy watching the animals come and go to drink through the evening and night.
6) Tanda Tula Sleepout at their Hide, Timbavati
Tanda Tula Safari Lodge offers sleepouts at their Machaton Hide in the dry season from May to September with oil lanterns, camper bed with cosy duvets and hot water bottle, a game viewing spotlight to help you spot nocturnal visitors to the waterhole and a two-way radio. You can enjoy it in two different ways. One option is to head there with a packed picnic supper in the late afternoon instead of a game drive. Then you have time to observe some game at the hide during the afternoon light. The other option is to head there after the evening game drive when the sun has set already. Game-viewing would be limited to what you can spot with the game-viewing spotlight but the sounds are still all around you…
Shindzela Safari Lodge, also in the Timbavati, also offers a sleepout in their hide but you are not under the stars at any time.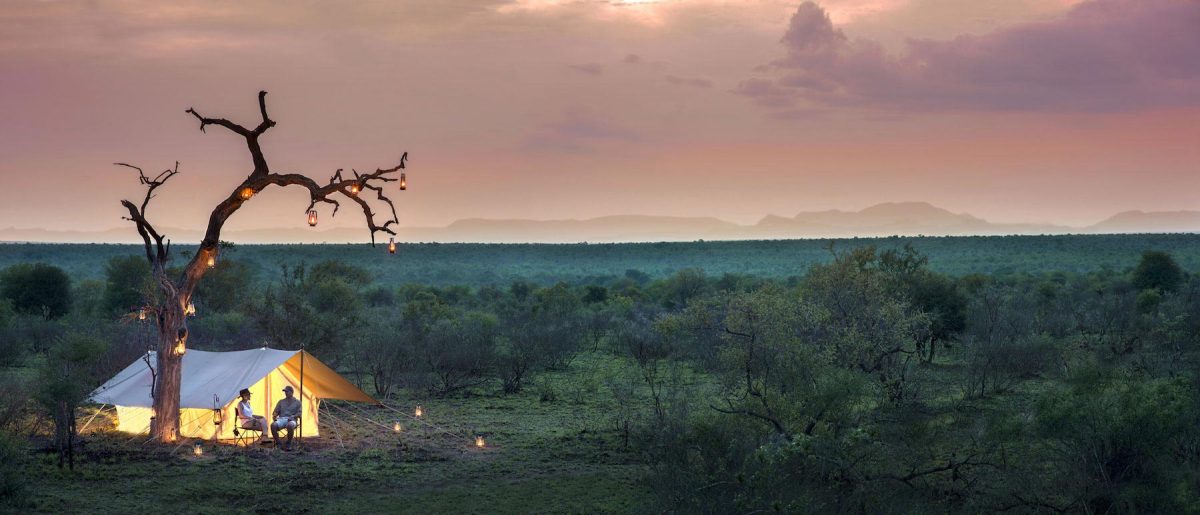 7) Nkwichi Lodge, Lake Malawi
Now for something completely different – the ultimate Robinson Crusoe experience. This Sleepout is not in a Game Reserve but is called the Lake of Stars Bed and it's at Nkwichi Lodge on the Mozambiquan side of Lake Malawi. After sunset you are taken to the Sleepout which is on a private little island some 10 minutes from the lodge. Your bed is on some rocks overlooking the aptly named Lake of Stars. After a delicious supper you are left alone to enjoy the evening skies, serenaded to sleep by the gentle ebb and flow of the water. In the morning, you are collected and enjoy an amazing bush breakfast.
Interested in booking a Safari or Holiday?
Chat to one of our experienced consultants that's here to help and guide you. We use our expertise to narrow down the choices and present feasible ideas, so you can relax and ENJOY the planning process!
Contact us!
Tasha Eygelaar
Africa Travel Specialist
Hi I'm Tasha, I'm here to help you plan your ideal holiday experience
Easier Sleep-outs in Africa
The fundamental difference between this and early options is that there is no major commitment on your part. You have not inconvenienced anyone if you decide to bale. You can start the evening under the stars but if you later on retreat back to the security of your closed in suite, then it's no problem. No need to repack anything and of course your bathroom is right there.
BUT you still get some of the frisson of sleeping outside in the bush with the stars above and the sounds all around.
8) Baines Camp, Okavango Delta, Botswana
You've heard of indoor-outdoor showers. Well Baines Camp has gone one step further with an indoor-outdoor bed! Your four poster bed is on wheels and so can be wheeled out from your suite onto the deck. Mosquito net and all, for an impromptu alfresco sleeping experience overlooking the Boro river where you can enjoy listening to the sounds of grunting wallowing hippos. Baines Camp even offers a Star Bath! You can take a soak under the stars on your own deck…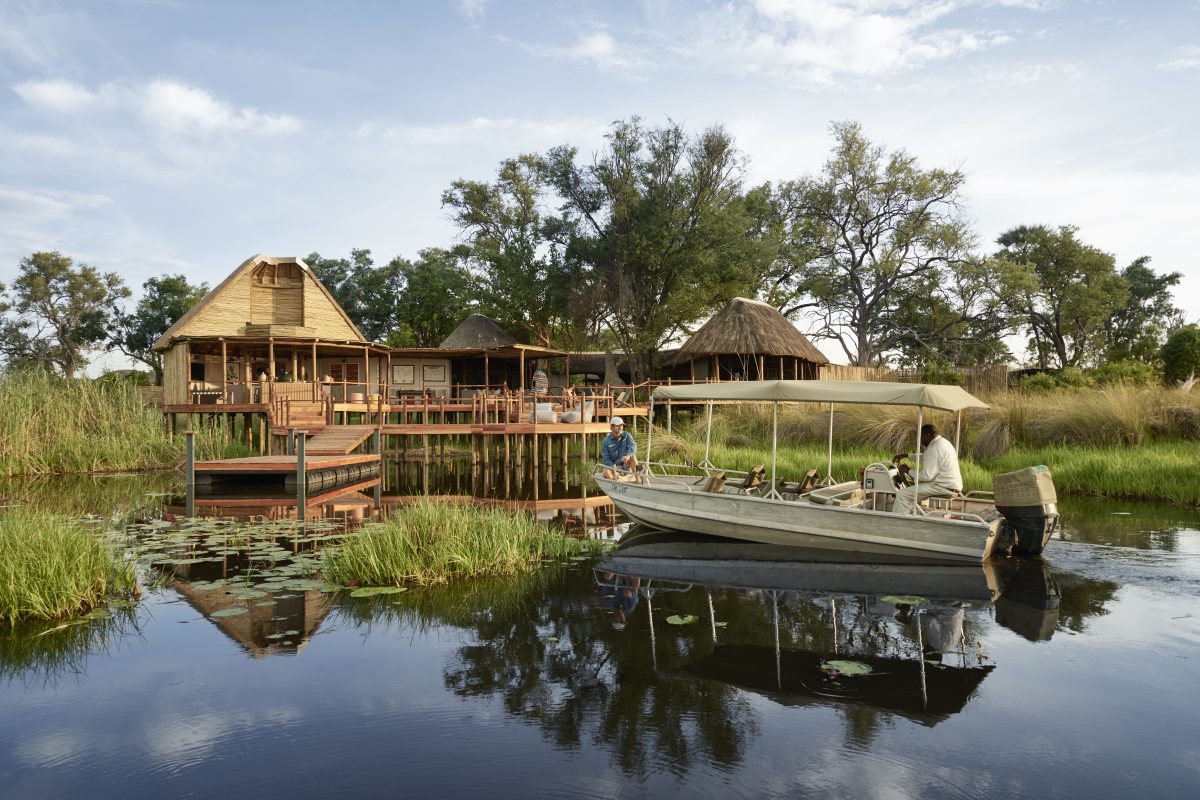 9) Cederberg Ridge Wilderness Lodge, Cederberg Mountains
If you don't fancy, wheeling your bed around in the middle of the night, Cederberg Ridge offers a separate elevated sleeping tsala with beautiful views over the mountains. The sleep-out bed can be used for daytime siestas, star-gazing for a short while after dinner. Or you can go the whole hog and ask for the bed to to be made up for night-time as well. You remain within easy reach of the comfort of your suite yet can also enjoy a sense of sleeping out.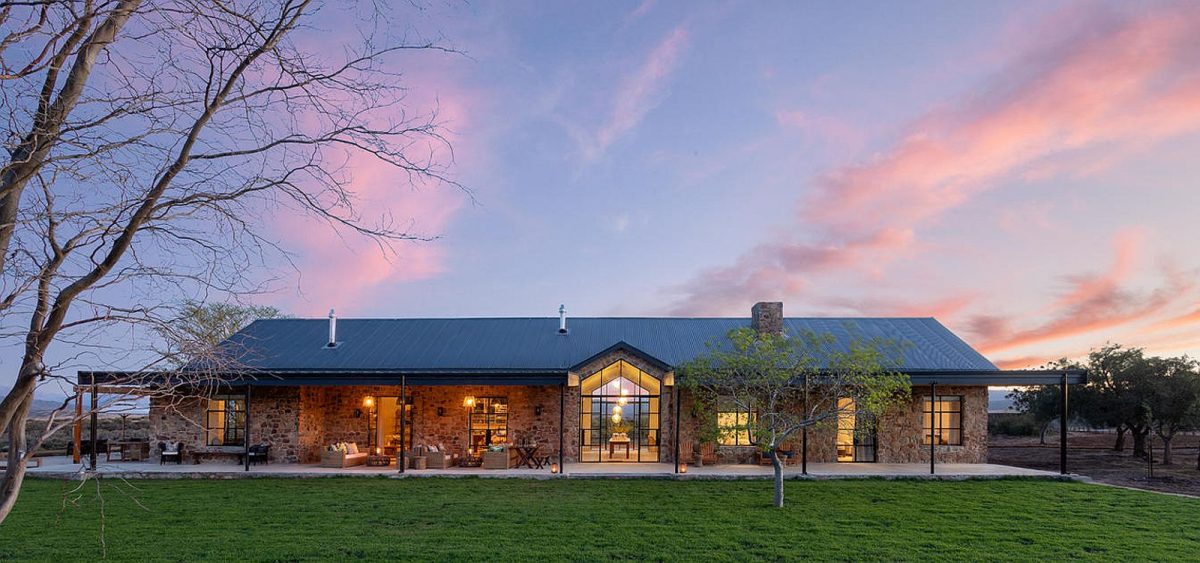 10) Kulala Desert Lodge, Sossusvlei Desert, Namibia
And finally the kulalas (broadly meaning sleeping places) at Kulala Desert Lodge each have their own rooftop sleep-out platform above the reed and canvas chalets. Here bedrolls are made up for you so that you can sleep out under the desert sky. Kulala Desert Lodge lies close to Sossusvlei so this is not a big wildlife area but the sleep-out allows you to experience one of the clearest night skies in the world with no light pollution or much chance of rain in the desert.
Please contact us if you are interested in booking any of these magnificent once in a lifetime experiences.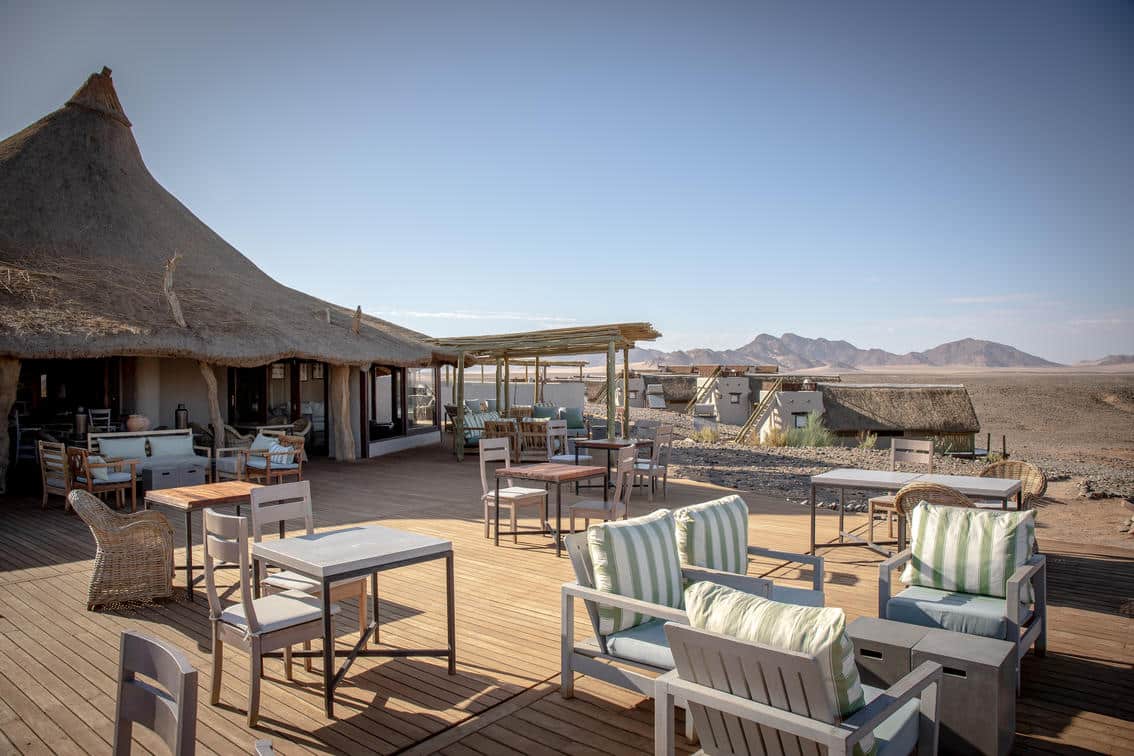 Related Articles
Cedarberg Africa 's Best Spa Retreats in Southern Africa
Our top picks for affordable family accommodation in South Africa
New Destinations for Second Time Visitors
Introducing Cedarberg Africa
Cedarberg Africa is a specialist tour operator for Southern and East Africa focusing on upmarket tailormade safaris for discerning and busy people. We make our money on the difference between our trade rates and the rates that are available to you, so that means that effectively all our years of experience and expertise comes free of charge…
Contact us if you'd like a tailormade safari quote for your family
Chat to us
Tell us what you have in mind and we'll craft an itinerary for you, at no obligation
Contact Us Now