Looking for something romantic?
South Africa has a fantastic array of romantic safari lodges. Luckily they don't all require you to hold a car boot sale to afford to stay there!
Yes, a safari is never going to be the inexpensive part of your overall trip. A safari lodge is inclusive of all meals and all game activities. A large part of the price directly goes towards wildlife conservation. So your nights on safari will be relatively pricey compared to the other nights away.
But – especially with the weakened rand – there are plenty of great options where you can treat your loved one to a relaxing safari getaway.
(Just to put it into perspective, the most expensive safari lodge in South Africa costs an eye-watering R22,500 per person per night. The lodges mentioned below start at R1 900 per person with the norm being around R3-4,000 per person. This equates to starting prices of $120 per person per night with many of them under $250 per person per night.)
Overseas travellers will no doubt be smiling when booking a safari in South Africa (especially with the weakened Rand!). Not all hope is lost for South Africans as a lot of safari lodges offer Local Resident rates in the winter season (which is also the best time for safari). Plus if you are actually on honeymoon, some of them offer a Honeymoon special whereby the bride only pays 50%.
Here we suggest some of the more affordable romantic lodges in South Africa …
Sibuya Forest Camp is a small romantic camp situated on the scenic Kariega riverbank in the Eastern Cape's Sibuya Game Reserve. It is the only game reserve accessed solely by boat, which makes for an enchanting start to your safari. It is home to the Big Five, with cheetah-breeding and a lion-monitoring project. Sibuya River Camp has been constructed in an environmentally conscious manner, with just four luxury tents with a hammock on each deck offering relaxation and tranquility between game drives.
If lazing around and looking at the view of the river and forest from your deck loses its appeal, you can always do some birding, as there are nearly 400 different species ranging from coastal waders through to forest species such as the Knysna turaco on your doorstep. The delicious local cuisine served with South African wines is also worth a mention, making Sibuya River Camp a firm and affordable favourite. Find out more about this Eastern Cape lodge at Sibuya River Camp. Prices from R4,558 pps.
Kariega River Lodge
Kariega River Lodge is a luxury thatched lodge situated on the banks of the Bushman's River in the Eastern Cape's Kariega Game Reserve – the only lodge that connects a Big 5 game reserve to the sea. There is plenty of privacy and relaxation to be had whilst you look out over the river from your spacious and beautifully decorated suite.
You can also take in the sights and sounds of the nearby wildlife during a game drive or river cruise, as the reserve has a great bird list and plenty of other classic African mammals to look out for.
For those longing to feel the sand between their toes, the quaint seaside town of Kenton-on-Sea is just a short 15-minute drive away. See more of what this gorgeous spot has to offer here. Prices start from R7,200 pps
Rhino Ridge Safari Lodge
Rhino Ridge Safari Lodge is carefully positioned high up on a ridge to give you spectacular views over the valleys and hills of Hluhluwe iMfolozi in Kwazulu Natal – a park established to protect the endangered white rhino back in the early 20th century. Now they number over 1000, yet they face severe poaching again. This exclusive and private lodge is in the heart of Big 5 territory , offering you a brilliant safari experience.
You have a choice of a Safari Room, Luxury Bush Villa or Honeymoon Villa – each boasting their own private deck with expansive views over the reserve. If you choose one of the honeymoon villas, you'll have your own private plunge pool – yes please! It's not too much more and definitely worth the upgrade!
If it is breathtaking views and exceptional game-viewing you are after, then Rhino Ridge is the place for you. Prices from R2,570 pps.
Leopard Mountain Lodge
Leopard Mountain Lodge is a family run Big Five game lodge within the Zululand Rhino Reserve in Kwazulu Natal. It's hilltop location provides stunning views of the wilderness and seasonal river below, but if you want to get up close and personal, the game drives will take you through the African bush to see endangered species such as cheetah, black rhino and African wild dog.
You'll feel pampered in the lavish thatched stone chalets, each with their own balcony and hammocks which provide the perfect position to watch eagles soar at eye level over the plains below.
The picturesque backdrop of the African bush veld lends itself as a perfect setting for a romantic wedding, honeymoon or just a well deserved break. See all the details of Leopard Mountain Game Lodge here. Prices from R4,995 pps.
Phinda Forest Lodge
andBeyond Phinda Forest Lodge in the Phinda Private Game Reserve has so much to offer. It's hard to know where to start! If you are looking for an abundance of unique wildlife including the Big 5, they've got it. If it's birdwatching you are after, there are over 380 species of birds to view. AND! If you prefer animals of the sea to the land, the marine diversity off the nearby coast is said to rival the Great Barrier Reef in Australia.
A day at Phinda is really something special. This architectural masterpiece lies within a dry sand forest where stilted wooden suites have huge windows that allow a close connection with the forest.
Phinda is the perfect honeymoon destination, with luxury and romance galore. It is the most expensive at R8,980 pps. Phinda has a honeymoon offer. When staying 3 nights or more, the groom pays full rate and the bride only pays 50% of the price for the whole stay. If this has wet your appetite, have a look at all the details on our Phinda Forest page.
Nkomazi Game Reserve
Nkomazi Game Reserve is quite extraordinary, and is difficult to categorise. That is because it ticks all the boxes for the perfect romantic getaway.
Unlike the Kruger and its masses of tourists, here you have the exclusive use of this 17 000ha game reserve which is home to the Big 5. It is also known as an ecological Aladdin's cave of natural treasures. From its towering ancient mountains to its broad river valleys and impressive grasslands containing countless animals and rare flora. This area is often referred to as the holy grail of geology with some of the oldest rock formations on the planet.
Its lodge, Komati River Lodge, has 12 tents dotted along the banks of the Komati River. If you are looking for a touch of luxury in an intimate and relaxing setting, then this will certainly satisfy as each suite has its own spacious sun deck and plunge pool.
Sound like a little slice of heaven? Read more about Nkomazi here if you think there's a catch. Prices from R4,270 pps.
Notten's Bush Camp
Nottens Bush Camp is one of the original private lodges in South Africa and presents an intimate safari experience. The Notten family have personally run the lodge for over 22 years. Offering exceptional service and warm hospitality – the high number of return clients is proof of that! This exclusive and intimate safari lodge is situated within the Sabi Sands Reserve. Where guests can experience the Big 5 and an abundance of other wildlife from the comfort of a game vehicle, or on a unique walking safari.
Elegant and spacious en suite cottages accommodate a maximum of 14 guests. So if you are fond of being extrememly well looked after, then this is the place for you! Laze at the pool or have a massage at the Nature Spa where you can relax to the sounds of nature rather than the radio before dining in the enchanting candelit boma under the stars.
Notten's is undoubtebly one of the most authentic safari experiences available. To see why, visit our Nottens page. Prices from R7,500 pps.
Arathusa Safari Lodge
Arathusa Safari Lodge is situated in the northern part of the prestigious Sabi Sand Private Game Reserve. Adjacent to the unfenced Kruger National Park. It's prime location and incredible composition of pristine wilderness sanctuaries makes this a sought after getaway.
You can choose from nine en suite chalets with private verandas that face a large active waterhole. Or four bush chalets which don't have the view but have private plunge pools instead. This beautiful setting is perfect for interesting game and bird viewing from the comfort of your suite or the camp pool.
Arathusa is the perfect spot for honeymooners. Not only is it well priced, but it offers a comprehensive spa and wellness centre for complete relaxation, intimacy when you want it, and pure luxury in the African Bush. See more of the details here. Prices from R6,950 pps.
Simbavati Hilltop Lodge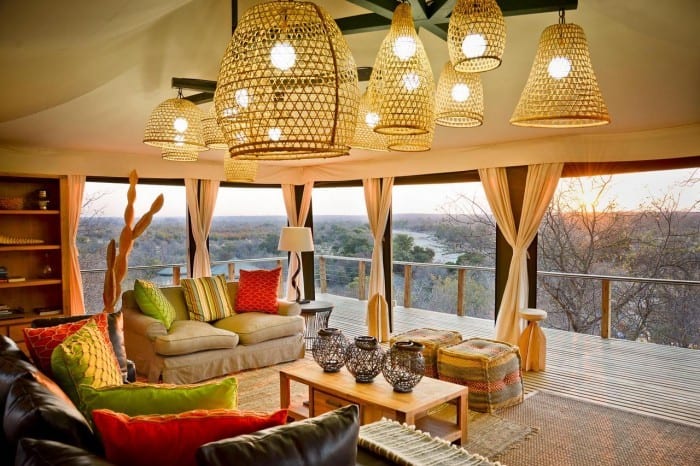 Simbavati Hilltop Lodge has one of the most stunning settings of any safari lodge in the Timbavati Reserve. The lodge is located at a small mountaintop (South Africans call it a 'koppie'). Where guests can enjoy magnificent views of the bush, the Nhlaralumi River and the distant foothills of the Drakensberg Mountain Range.
The pavilion-style luxury tents are super stylish and offer tons of privacy. They are carefully scattered over the mountaintop to ensure a peaceful and intimate stay.
If you are feeling social, there is a lounge and circular bar that offers a selection of books … alternatively you could just sip on a refreshing drink whilst you wallow in the rim-flow pool that overlooks the bush. I'm sure you don't need any more convincing, but if you do, check out our page on Simbavati. Prices from R8,450 pps.
Waterberg Ant's Hill
Ant's Hill lies on a ridge above a spectacular gorge in its own private game reserve in the magnificent. In a malaria-free Waterberg region. This private bush home, with its panoramic hillside setting, is reminiscent of a luxury Safari House in East Africa. The thatched lodge blends into the bush. The exotic furniture and brightly coloured African fabrics make it both sophisticated and comfortable.
What makes Ant's Hill stand out from the rest? It is the rare opportunity guests have to do some game viewing in the bush – from horseback. If you prefer solid ground, you can take a guided walk through the bushveld on foot, or on a game drive or motorbike.
There is a superb range of safari and bush activities on offer at Ant's Hill. The best part is that all activities are completely flexible – your guide will tailor-make each day to suit you. That's right, you can can lie in and enjoy a time of relaxation or have an adventurous start to your day. Sound perfect for you? See more details here. Prices from R6,400 pps.
Garonga
Looking for a 'safari for the soul'? Garonga Safari Camp, situated in the 22,000 hectare greater Makalali Conservancy west of the Kruger National Park. It offers a more intimate and holistic wildlife encounter. You can view game from open safari vehicles, sleep out on a platform in the trees, or laze in a hammock – it is all up to the individual.
Garonga Safari Camp is an exclusive camp with only 12 tented suites to ensure an intimate and personalised stay. The luxury tents are situated overlooking a dry riverbed – each with a wooden deck, a hammock, and spectacular views. You also have the option of having a 'bath with a view' for a unique romantic and adventurous experience.
Whether you want to learn about the constellations of stars or enjoy a massage in their romantic aromatherapy sala, Garonga will certainly satisfy. For more on Garonga, have a look at what we have to say on our page. Prices from R7,450 pps.
Get the ball rolling for that romantic breakaway !
Want to discuss options, but not ready to start booking? Chat to us for a on-obligation proposal & price
Contact Us Now
______________________________________________________________________________________
This article on Romantic Safari Lodges is courtesy of Cedarberg Africa
Cedarberg Africa is a travel and safari company specializing in Southern and East African tailor-made itineraries. As we have special rates with all the hotels and game lodges, booking through us will cost no more than booking direct, and sometimes less. So our expertise and knowledge comes at no extra cost to you!
Feel free to contact us if you want us to plan a romantic getaway for you that doesn't break the bank!
_______________________________________________________________________________