The breathtaking countries of Kenya and Tanzania and the island of Zanzibar present the perfect setting for a romantic getaway. Each has some luxurious and romantic safari camps. For those who want to whisk their better half off on a dreamy safari. If you are still considering where to go on your honeymoon, our suggestions for romantic safari lodges in East Africa below should certainly tempt you …
Romantic safari lodges in East Africa:
Saruni Samburu, Kenya
If you are searching for the perfect romantic getaway or honeymoon spot, then look no further. Surrounded by the 95,000 hectare private Kalama Wildlife Conservancy and adjacent to Samburu Game Reserve, Saruni Samburu is the only lodge in over 200,000 acres of unspoiled wilderness. The lodge's waterhole is the only source of water for miles leading to unrivaled wildlife viewing, right on your doorstep.
The honeymoon suite may just be 'the most amazing room in Africa'. It is carefully built onto the edge of the hillside around the natural rock formations. This villa has a secluded dining deck for romantic meals and "pinch me, I'm dreaming" panoramic views over the wilderness.
Saruni Samburu also offers night drives with a high density of leopard and hyena spotting. The stylish Samburu Wellbeing Space for an even more relaxing time. Sound good? Visit our page here to find out more about this romantic safari lodge in East Africa.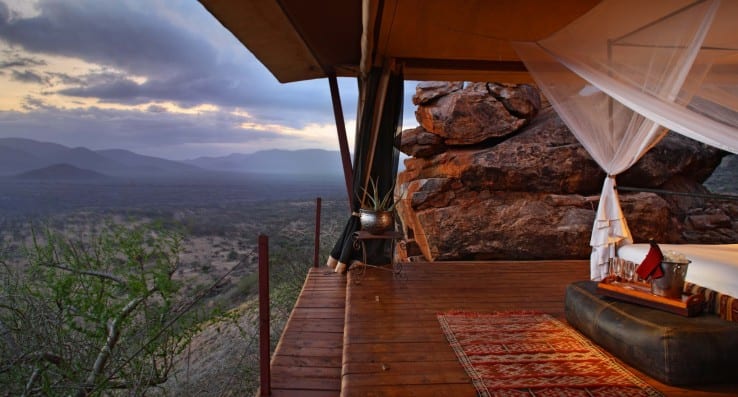 Sayari Camp, Tanzania
As one of the few permanent safari lodges permitted in Tanzania wilderness, a stay at Sayari Camp is an exclusive encounter. Situated close to the Mara River, you will be treated to an incomparable wildlife experience. The wildebeest migration – which fills the Lamai Wedge with more than a million creatures every year – passes you by. Even if you don't manage to visit when this happens – (sometime around July-August time but it's a movable feast in every sense of the word) – there is year-round game viewing led by incredibly knowledgeable guides.
Looking for some romance? Sayari Camp has a luxurious tented honeymoon suite featuring a private outside bath (the bathtub is huge!) overlooking the Serengeti plains. You can also relax on your private veranda or take a dip in the rock pool in between bushwalks and open-vehicle safaris.
Another highlight of Sayari Camp is the delicious food; a fusion of European cuisine with authentic African elements. If your mouth is watering then see more details here.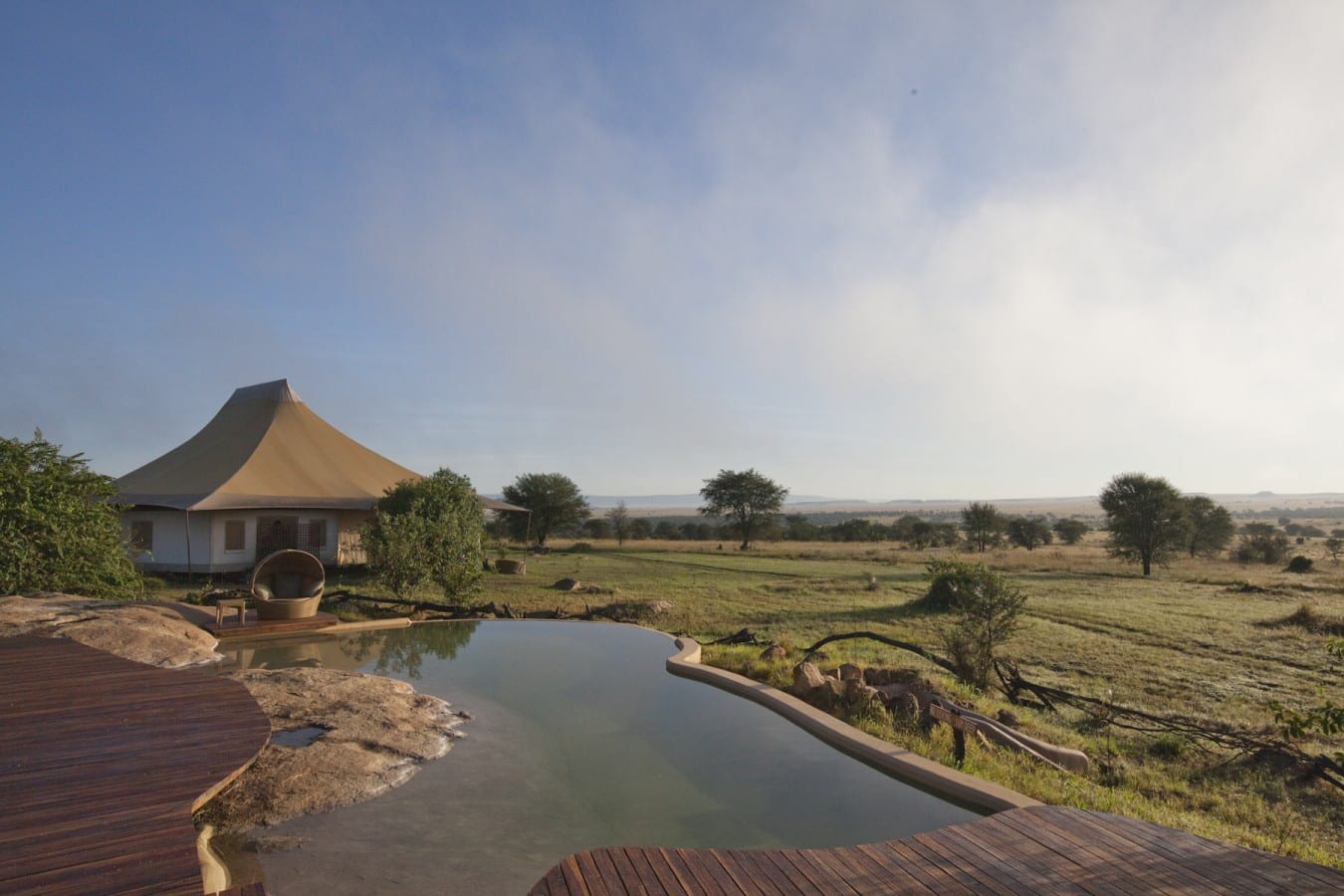 Fundu Lagoon, Zanzibar
Of course sometimes you just crave some downtime on a stunning beach. Fundu Lagoon lies on Pemba Island, the much quieter sister island of Zanzibar. The remote and beautiful beach setting creates the ideal romantic escape. There are no hoards to compete with as this peaceful spot is only accessible by a 45 minute boat ride, far from the madding crowd. The mixture of island ease and elegant style give Fundu Lagoon a laid-back ambience.
The jetty stretches way out into the sea with its own bar for the perfect sundowner spot. The lodge also offers delicious gourmet food and great wines. If you enjoy warm water and excellent diving and snorkelling (rated as one of the top 5 diving destinations in the world) along with a bit of barefoot luxury, then this is most certainly the place to go. Our page says it all.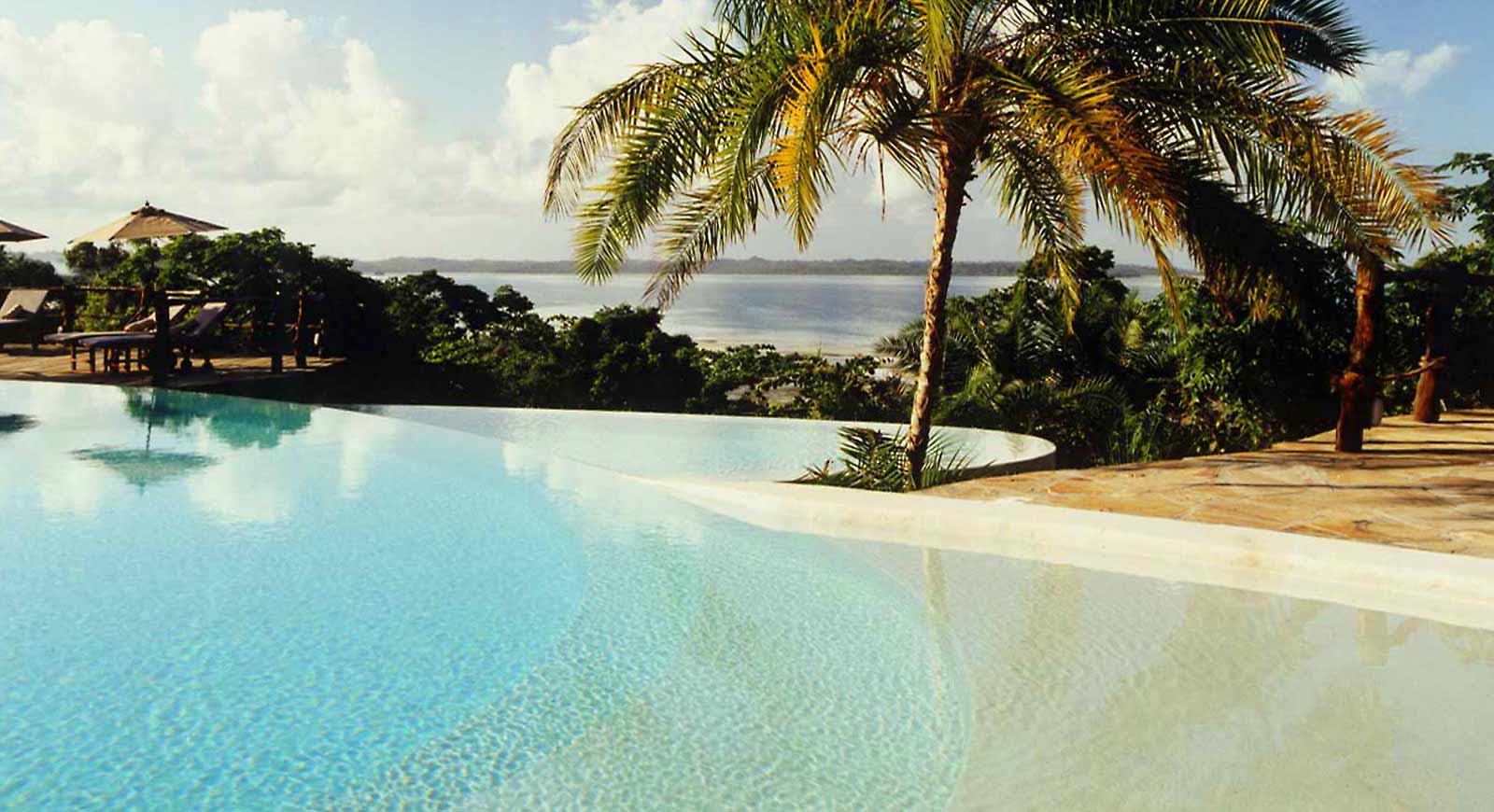 Download our Guide to Tanzania Safaris
Major Game Reserves, Sample Tours & Camps, plus the low-down on Best Time to Visit!
Get our Free guide here
Tasha Eygelaar
Africa Travel Specialist
Hi I'm Tasha, I'm here to help you plan your ideal holiday experience
Elsa's Kopje, Kenya
Elsa's Kopje is a luxurious and romantic oasis, sculpted into Mughwango Hill in the beautiful Meru National Park of Kenya. With it's breathtaking views, contrasting landscapes and great wildlife diversity, this little-visited lodge is a really special find.
Each cottage is crafted around the rocks with a large bedroom, open sitting room, veranda and spacious bathroom. If romance is the order of the day, then Elsa's Kopje Honeymoon suite is a must. This triple level room, with a bedroom, bathroom and private sitting room, is Elsa's 'pride' and lives up to the incredible architecture that depicts the design of Elsa's Kopje.
Elsa's Kopje also offers great food – for some privacy you can eat at a separate table under the stars. See further details about this romantic spot on our page here.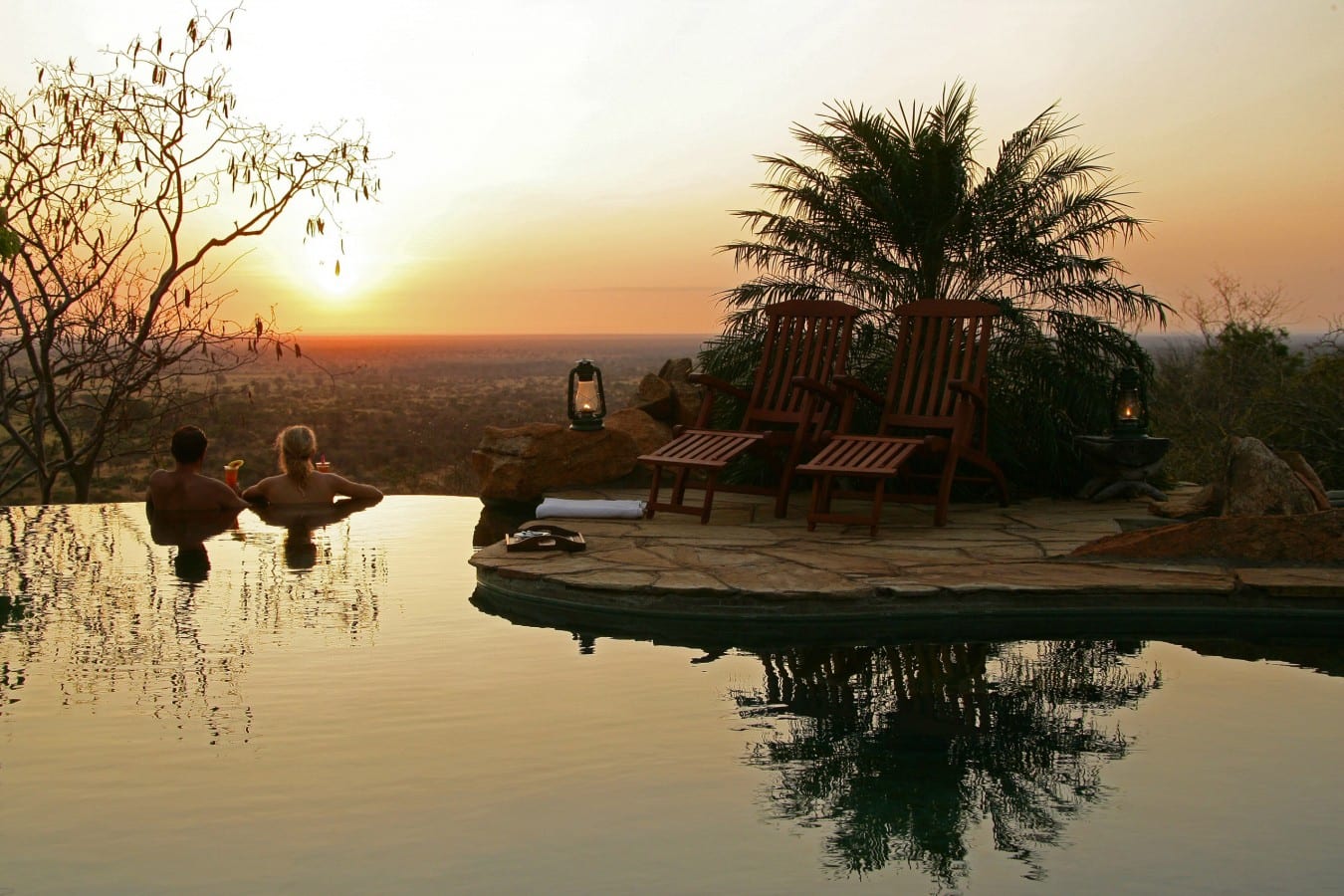 andBeyond Serengeti Under Canvas, Tanzania
Serengeti Under Canvas takes 'glamping' (glamorous camping) to a whole new dimension. Think private butler service, chandeliers, fluffy duvets and oh-so comfy beds. The luxury semi-mobile tented camp moves around Tanzania's Serengeti National Park several times each year. Carefully planned according to the projected movements of the Great Wildebeest Migration, the camps aim to bring guests within a comfortable driving distance of the herds.
Using only private campsites in the Serengeti, these migratory camps are entirely intimate and exclusive, featuring Tanzania's most spacious safari tents. What makes Serengeti Under Canvas so special? You are able to explore remote, beautiful corners of the Serengeti with its resident and migratory game in a truly unique and romantic way. For the ultimate honeymoon experience, see more details on our page here.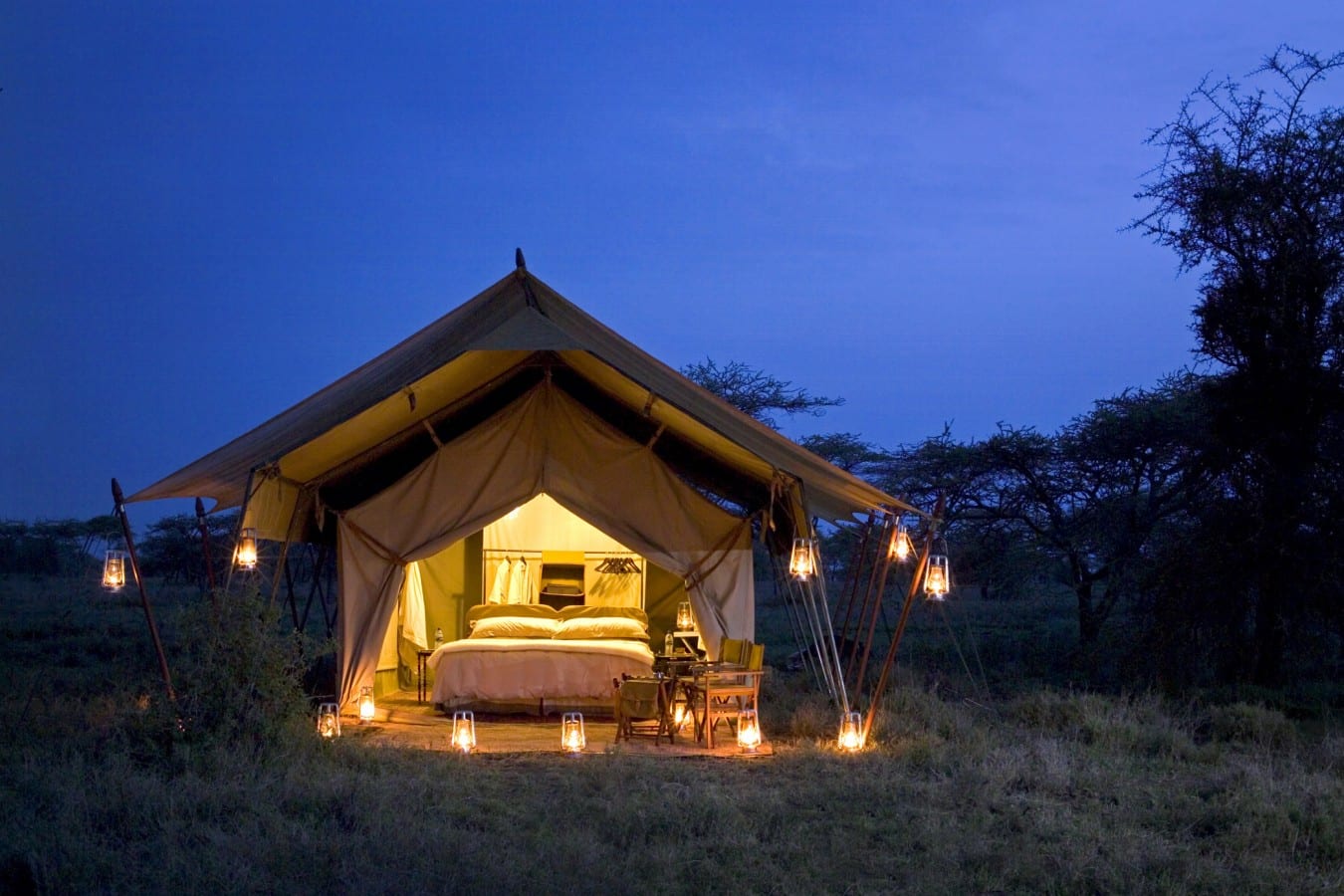 _______________________________________________________________________
This article on Romantic Safari Lodges in East Africa is courtesy of Cedarberg Africa
Cedarberg Africa is a travel and safari company specializing in Southern and East African tailor-made itineraries. As we have special rates with all the hotels and game lodges, booking through us will cost no more than booking direct, and sometimes less. So our expertise and knowledge comes at no extra cost to you!
Feel free to contact us if you want us to plan a romantic getaway for you in East Africa.