""What does a Tanzania safari cost?" "So how much is a safari in Tanzania?" These are the questions that people are always itching to ask us. But often they don't. Because they know that asking what a Tanzania safari costs is like asking how much a house costs. Or how long a piece of string is!
But in reality we ARE able to give you some guidelines. In a nutshell, safari prices start at around $410 per person per night in the lowest season, including park fees but excluding flights or road transportation. But we suggest that you budget for at least $850-$1,000 per night. Larger lodges are less expensive than the tented camps we far prefer but they can be lacking in soul! Also, few people travel in the low season (though it can be a gamble that does pay off!). However, that guideline safari price can sky-rocket all the way up to $3,000 per night for the most expensive camps in Tanzania.
So this article looks into what factors determine our safari prices.
We look at:
Time of year
Type of safari (eg how you get around)
Choice of camp
Number of flights
This article on Tanzania safari prices is similar to the one that I wrote about Kenya safari costs. But with some crucial differences. You also may like to look our our main page on African Safari Pricing . There we compare prices across ALL our main safari destinations.
So read on and learn how to set a realistic budget for your Tanzania safari dream…

Tanzania Safari Prices for Moderate, Premier & Top camps
A safari is probably the most expensive type of holiday or vacation. So you want to know that you can afford it before you start really planning. But as with cars, clothes and apartments, there is no "one size fits all''.
My aim in writing this is to allow you to make an informed choice when deciding how much you want to budget for your Tanzania safari. Tanzania safaris are slightly more per night than Kenya because the park fees tend to be a little higher. But the difference is small. However there are some advantages to a Tanzania safari over Kenya. But that's another story and beyond this article!
Typical Tanzania safari price per day
Note: Ballpark per night price (All Inclusive)
Moderate
Group safaris
Premier
Private safaris
Deluxe
Fly-in /private
Green Season
(April-May)
$450 – $550
$800 – $975
Most are closed
Shoulder
(Jan-Mar, June & Oct)
$475 – $800
$850 – $1200
$1300 – $2550*
Peak Season
(July-Sept/Oct)
$525 – $850
$925 – $1500
$1600 – $3000*
So – for example – a Tanzania private safari might typically cost between $7,400 and $12,000 per person for 8 nights in Peak season at Premier camps. We might tailor-make a safari for less than this. BUT even a scheduled small group safari is not going to be less than $450 per person per night.
Notes
These are average prices per night for the safari including any domestic flights, park fees, game drives and many activities. But they exclude the international flights.
Peak Season – July to October and Christmas. Sometimes it includes June. Sometimes October is slightly cheaper.
Shoulder Season – varies a lot by camp. Typically January to March, November to mid December & June, maybe October
Low (Rainy) Season – varies by camp. But always April & May, sometimes late March & sometimes November.
Some Observations on Tanzania safari price by Season
Many camps close in the rainy season, especially at the luxury level. The Selous and Ruaha are effectively closed during this time.
For moderate camps, the difference between the seasons is not that great on a per night basis. It is also pretty competitive.
At the top end, there are a few very pricey camps which push up the maximum. You don't need to stay there. So it can be less.
Western Tanzania is expensive. Full stop. But trekking to see the chimpanzees is one of the most exciting safari experiences in East Africa,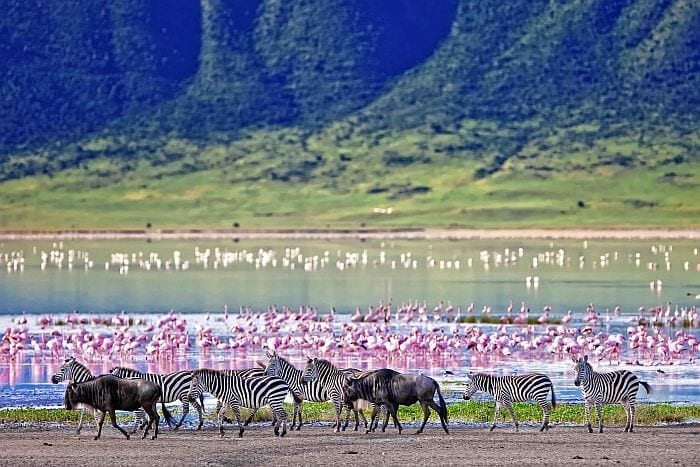 Start Chatting to Us
Love the sound of a trip to Tanzania. Let us know what you are looking for & we'll send you a tailor-made proposal.
Contact Us
So lets delve into what drives the price of a Tanzania safari?
The main drivers of your Tanzania safari cost are:
Time of Year
Style of Safari – eg. How you getting around Tanzania
Choice of Camp
And How many flights
1) Time of Year
This is the big one. But – and this is important – it is less of a factor in Tanzania than Kenya. Because the wildebeest migration spends most of the year in Tanzania. And so you will be able to see it over many months. You will just be visiting different areas.
Best time to see the Wildebeest Migration in Serengeti
Nevertheless July to September remain the most expensive and the busiest time of year to be on safari.
In contrast most people want to avoid the long rains which are between mid April and May. And to a much lesser degree the short rains of November. That's why prices are noticeably lower. I agree with this. As being stuck in the black cotton soil mud on safari for hours – and I speak from personal experience – is something to be avoided if possible! Plus you may want to add some time at the beach in Zanzibar. And rain on a beach holiday just doesn't work!
So – as with Goldilocks – you may like to consider something in the middle as just right. Especially if budget is a factor. Look at the shoulder season periods such as June or January and February. There is plenty of resident wildlife in Tanzania throughout the year. And the safari crowds will be noticeably less.
2) Style of Safari
What do I mean by that? I mean how do you want to get around the country. Broadly speaking you have three main options. (Plus a variation on one.)
Option 1) Most expensive are fly-in safaris where you fly from one camp/area to the next camp/area
Option 2) The middle option is a private drive-in safari, assuming you are only two people.
The variation is that we like to suggest that you add at least one night at the end of the safari to get back to Arusha, This cuts down on travelling time considerably
TIP: A private safari for 4 people is basically the same price as a scheduled safari. Plus if you are happy to pay a tad more, you can add nights and tailor it even more to your needs.
Option 3) The least expensive option is a scheduled drive-in safari.
This is perfect for couples on a budget. And also for solo travellers.
3) Choice of Camp
Self-explanatory really. Though interestingly the difference is not as great as in say, South Africa. So if you can afford a little more, you can often upgrade quite a bit in standard. Plus some camps belong to safari groups and you can get lower per night prices if stay over 7 nights in their camps.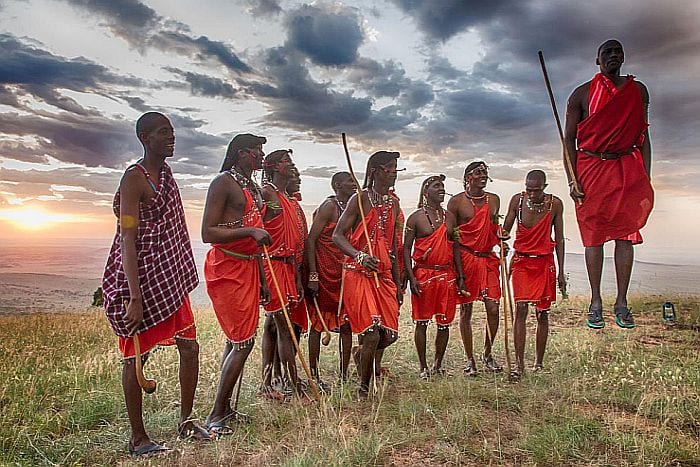 4) How many flights & use of flights
Obviously if you fly to several regions and stay only 2 nights in each camp, it will cost you more than if you visited fewer places and stayed 3 or more nights in each. Plus the latter will also make for a more leisurely and enjoyable safari experience!
Plus in Tanzania – unlike Kenya – the safari destinations are a lot closer together. So a road safari is a much more viable option. Indeed some of the airports are quite a distance from the lodges. So that even a 'fly-in"safari involves quite a bit of time on road transfers.
Note on All Inclusive Tanzania Safaris
Many people are looking for an all-inclusive Tanzania safari. But the very nature of a safari is that it DOES include everything. Usually all meals, teas & coffees, game activities and park fees. The exact nature of "all-inclusive" varies from lodge to lodge. And the more moderate lodges and safari lodges may not include drinks. But Premier lodges will usually include house wines, spirits and soft drinks.
Most safari activities will be included. But there are some obvious exceptions. These are usually big ticket items such as a hot air balloon safari over the Serengeti. (Though you can ask to add this in as an extra.)
Similarly in Tanzania we sometimes recommend a day at leisure in the Ngorongoro Crater area. This breaks up the safari. Plus there's a great range of optional activities such as coffee farm tours, visits to the Maasai community, guided walks in the Highlands to name but a few…If in doubt, ask us!
Six Tips for bringing down the safari cost in Tanzania
The above factors pretty much give the answers!
Consider travelling in shoulder season to bring down the Tanzania, safari cost
Choose a private guide and driver over a fly-in safari. Especially if there are 4 or more of you
Try not to flit from place to place. As this eats your budget. To say nothing of the waste of time packing and unpacking
Scheduled safaris are an option if you are on a budget, or if you are a solo traveller. But you tend to travel at a faster pace and stay in the larger safari "hotels".
Adding some nights in Zanzibar reduces the average nightly cost. And allows you to have a longer time away. It is also the perfect way to unwind after the long days on safari
Northern Highlights and Zanzibar
Southern Horizons in Style (9 night version)
Southern Tanzania Adventure & Coast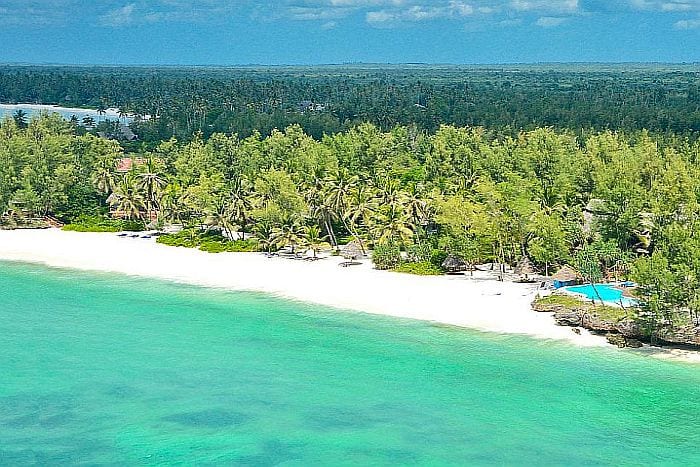 And our secret tip…
6. Give a Budget Range for your Tanzania safari
As with my Kenya article, this is our secret tip to save money on your Tanzania safari. Please give your safari designer some sense of your Tanzania safari budget. This article is designed to help you do just that! If we don't have any sense what you can spend, we can waste your time suggesting safaris which are too expensive for you.
Plus if you give us a budget, it is human nature for our consultants to work especially hard to meet that budget. They'll think of which camps may have a long stay offer? Or an early booking discount.
Everyone loves a challenge! And a target to work towards….
Conclusion
If a safari is too expensive, it is NOT because of the excess profits made by the safari designer. The safari industry is too competitive for anyone to take an excessive profit margin! The only way to bring down the costs is by looking at the above factors. Reconsider the time of year to travel. Look at the mode of travel. But if you tell us what you can spend, (and when you want to travel), we immediately know what we have to work with.
I hope this article is useful? However if this is your first time on safari in Africa, you won't be disappointed. The cost of a Tanzania safari will be well-worth it – with superb game-viewing, stunning safari terrain and friendly people! It is one of the safari gems of Africa.
Gloria Darvall
Africa Travel Specialist
Hi I'm Gloria, I'm here to help you plan your ideal holiday experience
Related Articles
Safari Pricing – This gives an overview of Safari Pricing. Including a comparison of safari prices across different safari destinations
What does a South Africa safari cost?
What does a typical Kenya safari cost?
What's the difference between a East Africa safari & a Southern Africa Safari?
Free Guide to Tanzania Safaris
Check out our photo-rich Insiders Guide to Tanzania & share with family & family!
Download Here

'How much does a Tanzania Safari cost' was written by Cedarberg Africa
Cedarberg Africa is a specialist tour operator and safari designer for Southern and East Africa. We're a family-run company who've been around for 25 years. We offer 16 different countries in Africa. Given our volume of business, we make our money through specially negotiated rates with the safari camps. So you will get the benefit of our 1st hand experience. And at a fair but competitive price.
Contact us if you'd like a tailormade safari quote for Tanzania