We love places that offer value for money! That's why we'd like to share some affordable yet romantic honeymoon lodges in South Africa with you. Let's face it, when you dream about your honeymoon or romantic getaway, more than likely it involves some element of splurging. But the cost attached to 'luxury' or 'honeymoon' can be daunting and exorbitant.
But not all romantic destinations are completely out of reach. So let's take a closer look at some more affordable options for that dreamy escape. These are not exactly "budget" but they do offer fantastic value for money in terms of what you get.
The Three Boutique Hotel
The Three Boutique Hotel fills the gap between a too-homely guest house and an impersonal hotel. And it's location in the leafy Orangezicht area of Cape Town City Bowl could not be more ideal. Guests can walk to a host of restaurants and shops, or take a short drive to the many other sights and experiences that this buzzing city has to offer.
Formerly a beautiful old Cape homestead – a National Monument building in fact – The Three has been converted into a stylish and well-priced boutique hotel. Each of the 15 modern rooms have a slightly different contemporary style. But all are spacious and comfortable.
The vibey streets lined with local restaurants and shops are a short walk away. This spot is perfect for couples who like to feel the pulse of the city close by.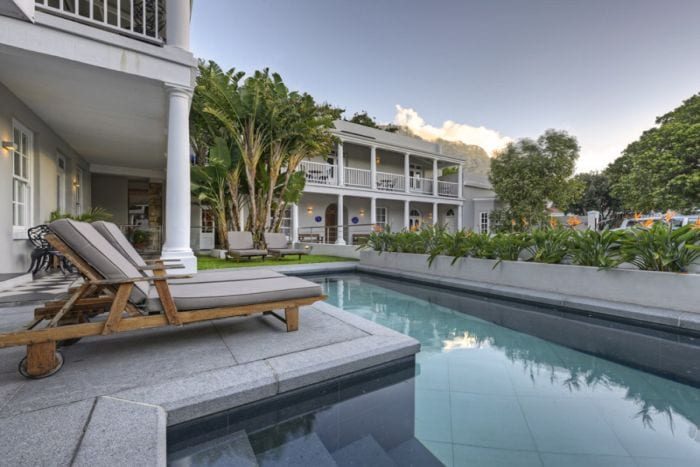 Strandloper Ocean Boutique Hotel
For many, 'romantic' doesn't equal 'city' however. Enter The Strandloper Ocean Boutique Hotel. Although it is a luxurious 5 star lodge, you can spend most of your stay barefoot and beach bound if you so wish. The rooms are a fusion of beach style and contemporary luxury.
Each of the 14 rooms or suites have their own terrace or courtyard and wide doors that open out onto breathtaking views. Clear skies, shimmering sea and ample space – what could be better? It is a lovely, affordable and romantic destination for couples who love being close to the ocean and away from cityscapes.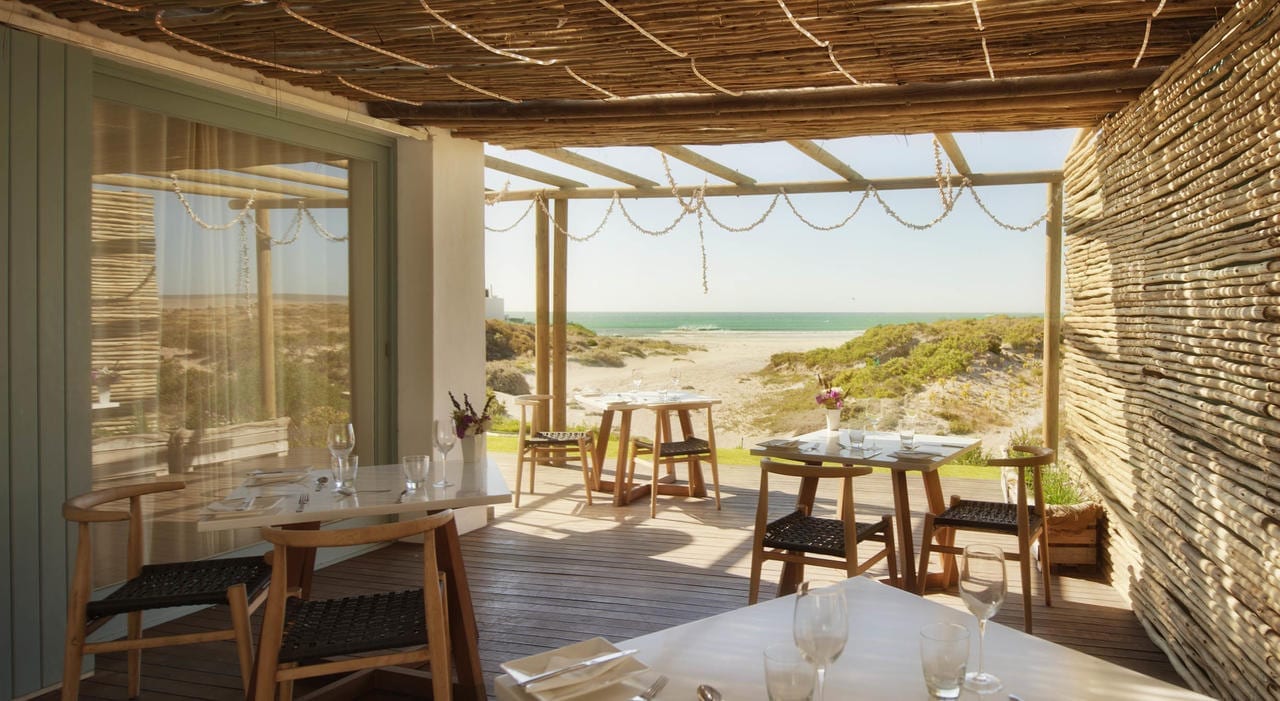 Cederberg Ridge Wilderness Lodge
This luxury wilderness lodge is an absolute beauty! With panoramic views of the Cederberg Mountains, delicious food and wine, spa facilities and adventurous experiences, Cederberg Ridge is a great option for a more affordable and romantic trip.
And if relaxation is your main goal, then you can treat yourself to some pampering at the spa, sip on a cold beverage in the swimming pool, or simply unwind in one of the spacious and stylish rooms. Or you can get your active gear on and take part in one of the many excursions and activities available on and off the farm.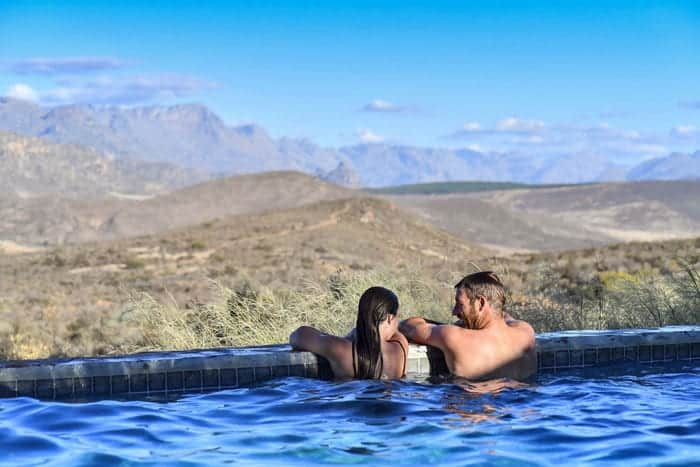 Also have a look at our Romantic South Africa Self Drive.
The Robertson Small Hotel
Located in the small town of Robertson with the Breede River Valley Mountains looming in the background, the Robertson Small Hotel is a truly delightful find. If you love good food and wine then you will be spoilt for choice! This elegant boutique hotel's signature restaurant – Reuben's at the Robertson – is under the guidance of famed chef and restaurateur Reuben Riffel. The hotel is also in the heart of the Robertson Wine Valley, so the selection of wines will keep you well-hydrated!
The Robertson Small's manicured gardens, shimmering pools and modern rooms make for an affordable, romantic and comfortable and stay.
Kanonkop House
The Garden Route is the perfect destination for an affordable and romantic trip. And what's even better, is that it is home to the gorgeous Kanonkop House. This newly built and refurbished five star boutique lodge has uninterrupted views of the Knysna Heads and Lagoon.
Couples will feel pampered in one of their five bedrooms, decorated in a contemporary style infused with minimalist African art.
An added bonus is that this gem caters for active couples, and those that would prefer to kick back. Guests can make use of the lodge's water and sports kit to enjoy the lagoon to its full extent. Go on a sundowner cruise, mountain biking, or try your hand at a round of golf at Fancourt or Pezula. Alternatively, Kanonkop's in-house massage therapist will treat guests to a range of therapies and massages.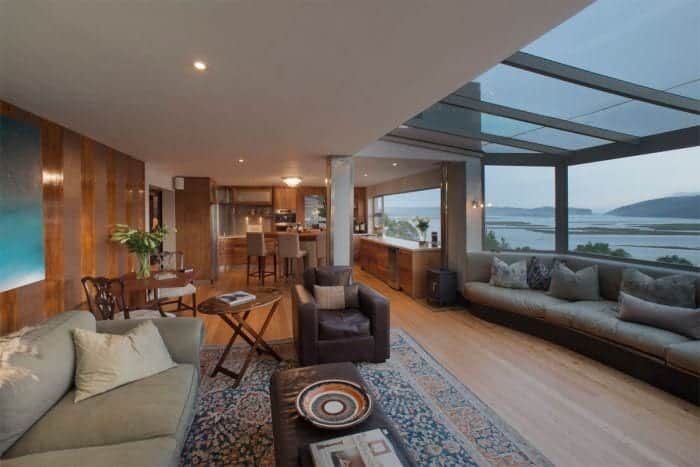 Emily Moon River Lodge
Couples who enjoy a bit of social energy thrown in the mix will love Emily Moon. The lodge overlooks the tranquil wetlands of Keurbooms, yet it's only minutes from the vibe of Plettenberg Bay. Sample some delicious food and wine at their popular restaurant, either in the lodge or out on the deck to enjoy the sweeping views.
The ten chalets at Emily Moon are stylishly decorated with interesting African furniture, artifacts and clean simple lines. Enjoy their facilities that include a swimming pool, canoes for paddling on the river, and plenty of walks. Or have an aromatherapy massage (that you can have in the comfort of your room).
It certainly is a romantic, vibey and affordable destination!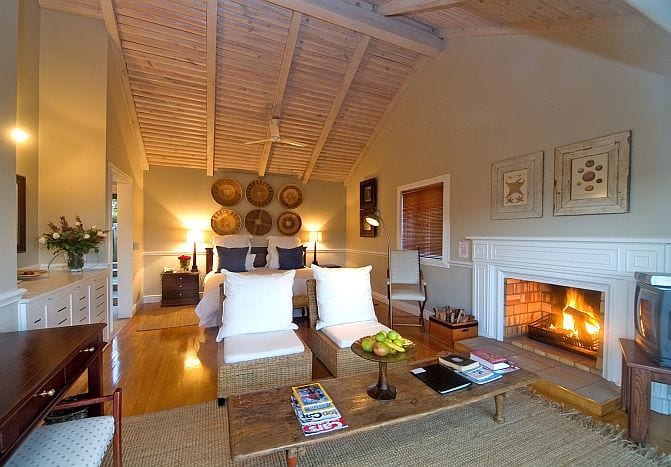 Samara Karoo Lodge
Searching for an affordable stay in a game reserve? Look no further. Samara Karoo Lodge, with its wide veranda surrounded by mountains and indigenous wildlife, combines colonial comfort with glorious Karoo hospitality and food.
Samara Private Game Reserve is a non-malaria area, and lies on 28,000 hectares of pristine Karoo wilderness. It is a true escape that offers spectacular sunsets, clear starry skies and close up wildlife encounters. There is something particularly romantic about secluded places like this. A place that begs you to share the spectacular sunsets and clarity of the night sky with your favourite person.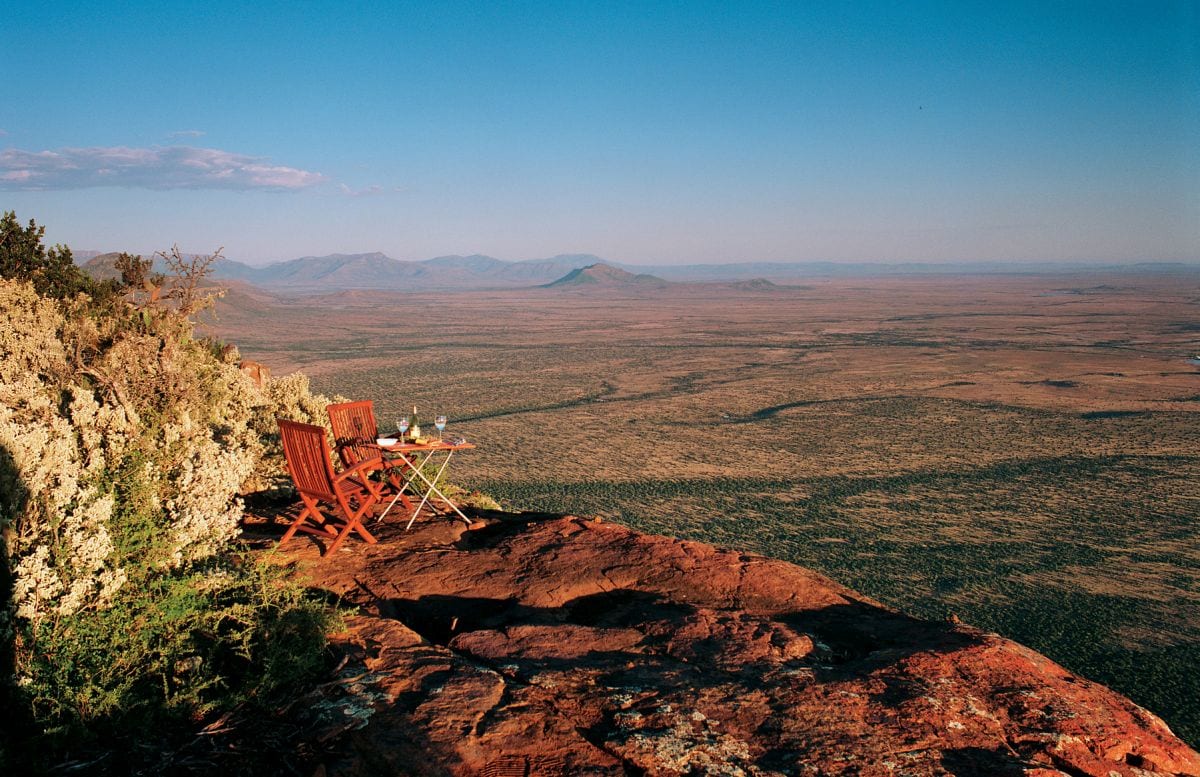 Related Articles on South Africa Honeymoons:
If it is indeed a honeymoon in South Africa that you're planning, you may be interested in these articles:
Best Honeymoon Destinations in South Africa
Adventure Honeymoon ideas that'll get your heart racing
Start chatting to us
Keen to start planning? Tell us what you have in mind & we'll create a tailor-made itinerary for you
Contact Us Now
"Affordable yet Romantic Lodges in South Africa" was written by Cedarberg Africa
Cedarberg Africa is a travel and safari company specializing in tailor-made itineraries in Southern Africa. As we have special rates with all the hotels and game lodges, booking through us will cost no more than booking direct. And sometimes less. So our expertise and knowledge comes at no extra cost to you!
Remember that we can tailor-make any holiday for you, so if some of these ideas sound great, but you're not too sure of others, then contact us and we will plan the perfect getaway for you.