South Africa Walking Safaris
For us, a walking safari is the ultimate wildlife experience.
Overview
For us, a walking safari is the ultimate wildlife experience. You will never forget the moment when, crouched low in the aromatic golden grass beside your armed game scout and guide, you watch elephants cross the river towards you! A walking safari is a gentle walk so it is suitable for any adventurous adult.
Dedicated South Africa Walking safaris
Rhino Walking Safaris offers two to three night stays at Plains Camp, a private concession in the Kruger National Park, with the opportunity to enjoy a sleep-out in their elevated tree-houses (on the 3 night safari). Similarly, Africa on Foot and Simbavati Trails Camp both focus exclusively on walking safaris in the Timbavati Game Reserve.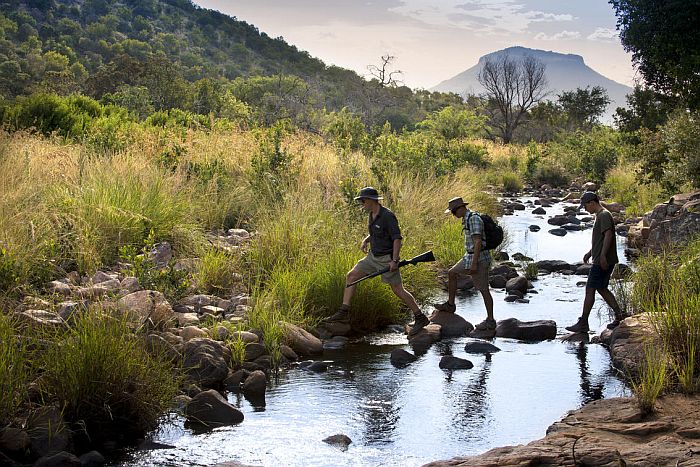 Down in the Cape, both Sanbona in the Little Karoo and Shamwari Game Reserve in the Eastern Cape offer their 'Explorer camps'. These rustic walking camps are run from Friday to Sunday (2 nights).
In the Marakele National Park in the Waterberg Mountains, the stylish and eco-friendly Marataba Mountain  Camp is perfect for more adventurous souls wanting a full day adventure out in the bush.
Whilst in the far north of the Kruger, Pafuri Walking Trails is a 3 night walking safari in the dry winter and spring months. This is a very scenic part of the Kruger and ideally suited to walking safaris.
Some only offer walking safaris, whilst others offer a mix of walking or game drives, usually with game drives in the hotter afternoons.

Morning Walks
If you aren't sure that you want to spend much time on foot, there are alternative ways to enjoy a walking safaris in greater comfort. Many game lodges offer a short morning bush walk on request. However, some lodges - mentioned below - have a greater emphasis on walking than most. They offer longer 3-4 hour bush walks. These are not arduous but rather gentle explorations of the bush, giving you the opportunity to observe the game at close quarters, track spoor and gain a holistic sense of how the wilderness.
Highlights
A walking safari is the ultimate wildlife experience.
Gain fascinating insights into the ways of the wild with an experienced guide.
Typically you'll focus on smaller wildlife, birds, plants and their local medicinal uses.
Sometimes you'll also encounter larger wildlife so your guide is always alert and ready.
Over-whelming sense of being part of the bush and not just viewing it from a stationary vehicle.
It was a fabulous holiday
"I have booked through Cedarberg before and this is why I came back, as I was highly satisfied. This time it was a bit more complicated as Peter had less experience with Uganda himself and he had to communicate with Wildlife Frontiers a lot, which took time and some backwards and forwards. In the end it was so worth it, as it was a fabulous holiday. Peter also recommended the group experience and that was the right thing for a single traveller, we had a fantastic group of five and had all meals together. Otherwise I would have been on my own for the whole trip."
Mrs Monika Maintz
High satisfaction with Cedarberg
"We just returned from our third African safari booked with Milandi. I cannot say enough about our high satisfaction with Cedarberg and, particularly, Milandi. Milandi has always worked with us, making recommendations based on our preferences, and together we "tweak" the itinerary until it is perfect for us. Milandi is efficient, highly responsive, knowledgeable, friendly, and seems to really care and act excited about our booked adventure. Each time we have traveled, all arrangements have been punctual and without any delays or cancellations. Every detail has been prearranged. During our most recent trip, Milandi even checked us in for each of our domestic and intercontinental flights, knowing that we would not have the capability to do so from the camps we visited. Cannot recommend Milandi highly enough!!"
Mrs Shirley Spain
Seamless arrangements
"We were often posting on Facebook during our travels and many of our friends were asking who arranged our trip, so don't be surprised to get a few referrals. Again, thank you so much for your time and effort with our trip!"
Ms Tammy
Hi I'm Ginny, I'm here to help you plan your ideal holiday experience
Exceeded all expectations
"Cedarberg was professional, responsive, and personable. All flights, all transfers, all accommodation, all activities, and the safari itself went exactly to plan. The experience, end-to-end, exceeded all expectations."
Mr Michael Barnard
Everything was perfectly organised
"Mari did an incredible job planning our holiday. Not only did Mari communicate extremely well throughout the whole process, but the trip was beyond our expectations"
Mr Yeats, USA
Your prices better than the bigger companies
"Brian came home with your attractive brochure and we started looking at possibilities. We both thought Cedarberg would be too expensive for us but were pleasantly surprised to find your prices better than the bigger companies. The itinerary you gave us went totally to plan. All our airport pickups and transfers went smoothly and local drivers were friendly and informative. We also appreciated all the phone conversations and help you gave at Cedarberg before we went and were delighted with the program you put together for us."
Dale Family, UK