Overview
Focusing exclusively on walking safaris with expert guides
Great traditional safari vibe around the camp fire
From fire to table – amazing bush cuisine including earth-buried pot bread
Only four en suite tents so intimate and exclusive, perfect for friends
Simbavati Trails Camp is a gem; a luxury-yet-back-to-basics walking trails camp located in a secluded area of the Timbavati Game Reserve. It's all about guided walks with expert guides, one of the most stimulating and enthralling forms of safari. Trails Camp borders, without fences, an unspoilt wilderness area of 11,000 hectares in the Kruger National Park.
There is no electricity, WiFi or cell phone reception. Just you, in the heart of an untamed African wildlife wonderland. Hearty and delicious meals are prepared over an open fire by an expert cook.
The minimum stay is two nights. But to really appreciate the rich but slower walking trail rhythm, we recommend a three night stay.
Please note that the camp is only operational during the cooler autumn to spring days from March to November.
Walking Safaris
The aim of a walking safaris is to gain a holistic understanding of the bush, led by an armed and specially trained walking guide. The pace is relaxed and your guide will often pause to talk about trees and bushes and their traditional and medicinal uses, dung middens, animal spoor, anthills, termite mounds and more. Whereas a game drive is very much about "spotting" and the sharp-eyed will get lots of kudos, a bush walk uses and sharpens all five senses. Being on foot in the bush can be both grounding and thrilling at once, but always informative.
Without the hum of an engine, you will begin to notice all the sounds of the bush, from the serenading songbirds to the crackle of branches betraying elephants feeding in the distance. With our qualified walking guides, you will discover a sense of true connection with nature and you may even get the chance to view our larger game on foot. Encounters with large animals are always possible but the objective is to observe the wildlife from a safe distance, rather than walk toward big game.
Simbavati Trails Camp on the map
Rooms
Luxury Tents
Four en-suite Meru-style tents are surprisingly spacious with proper furniture and mosquito nets. En suite bathrooms have a proper flush toilet and a simple basin with a jug of hot water for washing. The back of the tent opens out to your private al fresco en suite 'bathroom to the stars'. Here you find a gloriously simple bucket shower which is filled on demand with warm water. In front of the tent there is a small shaded area with two chairs.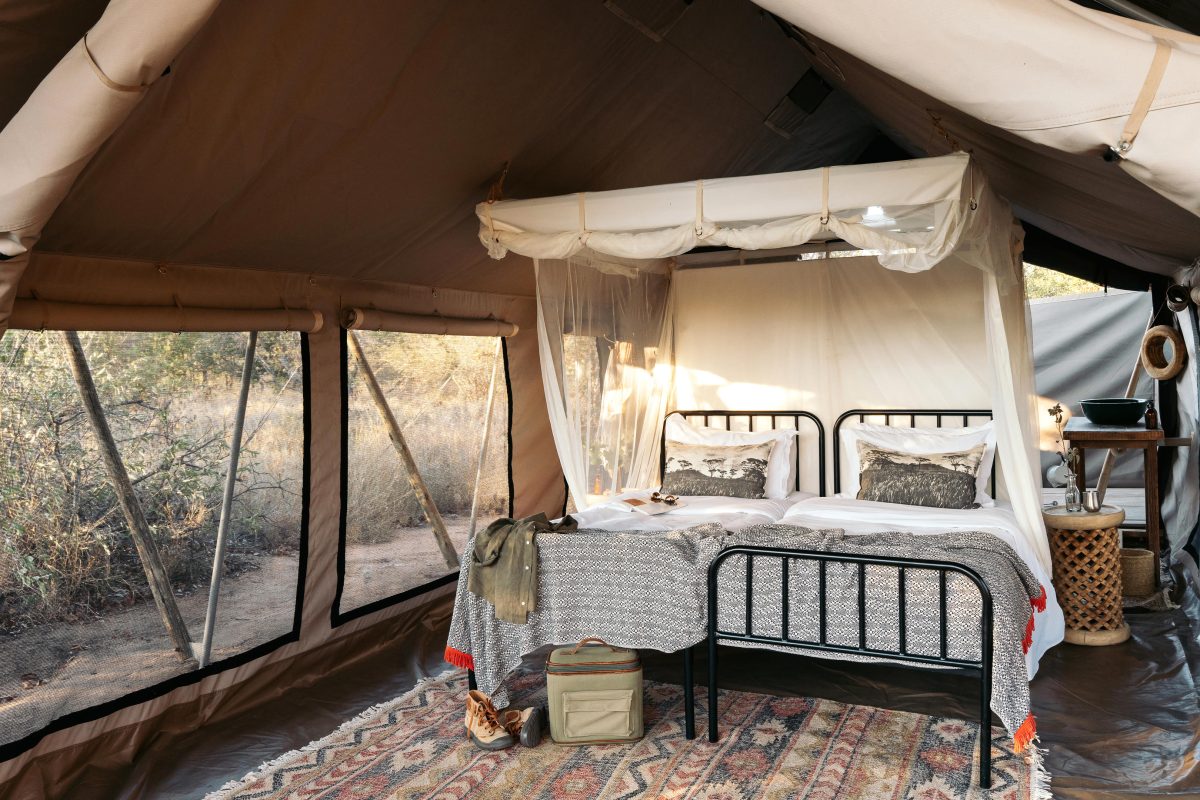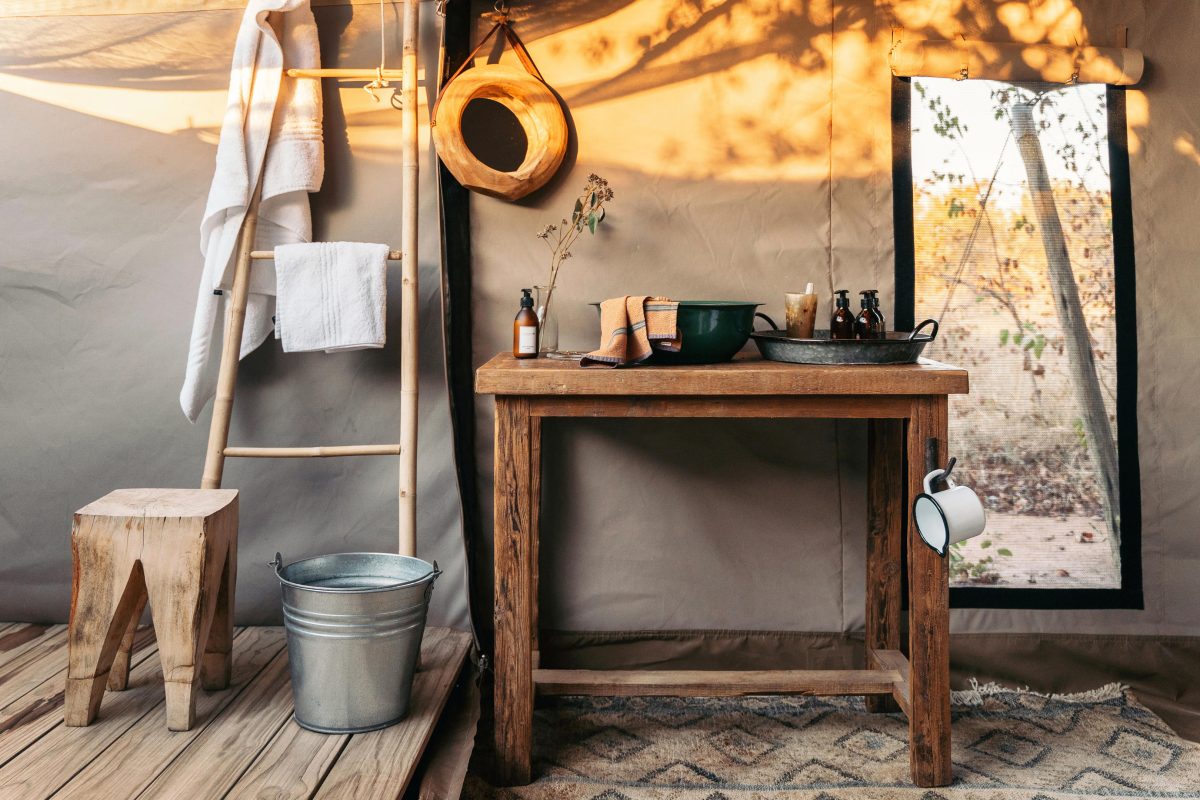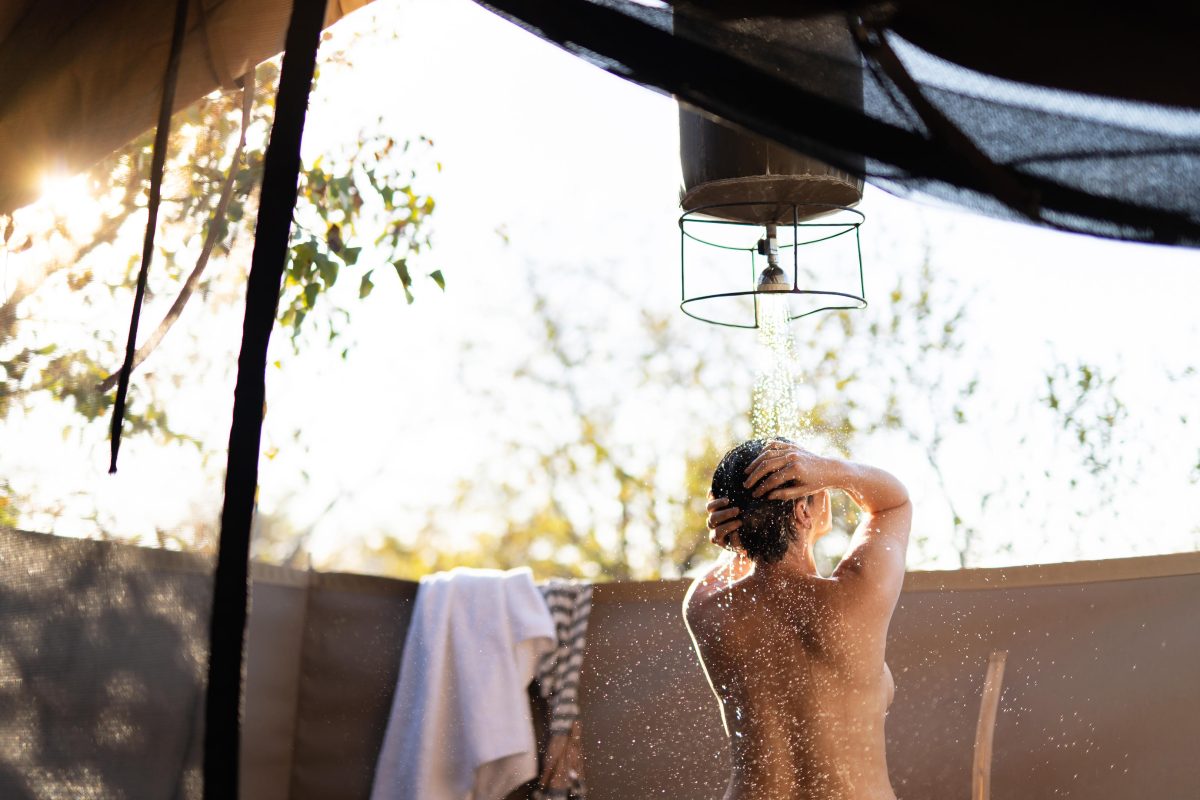 Special offers
Honeymoon Offer
Stay 3+ nights and one partner pays only 50%
Stay 3+ nights and one partner pays only 50% Lodges must be booked on a Full Board & Activity basis (eg Cederberg Ridge and Fynbos on Sea) Not combinable with other Simbavati offers
Excludes: Festive Season (21 Dec to 8 Jan)
Terms & Conditions: Lodges must be booked on a Full Board & Activity basis (eg Cederberg Ridge and Fynbos on Sea)
Combo Offer
Stay 3 nights at any Simbavati Game Lodge & get 30% off a stay at Simbavati Trails Camp - see detail
Stay minimum of 3 nights at any Simbavati Game Lodge (Hilltop, River, Camp George or Amani) and get 30% off a stay at Simbavati Trails Camp (Minimum 2 nights stay) Stay minimum of 3 nights at Simbavati Cederberg Ridge and Fynbos on Sea ON A FULL BOARD AND ACTIVITY BASIS and get 30% off a stay at Simbavati Trails Camp (Minimum 2 nights stay)    
Excludes: Note: Trails Camp is closed from December to February each year
Terms & Conditions: Min 2 nights at Trails Camp