Overview
South Africa is perfect for honeymoons or romantic holidays, with its diversity of landscapes, friendliness and great food & wine. It's ideal if you want to chill out after the excitement of the wedding, celebrate a milestone wedding anniversary or escape from the distractions of everyday life.
There are South African hotels and lodges so gorgeous that you may never want to leave. A hotel may wow with its opulence. But in many cases it's the beautiful setting that does the trick. Such places, especially if exclusive and remote, are rarely inexpensive. But if you want to prize open the piggy bank, we know some real treats…
But unlike some classic honeymoon destinations, it doesn't have to be just lazing on a golden beach. Part of your time could be spent on safari. South Africa has a number of world class game lodges  to choose from. Why not add on an exhilarating night spent at a treetop sleep-out in the African bush! Or perhaps a walking safari in the game-rich wilderness is more up your alley?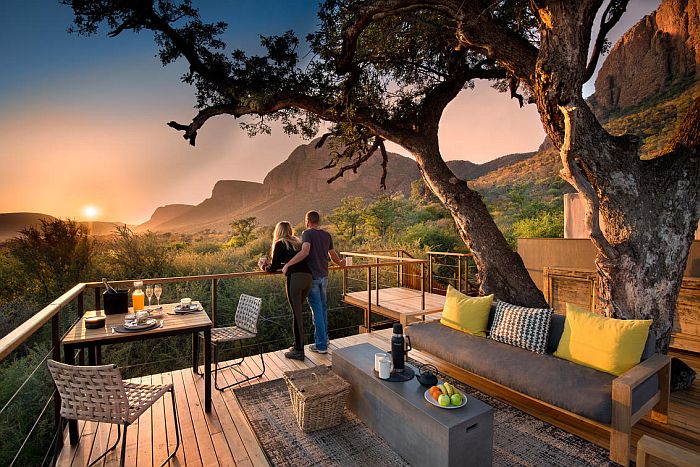 Or you can head to our mountains, verdant valleys and glorious coast for some soft adventure. Why not try hot air ballooning at dawn? Or swinging through the indigenous rainforest by zipline? South Africa offers a range of activities also including shark cage diving or abseiling off Table Mountain.
Your South Africa honeymoon is a personal and subjective matter so talk to us about ideas to capture your imagination … We can save you loads of time, effort and anxiety. Not to mention pennies!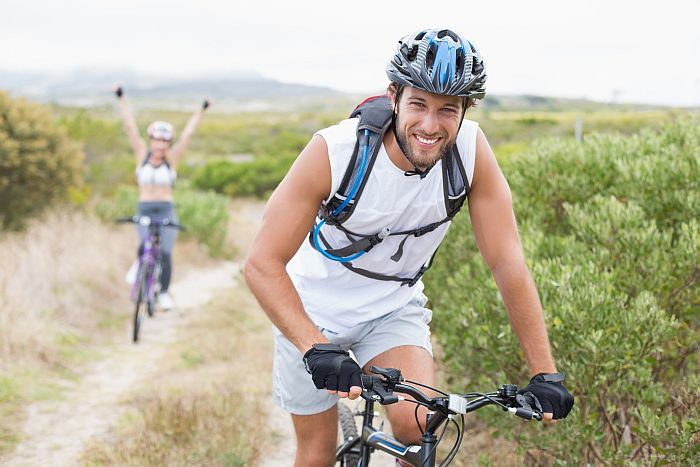 Sample South Africa Honeymoon ideas
Below we give some sample honeymoon ideas. But these can all be tailored to suit you. Alternatively, you can give us a brief and we'll design your honeymoon from scratch, just as you want it.
We recommend either a touring holiday enjoying different parts of South Africa, with a focus on romantic hotels. Or a classic 'bush and beach' honeymoon, combining some nights on safari with time relaxing on a tropical beach. Perhaps throw in Cape Town for good measure?
In South Africa, the private game loges by the Kruger are easily combined with Benguerra or Bazaruto islands off the coast of Mozambique. There are direct flights from the Kruger to Vilanculos, so it's a quick and easy combo. Or you can enjoy a safari and beach honeymoon in KwaZulu and southern Mozambique...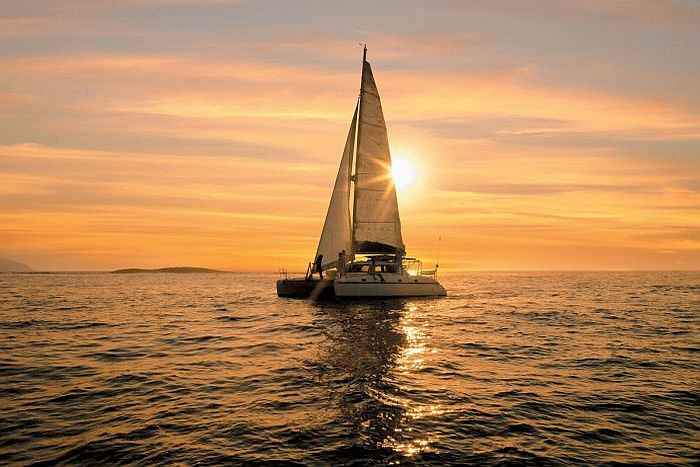 If you want some more South Africa honeymoon ideas, read our blog post on Best Honeymoon Destinations in South Africa with some recommended hotels and game lodges to suit all sorts of couples...
Other Articles on South Africa Honeymoons
10 romantic things to do in Cape Town
Adventure honeymoons to get your heart racing
Affordable yet romantic game lodges
Highlights
It's got it all: Cape Town, amazing wildife, golden beaches and great restaurants & wine
Perfect for some soft adventure: hiking, bouldering, zip-lining, kayaking, mountain-biking are just some of the options...
Climate varies by region, so can offer great honeymoon weather at any time of the year.
Affordable indulgence; the finer things in life are just that bit more attainable with the favourable exchange rates.
We honestly had the trip of a life time and it was a magical time for our whole family.
"We honestly had the trip of a life time and it was a magical time for our whole family. From the animals in the Serengeti to the palm fringed perfect beaches of Zanzibar it was two weeks we will never forget. We had a superb guide and saw the big 5 on safari which was really special. Thank you so much Milandi. "
Jos Palmer
High satisfaction with Cedarberg
"We just returned from our third African safari booked with Milandi. I cannot say enough about our high satisfaction with Cedarberg and, particularly, Milandi. Milandi has always worked with us, making recommendations based on our preferences, and together we "tweak" the itinerary until it is perfect for us. Milandi is efficient, highly responsive, knowledgeable, friendly, and seems to really care and act excited about our booked adventure. Each time we have traveled, all arrangements have been punctual and without any delays or cancellations. Every detail has been prearranged. During our most recent trip, Milandi even checked us in for each of our domestic and intercontinental flights, knowing that we would not have the capability to do so from the camps we visited. Cannot recommend Milandi highly enough!! "
Mrs Shirley Spain
Cedarberg & company have been amazing!
"Cedarberg & Co have been amazing! Professional, knowledgeable and very helpful. We had put everything together in about a week. Communications are of high standards. All plans worked. "
Mr Roland, UK
Sonja Brand
Africa Travel Specialist
Hi I'm Sonja, I'm here to help you plan your ideal holiday experience
We arrange trips to more than 100+ destinations throughout the African continent.
Did you know
Coastline

2,800km long

Unusual Restaurants

Wolfgat (Paternoster) named Best Restaurant in the World in 2019
Rwanda was inspiring
"My wife and I approached Cederberg requesting a draft itinerary and recommendations for a visit to Rwanda. We received prompt, well-informed assistance, and a final itinerary which was absolutely perfect. Our tour of the country was well-structured in terms of acclimatisation, pace and variety. On the second last day of our visit, we met up with another group who had opted for a different tour agency, and were exhausted by the disproportionate amount of time spent on the road rather than enjoying the delights of their respective destinations. "
Mr David, USA
Peter did a brilliant job
"Everything went as planned Peter did a brilliant job helping us to plan the holiday "
Mrs Sandra Cutmore
A quite outstanding holiday
"We have just returned from a quite outstanding holiday. Milandi listened to what we wanted and organised it perfectly. The standard of the whole trip was even better than we expected and the itinerary was interesting, enjoyable, relaxing and fun in exactly the right proportions. "
Mr Allan Cole